Apple Laptop Buying Guide
We took a look at the 2015 Apple laptop models, from price to performance to features.
While there may only be three different models, deciding on which Apple laptop you want isn't as easy as it seems. With an array of high-end features to consider -- and high price tags to match -- you'll need to figure out how you can get the most bang for your buck and still get a laptop that meets your needs. Let's take a closer look at what you can expect with the newest Apple laptops.
Current Mac Models: An Overview
Each
MacBook
model comes with its own selection of processor speeds, storage capacity, features and much more. Here's a brief overview of what you can expect with each model -- and what the various laptops are best suited for.
MacBook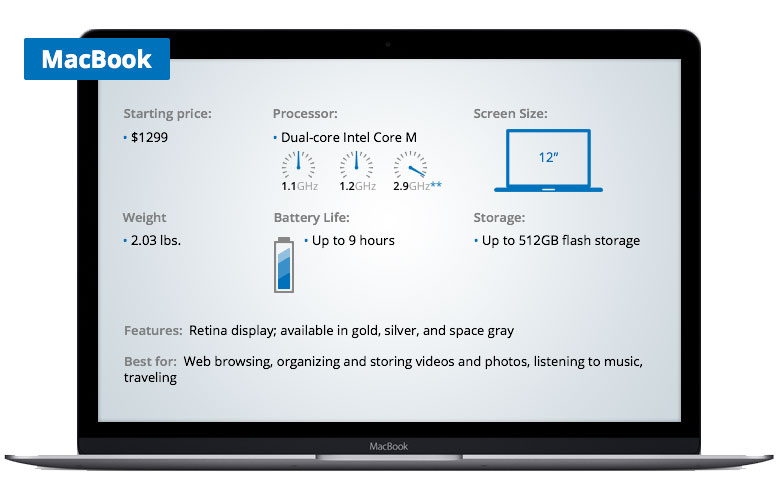 *with Turbo Boost up to 2.9GHz
The most basic Apple laptop on the market, the MacBook features a 12-inch LED backlit Retina display screen with more than 3 million pixels for enhanced clarity. Despite its small size, the MacBook has a comfortable full-sized keyboard. It's also equipped with a Force Touch trackpad, which builds on Apple's already successful trackpad. While the new trackpad generally gets good reviews among Slickdeals users, a few can't really tell the difference. Slickdealer
 yarnim
says, "...you just click once, and click again for a deeper perceived pressure for additional functions" and that "things are easier with three finger tap."
The MacBook weighs just two pounds, making it easy to pick up and carry with you when needed. While it's ideal for light to medium tasks, you'll probably want to go with the better-equipped Air or Pro models if you plan on gaming or working with large files.
MacBook Air
** with Turbo Boost up to 3.2GHz (both models)
A mid-range model with available 11 or 13-inch LED backlit display screens, both
MacBook Air
 options have the latest fifth-generation Intel Core processors with Intel HD Graphics 6000. You might be wondering if should stick with the base Air model or spring for the Pro with Retina display, which is one of the main distinctions between the two models. Slickdeals user
nevergoodenough
says, "The screen on the Pro is significantly better and the Pro is a better computer, it can do more things and will last you a longer period of time."
However, the MacBook Air could be the right choice if you intend to use it for editing photos, browsing the web and doing other light to medium tasks. Most Slickdeals users agree that unless you plan on using the laptop sparingly or you have a larger monitor to plug it into, you'll regret not spending a bit more for the larger 13-inch MacBook Air.
MacBook Pro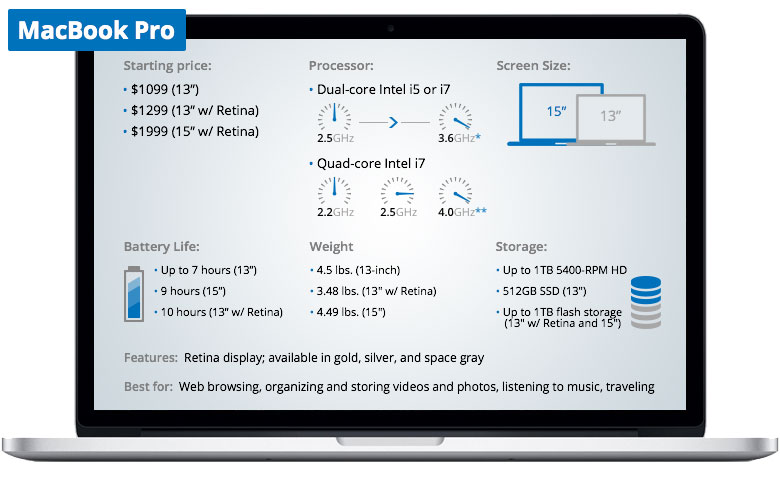 * with Turbo Boost up to 3.6GHz (13-inch)/up to 3.4GHz (13-inch with Retina display)  **with Turbo Boost up to 4.0GHz (15-inch)
The
MacBook Pro
lineup includes the 13-inch, 13-inch with Retina display, and the 15-inch with Retina display.  Slickdeals user
griffijg
notes that while the most recent 13-inch has the new Broadwell processor, the 15-inch is still using an older processor.
Some Slickdealers would rather wait for the Skylake processor, which will reportedly be released later this year. You can find more information about both the Broadwell and Skylake processors 
here
. Slickdeals user 
SlickPickSlim
 thinks that the yet-to-be-released Skylake processor "will make Intel's generational updates the past few years look like a joke." However, Slickdealer 
dacalo
adds, "...from leaked performance tests, Skylake only shows 8% to 10% improvement performance wise."
The MacBook Pro lets you retouch photos or edit videos in HD with an exceptional level of clarity, and it provides razor sharp text that's easier on the eyes.
Breaking Down the Components 
Components and features quickly drive up the price of any computer. As with most brands, you end up paying more for a faster processor, more memory, and better features. The Mac lineup is no exception. Knowing more about the different available components and features can make the decision a little bit easier.
Processor Speed
Clock speed (typically measured in megahertz or gigahertz) measures the number of calculations a processor can handle in one second. For a 1GHz processor, this translates to 1 billion calculations per second. You should also pay attention to the number of cores. The more cores a processor contains, the easier it will be to distribute work and boost performance. Turbo Boost, available on all models, gives the processor a bit more speed and power when it's needed.
If you plan on using your laptop mostly for internet browsing and light work, you don't need the latest and greatest processor. In fact, many Slickdeals users with older Macs say that there's really no discernible difference in processor speed between the older models and the newer ones. Slickdealer 
schlack
says, "I have a 2012 Mac that's nearly as fast as the 2015 version on benchmarks."
The MacBook is powered by an Intel Core M processor. While it starts at a speed of 800MHz, Apple offers speedier 1.1-1.3GHz options. One big advantage of this processor is that it generates less heat -- to the point where most computers with Intel Core M processors don't need fans. However, the enhanced energy savings and efficiency means a performance hit.
According to appleinsider.com
, even the fastest 1.3GHz dual core Intel Core M processor lags behind the slowest processor currently available on the MacBook Air, the 1.6GHz dual core i5. The same source notes that another potential snag can occur when the processor runs Retina-quality graphics -- the standard on Apple's latest MacBook -- with slow performance on larger programs such as Photoshop, as well as gaming and video editing.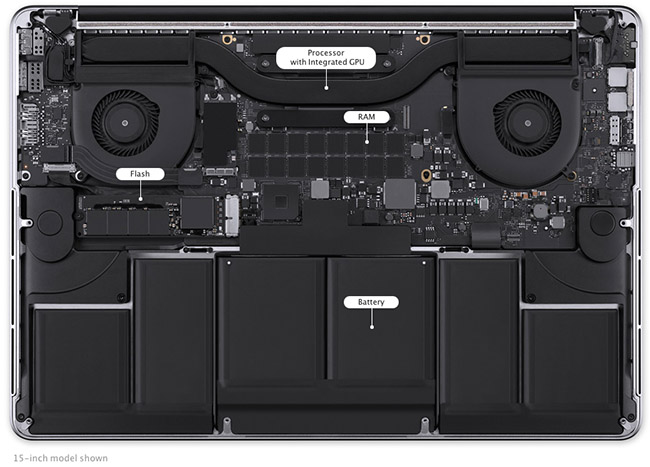 Geekbench results -- which measure a computer's processor and memory performance -- for the latest MacBook Air and MacBook Pro models indicate faster performances than ever before. For example, an early 2015 MacBook Air equipped with an Intel Core i7-5650U 2.2GHz processor earns a score of 3050, compared to the 2419 scored by the early 2014 MacBook Air with an Intel Core i5-4260U 1.4GHz processor. Performance scores for the MacBook Air and MacBook Pro skyrocket from single-core to multi-core processors. For the early 2015 MacBook Air with an Intel Core i7-5650U 2.2GHz processor, performance scores jumped from 3050 for the single-core to 6251 for the multi-core. The early 2015 MacBook Pro single-core with an Intel Core i7-5557U 3.1GHz processor scored 3209, while the multi-core scores 6741 with the same processor.
Storage
The MacBook comes with two storage options: 256GB and 512GB. If you mostly plan to store files such as photos and videos on iCloud, you can get by with the smaller storage option. The larger storage option is best suited for users who prefer to store their files directly on the Mac. Most Mac models are equipped with flash storage, which is designed for ultimate performance. Although it's pricier, flash storage is worth it if you're looking for superior performance, especially during more demanding tasks.
The MacBook Pro 13-inch (base model) is the only Mac that gives you the option of up to a 1TB 5400-rpm hard drive or up to a 512GB solid-state drive, though the base model, equipped with a 500GB 5400-rpm hard drive, is sufficient for most consumers' needs. When you're examining the different storage options, be sure to consider how your storage needs might change over time.
Battery Life
As you're browsing through the various Mac models, you'll notice that each comes with an estimated battery life, ranging from 7 to 12 hours of wireless web use depending on model, before needing to recharge. Like any other laptop though, real life battery power depends on a number of factors. In general, larger and faster processors mean a shorter battery life. More powerful graphics and heavier use, such as intense gaming or video editing, often drains the battery faster.
In a recent list of laptops with the longest battery life from
Laptop Mag
, several Mac models performed exceptionally well. The 13-inch MacBook Air lasted 12 hours and 20 minutes during a battery test, while the 13-inch MacBook Pro with Retina display exhibited a battery life of 12 hours and 4 seconds -- over an hour more than last year's model. While the latest Mac models have impressive battery lives, the connection between the Intel Core M processor and the MacBook's battery life is a bit murkier. It's advertised as an extremely energy-efficient notebook, but a closer look at the battery life for the MacBook reveals no significant advantage. In fact, it lags behind some other models, including the 13-inch MacBook Air and the 13-inch MacBook Pro with Retina display.
Retina Display
One of the most prominent features of today's Mac lineup is Retina display. But what is it, exactly? Retina display has a pixel density so high that the user can't make out individual pixels within a normal viewing distance. The result is reduced glare and text that's "so sharp, you'll feel like you're reading email, web pages, and documents on a printed page,"
according to Apple
. This display has four times the number of pixels than the typical MacBook Pro display, resulting in tremendous detail and a vastly improved viewing experience.
The Final Decision
For some potential consumers, cost alone is the deciding factor when it comes to buying a new Apple laptop. Depending on what you're intending to use it for though, spending a little extra upfront may be worth it. Many Slickdeals users agree that their Apple laptops tend to hold their value well over time -- another consideration if you're having trouble justifying the high price tag. With the advent of new processors, some prospective buyers note that it might be worth it to hold off on purchasing an Apple laptop right now. However, this may also mean that it's a great time to find an exceptional deal on a high-performance computer.
See all MacBook Slickdeals here!
Images courtesy of Apple.com.
Slickdeals content may contain references to products from one or more of our affiliate partners. If you make a purchase on their site through a link on Slickdeals, we receive a small commission. This in no way affects our opinions on products or services mentioned in our content.
Add a Comment