So you have a camera phone and from time to time, you bring your 12-megapixel point and shoot digital camera that you got for $150 on Slickdeals. A couple of times a week though, you see these larger, professional-looking cameras called DSLR's that everyone seems to go gaga about. So you're curious - do you actually need a DSLR? Is the picture quality that important for you to invest hundreds if not thousands on this new toy? If you've ever asked yourself these questions, here's a quick rundown of what you need to know about DSLRs.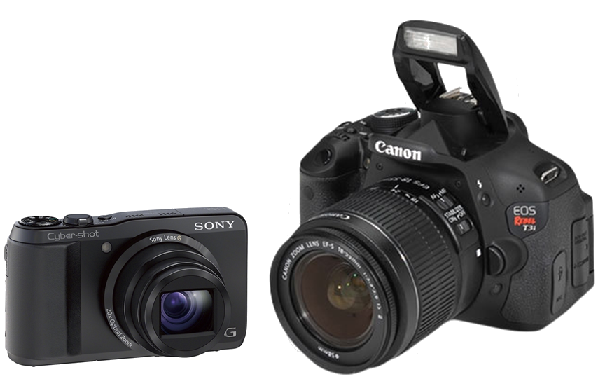 Practical Difference between Point-and-Shoot and DSLRs
A point-and-shoot camera is the compact digital device that elementary schoolers now get as Christmas presents. It's usually under an inch thick and has a large digital screen where you see the image you're about to take. Point and shoots have one irreplaceable built-in lens and are generally smaller, lighter and more portable than DSLR's.
"DSLR" stands for digital single-lens reflex (camera). These are the bigger, bulkier cameras that professional photographers and enthusiasts use. DSLRs have interchangeable lenses depending on your needs, which makes them very adaptable for different situations. This means that if you're shooting close-ups, you can use a specific lens that will produce the best image for the situation. Likewise, if you're shooting landscapes, you can switch to a wide-angle lens to capture the image in its entirety.
Technical difference between Compact and DSLRs
A regular compact camera uses two lenses to capture an image. One lens goes to the image recorder (either film or flash memory) while the other goes from the physical lens to the viewfinder. This duality works fine when shooting at mid-range distances (optimal range for the built-in lens), but once you want to capture an image close-up or in wide angle, the image you see on the viewfinder doesn't accurately reflect what's being captured.
With an "SLR" (single-lens reflex), there is a mirror and prism mechanism that allows a photographer to see the actual reflection of the image that's about to be captured with only one lens. Up until 3 or 4 years ago, you had to look through a physical viewfinder to see the image you want to capture with a DSLR and then use digital screen only to preview the photo. Newer DSLRs now have the capability of showing you a preview of the image on the screen before taking the picture.
So...do you need a DSLR?
DSLRs are far more powerful than regular point-and-shoot compact cameras. If taking pictures were the same as computing, the point-and-shoot and DSLR difference is comparable to owning a tablet and a computer. A point-and-shoot will do fine if you're taking pictures of people who pose for a camera and are always in brightly lit areas, but if you're capturing movement, unpredictable emotions or milestones, we definitely recommend investing in a DSLR. Image quality is far more superior with an SLR than with a regular point and shoot. Vibration Reduction (VR)/Image Stabilization (IS) lenses produce sharper images due to reduced noise. Having interchangeable lenses lets you find the ideal kinds for specific situations, and the ability to add a flash, use a remote trigger and a number of professional accessories are just some of the DSLR benefits.
Going back to the computing analogy however, if you only need to get on the Internet to check Slickdeals and your email everyday, it makes more sense just to get a tablet than a computer. Bringing the analogy to photography, if you don't particularly enjoy taking pictures, then maybe sticking with your camera phone is sufficient.
Before you buy...
If we've managed to convince you that you do in fact need a DSLR (and not all of you do), here are a few things to consider before making your first purchase:
Brand Consciousness
Unlike most point-and-shoot cameras, brand is actually very important when it comes to DSLRs. The best lenses are usually exclusive to the brand, so when you buy a Canon camera body, you are most likely going to get Canon lenses. The same goes with Nikon, Sony or Panasonic. There are a few brand-agnostic manufacturers (e.g. Sigma, Tamron) who provide the same types of lenses across brands, which may have a few gems in their lineups. Adapters are available to switch from one to the other, but most camera enthusiasts would warn you to stay away from them. The two largest and most popular brands of DSLRs are Canon and Nikon and though there's a premium for the brand, the accessibility of deals and lenses for these two are worth the initial investment. For Slickdeals in particular, we've seen a number of Canon deals on our front page, usually 10-20% cheaper than Nikon ones, and considerably cheaper than Sony and Panasonic.
Recent Slickdeals on DSLR packages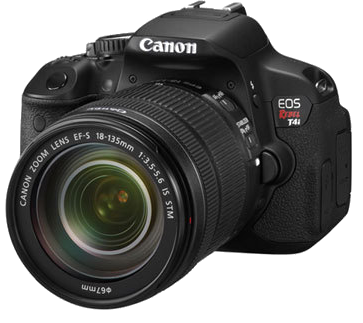 Canon EOS Rebel T4i
*Live*
18-135mm STM Lens
PIXMA Pro 9000 Mark II Photo Printer
32 GB memory card
$894 after $400 rebate
Canon EOS Rebel T3i
18-55mm Lens
PIXMA Pro 9000 Mark II Photo Printer
Gadget bag
Replacement battery
$624 after $400 rebate
Canon EOS Rebel T3
18-55mm Lens
EF 75-300mm Lens
EF-S 55-250mm Lens
PIXMA Pro 9000 Mark II Photo Printer
UV Filter
50-pack Photo Paper
$487 after $400 rebate
Nikon D3100
18-55mm VR Lens
$400
Lenses
The most important thing to remember here is that your shot will only be as good as your lens. Even the cheapest DSLR paired up with a good lens can produce images that will trounce a $5,000 camera with a mediocre lens on it. Quality lenses also keep their value should you ever decide that you are tired of swapping them (and get rid of the whole setup).
On the technical side, the Focal Length is a measure of distance where an image focuses. The magic number for camera lens focal length is 50mm. This is the distance where magnification is the same as that of normal vision's. When a lens is less than 50mm, it's considered a wide-angle lens and sees more than the eye can see. This would be ideal for landscapes and longshots. Lenses longer than 50mm are telephoto lenses, ideal for capturing close ups and focusing on specific targets.
Most camera starter kits come with an 18-55 lens and many brands have lineups that can complement the kit, such as the Canon 55-250mm or Nikkor 55-200mm as beginner zoom lens.
Recent Slickdeals on Lenses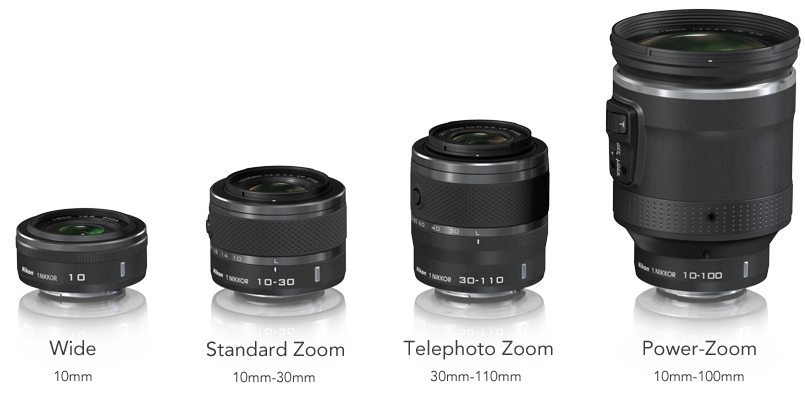 Image from:
http://one.nikonusa.com/V1.aspx
Canon EF 24-105mm
$780
Canon EF-S 18-200mm
$399
Canon EF-S 55-250mm
$240
Accessories
You can buy your accessories as you build your collection, but the one thing you'll need off the bat is a reliable camera case. It would be a shame to lose a $500 investment because of a $10 case. The neoprene covers are fine if you're planning on keeping your camera within a sturdier bag, otherwise, it's best to get a thick name-brand bag that will protect your camera and carry your lenses through events like picnics, graduations and hikes. An immediate second on the list would be a multi-coated UV filter to make images sharper and to protect the lens from dust and scratches.
Cheat Sheet
If you need a quick reference to the pros and cons of point and shoots vs. DSLR's, take a look at chart below:

-----
If you have ever wondered about anything on Slickdeals, please send a PM to oFlamingo with the subject line, "News & Articles".