Slickdeals Blog
Front Page Deal: True Love
April 27, 2012

at

02:34 PM
Deal-hunting and dating don't necessarily go hand-in-hand. Paying for dinner with a daily deal coupon might be highly pragmatic and should show how well you handle your finances, but somehow doing so on a first date is inexplicably tacky. Luckily for John and Liz, two of our Slickdeals community members, deal-hunting is what led them to one another...and is something they'll continue to enjoy for the rest of their married life!
John of Chattanooga, TN has been a Slickdeals user since 2004. On what seemed like a typical day in November 2007, John saw a deal for a free iPod if he started an engage.com account. With the incentive of a free iPod, he didn't hesitate to sign up.
A few days later, John found Liz. Liz was a more than 100 miles away in Atlanta and had also always been smart with her money. It started with a few emails, which progressed to phone calls and months later, John and Liz decided to finally meet up in Atlanta.
Though the couple didn't use a deal for their first date (they went to a fancy seafood restaurant and John paid full price), John and Liz are now at the stage where they never go out without a taking advantage of a deal. In addition to looking for Slickdeals, John and Liz have also leveraged their enthusiasm for photography to get into festivals for free...and that's how John knew.
Nine months ago, John got down on one knee and asked Liz to be his partner for life. The April 28th wedding includes a dash of deals here and there including a coupon for their honeymoon cruise, a discount for the house where the wedding will be held and of course, John's bachelor party shirt that says, "Brought to you by Slickdeals".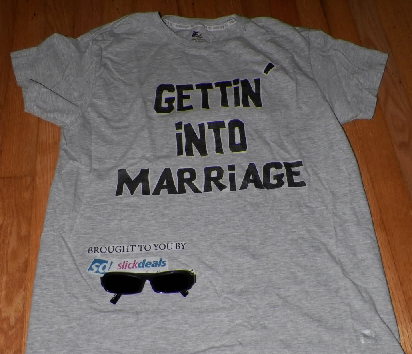 When asked what advice they would give fellow Slickdeals community members, John and Liz say that when dating, "Planning is essential. Don't go anywhere without coupons!" and of course, "Bond over your love for Slickdeals!"
Congratulations and Best Wishes from the Slickdeals community!
Update: Here's a picture of John and Liz at their wedding!