With Valentine's Day on the horizon, we have brainstormed ideas for savvy shoppers to sweep their special someone off their feet without breaking the bank. Here are some frugal but meaningful tips to impress your valentine this year.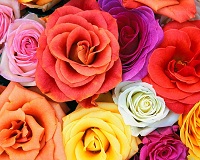 Flowers:
Sending flowers is the quintessential display of your amor. Unfortunately, Valentine's is the busiest season for florists so finding a good deal can be a challenge. Here are some ways to stretch your dollar:
Planning a surprise flower delivery to the office? Don't be caught at the last minute with exorbitant same-day delivery fees! Consider pre-ordering your flowers now especially if you find a good deal like a free $15 gift card to FTD from eGifter.
Even if you plan early, Valentine's Day delivery charges will often kill a deal. Get around holiday delivery fees by surprising your loved ones with flower delivery the day before. Better yet, buy flowers from a local florist or even the grocery store and deliver them yourself!
While roses are the classic gesture for Valentines, they can get quite pricey during the season of love. Less cliché but not less romantic options include tulips, which are running for 30 tulips for $30 at 1-800-FLOWERS until Sunday, February 3 (w/ $13+ shipping).
A bouquet is nice but will probably be in the trash before the end of the week. To save some cash, consider potted flowers from Home Depot or Lowes which are less pricey and may be around for next Valentine's if they're properly taken care of.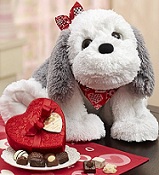 Gifts:
When it comes to gift giving, personal and thoughtful presents are often more romantic and easier on the wallet. Try some forgotten traditions like writing a passionate love letter, mixing a love song playlist, or creating a photo collage. If you do have some room in your budget, here are some V-Day deals we found online: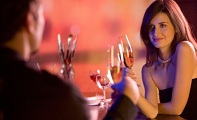 Date Ideas:
Planning for an unforgettable date doesn't necessarily mean spending full price. After all, while most would appreciate a destination date with an expensive vista, the most memorable view on Valentine's are into each others' eyes. So check out these tips to save on your big date:
Regularly check out Groupon, LivingSocial, TravelZoo, and for deals on your favorite romantic activities - perhaps a short getaway with TravelZoo [travelzoo.com], dinner using a Groupon [groupon.com], a show through GoldStar [goldstar.com] and a relaxing morning with a massage from LivingSocial [livingsocial.com]. You'll find that a Valentine's Day getaway is more affordable than you think!
Consider doing more expensive activities on the 13th when it's less crowded and more intimate. Then ask your couple friends on a group date on the 14th and take advantage of savings with group discounts.
Start a meaningful Valentine's tradition like cooking a meal together. Heart shaped pizza anyone?
So these are our thoughts on how to celebrate a frugal but meaningful Valentine's. But we turn to the Slickdeals community: what are your ideas on thrifty romance this year?