Slickdeals Blog
The Basic Guide to Buying SSDs
August 21, 2012

at

12:06 PM
By now, a good number of Slickdealers have traded in their old hard drives to SSDs. The consistently high number of thumbs ups on SSD deals however, leads us to believe that the majority of Slickdealers are still in the market for this upgrade. Chances are, if you didn't build a custom computer or didn't spend over $1,000 on your current one, you probably have a regular hard drive. If you've been ignoring SSD deals this entire time, but want to learn more about how these SSDs can actually increase your computer's speed, here are a couple of basic concepts you need to know.
HDD v. SSD
A disk drive (spinning or solid) is your computer's main persistent storage (as opposed to RAM, which is reset on reboots). It houses your applications, documents, pictures, songs, videos, etc. All of this data is written in a somewhat random fashion and can reside in any portion of the disk.
Hard drives have a number of mechanical parts - a spinning disk where all your data is stored and an arm that reads and writes the data. It takes an arm's movement ('seek') to read data from two different places on a disk, similar to how a needle reads music from an LP.
Solid state drives on the other hand do not have any moving parts. They use flash memory like those found in USB drives and media players. Because of that, they do not incur a 'seek penalty' to move the arm to read from two random sections of the disk. That alone results in significant improvement.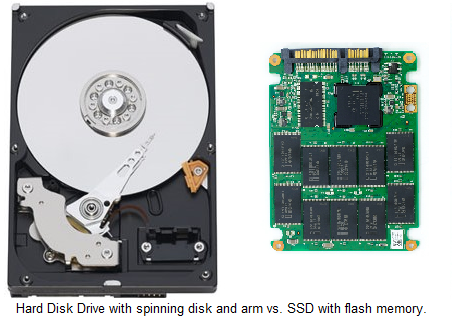 Price
Given the immediate speed benefits of an SSD, there's no reason not to switch, right? For the same reason not everyone buys a first class ticket when traveling, SSDs come with a premium price tag. Hard drives are significantly cheaper - 2TB hard drives can be as cheap as $100. At that price, it's difficult to get anything more than 180GB of SSD these days, with the best deals hovering around $0.50/GB. Luckily though, you don't really need to get a full TB of SSD.
Storage Capacity
Just like hard drives, most consumer SSDs come in size tiers, usually in multiples of 60 or 64GB, and rarely go above 512GB without a significant jump in price. Price wise, the sweet spot is currently on drives sized between 120 and 256GB. As such, SSDs are best used as 'boot' drives, which host the operating system (Windows or OS X) and applications (Office, Photo suites, etc). Using them to store large music/video files is generally considered ineffective unless an SSD is your only drive as is the case with laptops.
Following the above principle, a 128GB SSD should be sufficient for most users for normal use - a single OS and a handful of additional applications. We've seen
128GB
SSDs for as little as $80 in the past and
240GB
ones can be as low as $120. You can also supplement your SSD with a hard drive, if your system allows for that.
Hybrid and Caching Drives
We feel that hybrid and cache-only drives deserve a special consideration as well.
Hybrid Drives
A hybrid drive is a traditional 500GB+ spinning hard drive but comes with an added built-in SSD-driven cache. The cache is usually between 4-16GB, which automatically provides the speed boost to frequently accessed files.
Hybrid drives
can be had for as low as $70/500GB ($0.14/GB).
Caching Drives
A cache-only drive is a separate drive, which requires a separate connection to be available in a PC or laptop. It speeds up frequently accessed data on an already installed spinning drive. Unlike a standard SSD, a caching SSD is not visible to the operating system directly, and may not be used to directly store any information. 64GB
Cache SSDs
can be had for $49 ($0.77/GB). Some laptop manufacturers (HP, Lenovo, Dell) have started to include mSATA cache modules to their laptops, which act just like cache drives as well.
Physical Size and Accessories
Depending on what you're upgrading or building, you will need to consider the physical size of the SSD. Most SSDs (2.5") are smaller than desktop hard drives (3.5"), so you're generally safe, but you may need a
mounting kit
, which go between $3-$5. For laptops, SSD-shopping can be a little more difficult as some smaller laptops use 1.8" drives. Some manufacturers use custom-built SSDs, which are not available from 3rd parties (Apple Macbook Air, 'Retina' Macbook Pro). Some manufacturers go as far as voiding the warranty if you tinker with the system yourself.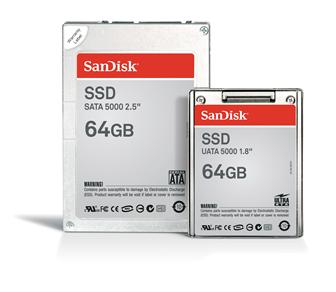 SSD Caveats
Performance degradation over time
Unlike magnetic counterparts, most consumer (read 'affordable') SSDs' performance degrades with time due to the nature of flash memory read/write/erase patterns. TRIM and good space utilization practices help alleviate some of the drop in performance.
TRIM
TRIM is a special disk function, which when combined with operating system support (OS X 10.6.8+ and Windows 7+) allows previously written and later deleted cells on the drive to be cleared out. This refreshes SSD performance to its near-original levels. Note that the disk, the PC and the OS all have to support the feature for TRIM to work.
Utilization
If TRIM is not available and as overall good practice with most SSDs (other than hybrid/cache drives), you want to leave 20-25% of its total size unoccupied, otherwise performance starts to suffer.
Firmware
All SSDs rely on firmware to perform internal functions (including TRIM), maintenance and other optimizations. Firmware is often issued to address some performance and stability issues. The rule of thumb is to keep current on the firmware for your specific drive whenever possible. Check the drive manufacturer's sites to see if one is available for the drive you have/are considering.
Other (minor) considerations
Stability and reliability
When SSDs arrived into consumer market, there were a lot of issues with immature system support, drivers, controllers, etc. At this time, most modern Serial ATA II/III SSDs have been issued firmware updates to alleviate and/or remove most of those issues, and should be of little concern.
SATA II or SATA III
If you're switching from a hard drive, any SSD will increase your overall computer responsiveness. "II" and "III" when used with Serial ATA refers to peak transfer speed. SATA II transfers at 3 Gbps (approximately 280 megabytes/second) while SATA III transfers at 6 Gbps (approximately 550 megabytes/second). The difference is significant if you're transferring gigabytes of information continuously, but if you're more of a casual user, either type sure work fine. Furthermore, only SATA III based PCs and laptops can take advantage of the highest performance tier, but are still backwards compatible with SATA II drives. If the machine you're upgrading is more than 2 years old, chances are you're still using SATA II. which also works with either SATA II or III drives.
Brand consideration
The most reputable brands - Crucial, OCZ, Samsung, Intel, Sandisk, Kingston - offer a good mix of drives for different target markets.
Great, So Which Drive Should I Choose?
Bottom line, if you are currently using an 'old-fashioned' spinning drive, and want to get an immediate performance boost to your applications, and have a budget of a $100 or so, SSD is the one component that will give you just that. We generally don't make any specific product recommendations since everything is dependent on respective situations, but as a reference for price points, here are the last 7 front page deals which can help guide your purchase decision: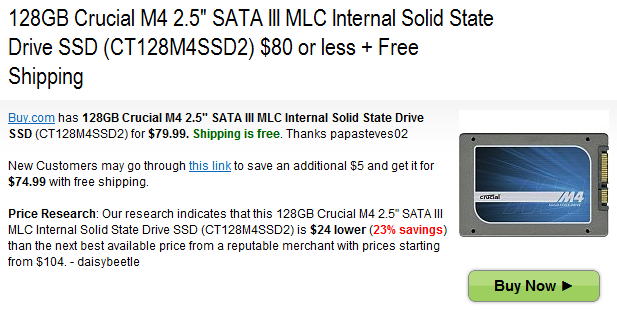 120GB Kingston $80
128GB Crucial $80
240GB SanDisk $120
256GB Kingston $140
240GB Intel $150
256GB Transcend $155
256GB Sandisk $155
256GB Samsung $190
To keep track of SSD deals, set up a deal alert for SSDs here:
http://slickdeals.net/forums/dealalerts.php?do=adddealalert&kw=ssd&votelevel=6
For tech discussions, visit the
Tech Support
forum.