Slickdeals Blog
Top 5 States You're Most Likely to Run into a Slickdealer
June 30, 2012

at

06:43 PM
It's no secret that the Slickdeals community has grown significantly over the years. From the secret society of a decade ago to your source for everything you could possibly need (SSD, diapers and political advice all in one website!), Slickdeals has become its own cyber metropolis. Beyond in the www world though, where are Slickdealers geographically located and when is it safe to use, "Did you see what was on Slickdeals today?" as evidence of your financial practicality and not of irrational penny pinching? Let's count them down on this list of the Top 5 States You're Most Likely to Run into a Slickdealer!
Having the city with the most number of colleges and universities,
Massachusetts
is the 5th most likely state to run into a Slickdealer. We assume this can be attributed to the high density of college students paying premium dollar for their education while keeping their wallets in check. According to our research, 1 in every 32 Massachusetts resident is a Slickdealer, further fueling the conspiracy that the First Black Friday happened in 1621.
As if sports weren't enough of a rivalry,
New York
one ups Massachusetts once again as the 4th most likely state to run into a Slickdealer. Our Slickdeals business team was just out in New York City a few weekends ago, and given how much everything is out there, it's amazing how only 1 in every 31 people from New York is a Slickdealer!
Closely following New York on the list is
New Jersey
. New Jersey is the country's most populous state per capita, which may mean that you're more likely to run into a fellow Slickdealer more often even though only 1 in every 30 Jersey girls and boys has visited the site.
Moving away from the Northeast,
California
pulls the countdown westward with 1 in every 23 residents being familiar with Slickdeals. Silicon Valley probably has a lot to do with this and we're hoping that September won't let California slip away because of Amazon sales tax.
And the top state where you're most likely to run into a Slickdealer is...not quite a state, but more of a District. Aside from being one of the most educated cities in America,
Washington DC
also tops the list with 1 in every 11 people being a Slickdealer. Hmm...and just like that, the
Podium
makes so much more sense.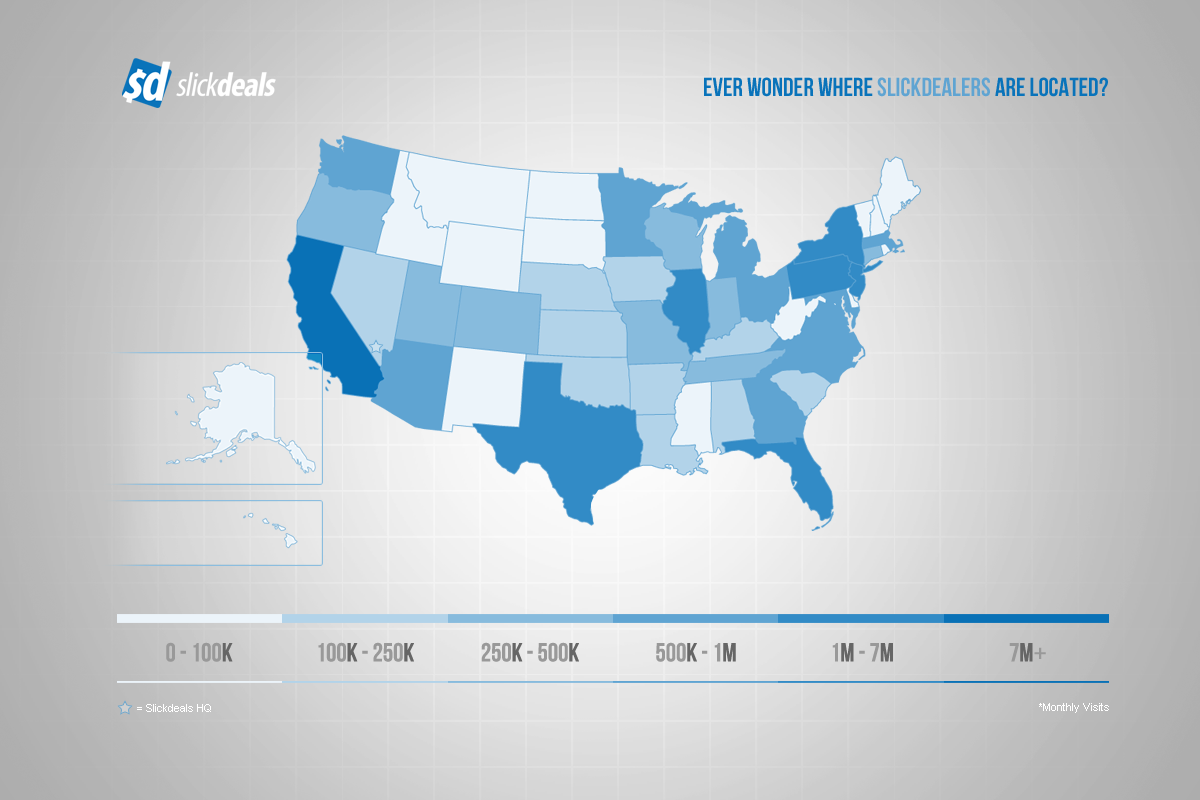 Map shows total number of visits from each state
Where should you go if there's a crazy Slickdeal that might run out in B&M stores? Mississippi. Only 1 in every 200+ people would have seen the deal!
Because it was asked a number of times:
Yes, yes, we did account for state population. If we didn't, then California would be number one, Texas would be number two and DC would be nowhere near the top because DC has fewer people. So even if California has way more SD visits than DC, DC is still the most likely place to run in to a Slickdealer because there are fewer people in DC. The visits were adjusted to visits per unique, then uniques per state, then uniques per state to population per state (or district).