Slickdeals Ambassadors: We want you!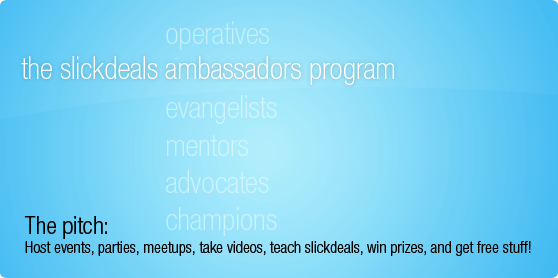 What the heck is a Slickdeals Ambassador?
A Slickdeals Ambassador is a deal hunting evangelist who advocates saving money and making your dollars go further. An Ambassador is a champion of smart buyers and is a mentor to all, spreading the word of the great deals and awesome community at Slickdeals.
Ambassadors work as undercover operatives; they serve the working man, spreading the overriding message of the Slickdeals movement:
Citizens, you don't have to pay retail.
What do Ambassadors do?
The Slickdeals Ambassadors participate in events planned to spread the word of Slickdeals: they will range from events as simple as a street team going out to meet people and teaching them about Slickdeals, to handing out free Slickdeals swag, to larger events like Slickdeals meetups and parties! We plan to have events at least once every quarter.
As Ambassadors, we say to people:
You can have low prices. You can shop smarter. You can save money. You can and you will, and we'll show you how.
I want to get involved!
If that sounds like your calling, let us know. We're looking for more Ambassadors to represent us and spread the word, but first some requirements:


You must be 18 years of age or older.


You must be a member of Slickdeals in good standing.


You must have a charismatic, outgoing and friendly personality.


You love Slickdeals, and you want to help others save money!


Surely, becoming an Ambassador with so much responsibility and esteem is no simple task... cultivated from the Slickdeals community, these Ambassadors are hand picked for their ability to resist the mundane corporate advertising, for their ability to reach the masses and save them from the cruel trickery of product placement and high pressure sales and so-called advertised prices... Not everyone is up for it, and not everyone will be picked...
What's in it for me?
Well... keep in mind the fact that you will be doing a service to your friends and community, and possibly the entire nation, so the karmic rewards will be tremendous. Aside from that, we give prizes, swag, products, gift cards, and all sorts of awesome things to our Ambassadors for participating. You'll get special recognition here on our site and special Ambassador-only privileges.
OK, I'm sold- how do I apply?

If you feel you are up to the challenge, you may apply by submitting the following to

with the subject line "Slickdeals Ambassador Application" before midnight Pacific on October 10th:


A short (less than a page) description of what you would do with $500 to promote Slickdeals in your town.


Your name


Your SD username


Your city/state