Please Read: A Personal Appeal from Gamer's Lounge contributor T20
Gottdamn Werner Von Space Nazi Huntsville AL Jimmy Wales...fcuker just won't stop hitting me up for a handout. Its like I'm on a date with the Wikipedia, and he's the crotchety drunk on the street where I park hitting me up for 86 cents so he can take a bus to Tampa and buy cancer medicine for his dead mother.
So, I'm now in the unenviable position of looking for a budget steel case (as spontaneously dropping a grand on a HT setup makes spending $200 on an "enthusiast aluminium enclosure" infinitely more ridiculous than it already was). Along the way, I ran into quite a few winners. Some of my favorites:
Ah. The Rosewill Wind Ryder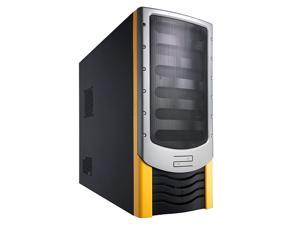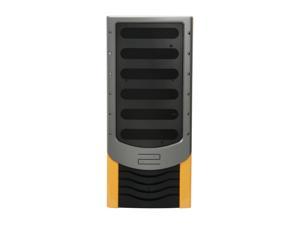 Well, they spell Ryder all 1337 and hip and relevant, and...yeah. This case is really cool because it has both Power AND Reset buttons (a fact Rosewill is very proud to point out at every given opportunity, the shills) which are done in a sort of Phillip K. Dick cum Fisher-Price style. They added these with the hope you would forget about both the PRISON your drives are kept in and the bitchin' color scheme (guess the panel flips up? How droll). This thing is like "The Room" of computer cases.
Nzxt up, we have the NZXT Hades
What does the company that can't spell do for an encore? They hire a 12 yr old azn douche to head up their Industrial Design dept. and deck him out with a tub of uncut coke, a VHS copy of Return of the Jedi, Geometry for Dummies and an open license to be inspired. This is the end result. "But DEWD, it TOTALLY looks like a Vader case!" If you mean un-helmeted vagina-face Vader, then maybe so. This case is disturbing - it almost looks ready to go down on you (in order to grind your genitals into a fine paste for being dumb enough to drop 70 bucks on this piece of shit).
Hmm. The Apevia X-CRUISER
Wow. How they equate this ungainly horror with cruising falls beyond my comprehension of the basic mechanics of reality. Crusing, in the colloquial sense anyway, usually denotes driving around, picking up chicks, or both. Maybe the three ovals are supposed to invoke some kind of Trike aesthetic? Fcuk if I know. What I do know is if a chick sees this when you bring her over you are probably not getting laid. I honestly can see it - "I'm sorry TOOLIO20, I...I just can't be with a guy who would keep something like that in his home." "Oh come on, its just the X-CRUISER, baby! Its not like a DVD collection of Donkey shows or anything." "Take me home. Now."
Hey, Sentey Abaddom
EA called. They're suing you
Now c'mere Rosewill TU-155
we need to have us a talk. I hear you been thinkin' bout askin' Sandy Thompkins to the dance next Friday, and she shore is a mighty fine girl...mighty fine. Maybe a bit too fine for you, son. Now I know, I know, you've got a rear LED fan an a see-throo winder and as many Drive Bay Shields as them Antecs and Cooler Masters, but you're not one a them. Never will be. You're a Rosewill, and you can be proud of that. But you ain't no $70 case. You need to remember that, boy, before you go pokin' about where you don't belong and wind up in real trouble. I'm shure glad we talked.
The RAIDMAX Blackstorm
legendary for its stormy blackness...
XION CyborGX
OH COME ON XION, have you honestly never heard of "puberty?" Its like you're stuck in 199whatever back when the first Matrix was cool and nobody knew how they were going to scuttle it with trite gayness and Alienware was still independent and "edgy" and...is this kind of crap really selling? Not only will I never buy a XION case due to their outstanding ugliness, a double-middle-digit salute goes their way for actually making me feel old.
I scoured through pages and pages of this crap today, and my only conclusion is that it might be better to just pony up and get something that doesn't look like it was designed by a teenager with a passion for bolting on the most baddest ass spoilers he can find to the back of his Kia Spectra. Which, apparently, is like 0.01% of all cases on the open market. At this point I would actually, legitimately consider teh Antec 300 if they weren't so obviously sending their customers a message by refusing to finish the interiors of their budget cases. As inexplicable as it sounds, that thing manages to fuse fugly and boring incredibly well.
I'm going to go masturbate weakly and overdose on pain meds, I think - I'd kill myself, but the budget case sector has already murdered my living soul so what's the fcuking use...