Frontpage Deal


50-Gallon Suncast Deck Box $49 + Free Shipping
Buy Now ►
Home Depot
has
50-Gallon Suncast Deck B
ox on sale for
$49
.
Shipping is free
. Thanks PiCCASSiMO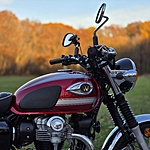 Original Post
Suncast 50 gal. Deck Box - $49 with free shipping
Normally this sells for $69, but it's $20 off (29%) with free shipping. Unfortunately, taxes are going to be included, as there probably isn't a US state that doesn't have a Home Depot.
Link:
http://www.homedepot.com/h_d1/N-5...reId=10051

Wiki Community Board
This can and should be used by you to post updated deal information.
Be sure to read this because it may contain answers to your questions!
***DEAD***
Alternate Suncast "Premium" deck box for $6 more:
http://www.homedepot.com/webapp/w...=203240467
Specs are similar, but this one is a brown/mocha finish that some might prefer to the lighter color of the $49 box. Wish there was some way to compare quality between the OP's find ("on sale" for $49) and the "Premium" box (regular price at $55).