Frontpage Deal


Sennheiser HD428 Stereo Headphones (Refurbished) $23.50 + Free shipping (expired)
Buy Now ►
VM Innovations
has
Sennheiser HD428 Stereo Headphones
(Refurbished) for
$23.49
after applying promo code
4HDAUDIO
during checkout with
free shipping
. Thanks iconian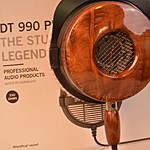 Original Post
iconian
(
)
Apr. 24, 2012 at 3:48pm

Wiki Community Board
This can and should be used by you to post updated deal information.
Be sure to read this because it may contain answers to your questions!
DEAD
To apply Shipping code:
You have to edit the cart (after adding, and clicking checkout), then click on "apply code" checkbox, then enter the code and checkout.
Here is a comparison with some other Sennheiser headphones that are often discussed here:
Sennheiser HD 428 vs. HD 448 vs. HD 201 vs. HD 280 Pro
[headphone.com]
Basically, they should sound virtually identically to HD448, have stronger bass than HD 201 and be weaker in both bass and treble than HD 280 Pro.