Feature Tutorial: Following Users
Why Follow?
While checking the front page for new deals every 15 minutes is perfectly reasonable for some users, it is still common to miss out on certain front page deals that expire minutes after they're posted. This is not surprising given that by the time a deal reaches the front page, a few hundred other users have viewed, voted and replied to a deal's thread.
For that, we introduce the "Follow" feature. Think of it as partnering with a virtual Slickdeals shopper. Chances are, the deals you're buying are coming from a handful of users who have similar deal-finding interests as you do. The deals they find don't all necessarily make it to the front page, but they are always deals you happen to need. Find your ideal deal partners - the college student, the mom, the techie, the coupon coder, etc. - and be notified every time they post a deal with this new "Follow" feature.
The Follow feature can be used not just for deals but for also for all other forums that Slickdeals hosts. Need down-time tech advice and reviews? Follow that guy from Tech Support. Don't get enough drama from Facebook? Follow a controversial lounger! Wanna know what's new with Slickdeals? Follow bryantq.
How to Follow
There are three ways to Follow a user:
1. From a Post: All users can be followed by clicking the +Follow button under their user name from any of their posts. If a user has chosen not to be followed, the button will not appear under their user name and that user cannot be followed.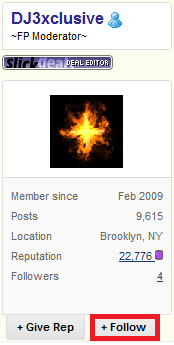 2. Settings & Options: If you know which specific users you would like to follow, go to your Account page and select the "Follow" tab from the categories on the left hand side. Enter a user name on the Following text field and click, "Follow User". The user name will then appear on your Following list.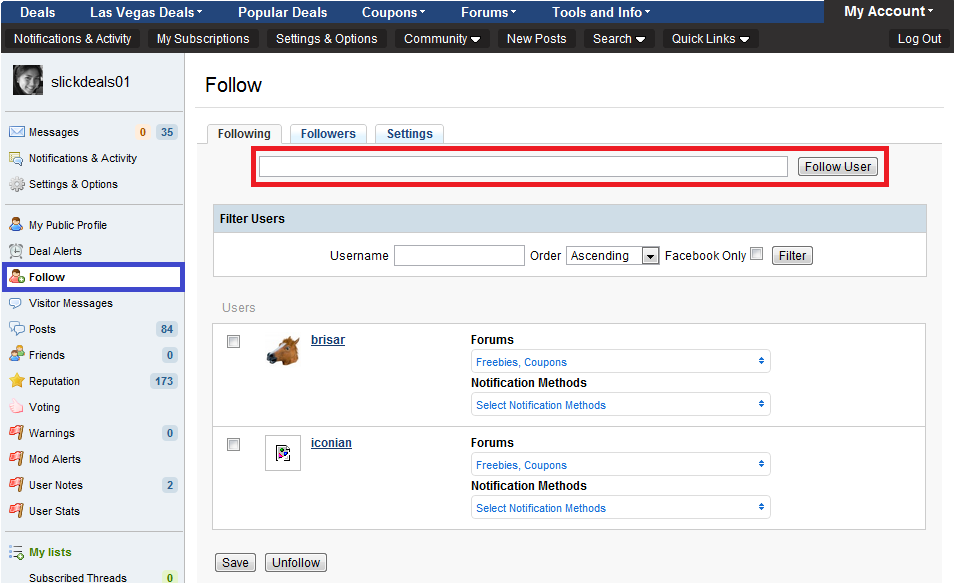 3. Facebook: After linking your Slickdeals and Facebook accounts, a list of recommended friends to follow will appear on your Follow tab from your Account page. Click on the check boxes next to your friends' names and click "Follow".
Settings
Settings can be determined by going to your Account page. After logging in using your regular Slickdeals credentials, go to your Account Settings by clicking your username on the top right section of any Slickdeals page. From the left hand side, select "Follow" to open your Follow feature. The three tabs for this section are "Following" "Followers" and "Settings". Open the tutorials by clicking on the blue HELP tab on the left to see all of your available settings.
Who to Follow
A list of your Facebook friends who have linked their Slickdeals accounts, Slickdeals deal editors and top posters and appears on "Recommended Users to Follow" on your Account page, on the "Follow" section under the "Following" tab.
How to Unfollow
There are two ways to discontinue following another user:
1. From a Post: Most users will either have a +Follow or -Unfollow button under their user name. You can discontinue following a user by clicking on the -Unfollow button under their username.
2. Settings & Options: From your Account Settings page, select "Follow" on the left hand side to see your options. A list of the people you are following is on your "Following" tab. To unfollow users, click on the check box next to their names and click "Unfollow".
If you have any feedback, questions, bugs or issues, please report them in the feedback thread here: http://slickdeals.net/f/5086048-Facebook-Following-features-Feedback?v=1
Last edited by bryantq; 08-22-2012 at
06:42 PM
..