Buy Now ►
SLICKDEALS MOBILE APP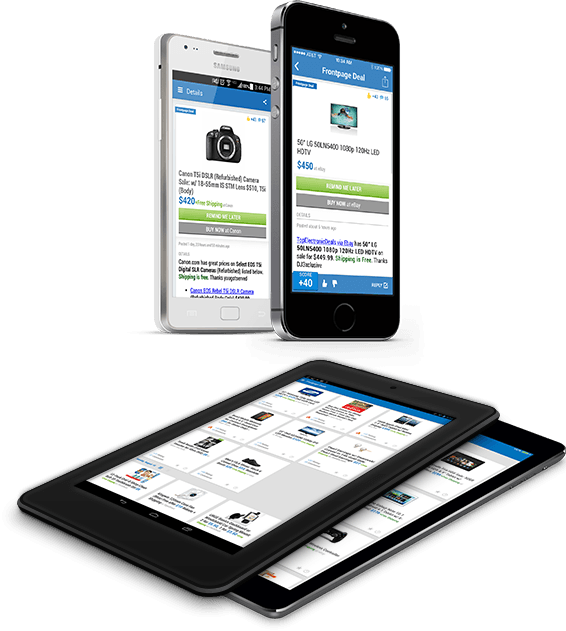 Thousands of Deals in Your Pocket
Slickdeals.net is the largest community-driven deal sharing site. The Slickdeals Community shares only the best deals, discounts, sales, promotions, coupons and freebies to save money online. We've created an app to give you even more of what you love: the very best deals from thousands of retailers.
Why You'll Love The Slickdeals App:
Priority Access to Deals

Get in early on smokin' hot Frontpage deals with real time notifications. Deals are verified daily by our team so you can shop with confidence.
Frontpage Deals

Score the best deals and coupons from Frontpage Deals which are held to the highest standards based on Price History, Product Reviews, Coupon Codes, Shipping Options and more. Only best-of-the-best make it here.
Personalized Deals

Looking for something specific? Set up a Deal Alert and we'll send you a notification when a deal with your keyword hits the Slickdeals forum. Boom.
Shop Smarter

Quick search for fast customized results, bookmark your favorite deals, browse from a variety of categories and thousands of your favorite retailers.
Unlock Local Deals

Catch a Slickdeal anytime, anyplace. "Map Views" shows the best deals relative to your location. Plus, access to the nearest deals including those from daily deal sites like Groupon and LivingSocial.
Savings for You

Saving money online is the heart of the Slickdeals Community. Create a Slickdeals account to post, thumbs up/down and comment on deals. Have a question? Ask fellow Slickdealers about products, promo codes, money saving tricks, troubleshooting or just hangout!
Save Money on any Device

Login to your Slickdeals account from any screen and continue saving money with your personalized deal alerts, reminders and favorites.