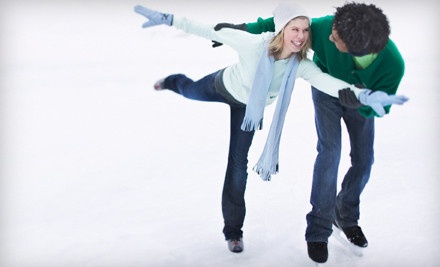 If woolly mammoths had mastered the triple Lutz, they would've made it out of the Ice Age and into the Bronze Age, if not the Silver or Gold Age. Ensure your long-term survival with this Groupon.
Choose Between Two Options
$25 a skating-lesson package for one (up to a $267 value)
$45 for a skating-lesson package for two (up to a $534 value)
Each package includes the following:
Four weeks of beginner ice-skating lessons (a $59 value/person)
Skate rental throughout the four lessons (a $3 value/lesson)
Unlimited admission to public skating throughout the four weeks (up to a $7 value/visit; does not include skate rental)
Valid for children or adults
For lessons, skaters can enroll for Tuesday, Thursday, or Saturday meeting times beginning on one of the following Tuesdays: May 21, July 23, or Sept 17. Each 30-minute, weekly lesson helps students build their confidence on the ice by teaching maneuvering basics and balance, which they can further practice during unlimited open-skate sessions during the four weeks.
Limit 1 per person, 5 per family. May buy 2 additional as gifts. Reservation require 48hr in advance. All classes must be used by the same person.