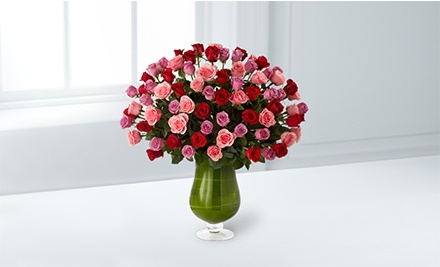 Moms are always there for you, whether it's when you fall off your bike as a child, or when you move away to college and forget how to make a peanut butter and jelly sandwich. Say 'Thank You' with this Groupon.
$20 for $40 Worth of Mother's Day Flowers and Gifts
FTD's selection of Mother's Day arrangements and gifts offers an endless array of colorful ways to show mom your appreciation. Impress her with the Loving Abundance bouquet ($29.99), bursting with 50 pink Peruvian lilies, or help her make a new friend with the plush bear that accompanies the Sweet Memories mini rose package ($29.99-$49.99).

FTD offers same-day delivery in most areas for orders placed before 2 p.m. in the recipient's time zone. Service and shipping fees apply to each order, typically ranging from $15.99 to $29.99 but varying based on the order's contents and delivery date. Click here for additional information about redeeming your Groupon.
All prices are subject to change.
Limit 2 per person, 1 per order. Online only (http://gr.pn/wVxAtb) for items on www.FTD.com (http://www.ftd.com). US delivery only; not valid for delivery in AK/HI. Shipping & service fees may apply (typically $15.99-$29.99). Valid toward taxes & fees; special offers & discounts shown on www.FTD.com (http://www.ftd.com) at time of redemption. Not valid for FTD email offers or websites with special offers like points/miles. Click here for complete terms & conditions (http://gr.pn/16QNROo).