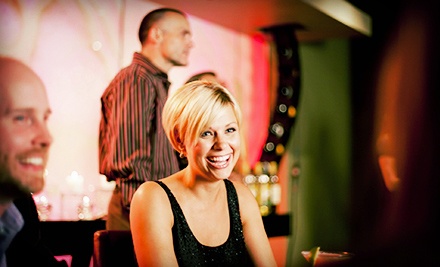 When comedians get onstage, they open their lives to audiences and to any burglars who realize they won't be home for hours. Help yourself to comedic treasures with this GrouponLive deal.
The Deal
Tickets and drinks to The Unscriptables improv show at 8 p.m. or The Unscriptables Domprov show at 10 p.m.
When: Saturday nights
Where: Funhouse Lounge
Section: General admission
Door time: 30 minutes before showtime
Ticket values include all fees.
Ticketing Options

$16 for two tickets (a $10 value each) and two drinks (up to a $9 value each; up to a $38 total value)
$32 for four tickets (a $10 value each) and four drinks (up to a $9 value each; up to a $76 total value)
The Unscriptables
The Unscriptables improv troupe takes to the stage of Funhouse Lounge twice every Saturday night. At 8 p.m., shows touch on topical themes and use inventive games that involve the audience. In order to maintain their rep as "the best in unscripted theatre," The Unscriptables Domprov show at 10 p.m. defers to the unconventional motivational tactics of two leather-clad Eastern European dominatrices. Mistress Ivana or Mistress Kiki (depending on the night) commandeers the proceedings and forces the improvisers to play games off the top of their heads, doling out prizes or punishment as she sees fit—though it is often difficult to tell which is which. Possibilities include getting pelted with marshmallows by the audience or getting a firm talking-to. For obvious reasons, this is an adults-only show.
Limit 4 per person. Valid only for option purchased. Reservation required. Redeem starting 4/28 for a ticket. Must show valid ID matching name on Groupon at Funhouse Lounge. Refundable only on day of purchase. Must redeem together to sit together. Discount reflects Funhouse Lounge's current ticket prices-price may differ on day of the event (http://gr.pn/o4BBqe). Doors open 30mins before showtime. For ADA seating, call box office promptly upon receipt of voucher - availability is limited. Valid only on Saturdays. Must be 18 or older.