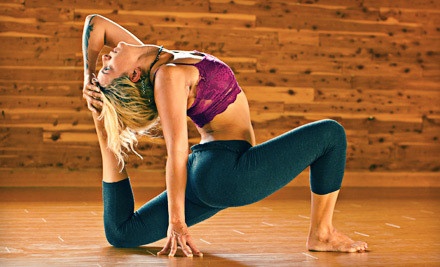 Sun salutations keep our solar body from growing angry and burning libelous graffiti on the Hubble telescope. Maintain the cosmic balance with this Groupon.
Choose Between Two Options
$30 for one month of unlimited hot-yoga or regular yoga classes (up to a $120 value)
$30 for 10 hot-yoga or regular yoga classes (up to a $120 value)
Classes scheduled seven days a week embrace a variety of yoga styles, including Core yoga that focuses on torso muscles and toasty Hot Flow courses. They also offer unheated sessions, including partnered Alignment Flow classes that cater to students and their snowmen counterparts. Alignment Flow sessions follow the Anusara principles of alignment. Click here for a class schedule.
Though Yoga Union sometimes features a discounted price online, this Groupon still offers the best deal available.
Yoga Union
As its name attests, Yoga Union is all about togetherness, valuing the strength and support of its student community over the athleticism of its members. Although this community is made up of people from all over the city, its roots are firmly planted in the surrounding Mount Tabor neighborhood; many of the highly trained teachers come primarily from the surrounding homes speckled across the scenic countryside. In fact, residents Annie Adamson and Todd Vogt—who would eventually become co-owners of the studio—fell in love with each other as students at Yoga Union, a testament to the close-knit, supportive atmosphere of the studio.
During the nonjudgmental classes, natural light spills in from the windows onto bamboo flooring, illuminating an open space where bodies of all builds and experience levels stretch, breathe, and hone their "Om" yodeling skills in rhythm.
Limit 1 per person, may buy 2 additional as gifts. Limit 1 per visit. Must attend first Groupon class by expiration date; 10 class option expires 3 months from activation. Valid only for option purchased. Must be 16 or older, or have guardian consent. Must sign waiver. Classes must be used by the same person. Not valid for workshops or specialty classes.