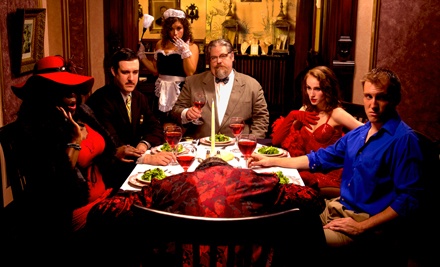 Life is full of unanswered questions, such as who really built the pyramids, where swiss cheese gets its holes, and what the "J" in Michael J. Fox stands for. Get to the bottom of a solvable mystery with this Groupon.
Choose Between Two Options
$29 for a two-hour murder-mystery dinner for one (a $60 value)
$59 for a two-hour murder-mystery dinner for two (a $120 value)
The Murder Mystery Company encourages diners to discover latent detective skills during an evening of faux fatalities that unfolds over a thrillingly tense multicourse dinner. As diners munch away, a sudden death interrupts the feasting, and a hapless detective arrives to accuse one of the audience members. Tablemates work together to clear their good names and allocate blame on whoever took the last biscuit, slyly sleuthing and sorting out clues while scanning the room for guilty eyes and ready-to-flee hairpieces. Actors generally aim their humor and eerie effects at a PG-13 audience, but can make adjustments if the crowd skews younger. See the locations page for details on local show dates and times.
Valid only for option purchased. Reservation required; subject to availability. Valid for 1 show only. Drinks not included.