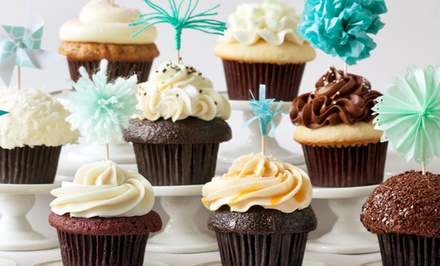 $19.50 for Online Order of One Dozen Classic Cupcakes or $38.50 Worth of Specialty or Themed Cupcakes ($38.50 Value)
Customers log on to Trophy Cupcakes and Party's website to order a variety of delectable cupcakes to be picked up at one of four Seattle area locations, including classic flavors, specialty cupcakes, and themed creations. Classics come in flavors such as triple coconut, vanilla chocolate, or snickerdoodle, and speciality flavors include salted caramel and black forest. Unique themes, such as ballerina cupcakes and jungle cupcakes are perfect for special occasions.
The four area shops to pick up the online orders are located at University Village, Pacific Place, Wallingford Center, and The Bravern in Bellevue.
Valid for online orders only, no walk-ins. Limit 1 per person. Limit 1 per visit. Limit 1 coupon per transaction. Not valid for orders placed to be picked up on 10/30-10/31, Christmas Eve. New Year's Eve, 2/1-2/2, 2/13-2/14, 4/19-4/20, 5/10-5/11, or 6/14-6/15. Good only for classic cupcake flavors up to $38.50/dozen (or pay additional charge for other flavors). Not valid for catering, delivery or walk-ins. Not valid for custom cupcakes. Subject to availability. Must redeem in one visit. Cannot combine with other offers/promotions. No cash back or credit.