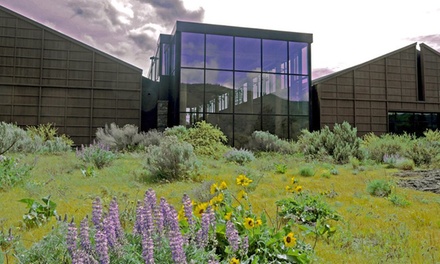 Museums bring history alive, like a skeleton found underneath your house. Dig up the past with this Groupon.
Choose from Three Options
$17 for a one-year individual membership ($35 value)
$25 for a one-year family membership ($50 value)
$9 for a one-day admission for two ($18 value)
Columbia Gorge Discovery Center presents its forthcoming exhibit, "Sasquach Revealed," which runs December 2013 through March 2014. The 1,500 square-foot showcase explores Native American legends and presents modern evidence related to Sasquatch in the United States and especially in the Pacific Northwest. While not taking a position on the existence of "Big Foot," it instead explores accounts of alleged sightings, stories, and ancient legends that swirl around the myth today. The exhibit is intended to draw interest from believers and skeptics alike.
Children aged 5 and younger are admitted free of charge. Family memberships offer full member benefits for two adults and up to four children (must share a household) or four grandchildren younger than 21. Annual membership benefits include:
Free museum admission for a year
Free members' newsletter subscription
Invitations to special exhibits and programs
Discounts on lectures, films, workshops, classes, and special events
10% off at Columbia River Trading Company Museum Store
10% off at Basalt Rock Café (excludes alcohol)
Limit 1 per person, may buy 2 additional as gifts. Valid only for option purchased. Expires 90 days after purchase. Must activate by expiration date on your Groupon, membership expires 12-months from activation date. Valid for new members only or those who have not been active in the past 12-months.