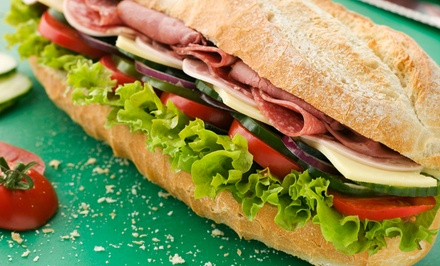 Making a sandwich requires only two slices of bread, filling, and an expensive machine that holds the slices of bread steady while the filling is shot in between them with some sort of air-powered hose. Go somewhere that has that apparatus with this Groupon.
The Deal
$10.50 for three Groupons, each good for one sandwich meal ($22.50 total value). Each meal includes:
One five-inch mini basic sub (a $4.50 value)
One medium fountain drink (a $1.75 value)
A choice of chips, macaroni salad, or potato salad (a $1.25 value)
Limit 1 per person. Limit 1 per table. Limit 1 per visit. Extra $1 fee for 8-inch basic sandwich, extra $1.25 fee for 8-inch favorite sandwich, and extra fee for additional items. Valid only at on Clackamas location. Not valid at any other Big Town Hero locations.