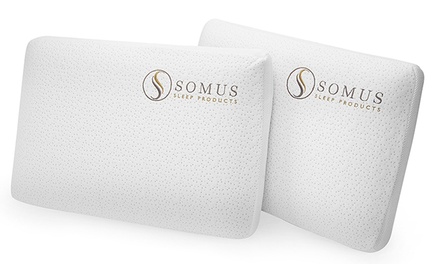 It's important to support your spine while you sleep so your dreams aren't all about angry, tired skeletons. Rest easy with this Groupon.
2-Pack of Somus Supreme Comfort Pillows
Two supreme memory foam pillows
Ideal for any sleeping position
Embedded with bamboo charcoal that controls moisture and odor
Alleviates pressure points on the neck and back
Side mesh for better air flow
Medium density
Traditional pillow shape
Hypoallergenic cover and pillow
Dimensions: 23"x15"x5" each
Weight: 3lb. each
True to their name, these Somus pillows were designed with comfort in mind. Their traditional shape and medium-density foam work for all types of positions, whether you fall asleep on your side, back, stomach, or while performing a slightly wobbly headstand. The hypoallergenic memory-foam interior conforms to the head and neck, helping to alleviate pressure points for a better night's sleep. In addition to comfort, the pillows were also designed to keep mold at bay: mesh siding boosts air flow and the foam's embedded bamboo charcoal works to control moisture and absorb odors.
May buy multiple. Limit 1 per order. Valid online only. Shipping not included. Extra $4 shipping fee to 48 contiguous U.S. states. Does not ship to Canada.