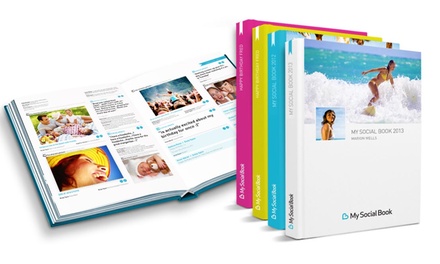 Before social media, people could only share their memories by creating a photo album or building a slide projector capable of reading their thoughts. Keep your stuff in one spot with this Groupon.
Choose from Three Options
$19.99 for one 50-page glossy hardcover book ($34.90 value)
$26.99 for one 100-page glossy hardcover book ($53.90 value)
$45 for one 200-page glossy hardcover book ($81.90 value)
Books from My Social Book preserve your favorite Facebook photos, statues, and wall posts in permanent, hardcover form. Thanks to their automated creation system, which collects Facebook posts made since 2007, users can create their books with just a few simple clicks.
Limit 1 per person. Online only. Must have a Facebook account. Shipping included.