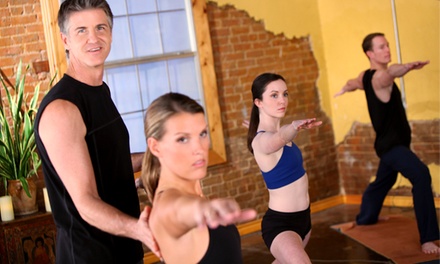 Adopting exercises from other cultures can help shake up a workout, which explains the growing popularity of that sport in which Scottish guys throw logs. Speak the universal language—sweating—with this Groupon.
Choose Between Two Options
$29 for 10 fitness or yoga classes (up to a $119 value)
$49 for 20 fitness or yoga classes (up to a $313 value)
Nonyoga options include martial-arts classes to help increase strength and balance and teach basic self-defense, and cross-training sessions that blend techniques for full-body workouts.
Up to 50 students gather for 60-minute yoga classes, which are held in a controlled-humidity room where 85-degree heat loosens muscles. All classes are open to all skill levels, and the instructors always offer straightforward modifications for beginners, advanced students, or robots with unoiled joints. See the class schedule.
Though this merchant sometimes offers a discounted price online, this Groupon is still the best deal available.
New Students only or clients whose last class was over 1 year ago. Valid for al classes including Yoga, Cross Train or Kung fu. Limit 1 per person. May buy 1 additional as gifts. Limit 1 per visit. Must activate Groupon by the expiration date and must complete all classes within 90 days of activating Groupon. Must sign waiver. New members only. Classes are non-transferable. May use over multiple visits. Valid only for new students & students who have not visited American Power Yoga for at least one year. Not valid towards private yoga sessions.