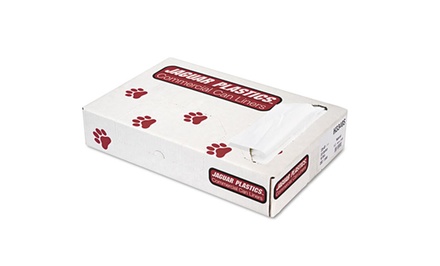 Jaguar Plastics 33-Gallon Commercial Trash-Bin Liners (200-Pack)
Securely stow up to 33 gallons of waste, paper, and other dull garbage without fear of breaking or leakage with these commercial trash-bin liners. The liners' sturdy polyethylene quarantines refuse from the outside world, and a star-sealed bottom provides extra reinforcement while helping the liners fit snugly into most trashcans. Individual folding and dispensing prevents multiple bags from being pulled at once, helping you change bins quickly.
200-pack of 33-gallon bags
High-density polyethlyene resists tearing
Individually folded and dispensed for easy access
Star-seal construction distributes weight evenly along bag's bottom
Great for carrying heavy loads or using in a sack race
Dimensions (each): 33" (W) x 40" (H)
---
We proudly sourced this product for our merchants. To secure even bigger savings on business-related products, become a Groupon merchant today!
---
For questions pertaining to this deal, click the Ask a Question button below. For post-purchase inquiries, please contact Groupon customer support.

View the Groupon Goods FAQ to learn more.
Limit 5 per person. Free returns. Does not ship to AK/HI/Canada/Puerto Rico. Most orders are delivered within 7 business days from the purchase date. Does not ship to PO boxes. See return policy. (http://gr.pn/1emHyte) Must pay applicable tax and provide name and shipping address at checkout, which will be shared to facilitate shipping. (http://gr.pn/hqEozV) Goods sold by Groupon Goods.