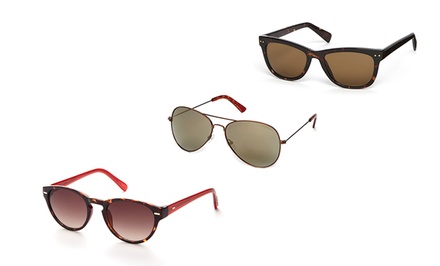 Cole Haan Sunglasses
Women's and unisex styles
Metal or plastic frames
100% UV protection
---
Cole Haan Aviator Sunglasses: Brown
Product Number: C 6068 51
Gender: Unisex
Silhouette: Aviator
Detail: Thin wire frame with nose pads; thin temples with plastic end pieces
Frame Material: Metal and plastic
Frame Color: Brown
Lens Color: Bronze flash
Sizing: 62mm lens; 16mm bridge; 140mm arm
Cole Haan Aviator Sunglasses: Gold
Product Number: C 6068 61
Gender: Unisex
Silhouette: Aviator
Detail: Thin temples, tortoise plastic end caps; includes carry case and cleaning cloth
Frame Material: Metal and plastic
Frame Color: Gold
Lens Color: Brown
Sizing: 62mm lens; 16mm bridge; 140mm arm
Cole Haan Round Sunglasses: Two-Tone Tortoise/Red
Product Number: C 6089 21
Gender: Women's
Silhouette: Round
Detail: Contrast tone arms with inlaid logo detail at end
Frame Material: Plastic
Frame Color: Tortoise/Red
Lens Color: Brown gradient
Sizing: 50mm lens; 24mm bridge; 135mm arm
Cole Haan Square Sunglasses: Honey Tortoise
Product Number: C 6080 25
Gender: Women's
Silhouette: Square
Detail: Shaped temples with metallic branding detail
Frame Material: Plastic
Frame Color: Honey Tortoise
Lens Color: Brown gradient
Sizing: 58mm lens; 17mm bridge; 132mm arm
Cole Haan Square Sunglasses: Tortoise
Product Number: C 6080 21
Gender: Women's
Silhouette: Square
Detail: Shaped temples with metallic branding detail
Frame Material: Plastic
Frame Color: Tortoise
Lens Color: Brown gradient
Sizing: 58mm lens; 17mm bridge; 132mm arm
Cole Haan Wayfarer Sunglasses: Black C 6069
Product Number: C 6069 11
Gender: Unisex
Silhouette: Wayfarer
Detail: Contrast tone arms with one silver-tone logo plate at end
Frame Material: Plastic
Frame Color: Black
Lens Color: Smoke
Sizing: 52mm lens; 19mm bridge; 140mm arm
Cole Haan Wayfarer Sunglasses: Black C 6090
Product Number: C 6090 10
Gender: Women's
Silhouette: Wayfarer
Detail: Oversized
Frame Material: Plastic
Frame Color: Black
Lens Color: Smoke
Sizing: 50mm lens; 22mm bridge; 145mm arm
Cole Haan Wayfarer Sunglasses: Dark Tortoise
Product Number: C 6069 21
Gender: Unisex
Silhouette: Wayfarer
Detail: Colored temples with metallic branding detail
Frame Material: Plastic
Frame Color: Dark Tortoise
Lens Color: Brown
Sizing: 52mm lens; 19mm bridge; 140mm arm
About Cole Haan
Trafton Cole and Eddie Haan. If two names ever said "purveyor of fine goods," then they're the names of Cole Haan's founders. The duo joined in 1928 to "make good goods and nothing but good goods." That spirit lives nearly a century later as Cole Haan's designers create men's and women's footwear, outerwear, sunglasses, and leather goods that exude style whether you're strolling through Manhattan or the local market. Still valuing Trafton and Eddie's passion for superb craftsmanship, the designers show a fondness for fine materials such as velvet, Italian leather, and alpaca wool.
Brought to You by ideel
ideel's members know the thrill of discovering great deals on name-brand fashion and home products. That's because ideel partners with brands to offer dozens of sales each day on everything from a Prada handbag to a Cuisinart food processor. Because ideel is the newest Groupon company, you'll now find some of their best deals featured on Groupon Goods.
---
For questions pertaining to this deal, click the Ask a Question button below. For post-purchase inquiries, please contact Groupon customer support.

View the Groupon Goods FAQ to learn more.
Limit 3 per person, may buy 2 more as gifts. Does not ship to AK/HI/Canada/Puerto Rico. Most orders are delivered within 12 business days from the purchase date. Does not ship to PO boxes. FINAL SALE; no returns unless defective. See return policy. (http://gr.pn/1emHyte) Must pay applicable tax and provide name and shipping address at checkout, which will be shared to facilitate shipping. (http://gr.pn/hqEozV) Goods sold by Groupon Goods.