Are 8K TVs Worth the Price?
Don't rush to upgrade your television yet, as the 8K TV price tag may not be worth it due to the lack of 8K content.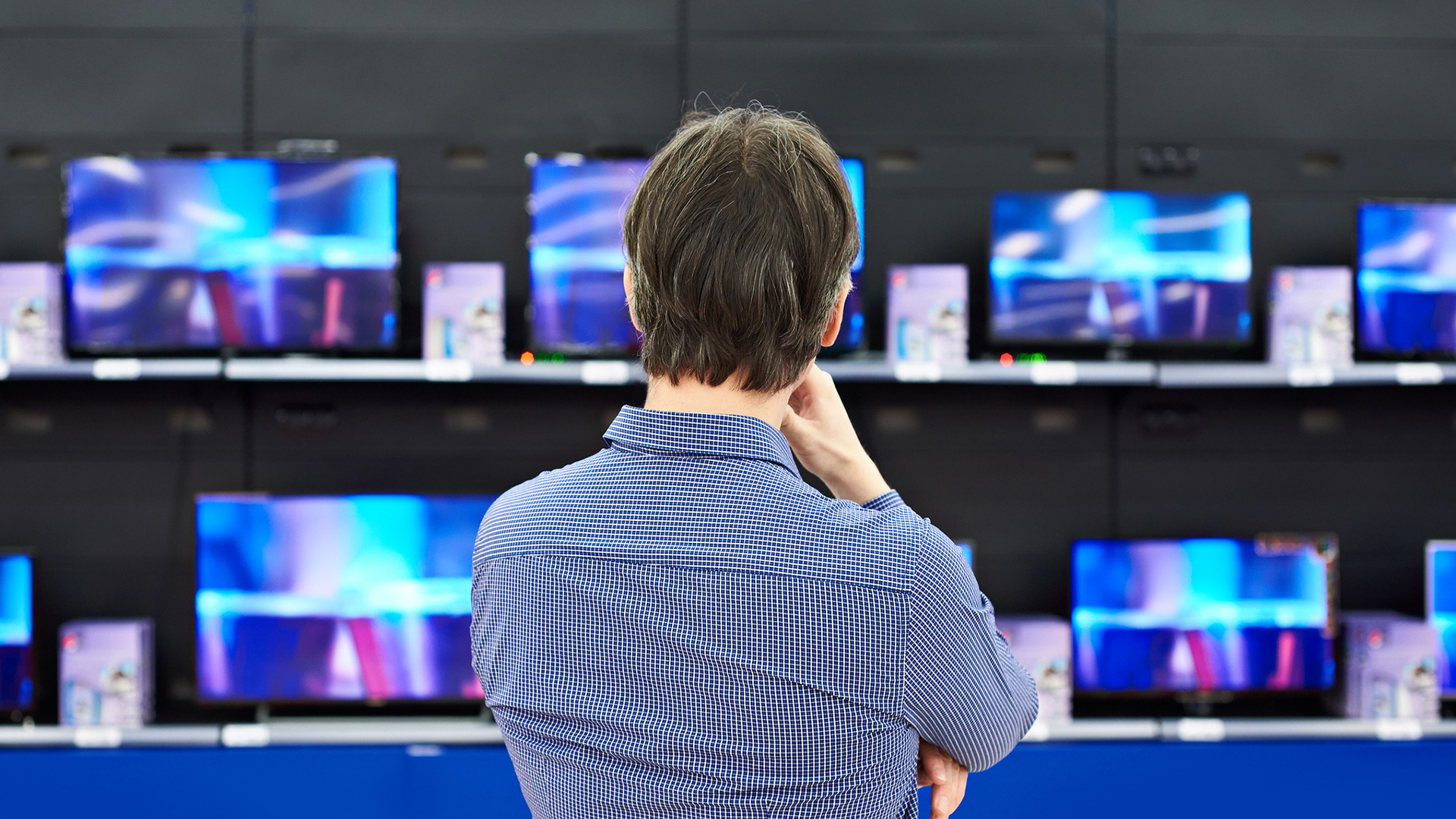 8K televisions are the latest home entertainment craze, offering extremely high resolution and bold, crisp colors that represent a true quantum leap compared to 4K screens.
But don't rush to upgrade your home theater yet, as there are a number of factors to consider before determining whether an 8K TV is really worth paying the big bucks. These factors include a high introductory cost, the availability of content and the remaining working life of your current television set — particularly if your 4K television is already in good condition and could last you several more years.
What is 8K TV technology?

8K is a new screen technology that affords four times as much resolution as 4K Ultra, the most recent standard for high definition televisions.
4K televisions have a resolution of 3,840 by 2,160 pixels, whereas 8K sets hold an astonishing resolution of 7,680 by 4,320 pixels, representing a huge leap in image sharpness. 8K TV resolution comprises 33 million pixels that offers more variety in terms of color, luminosity and tone than 4K, which displays just over 8.2 million pixels. The amount of additional detail results in the most realistic display available on the market right now. However, 8K must be viewed at the correct distance to fully notice the difference.
8K televisions also offer better motion processing. This is most noticeable when watching content such as sports or action movies. The faster images move, the blurrier they can become. For example, a football or basketball game can produce blur around the edges if images are not processed and displayed fast enough. 8K's motion processing capabilities help ease blurriness.
What size 8K TV should I buy?
There is a minimum screen size needed to display 8K properly. You would need a big television of no less than 65 in. (and probably closer to 82 in.) to truly appreciate 8K's outstanding visual qualities. The human eye can definitely see the difference between 8K and lower resolution, but only if you are close enough to the screen.
What's the best viewing distance for 8K TVs?
Because 8K is a high-definition format, you need to position yourself at the right distance from the screen for a better viewing experience. You may be thinking about splurging on the next 8K TV sale, but you should first make sure that your home can accommodate a screen of more than 70 in. in order to enjoy the full benefits of an 8K TV.
If you sit too close to the screen you can suffer from eye strain. Sit too far away and your eyes will not be able to process the additional detail. Experts indicate that the ideal distances from your seat to the television for 4K or 8K are as follows, which is equivalent to about one and 1.5 times the size of the TV.
70 in. TV = sit between 6 ft. and 9 ft.
75 in. TV =  sit between 6.5 ft. and 9.5 ft.
80 in. TV = sit between 6.5 ft. and 10 ft.
85 in. TV = sit between 7 ft. and 10.5 ft.
That said, to really tell the difference between a 4K and 8K television, you'll need to be even closer. For an 8K TV that is 70″ you'll need to sit 2.3 feet away to truly tell the difference from a 4K display. This is because at further distances, the higher level of crisp detail is no longer discernable by the human eye.
Do your other devices need to be ready for 8K?

Image resolution is related to the number of pixels that the screen can show. The higher the resolution, the larger the audiovisual files are. For your devices to connect to an 8K TV, they need to be equipped with HDMI 2.1 capacity (HDMI stands for High-Definition Multimedia Interface).
HDMI 2.1 cables allow for dynamic HDR, quick refresh rates and a much higher bandwidth, all of which are needed for a seamless reproduction of 8K visuals. Bear in mind that currently there are no physical formats, such as Blu-ray, that can carry 8K.
Is there enough 8K content available?
Your television may be capable of displaying images in 8K, but there is still a limited library of native 8K content available for consumers. That said, if you buy an 8K TV, even the current 4K content will look much crisper with smoother movements due to the device's faster image processing capabilities.
A collection of available 8K video sources is published by the 8K Association, a group that promotes the creation of 8K native content. The few available 8K content includes some games and a small selection of YouTube videos that were filmed in 8K. Many of the major streaming services do not have 8K content available, and no optical discs (Blu-ray or similar) support 8K.
There are still some technical hurdles to jump before 8K becomes an industry standard. To begin with, 8K native footage needs 121.5 GB per minute, which translates into a mammoth 7.29 TB for an hour. The processing capacity needed in order to access, play and edit 8K content is enormous. Guardians of the Galaxy 2 was the first major Hollywood movie to be shot in 8K, but not many have followed.
Internet speed is one major factor limiting the growth of 8K content, which takes longer to load even if audio and video content is digitally compressed. If your area currently does not have high-speed broadband and you are already experiencing lag when watching 4K content on streaming services, you might want to hold off on buying an 8K television until a faster service can be provided by your ISP.
But what if you are a gamer, is an 8K TV worth it?
The video game industry is a step ahead in the adoption of 8K technology and the newest generation of mainstream consoles. Sony's PlayStation 5 and Microsoft's Xbox Series X/S, are using Artificial Intelligence upscaling to push 4K to the limit to produce crispier and more realistic images. Smoother movements are also key in an immersive gaming experience, so even if the game is not 8K native, an 8K set can still provide a better experience than a 4K screen.
There are a handful of mainstream games that will offer an 8K-like experience when displayed on 8K televisions. They are not 8K native, but these games have outstanding graphics that will absolutely pop when displayed on a screen with a higher processing capacity.
Games where you can take advantage of 8K-like quality:
Ubisoft's Assassin's Creed Valhalla
Activision's Call of Duty: Black Ops Cold War
Control: Ultimate Edition
Forza Horizon 4
Immortals Fenyx Rising
Gears 5
Ghost of Tsushima (available only on PS5)
Cyberpunk 2077
Given that each game provides several hours of gameplay, upgrading to an 8K TV is possibly a worthwhile investment.
How much does an 8K TV cost?

Because 8K technology is just being introduced, prices can be quite steep (think of the hefty price tag in the first 4K TVs). Right now, 8K televisions are a luxury product and it will be a couple of years before devices are priced below $2,000.
A 75″ 8K screen from a big brand such as LG or Samsung, for example, costs around $3,000—$4,000 on the lower end. Compare this to 4K TVs of the same size, which you can get for less than $1,000, such as this 75″ 4K TV from Samsung.
Should you upgrade to 8K now or wait?
If you have a 4K TV currently, you should wait for 8K TV prices to go down and when there is more 8K content readily available before upgrading. The hefty price tag and the lack of content make 8K TVs an unattractive option at this time. At a conventional viewing distance, the difference in quality between 8K and 4K sets is hardly perceptible enough to warrant an upgrade. But if you are a gamer with the latest generation console, upgrading to an 8K can offer the ultimate immersive experience.
If you own an older 1080p television, then it might be a good idea to skip 4K altogether and go straight for 8K if you can afford it. You will still be able to watch 4K content on an 8K screen, and your television will be future-proofed for the next generation of content.
Get an Alert When 8K TVs Go On Sale
---
Our editors strive to ensure that the information in this article is accurate as of the date published, but please keep in mind that offers can change. We encourage you to verify all terms and conditions of any product before you apply.