For Mom: Create an At-Home Spa Experience with These Steals
Treat yourself at home for less.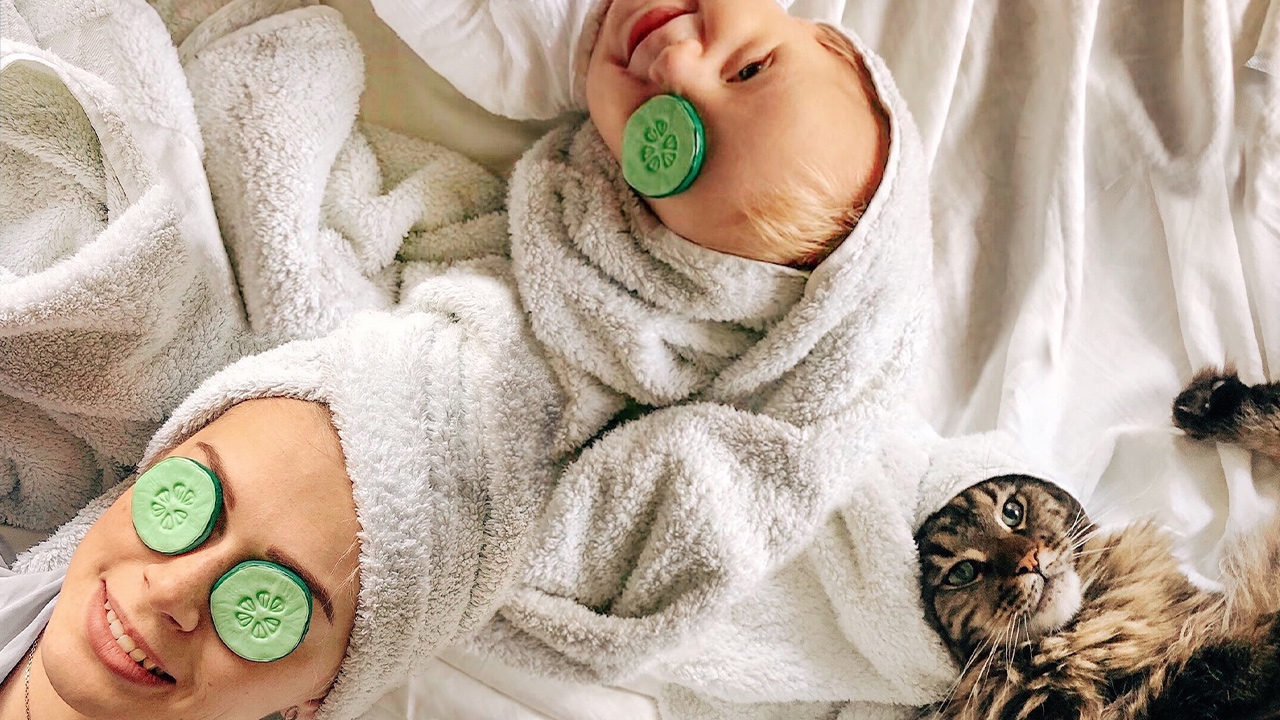 Is there anything better than spending a day at the spa? Whether you're going in for a massage or have an appointment for something as simple as getting your nails done, we all love being pampered. Sadly, the bill at the end of a treatment can have you feeling even more stressed than when you came in.
Skip the hassle and just create your own affordable at-home spa experience. Plus, with these types of businesses being closed in the midst of the coronavirus pandemic, this seems like the right time to invest in yourself and add the calming elements your home might be missing. In addition, a handful of brands have can't-miss sales going on right now to ensure customers continue to feel good at home.
Affordable At-Home Spa Essentials
Put on a Mask

Purlisse Blue Lotus + Seaweed Treatment Sheet Mask (6-Pack)
Regular Price: $36
Masks are hands down one of the cheapest ways to make it feel like you're actually at the spa at home. Purlisse has the most soothing options including this seaweed-infused treatment designed to rejuvenate and hydrate your skin. It's being sold for $36 for six masks, making it only $6 a mask.
Deal Tip: Get an extra 25% off select skincare items on Purlisse with promo code SKIN25. Simply enter it prior to finalizing your order.
Make Sure to Have Options

Yensa Pumpkin 2-in-1 Radiance Polishing Mask
Sale Price: $36 (with code SKIN20) | Regular Price: $45
You can never have too many mask options. There's a spa menu for a reason, so I recommend curating one of your own that fits your preferences and skin type.
Consider this Yensa option that's filled with pumpkin and turmeric, and is apparently Cardi B-approved. The star has been vocal about COVID-19 on social media, so see what she has to say and channel her high energy from your couch.
Deal Tip: To get the lowest possible price, enter code SKIN20 for an additional 20% off all Yensa products online.
Heal your Hair

WOW Skin Science Hair Revitalizer & Hair Oil Kit
Sale Price: $16.22 (with code Purify35) | Regular Price: $39.95
Don't overlook your hair. Since you can't reunite with your hair stylist at the moment, give your locks a lift with this revitalizer kit from WOW Skin Science. The best part is, the site is having a major 35% off sale. Take advantage of these bargains while supplies last.
Deal Tip: If you're happy with the products, make sure to come back to the site and refer a friend. Through the company's referral program, both you and your bestie can save $10.
Good Smelling Soap Matters

Ulta Brand Foaming or Moisturizing Hand Soaps
Sale Price: 4 for $12 | Regular Price: $6
Spas always smell incredible, and good soap makes that possible. Thanks to Ulta's 21 Days of Beauty, shoppers can stock up on the best smelling soaps for a mere $12. According to Slickdealer JuJuFrankenbean, there's a buy two, get two free promotion online that bargain shoppers shouldn't miss out on.
From coconut cream to pink lemonade, you have plenty of options to choose from. And given how often we should all be washing our hands, this purchase is more important than ever.
Deal Tip: Note, free standard shipping is for all orders $35 or more. Once you fill up on soap, be sure to check out all the other Ulta price cuts.
Make Everything Smell Good

Voluspa Copper Clove Diffuser
Sale Price: $18 | Regular Price: $24
In addition to sweet smelling soap, stimulate your sense of smell even further by picking up a diffuser or candle. A wonderful scent is a game-changer and can instantly relax you.
Browse through Sephora's selections for several budget-friendly products like this clove diffuser on sale for less than $20.
The Cheapest Foot Massage Ever

Up&Up Foot Bath with Bubbles & Heat
Regular Price: $24.99
Get the ultimate foot massage all the time with this under $25 foot bath from Target. It's heated and has a bubble generating feature that will definitely make you feel like you're at a spa. Kick things up a notch by pairing the moment with a glass of champagne.
Deal Tip: To be eligible for free two-day shipping, you need to spend at least $35 at Target. However, depending on where you are, it may be possible to pick up this item for free in stores. Research all the options before checking out and save.
Get Cozy in a Robe and Slippers

Valeron Turkish Cotton Bathrobe and Slipper Set in White
Regular Price: $89.99
Every luxury spa provides customers with a premium robe and slipper combo. Who says you can't do the same at home? Go all out with this Turkish cotton set from Bed Bath and Beyond. It may be $89.99, but make sure to sign up for the site's e-mail newsletter and you can get a coupon sent to your inbox that will give you 20% off.
Note, this discount only applies for first-time users. Even if you have to pay full price, it's still cheaper than your average hour-long massage.
The Only Facial You Need

Herbivore Jade Facial Roller
Regular Price: $30
Take masking to the next level with this jade facial roller. Not only is the device pretty to look at, it will give you that facial massage you've been craving.
Let's face it, it's not enough to simply have nice products on your face, the massage is equally as important and $30 is a small price to pay to have that available to you at all times.
Deal Tip: You can snag free standard shipping with no minimum purchase requirement for a limited time with code FREESHIP.
Never Book a Massage Appointment Again

MagicHands truShiatsu Neck and Back Massager
Sale Price: $199.99 | Regular Price: $299.95
The at-home massage you've always wanted is finally on sale. The truMedic massager price dropped to $199.99 from $299.95. It's made to get those knots out in common problem areas such as the neck and back.
What are you waiting for? Cancel all those future massage appointments, stick to this and save.
Deal Tip: Subscribe to truMedic's e-mail newsletter and receive an extra 10% off the sale price.
Revitalize from Head to Toe
Kocostar Body Therapy Kit
Regular Price: $24
Let this therapy kit from Anthropologie take care of all your needs. For $24, you get a complete set that provides everything from split end to foot therapy. In short, what a deal.
Deal Tip: Stick around and shop the rest of the site because during this weekend only, all sale items are an additional 50% off.
Zen Up your Space

Carter Triangle Bracket Wall Shelf
Sale Price: Starting at $6-$9 | Regular Price: Starting at $8-$12
Ready to take your at-home spa experience to the next level? Get new furniture that will brighten up your area like these modern bracket shelves starting at just $6 from Urban Outfitters. Place a plant on it and you'll be surprised at how relaxed it will make you feel. If your space looks good, chances are you'll feel good, too.
Deal Tip: The good thing is, Urban Outfitters has tons of furniture for up to 50% off on the site right now. Perhaps your dream room is cheaper than you think.
The More Towels, the Better

Aerospin Sculpted Washcloth, White
Regular Price: Starting at $16.50
Nothing beats a warm or cold towel at the spa. Luckily, this is an easy and affordable thing you can do at home, especially with Pottery Barn's friends and family sale that will give you high-quality towels for 25% off with code FRIENDS. Order and live your best spa life.
Also be sure to check out this Home deal on our Frontpage:
Search URL: https://slickdeals.net/newsearch.php?firstonly=1&pp=20&sort=newest&rating=frontpage&filter%5B%5D=11350&forumid%5B%5D=9&hideexpired=1&r=1
Our editors strive to ensure that the information in this article is accurate as of the date published, but please keep in mind that offers can change. We encourage you to verify all terms and conditions of any product before you apply.