10 Affordable Appliances That Make Eating Healthy a Whole Lot Easier
Skip those unhealthy delivery meals with these kitchen tools that'll help get you in shape.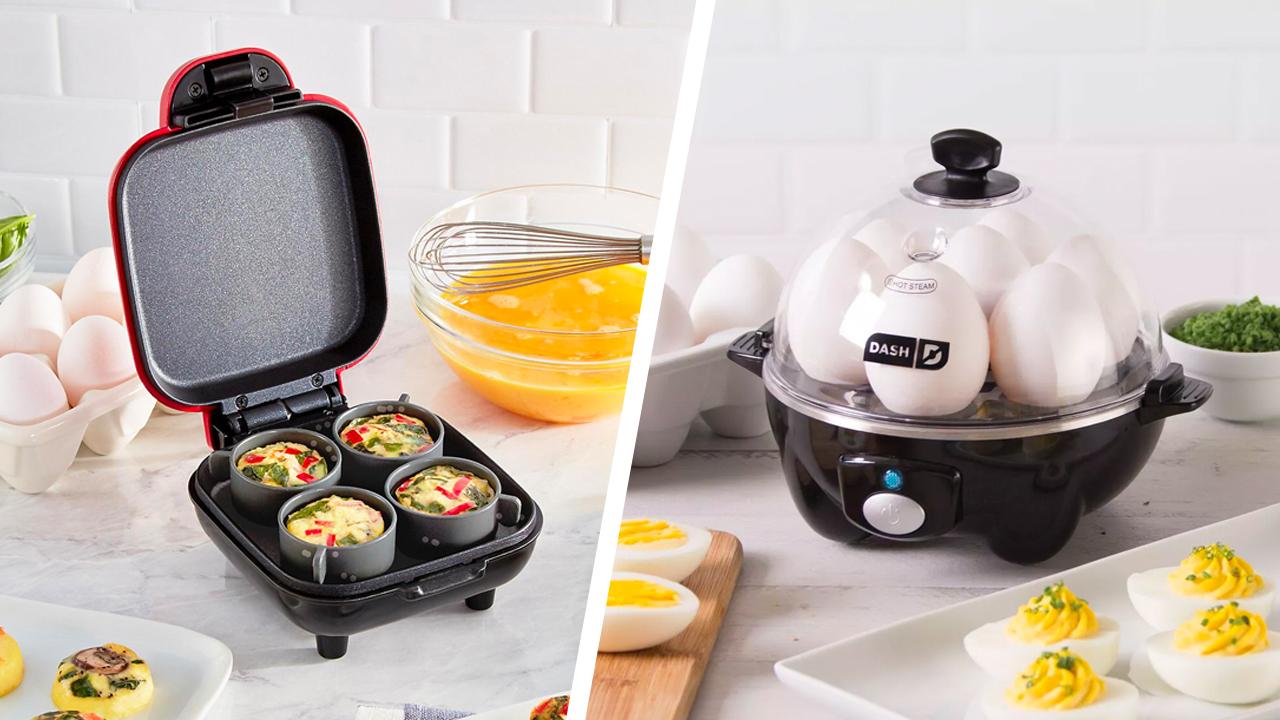 Thanks to a plethora of delivery apps, it's becoming more and more convenient to order takeout, especially in this time of social distancing. Unfortunately, this also makes eating healthy a lot harder.
It's time to change that trend by turning to other forms of technology for much-needed help. That's why we've put together a list of 10 healthy-eating gadgets that will make everything from meal prep to cooking less complicated and stress-free.
What makes these items even better are the affordable price points, so you can also breathe easy knowing you'll be coming across some solid deals.
The Top Healthy Eating Gadgets

Extract those Egg Whites
Quirky Pluck Yolk Extractor
Regular Price: $6.95
It's no secret that all the fat and cholesterol can be found in the egg yolks. Eliminate this deep yellow center from your meal with a highly convenient yolk extractor from eBay for only $6.95.
Start Steaming Everything
Joyce Chen 6 Bamboo Steamer
Regular Price: $24.99
From fresh vegetables to fish and even dumplings, avoid adding additional oil to your diet with this under $25 bamboo steamer from Crate & Barrel. Plus, it's a pretty tool to have on your stovetop.
Deal Tip: Want an extra 10% off? Just sign up for the brand's e-mail newsletter before you finalize your cart.
Cut out the Soda
SodaStream Fizzi Sparkling Water Maker
Sale Price: $71.99 | Regular Price: $99.99
It may be hard to stop drinking soda, but you can mimic that fizzy goodness with a SodaStream Sparkling Water Maker that's now on sale at Kohl's for $71.99. Think about all the money you'll also save by making sparkling drinks at home.
Deal Tip: To avail for the lower $71.99 price tag, make sure to add promo code YOUSAVE20 at checkout. Note: It's only valid until May 17th, so don't wait to snag this great deal.

Say Yes to Greek Yogurt
Euro Cuisine Yogurt Maker
Sale Price: $28.79 | Regular Price: $39.99
There are tons of health benefits to eating yogurt and now you can make it at home. Kohl's has one available on sale now that makes up to seven jars in six to 10 hours.
Deal Tip: On top of the sparkling water maker, you can use the promo code YOUSAVE20 for an extra discount. The site will let you use the coupon on up to 10 eligible items. Just remember that the sale ends May 17th.
Forget Oil, Fry with Air
Williams Sonoma Open Kitchen Digital Air Fryer
Sale Price: $79.96 | Regular Price: $99.95
For those having a difficult time giving up fried foods, look no further than this under $80 air fryer that uses air in place of unhealthy oils to create the crispy dishes you crave.
Deal Tip: You don't have to worry about paying extra for delivery as Williams Sonoma offers fast and free shipping for this fryer. Click here for our list of sites that also include free shipping with no minimum amount.
Rinse and Measure
Chef's Planet Measuring Colander
Regular Price: $14.99
Keep track of the amount you eat and make sure it all gets clean with Bed Bath & Beyond's colander that doubles as a measuring cup. Additionally, the multi-functional device has a built-in tuna can drainer at the bottom.
Deal Tip: You can save an extra 20% on your order by signing up to be a Beyond+ Member.

Take Veggies to the Next Level
Veggetti Pro Tabletop Spiralizer Vegetable Cutter
Regular Price: $14.99
Are you on a carb-free diet and dreaming of pasta? Bed Bath & Beyond's Spiralizer Vegetable Cutter is exactly what you need.
The budget-friendly appliance can make long pasta-like spiral cuts out of zucchini, carrots, squash and more — which you can sauté right on the stove for a bowl that looks pretty and is the healthy alternative you're looking for.
Deal Tip: Remember, free shipping doesn't start until you spend $39. Therefore, don't hesitate to browse through the rest of the site for other healthy essentials, like the colander above. And sign up for e-mail alerts to get an extra 20% off coupon for any single item.
It's Time for Hard-Boiled Eggs
Dash Rapid Egg Cooker
Regular Price: $17.39
Hard-boiled eggs are the perfect low-calorie snack that also has protein. Grab the Dash Rapid Egg Cooker from Target for under $18, so you always have something nutritious to eat. It also allows you to cook soft-boiled as well as poached and scrambled eggs and even omelets.
Just one Bite
Dash Egg Bite Maker
Member Price: $19.98 | Regular Price: $21.98
Portion control is a major part of healthy eating. Opt for Dash's Egg Bite Maker to make four perfectly cooked portions with the appliance's silicone cups, one egg and whatever veggies you want on top.
Deal Tip: The Dash maker is available at Sam's Club for slightly less than the regular price, but only if you're a member. Luckily, from now until June 16th, you can join for basically free — get all the details here.

Chop Chop
Seville Classics Cutting Board with Mats
Regular Price: $29.99
Whether it's vegetables or fruits, you're going to be cutting a lot of fresh produce to try and eat healthier. Make life easier with a cutting board that has seven mats hidden underneath it.
With this purchase, you'll always have a clean mat ready to use and it's a great value since you're technically getting seven items for the price of one.
Make sure to set up a Deal Alert and we'll let you know if any of these appliances get deeper discounts.
Our editors strive to ensure that the information in this article is accurate as of the date published, but please keep in mind that offers can change. We encourage you to verify all terms and conditions of any product before you apply.