25 Kitchen Gadgets Under $25 to Simplify Your Life
Finding yourself cooking more at home? Check out these essentials to create perfect meals.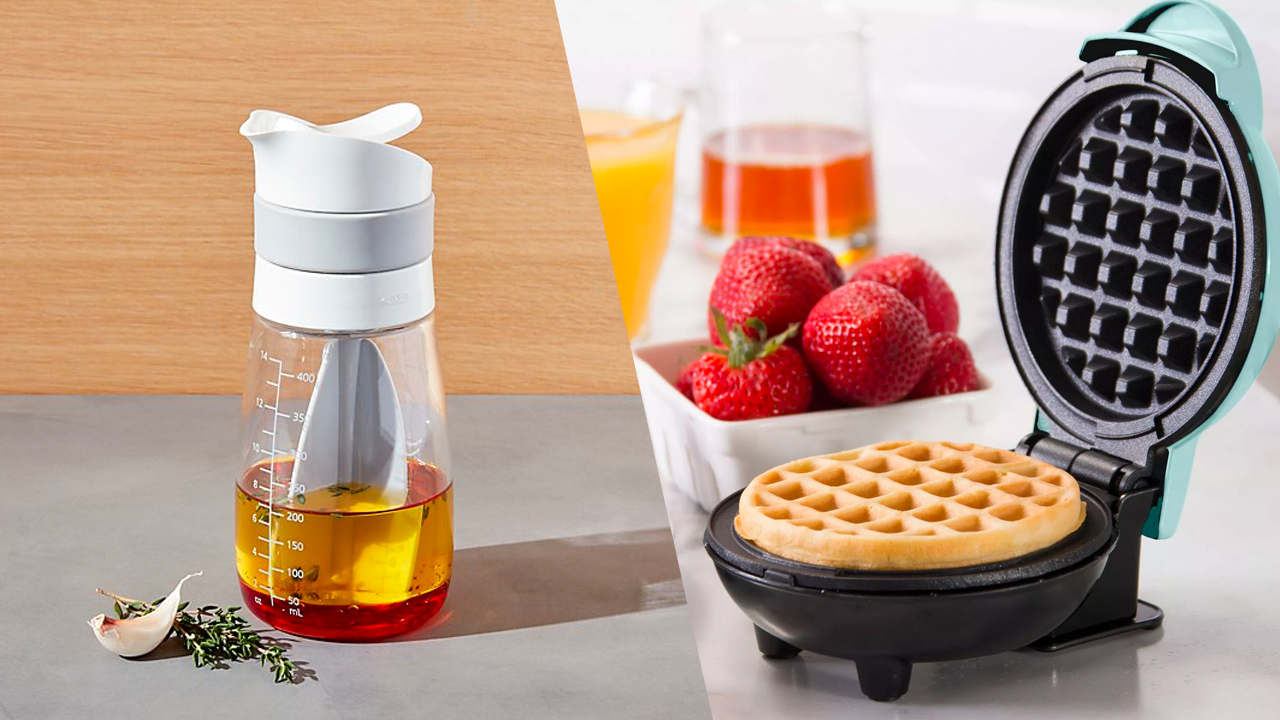 Beyond plates and utensils, buying kitchen essentials can be intimidating — especially if you are new to cooking at home. On top of that, many items can get really expensive. Before splurging on that heavy duty cast iron pan or an over-the-top pressure cooker, think about what you actually use your kitchen for.
Personally, I'm a fan of hard-boiled eggs and ice cream. (Not to worry, I don't mix the two together. I'm not that bad of a home cook.) When I moved into my new apartment this week, I Googled how I could start making my favorites from home.
Thankfully, I came across dozens of affordable kitchen appliances for all sorts of recipes — egg cooker and ice cream maker included. Scroll through and see if there's anything that works for you. Everything's under $25, so feel free to snag a few of these dinner-saving devices.
25 Affordable Kitchen Gadgets Under $25
1. OXO Twist & Pour Salad Dressing Mixer

Reg. Price: $19.99
Opt out of unhealthy store bought dressings and go with this easy-to-use mixer from Crate & Barrel. It has a twist-activated propeller that will mix the oil and vinegar for you, and it includes an airtight seal allowing your creation to last for days.
Deal Tip: You know the drill, sign up for Crate & Barrel's e-mail newsletter and get a 10% coupon sent to your inbox.
2. Krups Fast Touch Coffee Grinder
Sale Price: $19.99 | Reg. Price: $23.99
Ask any coffee enthusiast and they'll instantly say that grinding your own coffee beans is the way to go. It simply tastes better and you won't have to break a sweat once you have this convenient and quality coffee grinder for only $19.99.
3. Rabbit Super Wine Aerator/Pourer

Reg. Price: $14.95
Apparently the key to getting the most out of that bottle of wine is allowing it to breathe.
This under $15 aerator/pourer does exactly that and also comes with a dripless pour spout, so the wine can aerate as you drink it.
4. Glass and Stainless Steel Electric Tea Kettle
Reg. Price: $17.81
Whether it's for tea or pasta, we all need an electric tea kettle. It boils water much faster than one made for the stovetop. Grab this stainless steel option from Home Depot for just $17.81.
Deal Tip: Customers can receive free delivery on all orders over $45. Keep this in mind when finalizing your purchase and see if there's anything else you can add to your cart.
5. Chefman Quart Deep Fryer
Sale Price: $19.99 | Reg. Price: $39.99
Let's be real, nothing beats fried food, but it can be difficult to get a standard pan hot enough to make something extra crispy and delicious. Forget that hassle, do yourself a favor and check out this deep fryer. It's currently $20 off at Best Buy.
Deal Tip: To avoid being hit with an extra delivery fee, Best Buy also has in-store pick up. Just know this specific product may not be in-stock at all stores, so you may have to wait a few days for the company to get it there. Your frying plans can likely wait, so consider waiting and save a few bucks.
6. Dash Mini Waffle Maker

Reg. Price: $9.99
If you're a waffle fan, there's more to life than frozen Eggos. This adorable mini waffle maker will get you a stack in no time and comes in a variety of colors for a mere $9.99 at Target.
7. Cuisinart Stainless Steel Chopper
Reg. Price: $12.99
If you're tight on space or tend to make smaller meals, this chopper was made for you. It's $12.99, dishwasher safe and will cut small veggies in no time.
8. Bella Personal Blender
Sale Price: $9.99 | Reg. Price: $19.99
Don't waste anything and just make the right shake portion for you with this personal blender that's 50% off right now at Best Buy. You can also use the personal blender to chop ingredients like nuts for recipes.
9. Dash Mini Toaster Oven

Sale Price: $19.96 | Reg. Price: $29.99
If you live on your own like me, there's no need to fire up a full-size oven for one bagel or small sandwich. Why not double down to this mini toaster oven?
Plus, you can't go wrong with the discounted under $20 price tag. And its low profile means it won't take up much room on your counters or stored away.
10. Chef's Planet Clip & Drain Strainer in Red
Reg. Price: $12.99
Get this handy clip and drip strainer for the next time you make pasta, steamed vegetables and more. It clips onto the pot allowing you to more easily drain out the liquid. And $12.99 is a small price to pay to not stress out about potentially burning yourself with boiling water when cooking certain meals.
Deal Tip: This can be purchased at Bed Bath & Beyond, where free shipping is offered for orders over $39. Browse through the site and see if there's anything you can pair with the strainer. You can also get 20% off on any one item for signing up for its email list.
11. Bodum 8-Cup Pour Over Coffee Maker
Reg. Price: $19.99
Make your own better tasting coffee with this sleek and modern pour over coffee maker, courtesy of Target. The best part is, it'll only cost you around $20 and potentially save you hundreds by skipping that trip to Starbucks.
Deal Tip: Target has mastered the art of the in-store pick up. However, there's also free standard delivery on all purchases over $35.
12. Mainstays 20″ Black Griddle

Sale Price: $19.99 | Reg. Price: $31.00
Go all out for a full breakfast or brunch with this dishwasher safe griddle from Walmart. It's only $19.99 and will have you excited to get out of bed in the morning. You can adjust the temperature and make eggs, pancakes and bacon all on the same surface.
Deal Tip: Walmart has free pick-up at their locations, too. Sometimes, depending on when you order, you can even get lucky with next day delivery for certain items.
13. Costway Stainless Steel Cocktail Shaker & Bar Set
Sale Price: $21.99 | Reg. Price: $69.99
Walmart is selling this bar set at the majorly discounted price of $21.99. Add it to your bar cart, learn some cocktail recipes and impress future guests with your skills. Everything is stainless steal and it comes with a nice looking wood stand.
14. Better Chef 5-Speed Hand Mixer with Turbo
Reg. Price: $19.00
You don't need an expensive stand mixer to get the job done when baking. Start out with this five-speed hand mixer that lets you mix, blend, whip and more. This mixer comes with both beaters and dough hooks.
15. Wilton Simple Success Cookie Press

Sale Price: $6.64 | Reg. Price: $9.99
Thanks to this cookie press, you can be a pro baker without putting in much effort. The press will give you uniform cookies for the low price of $6.64. You can't beat that.
16. Dash 7-Egg Everyday Egg Cooker
Reg. Price: Starting at $14.99
You can now have hard-boiled eggs on deck for salads and breakfast with this egg cooker that whips up seven at once. It has an auto shut-off feature that guarantees perfect eggs every single time. The egg cooker also allows you to easily make soft- and medium-boiled eggs, as well as poached eggs and omelets.
17. Black & Decker 14-cup Rice Cooker
Reg. Price: $24.99
Rice is a solid side dish that goes well with just about everything. Always have a pot ready with this stylish white rice cooker that can make up to 14 cups for as little as $24.99.
18. Cuisinart Sandwich Grill

Reg. Price: $19.99
Besides making perfect grilled cheese sandwiches, this grill's non-stick baking plates can help you cook up omelets, french toast and so much more. Get one for your place at $19.99 and see what you can do.
19. BonJour Caffe Froth Monet Manual Milk Frother
Reg. Price: $19.99
Enjoy your go-to latte or cappuccino order at home with this milk frother. All you need to do is fill it up with the milk of your choice and pump several times.
20. KitchenAid Spiralizer Thin Blade Accessory Pack
Reg. Price: $19.99
Add some flair to your food with this KitchenAid spiralizer available at Bed Bath & Beyond for $19.99. The addition to you KitchenAid Stand Mixer is a great way to serve carrots and potatoes, or perhaps it's time to give that zucchini noodle recipe a try.
21. Bodum Tea For One

Reg. Price: $14.99
Utilizing loose tea leaves reportedly provides you with more nutrients, but it can be annoying to execute until now. You can put the loose leaves in this tea for one container, add boiling water to the insulated glass and you'll soon be left with the most soothing cup.
22. OXO 3-In-1 Avocado Tool
Reg. Price: $9.99
This avocado tool scoops out the pit and gives you perfect slices every single time. Use it once and you'll want avocado at all times.
23. Slate Cheese Board and Cheese Markers Set
Sale Price: $19.95 | Reg. Price: $22.90
Nothing beats a solid cheese plate, but there's nothing worse than not knowing exactly what you're eating. After all, isn't that the point of tasting a variety of cheeses?
The solution is this cheese markers set that let you easily label the different types of cheeses and spreads for your next dinner party.
24. Dash My Pint Ice Cream Maker

Sale Price: $15.96 | Reg. Price: $19.95
This ice cream maker will give you a pint of the good stuff in just 30 minutes. Let's face it, it's also the cutest thing ever and would make a great addition to any kitchen.
Crate & Barrel is offering it at the lowest price for now as the site is having a 20% off sale on kitchen essentials.
25. Williams Sonoma Whiskey Stones, Set of 8
Reg. Price: $14.95
Enjoy your drink cold, but not watered down with these dark whiskey stones sold exclusively at Williams Sonoma. For $14.95, you'll get a trendy set of eight cubes made of soapstone that keep the freezers temperature without absorbing any unwanted flavors.
You can also check out this cooking essential deal from our Frontpage:
Search URL: https://slickdeals.net/newsearch.php?firstonly=1&pp=20&sort=newest&rating=frontpage&filter%5B%5D=85263&forumid%5B%5D=9&hideexpired=1&r=1
Our editors strive to ensure that the information in this article is accurate as of the date published, but please keep in mind that offers can change. We encourage you to verify all terms and conditions of any product before you apply.