Alienware's m15 Gaming Laptop Now Offers an OLED Display for Incredible Visuals
Alienware enters the "thin and light" gaming hardware scene with a killer new model.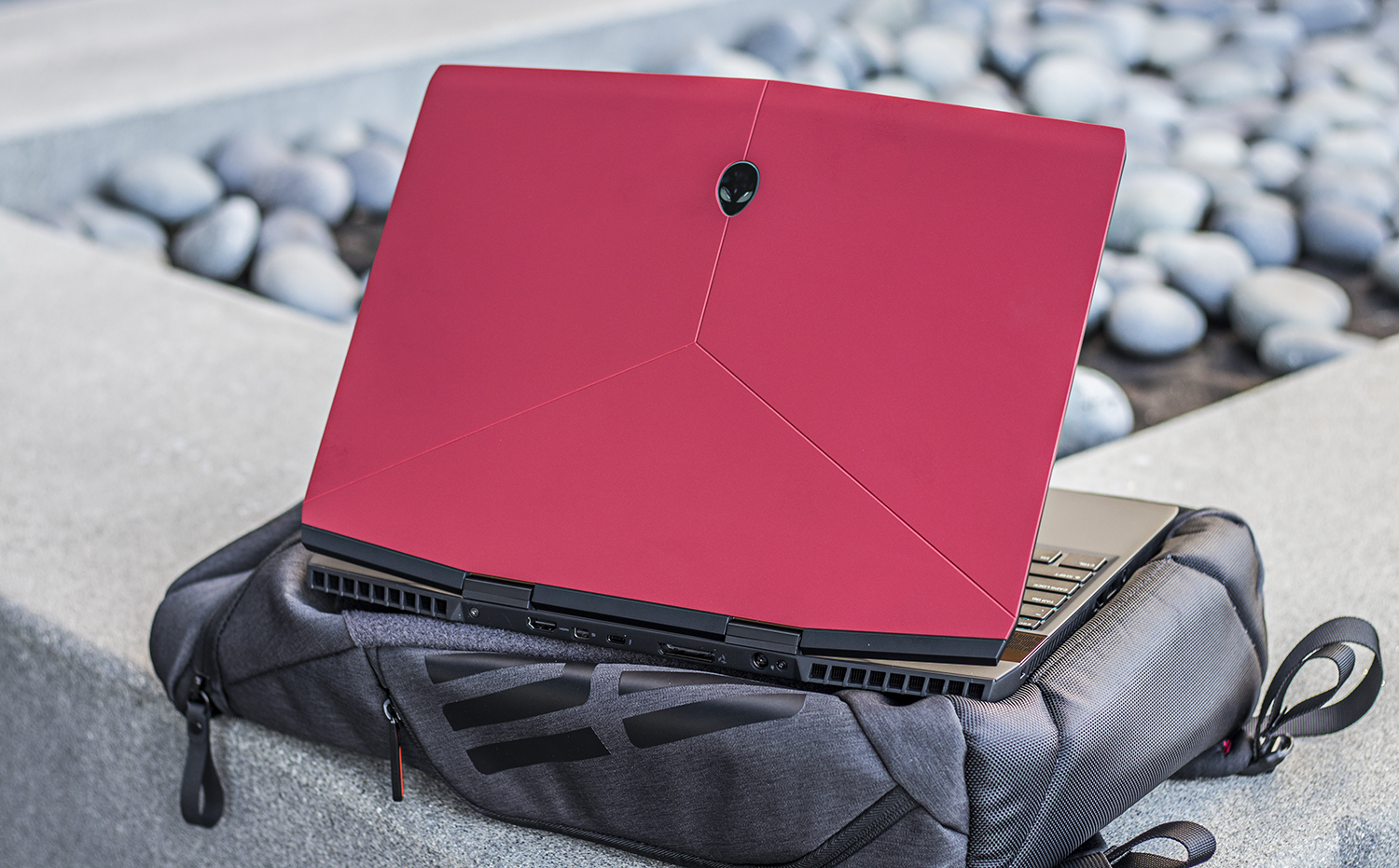 Update June 2019:
Just a few months shy of its first birthday, Alienware's thin and light m15 gaming laptop is receiving a model refresh, and now offers more storage configurations, options for the latest NVIDIA RTX graphics cards, and most notably, an available 4K OLED display.
8i1UZGKz914
This is the first time that Alienware has included OLED technology in a 15-inch laptop, and it delivers the same — if not better — performance you'll find in today's top-of-the-line TVs from Samsung, LG and the like. The advanced OLED panel allows each pixel to be individually turned off and on, so what that means for gamers is true black levels, as well as increased vibrancy and contrast. Movies, videos and games feel like they're jumping off the screen!
The m15 laptop already comes standard with an IPS display, which is the latest standard for premium screens, but as you can tell from the video above, the OLED panel produces sharper details, truer color reproduction, and has higher max brightness levels. Don't get me wrong, an IPS panel is still great and perfectly suited for gaming. It's just that OLED technology heightens the overall experience with amazing visuals that have never been seen on an Alienware laptop before now.
If high frame rates are more important than high contrast, the refreshed m15 can also be configured with a 240Hz IPS display, meaning you can really push the performance of the graphics card and never miss a frame of gameplay.
Now, I'm only scratching the surface in terms of what this laptop can do, so keep scrolling to read our original hands-on review of the Alienware m15 gaming laptop.
---
Object of Envy: Alienware m15 is one of the Best Gaming Laptops You Can Buy Right Now
With the recent arrival of the Alienware m15 laptop, Dell's gaming-focused PC brand is finally a force to be reckoned with in the "thin and light" device category. While it's not the smallest gaming laptop out there, it does strike a better balance of performance and heat management when compared to other products in its class. 
The all-new m15 brings desktop-like gaming performance to a device that's thin enough to slip into a normal laptop bag, while still being able to keep high running temperatures in check during your full-throttle play sessions. And all of this is wrapped in a package that looks absolutely gorgeous. 
Keep reading to learn how Alienware's m15 laptop tackles the unique challenges of high-performance on-the-go gaming.
Special thanks to Dell for loaning us an m15 for this review!
Alienware m15 Gaming Laptop Specifications (As Tested):
8th Gen Intel Core i7 8750H CPU
NVIDIA GTX 1070 Max-Q Design w/ 8GB VRAM
16GB RAM
15.6-inch IPS display, 1920 x 1080 (1080p) resolution, 144 Hz refresh rate
512GB PCIe M.2 Solid-State Drive 
90Whr 6-cell battery
17.9mm thin, approx. 4.78 lbs
Nebula Red exterior
AlienFX Lighting with 6 zones
17.9mm thick and 4.78 lbs.
A Premium Product That's Worth the Premium Price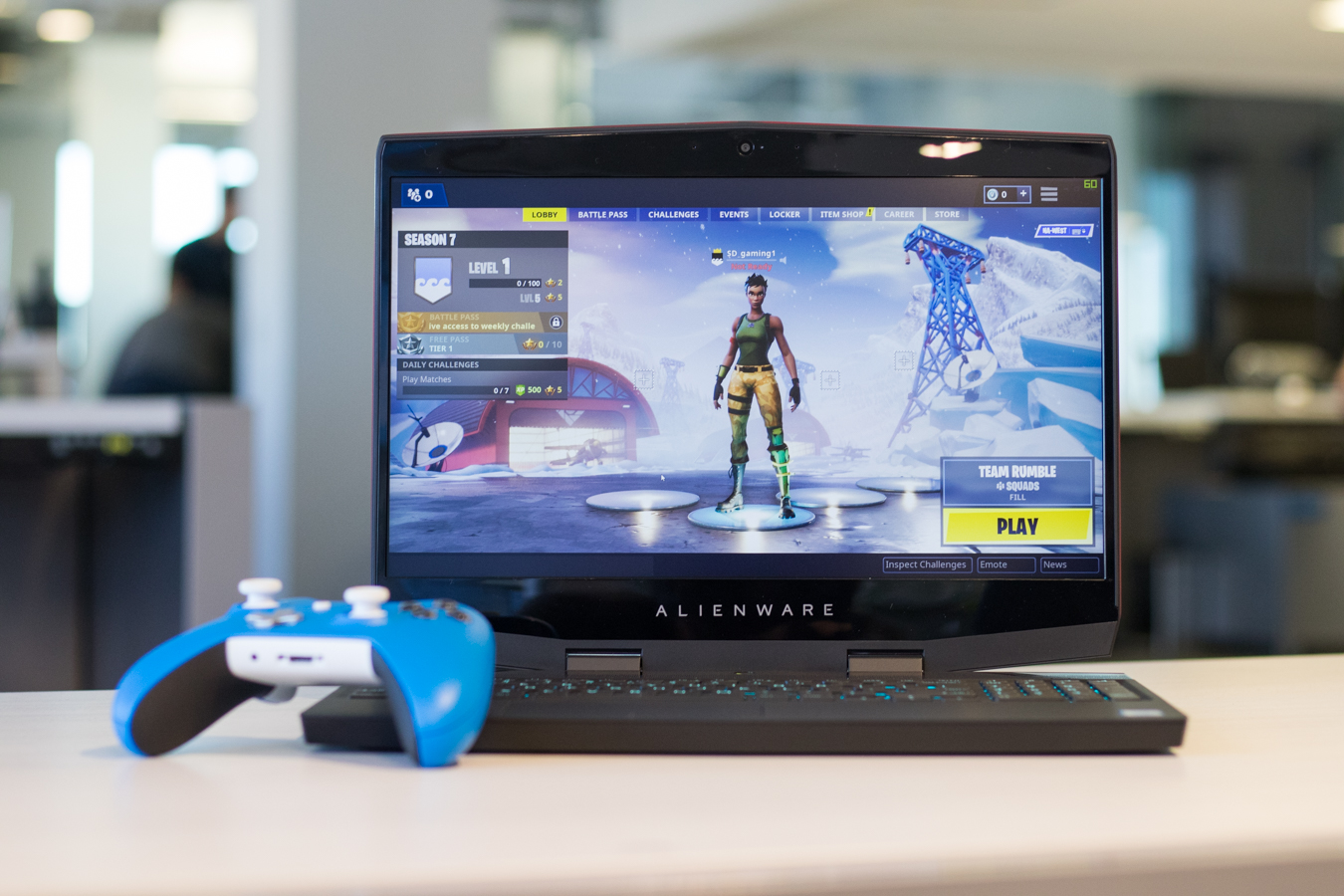 The m15 laptop features a wide range of custom options, starting at $1,379.99 for the base configuration. With an NVIDIA GTX 1060 graphics card (GPU) and an 8th Gen Intel Core i7 processor (CPU) inside, this "entry-level" version undoubtedly packs quite a punch. But the test model that Dell sent us is what I would consider to be the ideal spec.
Carrying a retail price of $2,149.99, our review unit saw significant upgrades in all the places that matter to gamers. While the CPU stays the same, the all-important graphics card makes the jump to an NVIDIA GTX 1070 Max-Q with 8GB of VRAM. That's a peach of a GPU, but more on that later.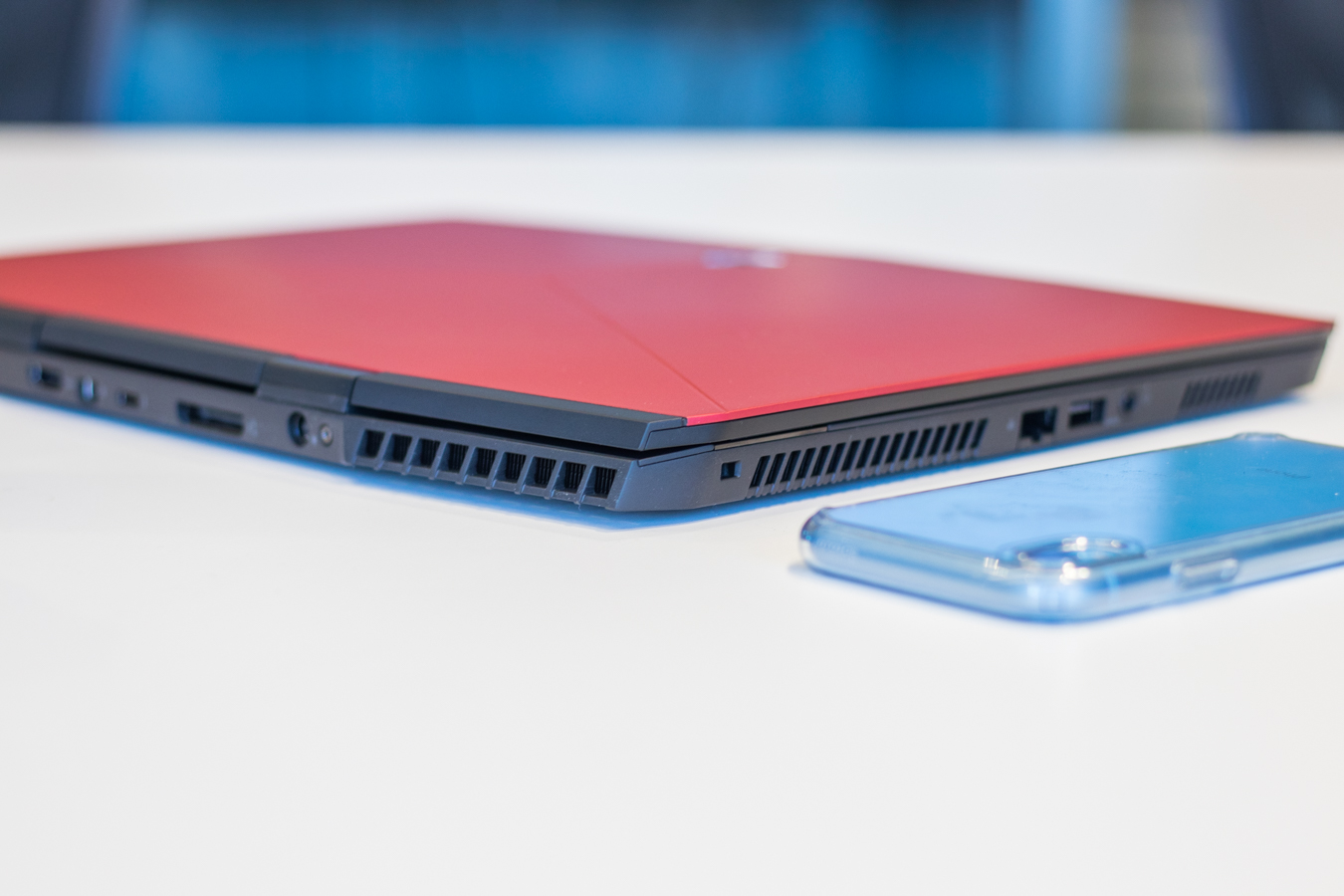 System RAM increases from 8GB to 16GB — which is a necessity for running the latest games at their highest settings — and storage comes in the form of a 512GB PCIe M.2 solid-state drive. Knowledge drop: M.2 SSDs are among the smallest and fastest drives available today. 
This hardware makeup resembles that of a high-end desktop PC, and that's essentially what you get when you fire this thing up. With the M.2 drive serving up data at a blistering rate, Windows 10 boots up in mere seconds, while demanding applications and large files open very quickly. 
It's worth noting that when you upgrade to the 90Whr battery, you're also forced to choose an M.2 SSD since there isn't enough room for both a bigger battery and a traditional hard drive. This means the battery upgrade will cost an extra $100 in total, due to the storage drive change. Regardless, I consider the 90Whr battery a must-have, and it ultimately helps the m15 stand out with best-in-class battery life.
If you happen to have a home office, the m15 packs enough grunt and a great keyboard for daily productivity work. It also features plenty of ports to make it a viable desktop PC replacement. Standard HDMI and mini-DisplayPort offer easy connection to any TV or monitor, while one USB-C and three USB 3.0 ports flank network and headphone jacks to keep all bases covered. For those who fancy even more graphics power (and have seriously deep pockets for a second GPU), a proprietary connector allows the addition of an Alienware Graphics Amplifier.
Get the Full Picture: Alienware 34-inch Curved Gaming Monitor Review
Maximum Performance for Now and in the Future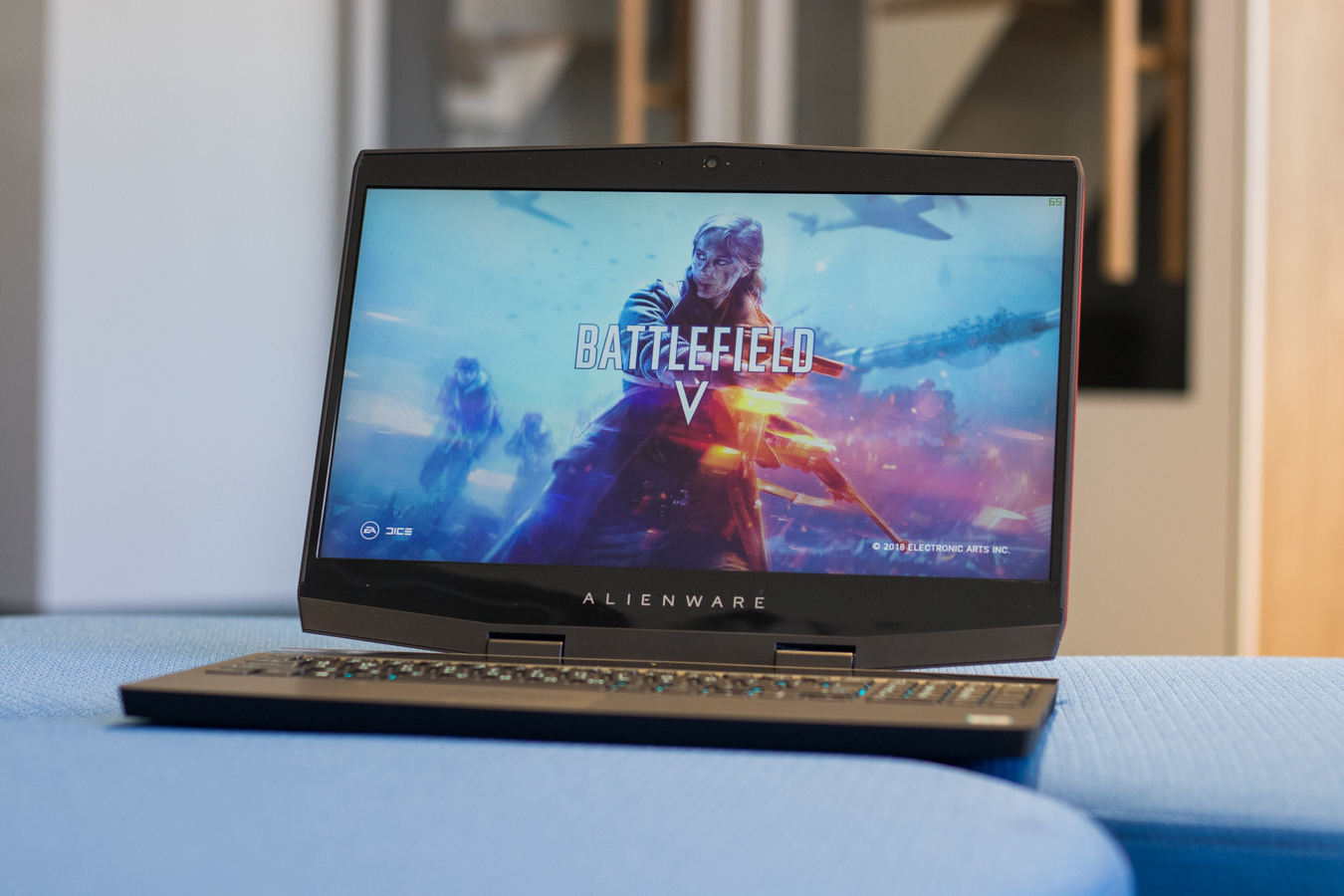 For gaming laptops, it's critically important that the screen and the GPU are a good match for each other. Fortunately, Alienware is offering the perfect duo: a 15.6-inch, 144Hz IPS screen plus an NVIDIA GTX 1070 Max-Q. The IPS panel, which is capable of up to 400 nits of brightness, delivers a crisp, vivid image with popping colors that are free of blur or any tangible lag.
And while some "specs-only reviewers" may complain about the lack of a 1440p or 4K screen, let me explain why I'm happy that Alienware chose to stick with a 1080p (Full HD) display for this laptop. The GTX 1070 is more than capable of running higher resolutions, but that would push it to the bleeding edge of its ability, and ultimately hurt the m15's longevity as a competent gaming solution. Opting for a Full-HD resolution affords the GTX 1070 more than enough headroom to play new games at max settings for at least the next couple of years — future releases are inevitably more demanding than today's titles.
In the here and now with a 1080p resolution, the GTX 1070 is a beast of a card. It muscles through even the most resource-intensive games – like Battlefield V – on Ultra settings while producing very high frame rates, often in excess of 90fps. And the 144Hz screen refresh rate ensures you benefit from every ounce of that performance.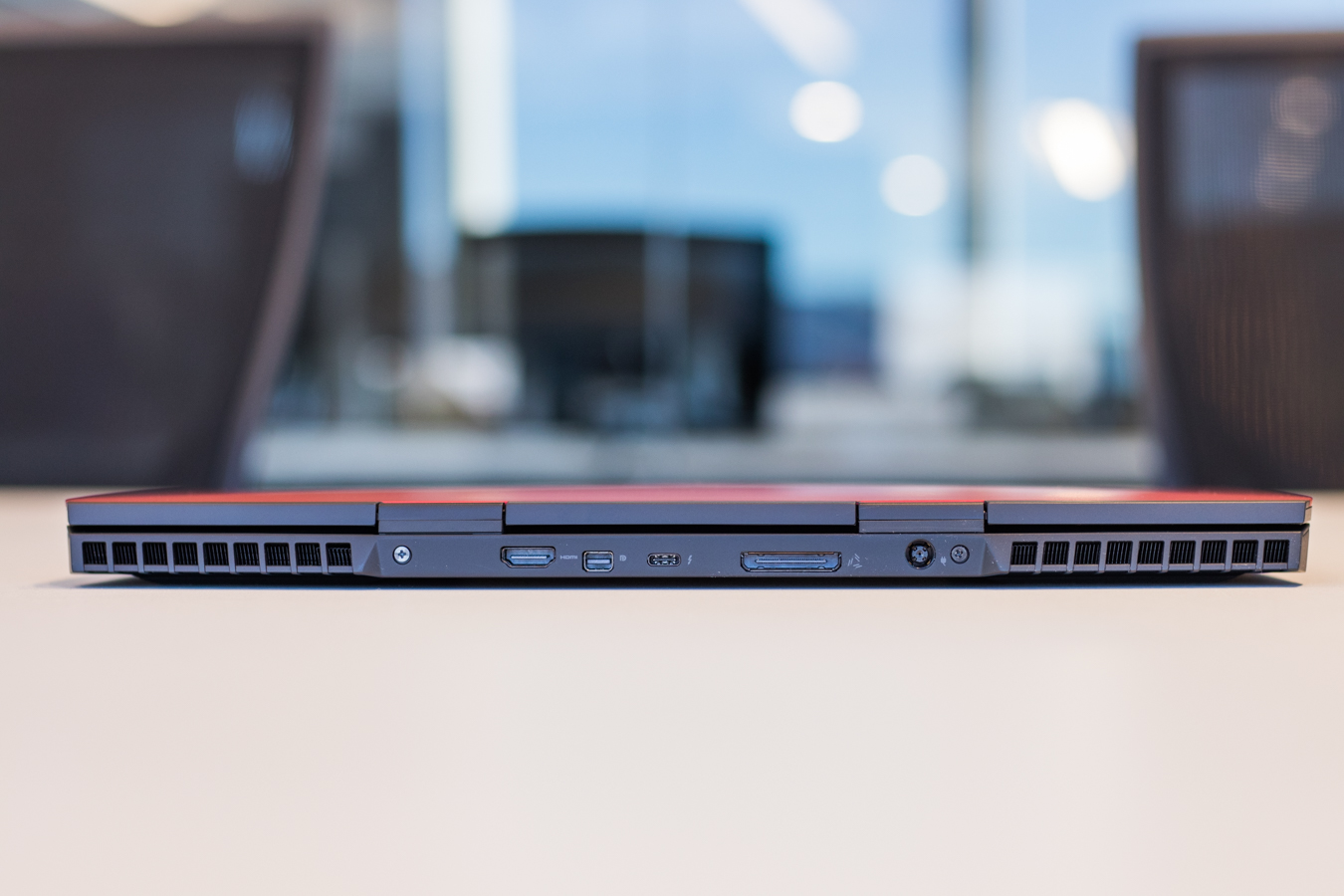 Destiny 2, a supremely-optimized game, runs at around 100fps on this laptop with almost every setting at max, and it looks incredible. As an avid PC gamer, I'm used to this sort of high frame-rate performance coming out of my bulky, no-compromise desktop rig. But seeing this level of performance on a device that's less than 2cm thick is quite remarkable.
If you're looking for a pure gaming device, the Alienware m15 is one of the best on the market right now.
Keep Cool and Game On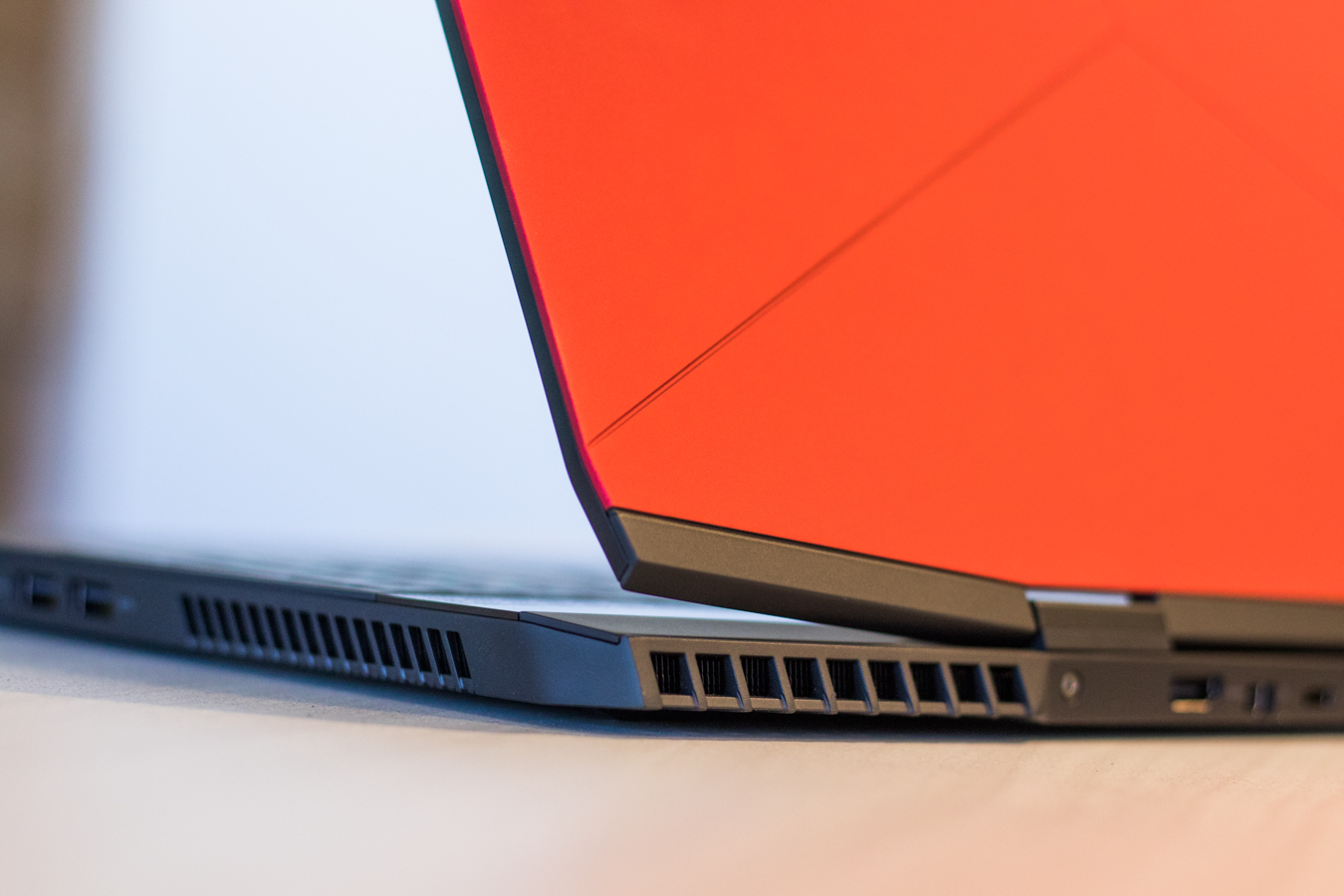 All of that performance in a thin device means the m15 can get very hot. Extreme heat production comes part and parcel with high-end graphics processors, and while not harmful to the laptop itself, it does give the cooling system a workout.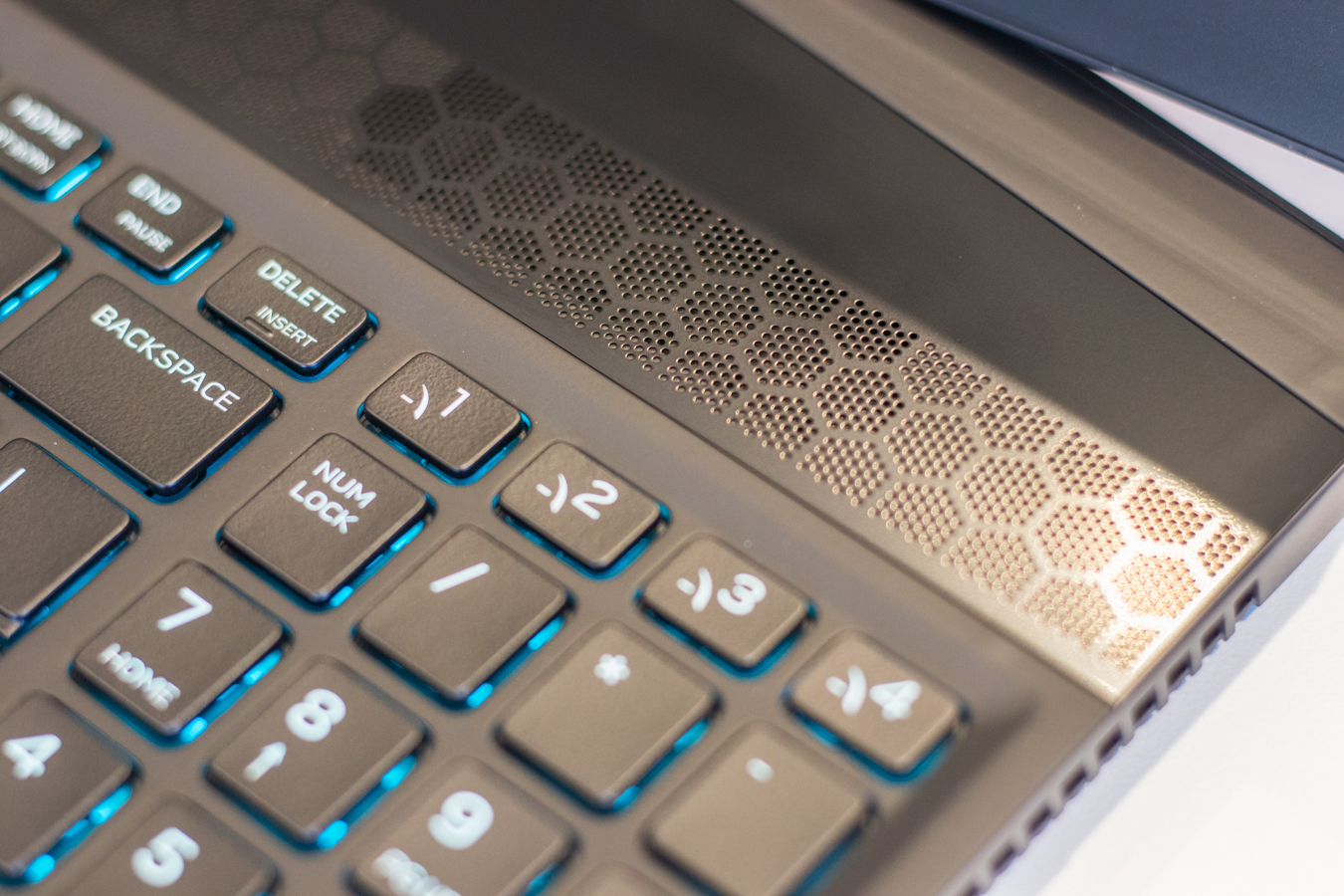 The good news is that the m15 does a respectable job of dissipating this heat. Two high-speed exhaust fans pull cool air from the top and sides of the chassis, and force hot air out of the rear. Alienware's creative thermal solution doesn't completely alleviate hot surface temperatures, though — I wouldn't recommend playing games with this laptop on your thighs, and the area north of the keyboard can get too hot to touch. But what's important is that the keyboard itself stays nice and cool, specifically the "WASD" keys and the palm rest that you use while gaming.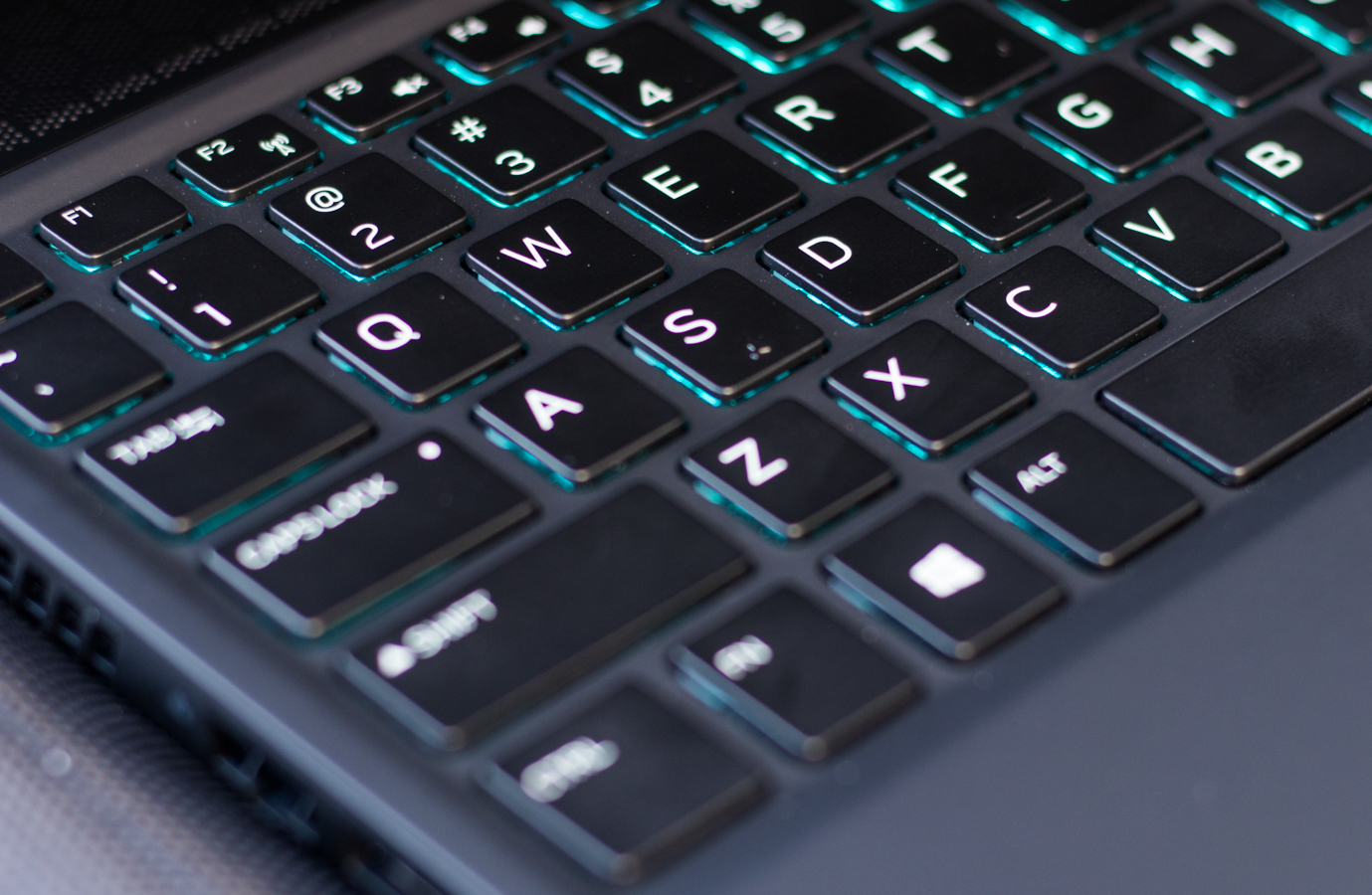 At full sprint, thermal throttling is kept to a minimum on the m15. Many laptops reduce performance aggressively when temperatures start to get high, but this laptop was able to maintain high frame rates even at max temps, and any reductions in performance were nearly imperceptible.
All gaming laptops are expected to run hot under full load, but it's how the heat is managed that sets apart the winners from the losers. Overall, I was quite pleased with how the m15 copes in this regard.
Pre-Installed Software You'll Actually Use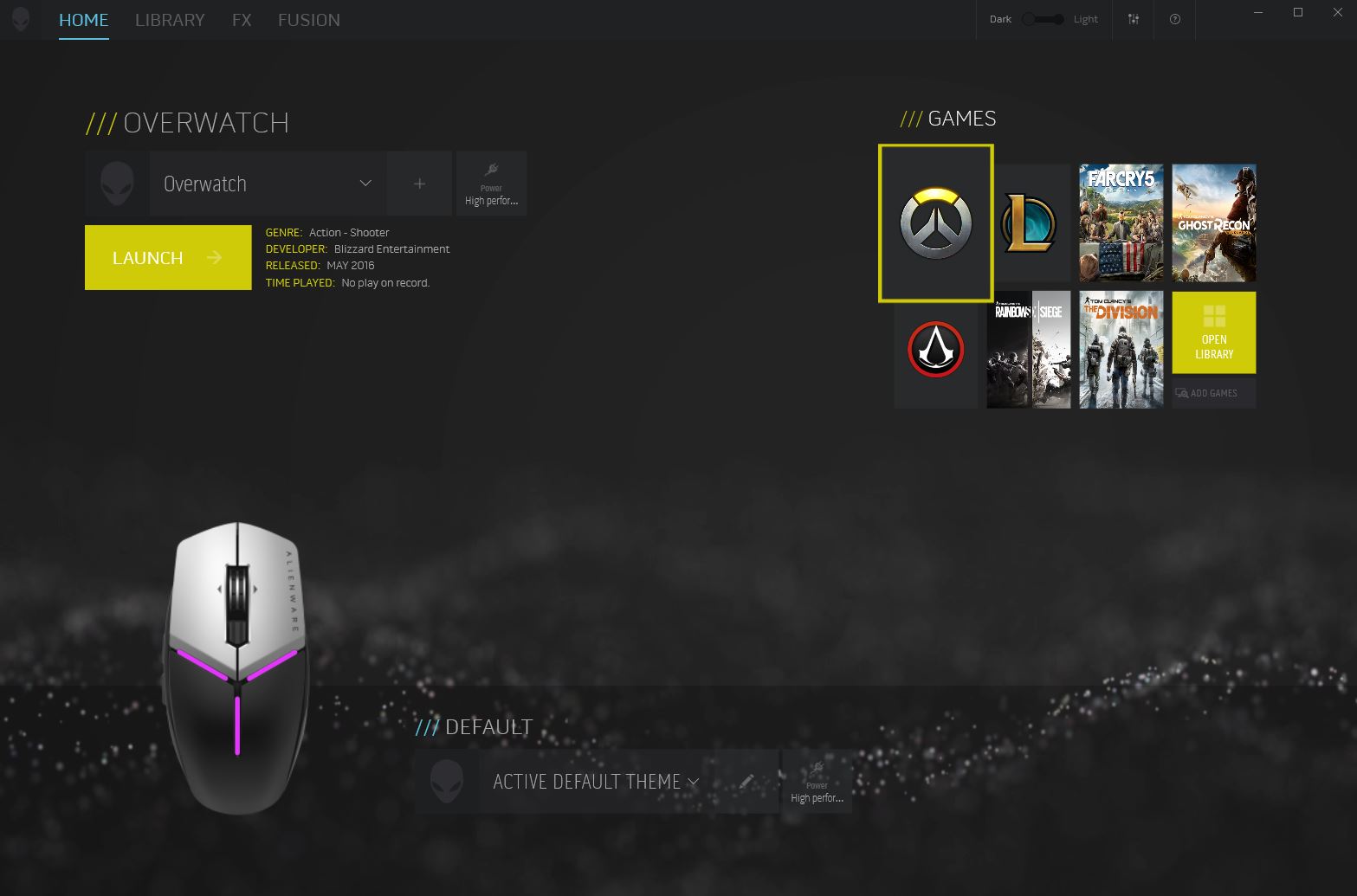 Battery usage and other areas of the m15's performance can be intelligently managed via Alienware's comprehensive suite of software. Like most PC enthusiasts, I typically remove all factory "bloatware" from a new laptop, but Alienware's selection of applications is pretty good, and is also necessary to take full advantage of the m15's signature features.
Alienware Update keeps finicky system drivers in good standing, while Alienware Mobile Connect provides excellent live connectivity with your cellphone for managing calls and texts without diverting your eyes away from the laptop. 
Giving you overall control of your system is Alienware Command Center, which includes customization options for power, cooling, audio, and screen settings, along with themes, performance monitoring, and RGB Lighting effects. It also lets you create custom hardware profiles, and then assign them to specific game titles so you can have unique lighting or power usage depending on what you're playing.
Lastly, I appreciate that Alienware doesn't succumb to the practice of packing its computers full of unwanted guff — you'll actually use what they've pre-installed.
See it in Action: Dell/Alienware Mobile Connect
Should You Buy the Alienware m15 Gaming Laptop?
Those familiar with the Alienware brand know that these all-out performance devices aren't cheap. When I pay over $2,000 on a product, I expect premium levels of quality both inside and out. And in that regard, the m15 absolutely delivers. Everything on this laptop — from the thoughtfully-picked components list to the sleek, angular design to the premium soft-touch finish — represents a product that demands and then totally justifies its high-dollar price tag.
As previously mentioned, the m15 isn't the absolute thinnest gaming laptop on the market, but balancing performance with aesthetics is at the core of great laptop design. I think Alienware has done an excellent job of crafting a laptop that offers a low profile (the thinnest of any Alienware, in fact) without going so far as to compromise its power delivery or cooling.
If you're looking for a pure gaming device, the Alienware m15 is one of the best on the market right now, and I expect it to be good enough for high-end gaming for at least another three years. And with such lofty performance, along with a comprehensive array of ports, it'd serve as a capable productivity unit for the hybrid home office user, too.
Our m15 test model configuration, priced at $1,999.99 at time of publish, is exactly how we'd recommend you spec yours, if you can afford it. What you'll get is a powerful and sleek gaming machine that will almost certainly be the object of envy for your gaming friends.
Bonus Round: Alienware Elite Backpack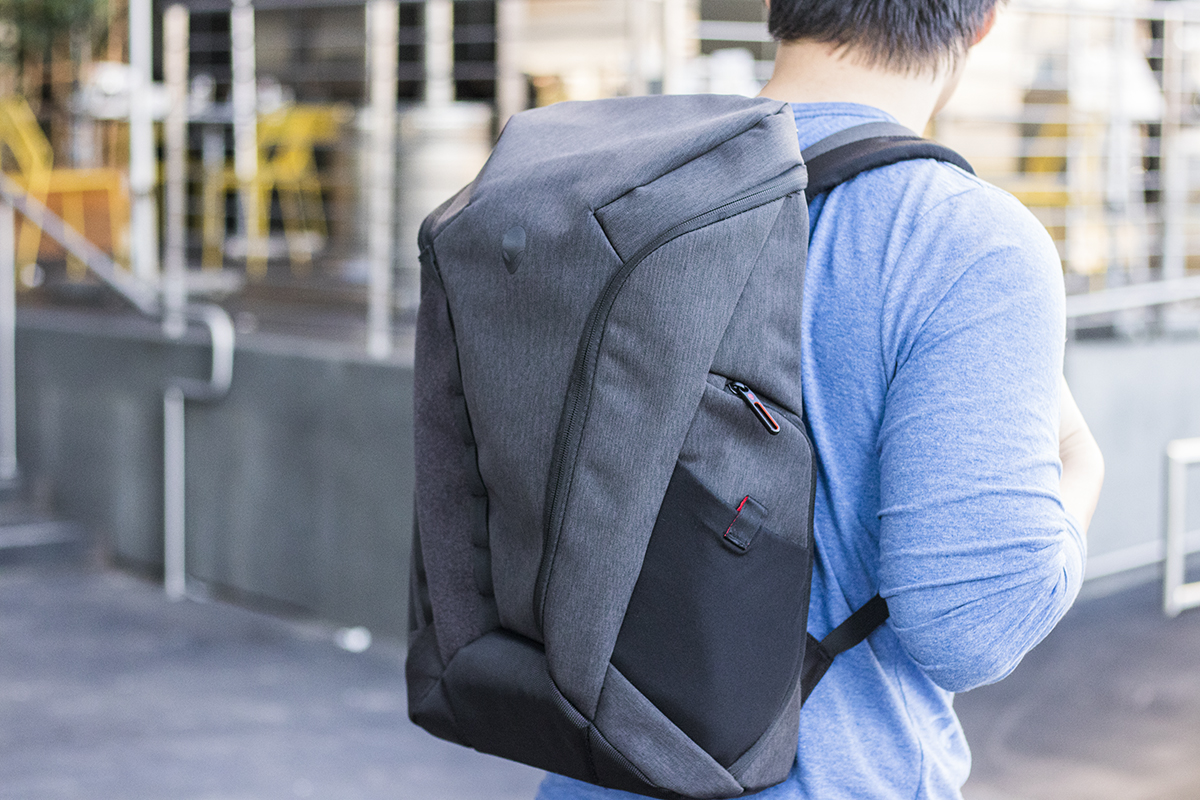 Safely carry your m15 laptop and show off your gamer-'tude with the all-new Alienware Elite Backpack.
This slim and lightweight transport solution features specifically-designed compartments to hold your laptop, mouse, headset, and other tech accessories, all wrapped in durable Heathered Gray fabric with Ballistic weave base panels.
Just like Alienware's computers, the Elite Backpack was created with the "gamer lifestyle" in mind. An upper pocket provides quick access for your most used items, while a dedicated stretch pouch keeps your Alienware Wireless Gaming Headset in place. Outside of the main compartment, a variety of gadget pockets help keep things organized, in addition to offering in-bag-charging via hidden cable ports. There's even space on the exterior to attach patches and pins so you can rep your favorite e-sports team.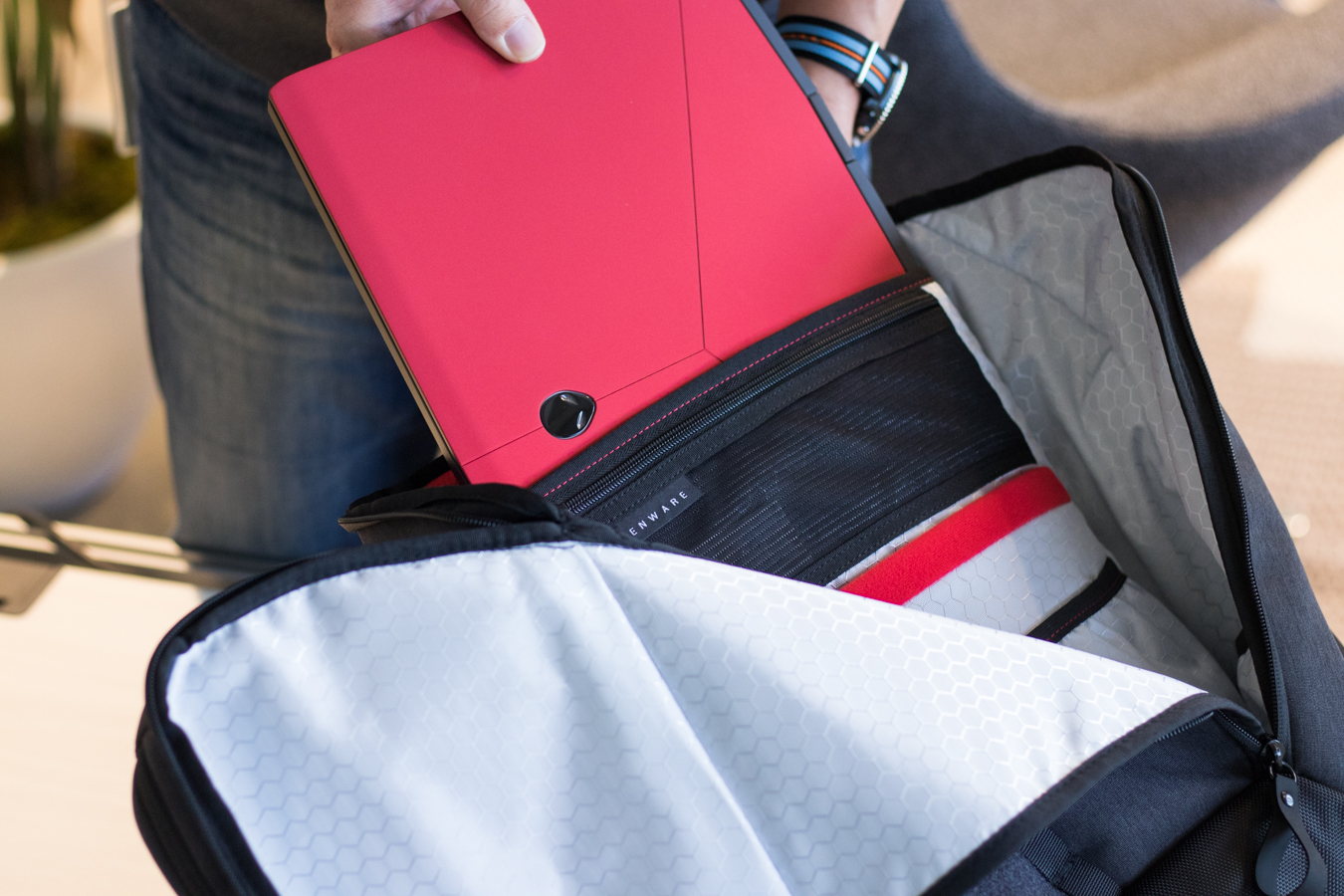 The Alienware Elite Backpack fits laptops up to 16.3″ x 11.2″ x 1.5″, and has a regular retail price of $99.99. Currently, it's on sale for $79.99 at Dell.com.
*****
Stay up to date on the best deals and discounts for Alienware products by visiting Slickdeals' Dell Store Page.
Alienware m15 Gaming Laptop
$1,379.99
Good Fit For:
Premium construction and finish
Great display
Excellent performance
Good battery life
Gorgeous design
Not a Good Fit For:
Charger only maintains battery levels while gaming; not powerful enough to replenish under full load
Case is a fingerprint magnet
Speaker placement not ideal (underneath)
Our editors strive to ensure that the information in this article is accurate as of the date published, but please keep in mind that offers can change. We encourage you to verify all terms and conditions of any product before you apply.