Amazon Echo Spot Review: A Pricey Alarm Clock with Alexa Inside
The Echo Spot is looking to replace your alarm clock and keep you connected to your smart home.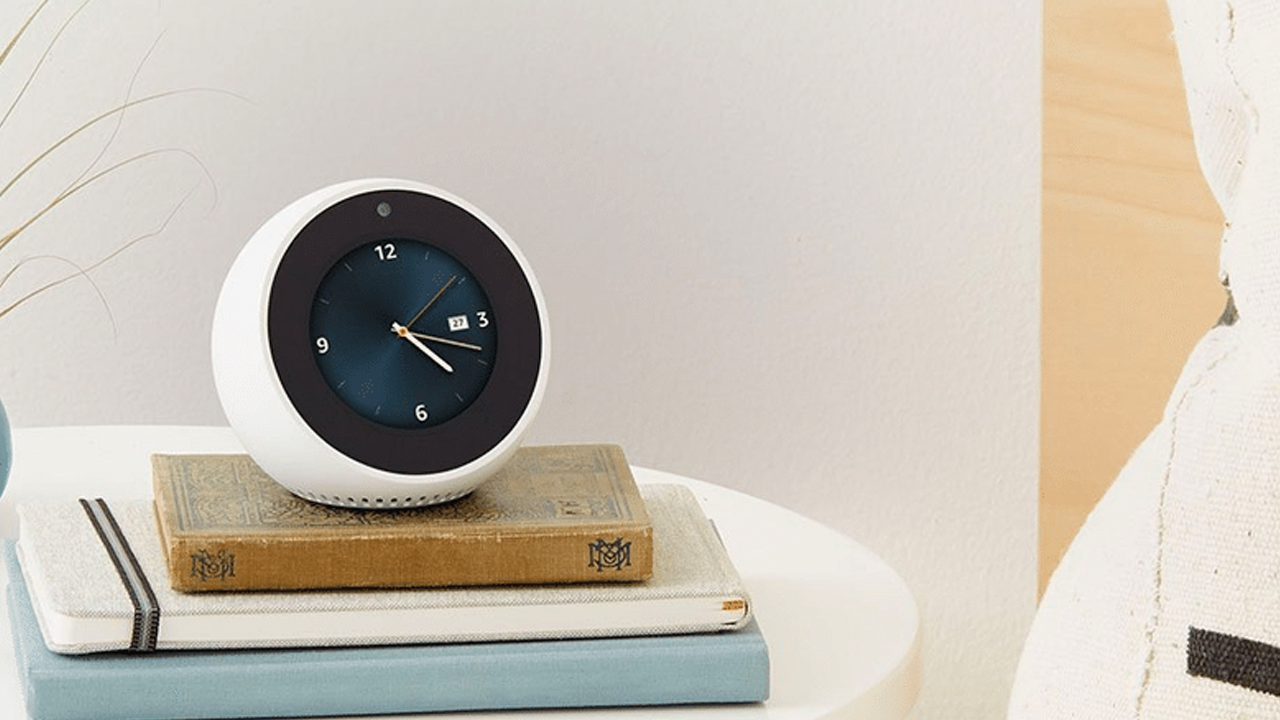 The days of waking up to the loud, annoying buzz of a radio alarm clock are long gone. And while many people rely on smartphones to get them up and out of bed every morning, Amazon is looking to fill that empty spot on the bedside table with the new Echo Spot — pun intended.
The Spot features a 2.5-inch touchscreen and is packed with Alexa, video calling and a slew of other unique functions. But are these features really worth the $130 price tag? We gave the Spot a test run to find out more.
Product Review 22767
Getting Connected
The Echo Spot comes in either black or white, and is shipped with both the unit and a charging cord. Unlike most other Echo devices, which are set up through the Alexa mobile app, the Spot has you log in directly to your Amazon account using a tiny on-screen keyboard to complete the setup process.
On the most basic level, the Echo Spot has all the typical Alexa commands you've come to expect — control your smart home devices, order food or simply ask a question. However, the Spot also gives visual information for various tasks. For example, if you ask for the weather, you'll get an audible response, in addition to a display of the current temperature followed by a forecast for the rest of the week.
You can also customize the screen to match your style, with the Spot allowing you to chose either an analog, digital or photo theme. Picking from more than 20 clock faces should keep most buyers happy, but I was also able to upload a personal photo through the Amazon Alexa mobile app for even more customization. The Echo Spot's simple exterior and customizable screen make it a stylish addition to almost any desk or nightstand.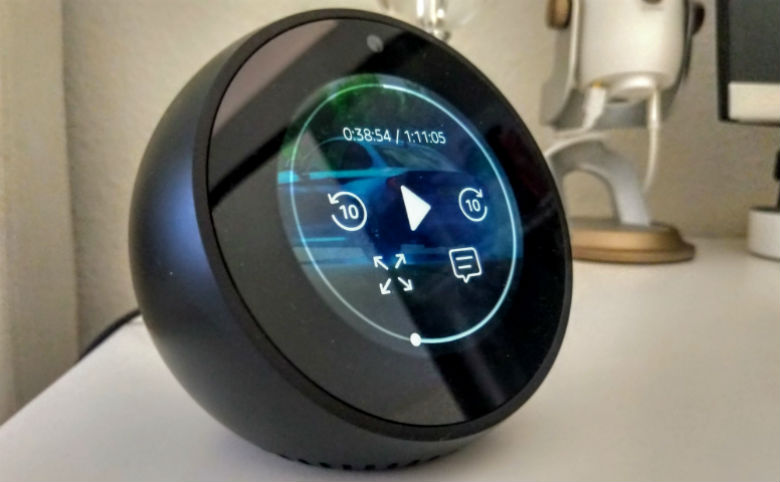 Unique Features of the Echo Spot
The first major feature of the Spot could either attract or scare potential buyers. A camera located just above the screen allows you to video call anyone with access to another Echo Spot, Echo Show or the Alexa App. I could only test this aspect by calling another Amazon user who answered with the Alexa app. Until devices like the Echo Show or Spot become commonplace, the video calling feature will only be a niche draw for a small set of users.
Unfortunately, there are many people who are more concerned with allowing an internet-connected camera into their bedroom. You can easily disable the camera in the "Device Settings" if you're concerned though. Alternatively, opt for the classic "fix" and cover the camera with a black piece of tape.
Various Alexa Skills take advantage of the Spot's display screen, allowing users to view recipes, check out the daily questions for Jeopardy, or even scroll through lyrics while songs are playing. The small screen also plays videos, though it's rather limited to trending news stories, Amazon Prime Video shows and movie trailers. Unfortunately, Youtube has been blocked from Amazon devices by Google, so for now, having a miniature version of "The Grand Tour" playing on your desk while "working" will have to suffice.
The Echo Spot can connect to external speakers through Bluetooth or AUX cable, but it works well as a stand-alone speaker for a smaller room or office. You can even connect your own Bluetooth device, such as a smartphone, to play through the Spot's speakers. Ask to be woken up to a specific channel to take full advantage of the built-in music applications. Instead of listening to some annoying buzzer, just say a phrase like, "Alexa, wake me up at 6 a.m. to Otis Redding radio" and you can wake up to whatever music you want.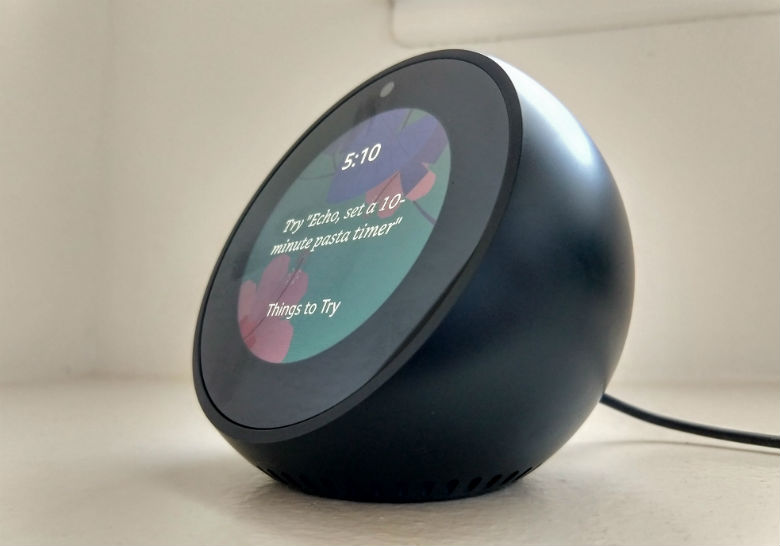 Expanding The Echosystem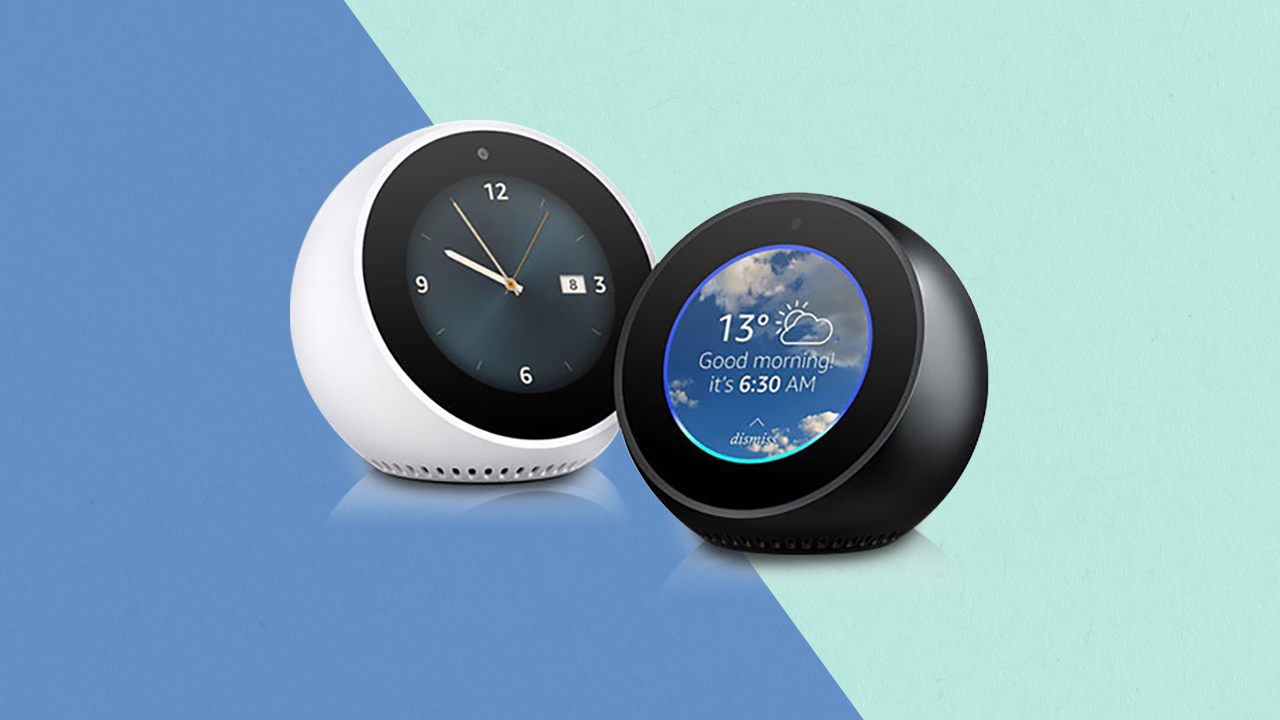 Ultimately, the Echo Spot offers an improved and more stylish solution for accessing Alexa capabilities over something like an Echo Dot. In addition to the basic clock and alarm functions, integrating the Echo system into more rooms around the house also helps expand the capability of your smart home. With the Echo Spot, I was able to adjust my Nest Thermostat on a cold morning without getting out of bed, as well as "broadcast" something from the Spot upstairs to the rest of the family on the Echo Plus in the living room.
While the camera functionality may scare some potential buyers, the rather affordable price ($100 less than the Echo Show) and stylish design should make the Echo Spot worth considering — especially if we continue to see slick deals like this one, which discounted the Spot down to just $104.
Ultimately, I think the Echo Spot offers the best overall look of any Echo device, and is a worthy replacement for your traditional alarm clock. Hopefully, Amazon continues to create Echo devices that mesh well with the existing environments in your home and expand the use of your other smart devices.
Our editors strive to ensure that the information in this article is accurate as of the date published, but please keep in mind that offers can change. We encourage you to verify all terms and conditions of any product before you apply.