Anker PowerPort Atom PD 1 Charger Review: Form Meets Function
Anker's tiny 30W USB-C charger nails the fundamentals, but the lack of folding prongs makes it just short of perfection.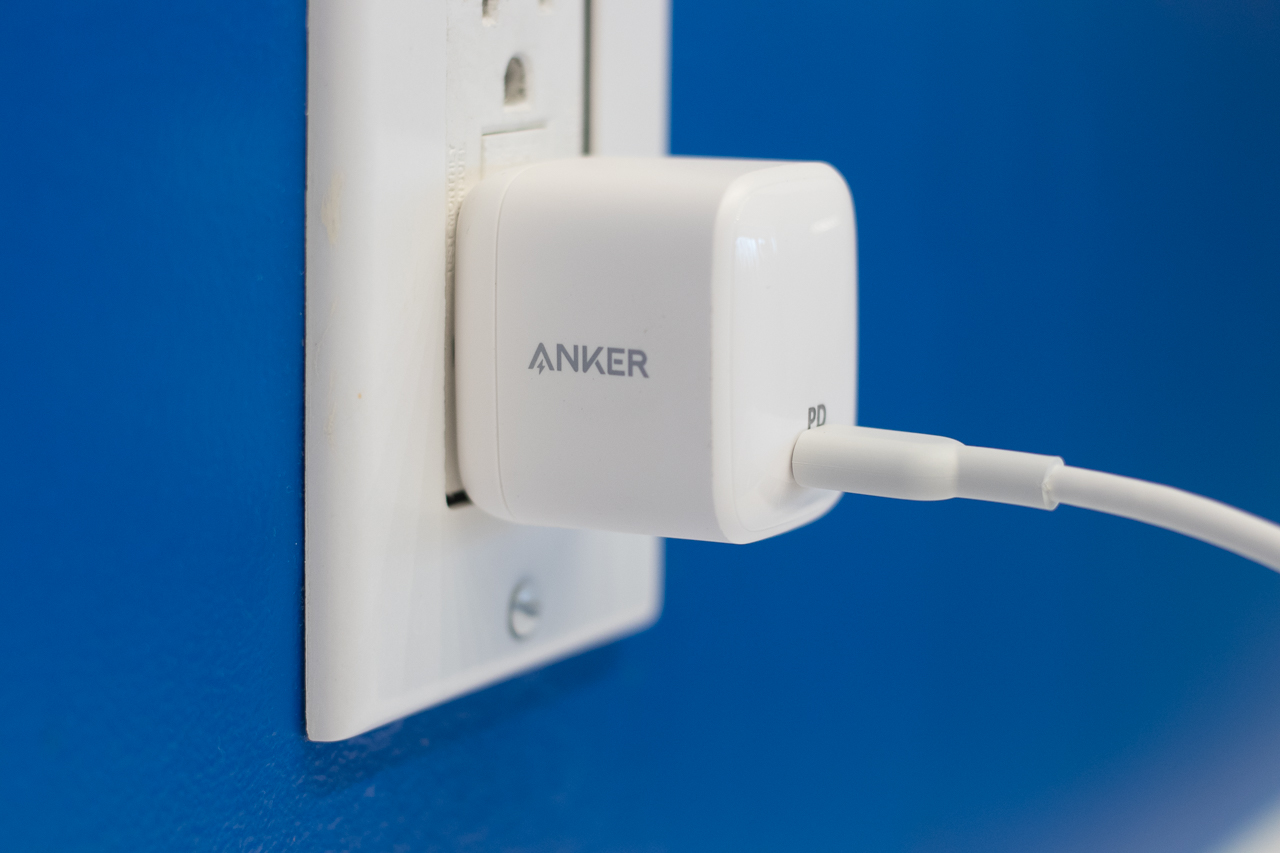 It's easy to assume that wall chargers are all more or less the same, but these days that's simply not the case. As USB-C becomes increasingly ubiquitous, the versatility and performance of these devices has improved substantially. And in the case of the Anker PowerPort Atom PD 1, that expanded capability is paired with new technology that may prove to be a game changer.
With that said, when it comes to charging performance, the numbers in the marketing materials don't always jive with what you'll see in the real world. To get a better sense of whether or not this compact 30-watt wall wart is worth your hard-earned dough, we took a closer look at what makes this particular charger special. Then we put it to the test with both a laptop and a smartphone. Here's what we found.
Product Review 44745
Anker PowerPort Atom PD 1 Wall Charger Specifications
Ports: USB-C
Output: 30W (5V/3A, 9V/2A, 15V/2A, 20V/1.5A)
Input: 100V–240V, 1.2A, 50/60Hz
Size: 1.8 x 1.6 x 1.5 inches
Weight: 1.9 oz
Pint-Sized Powerhouse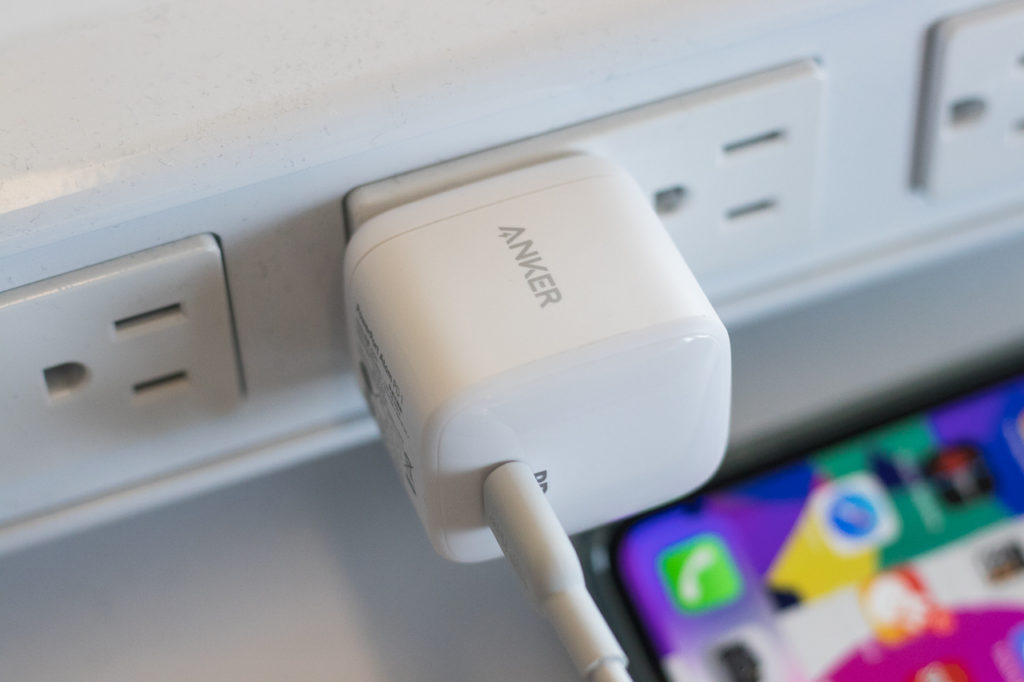 The Anker PowerPort Atom PD 1 wall charger sets itself apart from the crowd with several interesting features. The first and perhaps most obvious differentiator is its size – this thing is tiny. At 1.6in x 1.8in x 1.5in, the Atom PD 1 is about the size of Anker's previous 30W USB-C PD charger, and not much larger than a standard iPhone USB charger.
That diminutive packaging is coupled with the versatility offered by USB-C, which expands its repertoire beyond smaller mobile devices into the realm of laptops. And that's on top of the device's 30W charging capability.
That combination does come with some compromise, though. While Anker's larger 30W PowerPort Speed+ and 18W PowerPort PD 1 USB-C chargers feature folding prongs, the Atom PD 1 does not. That effectively makes the charger bigger when it's being stored in a bag, and the prongs themselves are more susceptible to damage when you're on the go. Still, at this size, the additional real estate required should be negligible in most situations, and the solid build quality indicates that the Atom PD 1 should be able to tolerate the typical abuses of portability.
GaN Technology
One of the particularly notable aspects of the Atom PD 1 is Anker's use of GaN, or Gallium Nitride. GaN is one of the newer types of material that can be used to produce semiconductors, and the key draw is GaN's increased efficiency over traditional Silicon-based components.
When it comes to charging, GaN offers up to 40% less power loss in a footprint that's 1/15th the size, making it ideal for an application like this. The Atom PD 1 owes much of its compact footprint to GaN. And while this is one of the first chargers to utilize this emerging technology, we certainly don't expect it to be the last.
Real-World Performance
While many fast chargers tout impressive numbers, their performance doesn't always match up to the manufacturers' claims. There are myriad different factors that can be attributed to those inconsistencies.
When it comes to laptops, smartphones and other mobile devices, some of the confusion stems from the nature of the lithium ion batteries that power those devices. To prevent added wear and tear on batteries due to excessive heat, many devices will allow for fast charging up to 80%, then revert to standard trickle charging, which extends the charge time significantly.
The smartphone we tested with the Atom PD 1, an iPhone XS Max, serves as a case in point. We started off with 57% of the battery charge left, and with the phone idle but unused. The Atom PD 1 brought the battery level up to 80% in roughly 24 minutes. Pretty quick! But the remaining 20% was a different story – it took an additional 65 minutes to bring the phone's battery up to full capacity, bringing the total charge time from 57% to 100% to one hour and 29 minutes.
Our 12-inch MacBook, which natively uses a 30W charger, fared much better in that regard. Starting at 51% charge, the Atom PD 1 brought the level up to 82% after 30 minutes. Getting to 99% took another 25 minutes, bringing the total tally to 55 minutes.
Your mileage may vary, of course. But either way, the Anker Atom PD 1 does indeed charge these devices very quickly within the given parameters of lithium ion battery technology.
Should You Buy the Anker PowerPort Atom PD 1?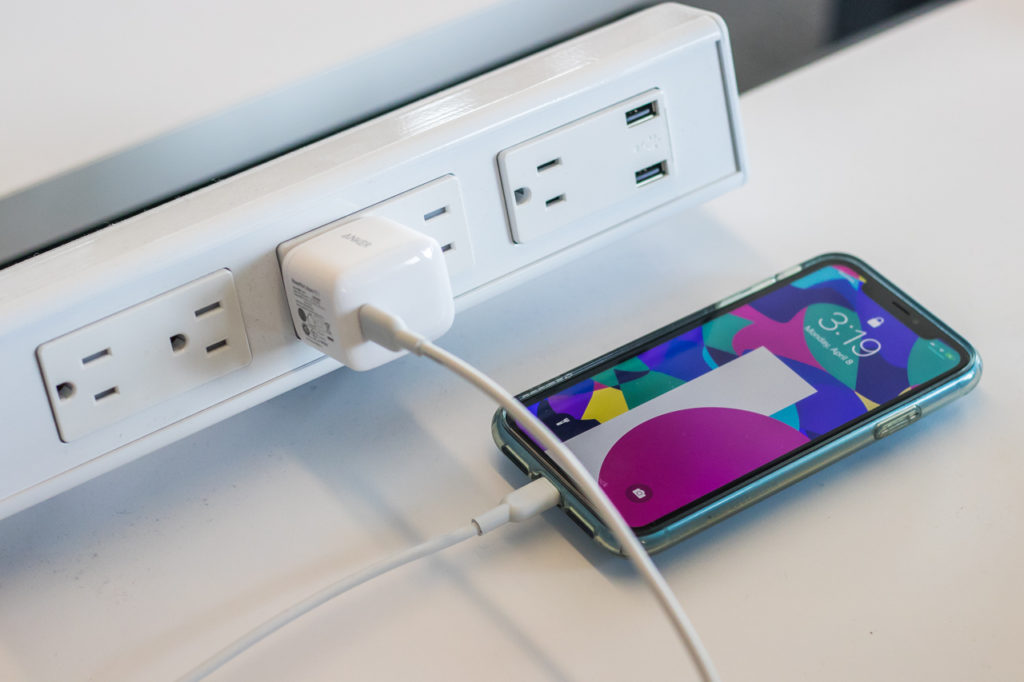 Whether or not the PowerPort Atom PD 1 is the right fast charger for you may ultimately come down to form factor. If you're concerned about portable durability and the possibility of scratching other items in your bag, you might want to consider Anker's PowerPort Speed PD 30, which also offers 30 watts of fast charging power. Although the Speed PD 30 is physically larger, some may find its foldable prongs to be of greater importance.
But if you can live without foldable prongs and feel comfortable with the fairly competitive $32.99 price tag, the Atom PD 1 packs a lot of punch into a very small device, and delivers on its promises.
---
To catch all the best deals on Anker chargers and other tech accessories, set up a Deal Alert or check out our Chargers & Power Bank Deals page for all the latest offers.
Our editors strive to ensure that the information in this article is accurate as of the date published, but please keep in mind that offers can change. We encourage you to verify all terms and conditions of any product before you apply.