Soundcore's Liberty Air Earphones Offer Better Sound and Price than Apple AirPods
Totally wireless convenience at half the cost of Apple AirPods, but does the user experience hold up?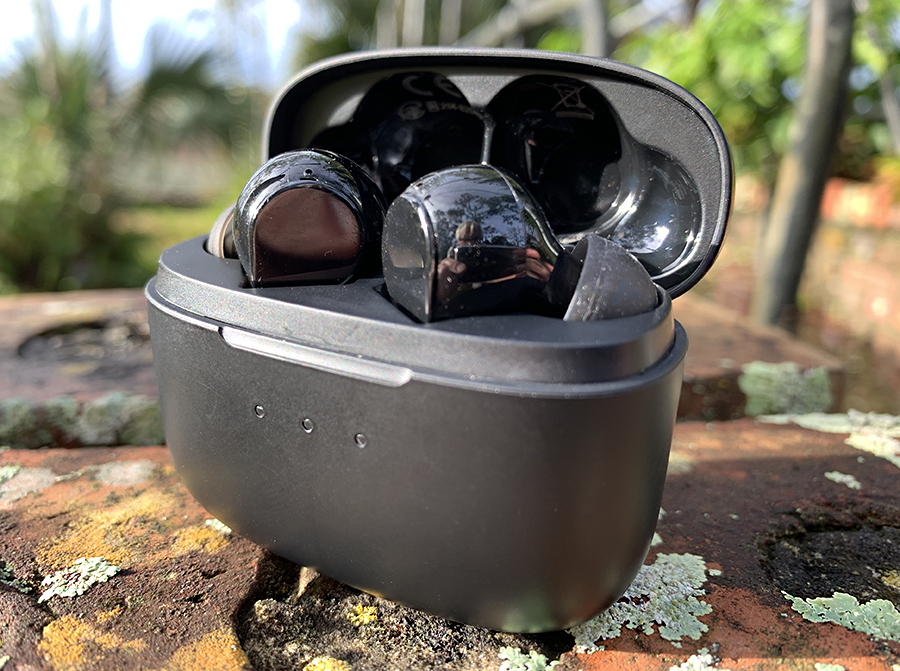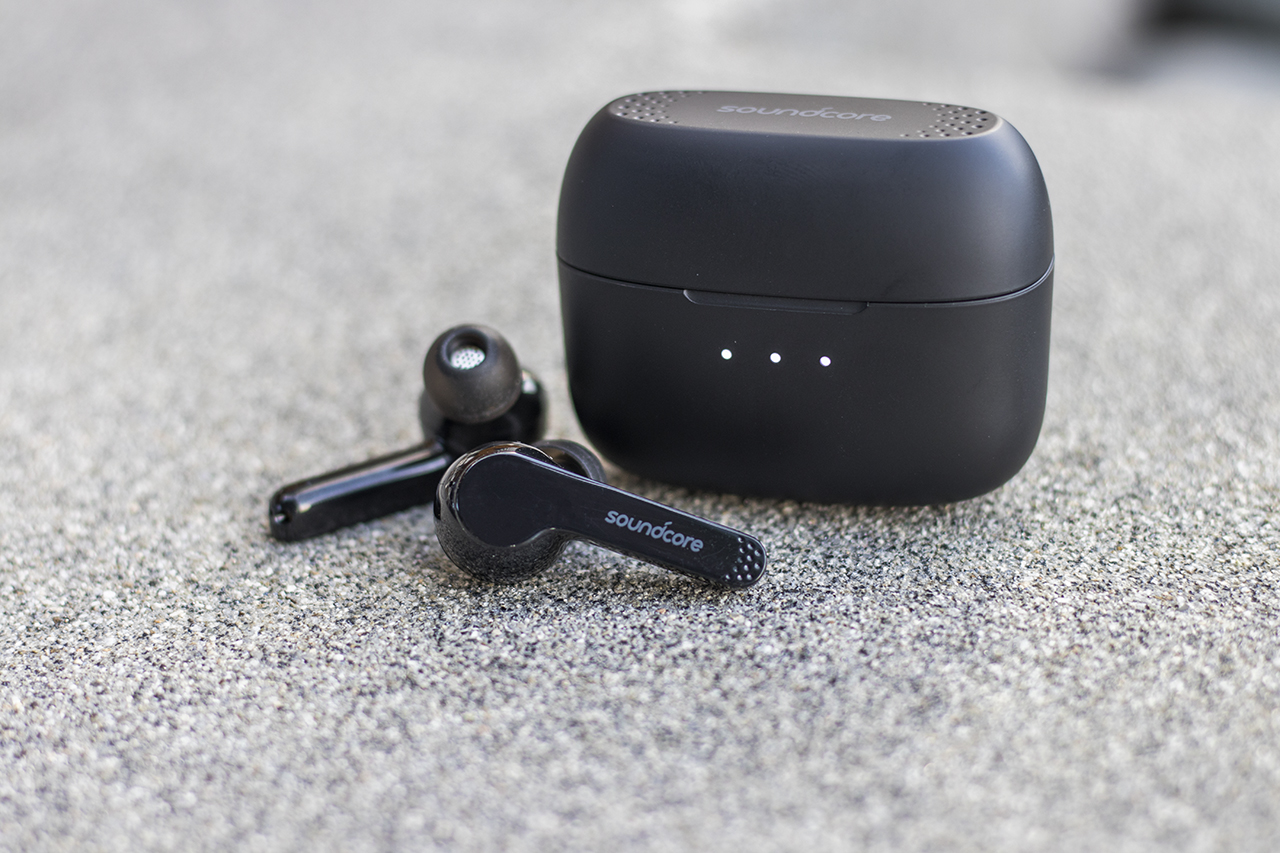 From a distance, Soundcore's new Liberty Air true-wireless earphones look a lot like Apple AirPods. And while it was only a matter of time before other companies started offering products resembling the popular Apple accessory, a closer examination of the Liberty Air finds that the similarities pretty much end there. 
Soundcore, which is an offshoot of the smartphone peripheral manufacturer, Anker, specializes in affordable speakers and headphones. The Liberty Air is its latest offering, and stands as a better and less expensive successor to Anker's short-lived ZOLO Liberty wireless earbuds.
But are the Liberty Air earbuds right for you? We took them for a test run to find out more.
Product Review 38548

Soundcore Liberty Air Wireless Earphones Specifications
Charging time: 2 hours
Playtime (varies by volume level and content): 5 hours
Weight: 1.9 oz
Impedance: 16 ohms
Driver (full range): 6 mm X 2
Frequency response: 20 Hz – 20 KHz
Bluetooth 5.0
Range: 33 ft. 
Colors: Black, White

What's In the Box?
Liberty Air Wireless Earbuds
Charging Case
XS/S/M/L Ear Tips
Micro USB Cable
User Manual
Soundcore Liberty Air Fit and Comfort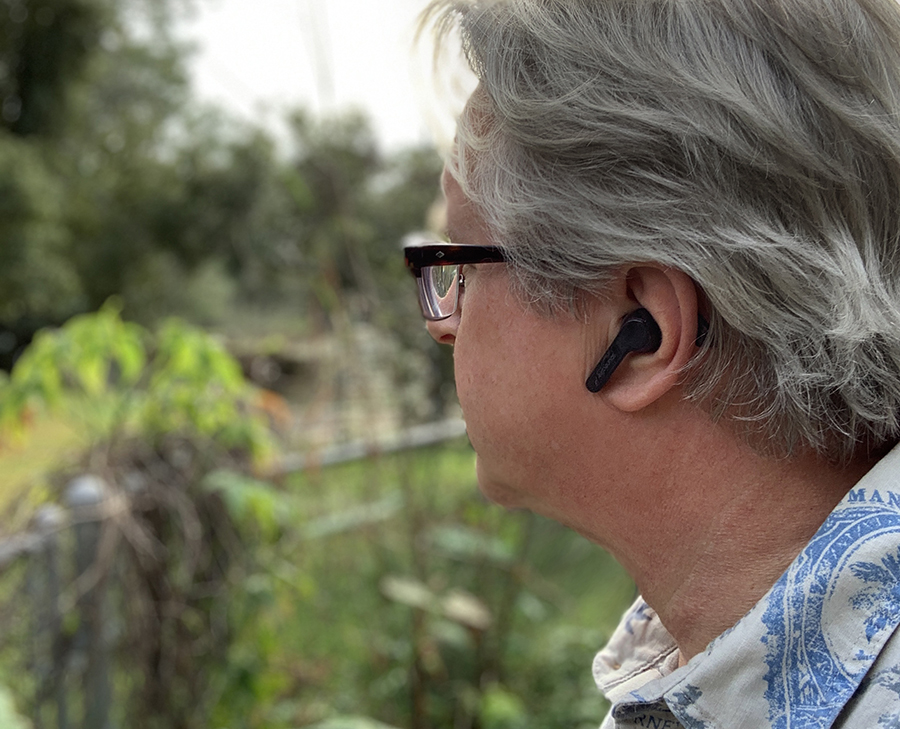 Liberty Air earphones go inside the ear, unlike Apple's AirPods, which rest just outside of the ear. Most people are fine with this, but if you simply do not like anything — including earphones — in your ears, these are probably not for you.
The Liberty Air are comfortable though, even for long-term wear. And due to their lightweight form-factor, they easily stay in place. They are also quite good for exercising given that they're water resistant, rated at IPX5. (Anything rated IPX4 or above is sweat proof.)
Ease of Use and Touch Controls
There's definitely a slight learning curve to figuring out the touch controls of the Liberty Air. A series of taps, double taps and extended taps in one or the other earphone can play, pause or skip a song, answer or end phone calls, and even bring up Apple's Siri voice assistant, Alexa or Google Assistant. It takes some practice to get used to each control feature and unfortunately, those touch controls cannot be customized. 
Additionally, it can sometimes be difficult to hit exactly the right spot when tapping — if your first tap doesn't work, you'll have to try to be more precise.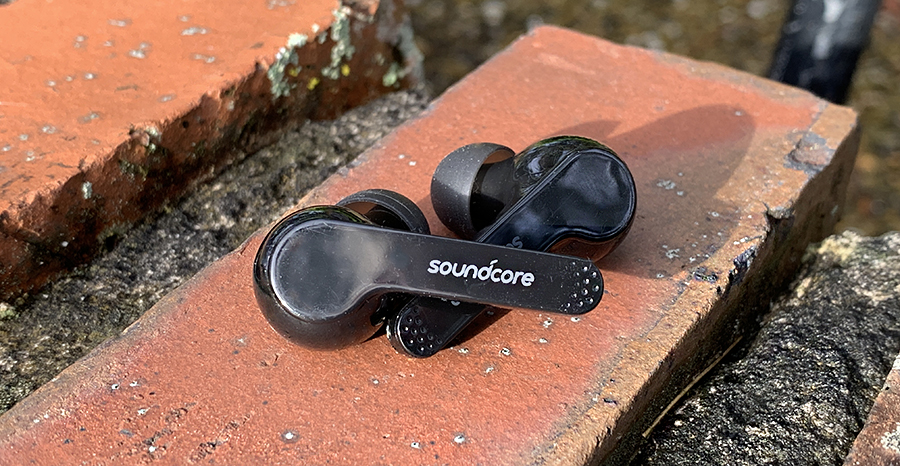 Both earbuds also feature built-in microphones with what Soundcore calls "uplink noise cancellation." This technology recognizes voices and filters out background noise. Otherwise, any noise cancellation is strictly passive, much like wearing ear plugs. 
Call quality on the Liberty Air is fine, but not perfect. While I could clearly hear any person I called, I was told that my voice had a "distant quality" to it. Plus, the left earphone will not operate without the right one being in the ear. Only the right earphone will work independently, which might bother someone who prefers using the left ear (like me). Even so, the Liberty Air definitely sounded better with calls than the original Zolo Liberty.
One benefit of having Bluetooth 5 is that the Liberty Air earphones quickly reconnect by simply removing them from the case. While this works just fine, it's not fast enough when answering a phone call. Many times, I wanted to be hands-free and use the Liberty earphones, but had to resort to using the iPhone because any successful connection took a few seconds too long. I never had this issue with Apple's AirPods because Apple uses a W1 chip, which makes an instant connection, well… instantly. While the Liberty Air doesn't have the performance advantages offered by Apple's W1 chipset, once a connection is made with the phone, it's rock-solid.
The Liberty Air offers five hours of playtime, and can be recharged three times in the case for a total of 20 hours. Of course, battery life depends on volume — louder music eats away at battery time.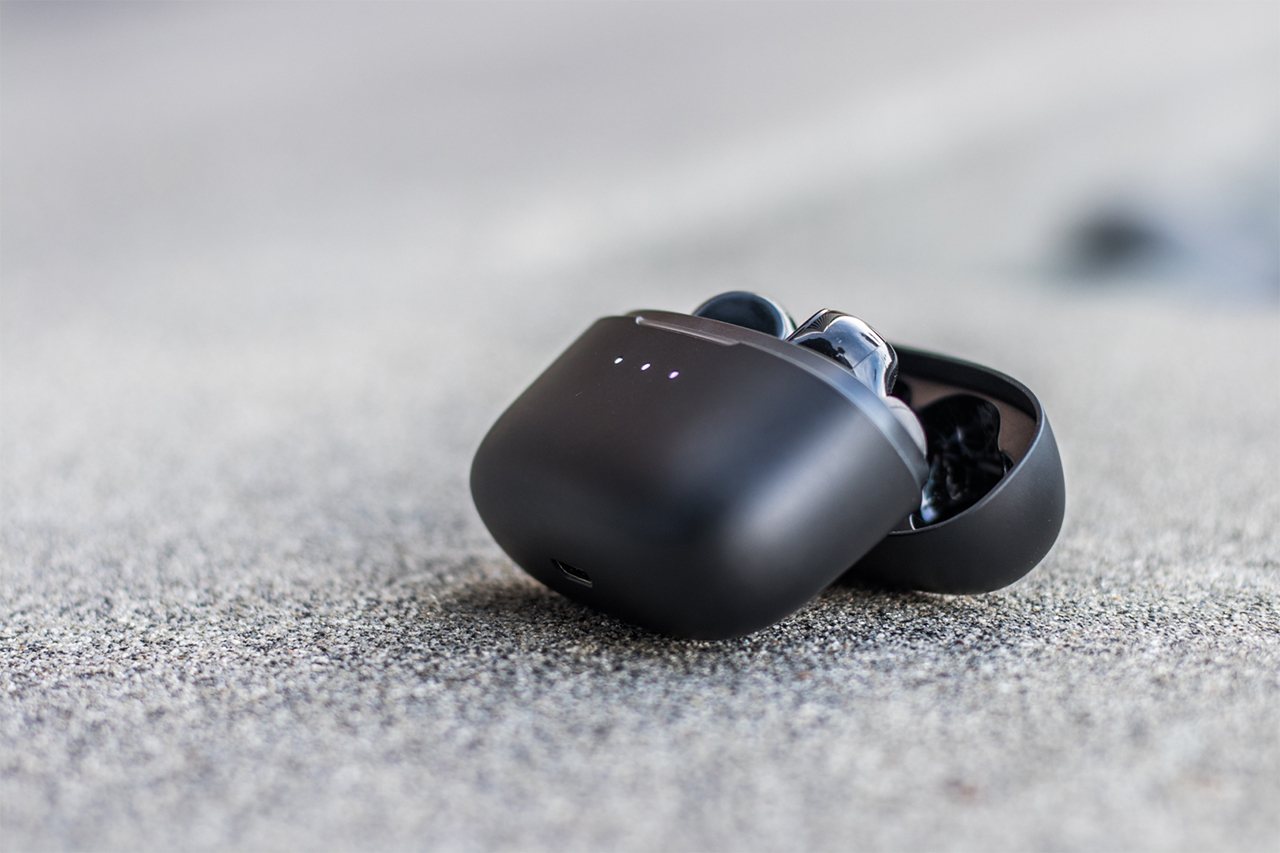 Speaking of the case, the earphones will not fall out as they're held in place magnetically. The lid also features a magnet that helps it stay shut, making it harder to lose an earphone.
There are four ear tip sizes, and unfortunately, none of them gave me a good seal. A proper seal is very important if you want to hear any bass; however, I should note that I've had an ear tip fit issue with many other earphones too. Only larger ear tips found from another brand of earphone fit well for me, and that makes all the difference in sound quality. I wish Soundcore offered a more varied selection of ear tip sizes, or at least foam tips.
Inserting the earphones is a no-brainer. Just push them in and twist to the angle you prefer. Note that if your phone is already playing music, inserting the earphone by long-pressing the center with one finger may cause a song to skip, since that's the same touch control for navigating tracks. Pressing with two fingers on either side of the earphone prevents this from happening.
Impressive Sound Quality
With that all-important seal in place, the Liberty Air earphones sound darn good. They're not bass heavy, but they do present more accurate low tones. If you're a bass head, look elsewhere. I do wish the earphones could be inserted a bit deeper for even better bass, but the Liberty's shell design is too shallow for that. 
Keep in mind that these earphones do not have audiophile sound quality, but then, neither do any other totally wireless earphones. That's not to say they don't sound good, because they do, at least for what they are. Totally wireless earphones are all about convenience and freedom. If sounding good can be added to the mix, even better!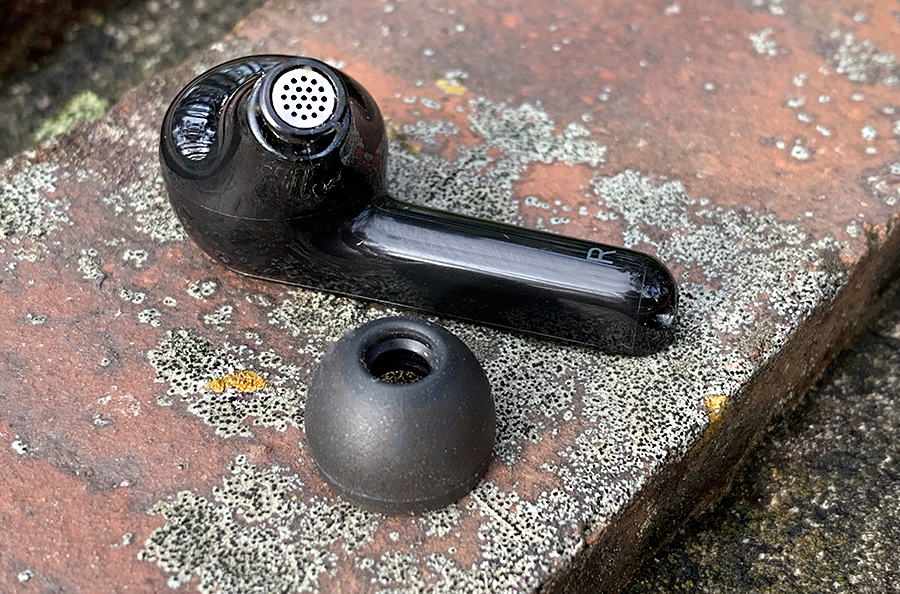 The dynamic speakers used in the Liberty Air are graphene-coated, which simply put, helps stiffen the speakers for better sound vibration recovery. Any note played on the speaker dissipates more quickly before the next note hits, making music sound more direct and less muddy. This audio effect provides a subtle yet significant improvement.
It would be difficult to find a better wireless earphone for your money than the Liberty Air.
Should You Buy the Soundcore Liberty Air Earphones?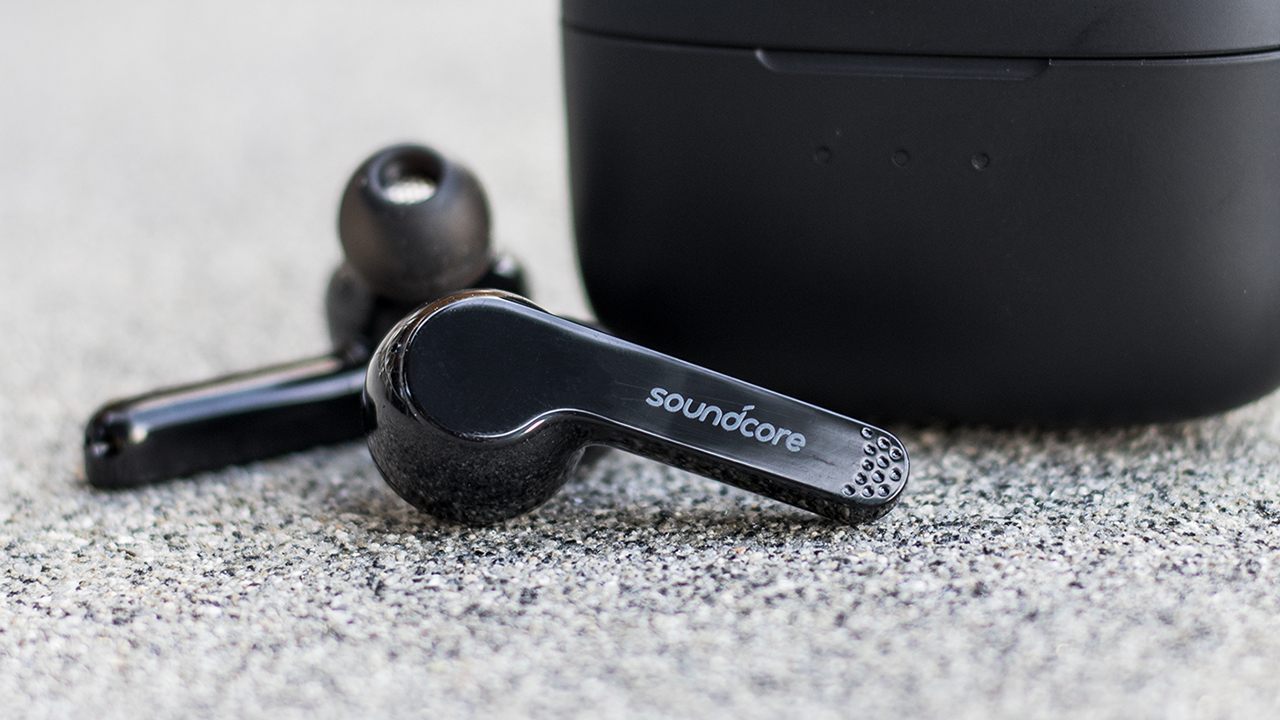 I used the Liberty Air earphones in place of my Apple AirPods for an entire week, and the experience was a mixed bag for my specific use cases. I prefer the audio quality (only with a proper seal) and comfort of the Liberty Air earphones. However, making and taking calls is my main reason for using totally wireless earphones, and the Liberty's pesky instant connection issues prevent me from wholeheartedly recommending them.
But if using earphones for calls comes in second to music listening, then it would be difficult to find a better wireless earphone for your money than the Liberty Air. They stay in place, sound good and are practically waterproof. Considering they cost just $79.99, you can get all the convenience of totally wireless earphones for nearly half the price of Apple AirPods.
*****
For deals on the Soundcore Liberty Air earphones and all other headphones, be sure to visit our Headphone Deals page for all the latest discounts!
Any product or service prices/offers that appear in this article are accurate at time of publish, and are subject to change without notice. Please verify the actual selling price and offer details on the merchant's site before making a purchase.
Soundcore Liberty Air True-Wireless Earphones
$79.99
Good Fit For:
Long-term comfort
Compact charging case
Lightweight and stays in ears
Attractive price
Touch controls
Not a Good Fit For:
Reconnecting Bluetooth can be a bit slow when receiving a phone call
Noise blocking is passive only
Uses older mini-USB to charge case
Our editors strive to ensure that the information in this article is accurate as of the date published, but please keep in mind that offers can change. We encourage you to verify all terms and conditions of any product before you apply.