Sponsored
Save on Smart AI Security Solutions by ANNKE
Upgrade your security system this holiday season.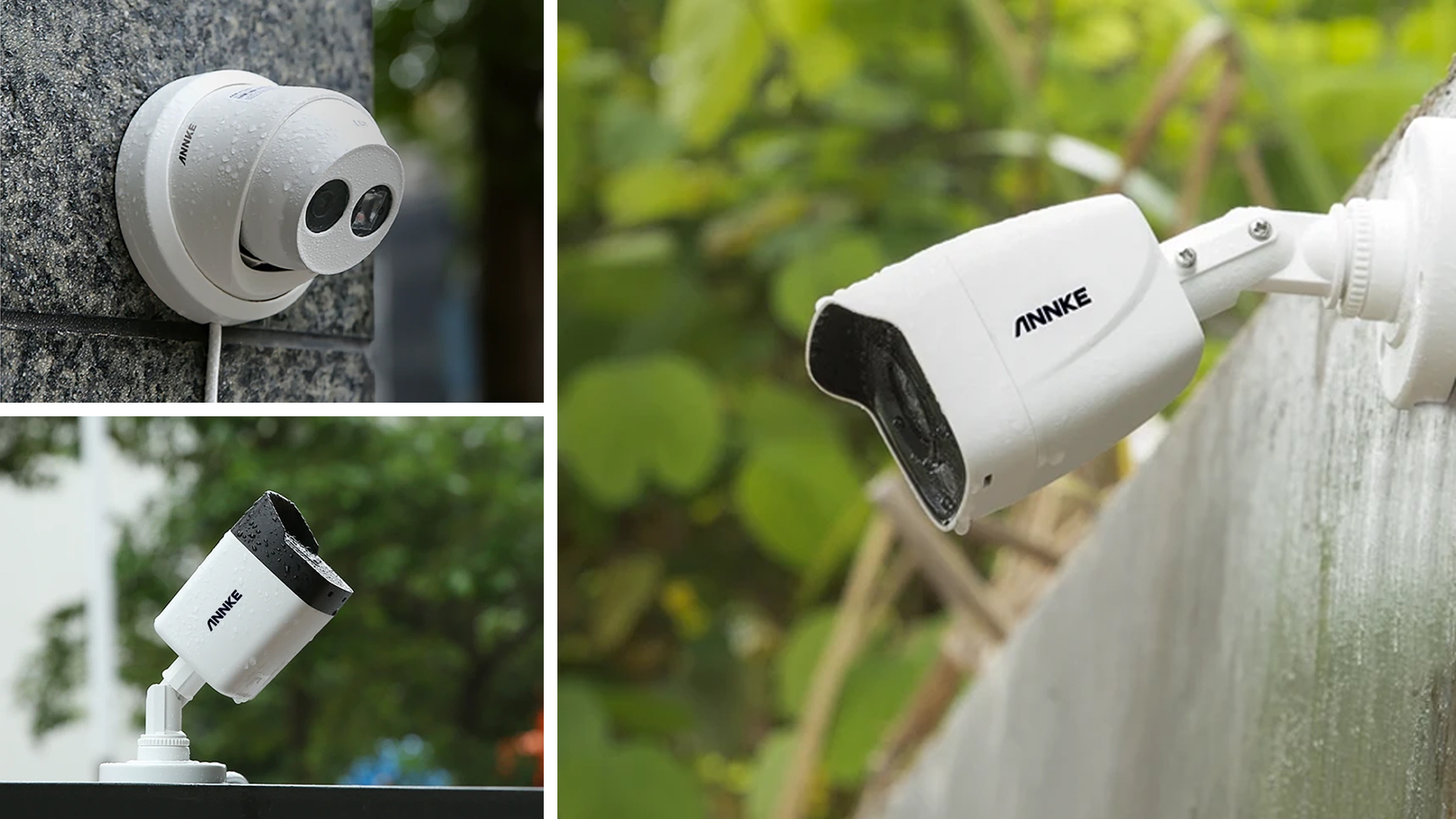 Thinking of upgrading your security system this holiday season? With a customized line of smart security solutions, ANNKE offers high-end security cameras that aim to deter intruders and provide protection and peace of mind for both homeowners and businesses.
ANNKE security cameras come equipped with crisp video resolution, smart AI detection, weatherproof and anti-fog capabilities, and clear night vision for your security needs.
The company has a versatile product line of durable and efficient devices ranging from analog and Power over Ethernet (PoE) security solutions to wireless options. ANNKE also offers products with intruder deterrents, like the ANNKE BR200 Security Camera, which has built-in siren and strobe alarms.
If improving your home or business security has been on your to-do list, we've compiled a list of some of the top security camera solutions by ANNKE to help you get started.
ANNKE C800 4K Ultra HD Outdoor PoE IP Security Camera
Sale Price: $99.99 | Regular Price: $149.00
As ANNKE claims, the C800 features an "industry-leading Sony STARVIS IMX274 imaging sensor" to detect and capture colorful outdoor images with an easy three-step PoE setup for beginners.
You can download the free ANNKE Vision app and watch recordings in real time, anytime and anywhere. The security cameras also capture "100 percent vivid 8MP Ultra HD images," so you can rest assured that you won't have to strain your eyes to identify blurry or noisy images.
ANNKE notes that the C800 captures up to 100 feet of clear images through its EXIR Night Vision capabilities. Even when it's pitch dark, you can count on this device to generate visible images in 4K resolution.
Additionally, the durability and strength of the dome version of this surveillance camera is a testament to its "tamper-proof design," which can handle up to 20 joules of impact, according to ANNKE.
ANNKE C500 5MP Super HD PoE IP Security Camera
Sale Price: $59.99 | Regular Price: $69.99
With an easy PoE setup, the ANNKE C 500 5MP is part of the C500 Series, which boasts a range of top-notch security features, including clear 5MP Super HD, Exir Night Vision, Secure Encryption, and IP67 weatherproof capabilities.
You'll get high-definition, cinematic-like images that pick up even the smallest of details through its "top-line OmniVision Sensor." This means you'll be able to see everything from vivid details of an entire street block and leaves on trees to the crisp color of rooftops with incredible clarity thanks to 5MP technology.
ANNKE H500 8 Channel 5MP Super HD PoE Security Camera System
Regular Price: $309.99
Complete with a 5MP imaging sensor and chipset, this ANNKE system provides vivid and clear footage all day and night. With enhanced night vision capabilities, ANNKE claims it can detect images up to 100 feet away using EXIR Night Vision.
You can choose from a dome or turret camera design and install the IP67 durable, weatherproof device for indoor or outdoor use. For convenience, this camera system can easily be accessed through your smartphone, tablet, or computer–even if you're thousands of miles away. As long as you have a connection, you can view what's going on in real time with instant alerts to ensure your property (and family) are safe.
ANNKE BR200 1080p PIR Security Camera with Siren & Strobe Alarms
Regular Price: $99.99
Whenever the 110-degree wide-angle PIR sensor on the ANNKE BR200 Security Camera detects movement, the system sets off a light show of red and blue strobe alerts, along with a loud siren for good measure. This helps deter intruders and provide a layer of additional security and peace of mind.
Connect your smartphone to the HD system, and you'll receive real-time notifications of any security incident, along with "true full color night vision" capabilities. Plus, ANNKE notes that the BR200 is able to withstand harsh weather conditions and provide full color images and razor-sharp 1080p video resolution. With a flexible 4-in-1 video output, ANNKE also claims this device is compatible with almost all types of DVRs.
ANNKE's FC800 4K True Full Color Night Vision Security Camera System
Regular Price: $315.99
With four to eight advanced camera lenses and night vision features, the ANNKE FC800 4K is a high-end security camera that provides 4K Ultra HD surveillance footage in full color resolution 24/7.
The combination of high-performance Sony sensors and supplement lights help ensure that images are captured with precision and clarity, even in the dark. Additionally, ANNKE notes that the FC800's high efficiency H.265+ video coding system provides a longer recording time than many other systems. This means you can capture more footage, save on costs, and focus on more important aspects of your business or home life.
Highlights and Benefits of ANNKE Products
ANNKE was founded in 2014 by CEO Jet Li, who previously provided security products for top security companies. With over a decade of experience in the security field, Li was determined to help customers find high-quality security cameras and security solutions for affordable prices.
Over the years, ANNKE has helped millions of customers across the globe keep their properties safe through innovative smart security solutions such as IP security cameras, versatile DVR surveillance camera systems, and Wi-Fi/PoE security camera systems. ANNKE claims they are a "global leader in the home & business security solution industry."
Additionally, ANNKE notes that all of their 12MP, 4K and 5MP security cameras feature the best imaging sensors that have been tested by professional engineers.
When you buy from ANNKE, be sure to register your product on the official website within 30 days of purchase. This gets you access to information related to service and support, recall notifications, a two-year limited warranty, and special promotions.
Should you need customer service support, you can contact an ANNKE representative by Live Chat or at 1-833-717-0187 (free in the U.S. and CA). You can also visit their Help Center, which features FAQ information, troubleshooting tips, and information about shipping and orders.
More Ways to Save with ANNKE
Save 15% when you sign up for updates on the ANNKE NightChroma Camera. This new series will feature true full color night vision and will be available in November 2020.
Get an extra one-year warranty when you register your product and leave a review on the ANNKE Amazon store or other ANNKE store. Find more information here.
Receive $5 off when you subscribe to the ANNKE mailing list.
If you want to go the DIY route and camouflage your ANNKE surveillance camera, consider customizing the color of your product with free spray paint. More details are available here.
Our editors strive to ensure that the information in this article is accurate as of the date published, but please keep in mind that offers can change. We encourage you to verify all terms and conditions of any product before you apply.