Apple iPad Buying Guide
An overview of 2015 Apple iPad options, including the all-new iOS9 available in the Air 2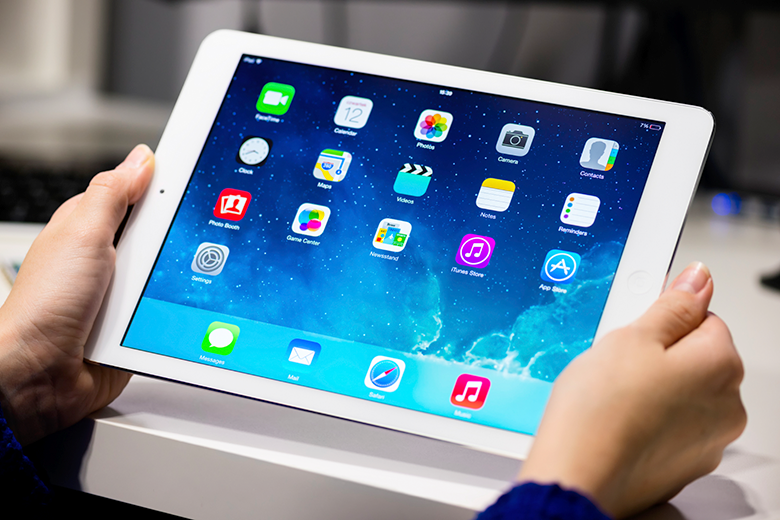 There is never a dull moment in the Apple iPad world, and 2015 is no exception. Since Apple first introduced the iPad in 2010, the compact portable device continues to win over tablet consumers around the world with game-changing performance, a wealth of apps to choose from and vivid display screens that are easy on the eyes. From an all-new operating system to the latest and greatest technology, Apple continues to enhance its existing products in a number of ways. Here's a closer look at the different iPad models that are currently available and what you can expect from each one.
Table of Content
2015 iPad Models
Apple currently offers the iPad Air and the iPad mini, and each line consists of a couple different models. For example, you can choose between the
iPad Air
or the
iPad Air 2
. If you are in the market for a mini, options include the
iPad mini
,
iPad mini 2
, and the
iPad mini 3
. As the name suggests, the mini is the smaller iPad. But don't be fooled by its compact build, as it packs a lot of power and performance into a small space. If you prefer a larger screen and faster processor chip, one of the iPad Air models could be right for you.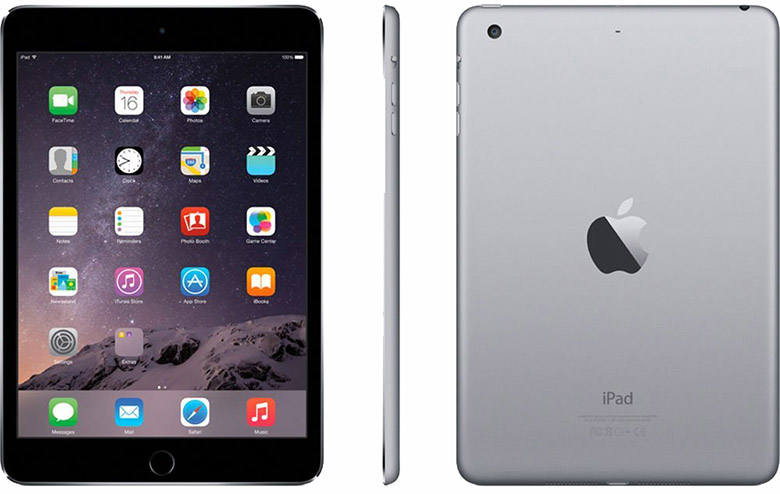 iPad mini Overview
The mini is the smallest available iPad at 7.87 inches by 5.3 inches, with a depth of 0.28 inches. With a weight of 0.68 pound, it's also easily portable. You'll find a number of features on this model such as a FaceTime HD camera, 720p HD video, and face detection technology.
The iPad mini 2 has the same height and width measurements, with a depth of 0.29 inch. Unlike the mini, the mini 2 features Apple's crisp and clear Retina display. Both the iPad mini 2 and mini 3 weigh a bit more than the mini at 0.73 pounds. While the mini is only available with a 16GB storage capacity, the mini 2 features 16 and 32GB options.
With nearly identical specs as the mini 2, the iPad mini 3 does have a few additional features, such as the gold color option and touch ID. It also comes with the option of 16, 64 or 128GB storage.
iPad Air Overview
The base model Air is 9.4 inches by 6.6 inches and has a depth of 0.29 inch. You can choose between 16 and 32GB storage options.
The Air 2 has the same height and width measurements, with a depth of 0.24 inch. The WiFi model Air weighs just over a pound, while the WiFi model Air 2 weighs 0.98 pound. Both Air models are equipped with Retina display. However, the Air 2 features a fully laminated display, Split View screen ability and anti-reflective coating for your enhanced viewing pleasure.
iPad mini vs. iPad Air
The iPad mini's 1024x768 resolution means that Websites, photos and videos look impressive and sharp on the screen. The mini is powered by the A5 chip, which excels in quickly launching apps and browsing the web without hesitation. However, there are more powerful chips available in the other iPad models for completing larger tasks and running bigger programs. The addition of iSight and FaceTime HD cameras makes it easy to shoot stunning pictures and high-quality videos at any time. All three mini models are powered by iOS 8, which
Apple calls
"the most advanced mobile OS ever."
The iPad Air is extremely thin and lightweight, with a refined aluminum enclosure that adds an extra element of durability and security; it also makes it a good choice if you're going to be handing your iPad over to your kids. This iPad model is powered by a performance-oriented A7 chip with 64-bit architecture to make everything you do fast and responsive. A 9.7-inch Retina display features over 3.1 million pixels.
According to Apple
, this is 1 million more pixels than you would find in an HDTV. The result is remarkably detailed images as well as razor-sharp text.
At a glance, the iPad models look similar enough on the outside. However, each model has its own distinctive features and personality. We took a more detailed look at what you can expect from each model.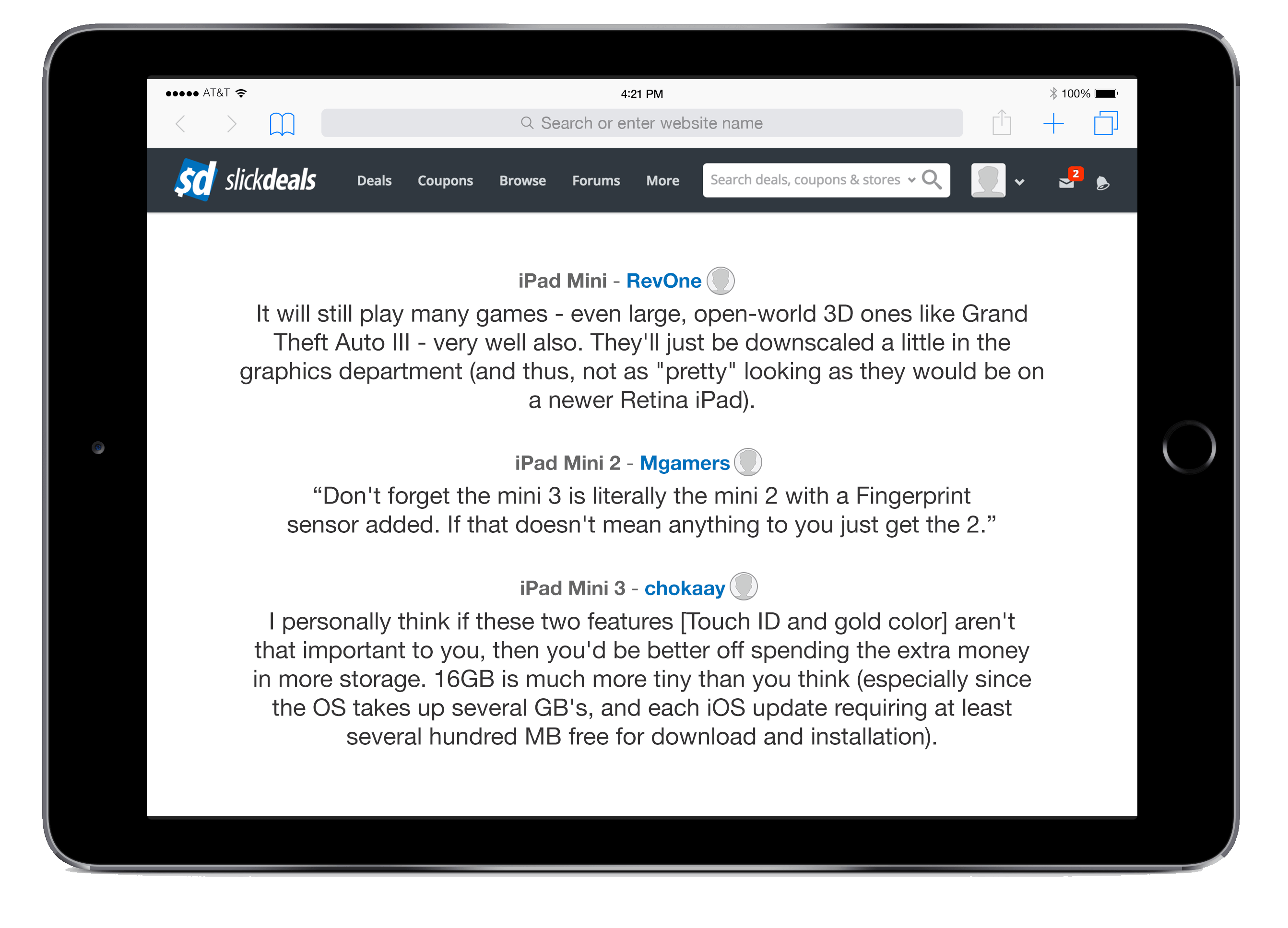 iPad mini ($249 - $379): The mini is ideal for browsing the web, and taking photos and videos. Slickdealer Yosemity says that the base mini has "lower res than 2nd and 3rd. Also A5 processor is a couple gens behind current." Bottom line, the mini is a good entry level iPad for someone who doesn't need anything too powerful.
iPad mini 2 ($299 - $479): The mini 2 is a solid choice if you're looking for compact design and high-quality performance at a decent price.
iPad mini 3 ($399 - $729): Get one with more than 16 GB of storage if you plan on saving a lot of photos or media files on it. User Hwypgg observes that the mini 3 is also "more convenient to carry than the ipad regular."
iPad Air ($399 - $579): A big concern among potential Air buyers is slower performance and less memory, which can cause frequent rebooting or slow performance with multiple tabs open. Slickdeals user autosaver notes, "It's because the iPad Air has 1GB Ram. This issue is seen on the iPhone 6/6+ too. The iPad Air 2 has 2GB Ram which fixes the issue."
iPad Air 2 ($499 - $829): One big feature that makes the Air 2 stand out is that it is currently the only available iPad with Split Screen view. Slickdealer z28lt1 offers a comparison between the Air and the Air 2. "I think [the] Air is fine for 98% of people. Unless you want the touch id, or will be doing some heavy processing (video editing, advanced 3D gaming) this one should be great for everyone's needs. Of course, it isn't quite as future proof as the Air 2 with the slower processor, but that will be the same with every generation of a computing device." Bottom line, the Air 2 is a good choice if you're looking to replace your laptop with a tablet. It's got the power and the functionality that you'll need for heavy computing and would be great for students or business folks on the go.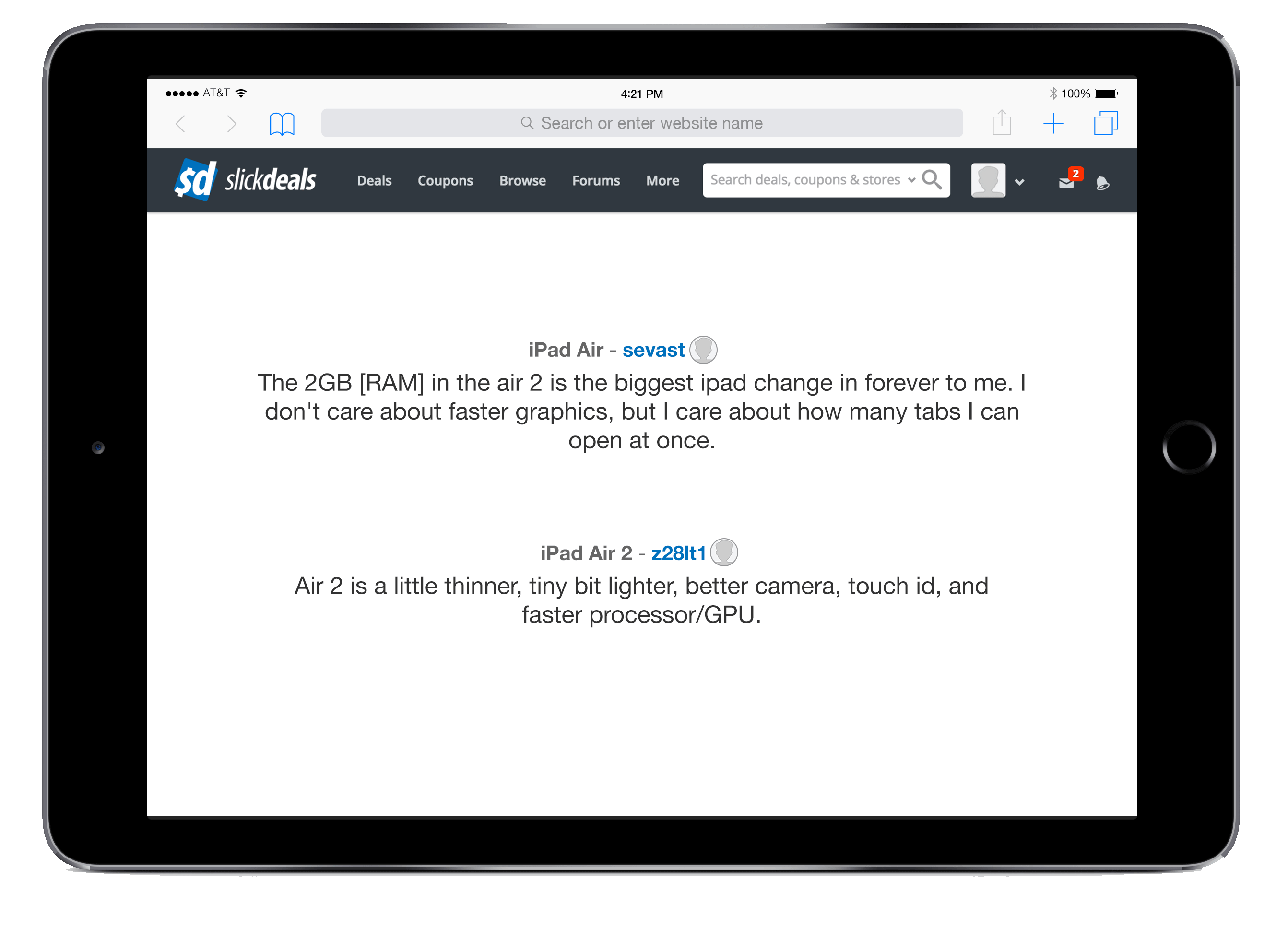 Component Breakdown
For some consumers, price and style are some of the most important considerations. Others want to know more about specific components. While every iPad model is well-equipped, components vary from one product to the next. Some of the main differences among iPad models include available storage space, processor chip, and display screens.
Display
With the exception of the iPad mini, every iPad comes standard with Retina display. Apple's Retina display packs millions of pixels into a screen to create an incredibly vivid and detailed image-viewing experience. As a result, the high pixel density means that your eyes can't discern individual pixels. Images are very sharp and realistic, and any text on the screen is so sharp that you will feel like you are reading off of a printed page. In addition to superior quality, Retina display also minimizes glare without compromising color or quality. A higher contrast ratio means blacker blacks and whiter whites.
Screen size and resolution are also important display considerations. The mini lineup features a 7.9 inch LED-backlit display, compared to the 9.7-inch LED-backlit display found on the Air and Air 2. While the base mini features a 1024 x 768 resolution, other models have a higher quality 2048 x 1536 resolution. The unique and innovative Split View feature found on the iPad Air 2 allows you to have two apps open and actively running at the same time. For example, you can write a paper in one screen while copying citations from sources on the other. The goal is to enhance productivity and make it easier to multitask when necessary.
Storage space
If you are using your iPad for basic web browsing and don't plan on installing many apps, the lowest available 16BG could be all you need. Slickdeals user
ChrisP8282
says, "I've found a 16 GB iDevice is perfectly fine PROVIDED you don't take a lot of pics/videos." However, many consumers find that they need at least 32GB of space to avoid compromising performance and speed.
CNET.com
 explains that even a 32GB storage capacity might not be adequate if you are planning on installing and running many apps or frequently need to download and run large files. In this instance, you may be better off going with a 64GB or even a 128GB capacity. Slickdealer 
ChrisP8282
says, "I have a 64 gb iPhone and if it weren't for me constantly taking HD video of my kids, this thing would never fill up. That said, I've taken about 30 ~1 minute HD videos and 3000 pictures since I got it in November and it's still not full. And I've got multiple games on here." However, Slickdeals user
z28lt1
notes, "When I had my 64GB, I had to do space management. Keep limited movies/magazines and such on the ipad. With my 128, I can just put a ton of stuff on there once every few months and not worry about deleting and reloading each trip. Much more enjoyable."
Chip
With the exception of the base mini, all of Apple's current iPad models feature 64-bit architecture, which promotes smoother operation and better multi-tasking. The result is a device with performance similar to a desktop, with plenty of power and speed for most processing demands. The A7 chip is very fast and efficient, but the speedier and more robust A8X, available in the iPad Air 2, is currently the fastest and most powerful chip available in any iPad model. The A5 chip, which powers the base mini, is the slowest and most basic available in the Apple lineup.
Operating system
There's nothing wrong with iOS 8, the current operating system behind each iPad model. It's designed specifically for the iPad and includes features such as Family Sharing, iCloud Drive and Continuity. However, there is a lot of buzz in the Apple world surrounding the soon-to-be-released
iOS 9
. The newest operating system is set to unveil in the fall of 2015. While the entire operating system has been overhauled, it's the app switcher that is of particular interest to many people. The app switcher helps to make apps more essential and easy to use. A new News app appears on the Home screen, collecting top news stories from around the world based on topics you are most interested in. Any notes you make on the new and improved Notes app will be automatically updated across all of your devices via iCloud. If you are a creature of habit, you should be aware that the familiar row of icons at the bottom of the display screen is now on top and that while the icons are smaller, the app names are larger. In addition, the home screen will be located on the right rather than the left.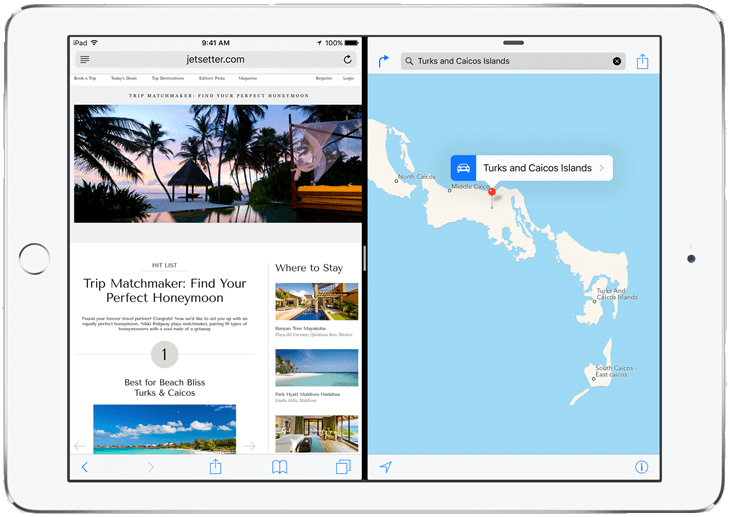 When and Where to Buy
New iPad models are usually released in October/November or March/April, and the average number of days between new models for the iPad is 331 days, according to
macrumors.com
. The iPad Mini has seen new models hit the market in October or November since its debut in 2012. Rumor has it that we will see an new Mini in 2015, but not a new Air. Makes sense considering iOS 9 will basically turn your iPad Air 2 into a new tablet with all the new functions, longer battery life etc. However, there might be a larger version of the Air coming this year, called the iPad Pro. The screen size is rumored to be 12.9 inches, so it kind of starts getting into laptop size and might not be as appealing to people who like the iPad specifically for its smaller size. It will probably be a hit for people who prefer larger screens and haven't switched over to a tablet for that reason.
When new models are about to be released you will start seeing the current models dropping in price, so that means your best bet will usually be between late September to November for iPads. Luckily for us consumers, November is also THE month to buy electronics because of Black Friday/Cyber Monday (Although now it's more like Black November since the sales begin earlier and earlier every year).
The obvious places to look for good deals on iPads, especially in the fall, would be the usual suspects like Best Buy, Walmart and Target. Best Buy has had some of the best iPad Frontpage deals in the past year, including
this one
for the Mini 2 & 3 tablets (and don't forget about the Movers coupon!). The most popular slickdeal for an Air actually came from
Staples
in early November last year where you could get a 16GB iPad Air for $339. Some people sweetened that deal by using their cash back cards for 5% back, or used Staples gift cards they had bought on sale, which saved them an additional 20%. Always plan ahead!
If you're not too concerned about buying a brand new iPad, there are always good deals to be found on refurbished ones throughout the year. eBay is probably your best bet for a good deal, but beware of quality issues. Make sure you find out if it was refurbished by Apple or not. The Apple store will actually also have occasional deals on refurbished iPads, like
this one
from last October. If you're not in a rush to buy one today, set up a
Deal Alert
 or start tracking the iPad models you're interested in using our
Price Tracker
tool. You can set a price threshold that fits your budget and get notified if the price ever falls below that level.
A good deal on an iPad Air 2 should be about $70-$100 less than MSRP. For the older one we've seen deals that were up to $200 lower than the regular list price. The two minis can usually be found with a similar discount; $75-$100 off retail based on Popular and Frontpage deals in the past year.
The Bottom Line
With a price difference of more than $200 between the iPad mini and the iPad Air 2, budget can be a significant -- and sometimes deciding -- factor. However, if you're not shopping on a super tight budget, you'll want to consider what each model has to offer. Many consumers find that the base model mini lacks sufficient power and performance for more demanding tasks. In other words, unless you're planning on using the device for the occasional web browsing and photo viewing, you're probably better off at least going with the mini 2. On the opposite end of the spectrum, the iPad Air 2 might be a bit overkill for those who don't need the latest and greatest processor and technology. However, the Air 2 is also the only iPad currently available with Split View technology, making it an exceptional choice for multi-tasking. Finally, if you want a device with the latest technology, you might want to wait for the new and improved iOS 9, which will be available on all iPad models later this year.
Images courtesy of©iStock.com/Krystian Nawrocki, Apple.com.
Slickdeals content may contain references to products from one or more of our affiliate partners. If you make a purchase on their site through a link on Slickdeals, we receive a small commission. This in no way affects our opinions on products or services mentioned in our content.
Add a Comment