Are Robot Vacuums Worth It?
We break down whether these smart home cleaning devices are worth investing in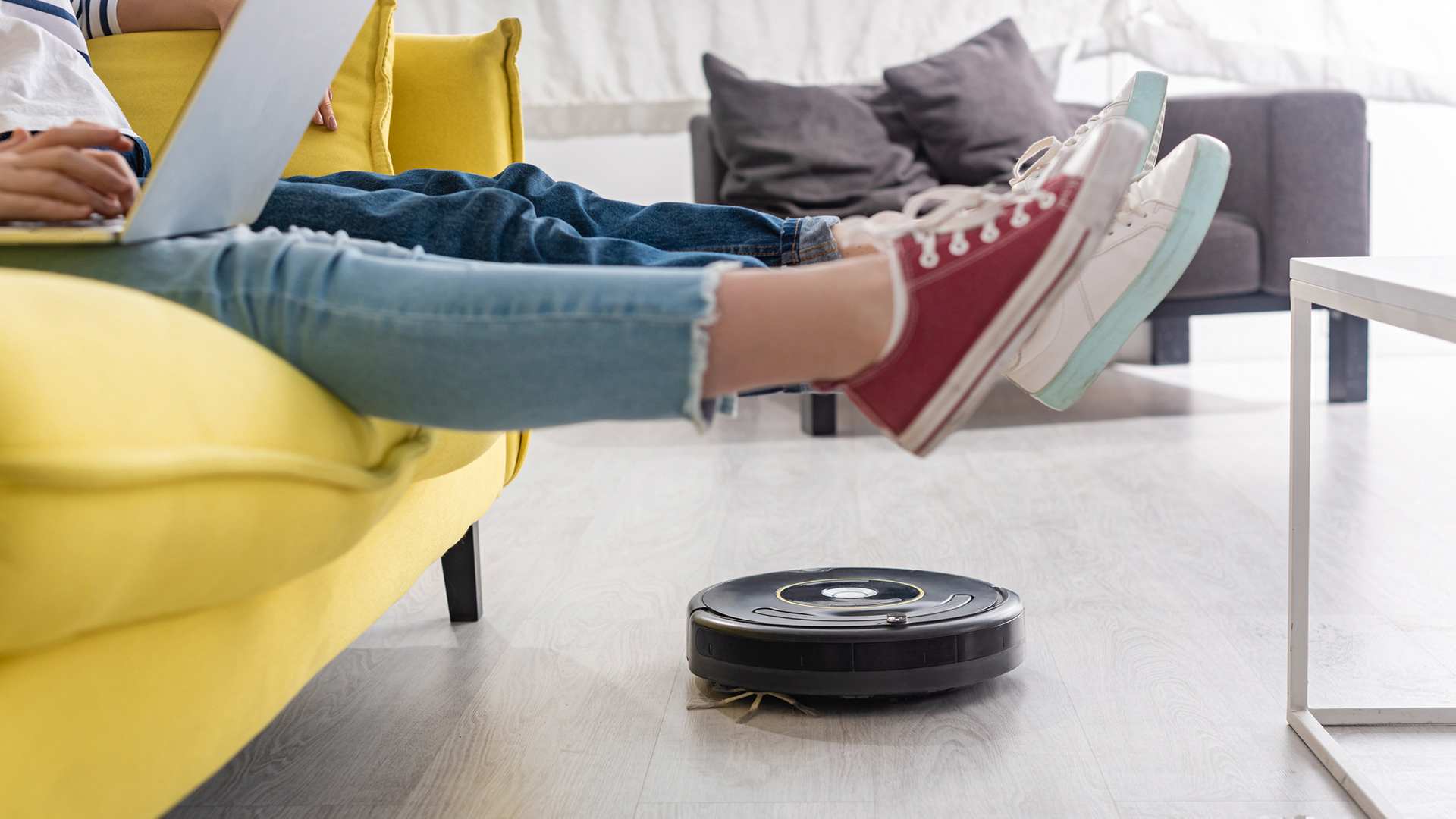 Picture this: you've returned home from a long, exhausting day at work. You swing open the front door to discover your floors have been cleaned nearly to perfection. Finally, you can kick your feet up and relax knowing that there is no need to vacuum today. With a robot vacuum, you may be able to enjoy this same experience.
The robot vacuum is one of the most popular and most effective smart home devices designed to keep spaces clean. Whether you're searching for a vacuum to take on pet hair, dust or dirt, there are many robot vacuums on the market that can help keep your floors and carpets clean on a daily basis.
But is a robot vacuum right for you? Consider the following pros and cons.
Check Out Current Deals on Robot Vacuums
Pros and Cons of a Robot Vacuum

If you're considering purchasing a robot vacuum, it's helpful to explore some of the key advantages and disadvantages before investing in one for your own home.
Pros of a Robot Vacuum
They do most of the cleaning for you. Of course, one of the top features that we look for in a robot vacuum is automated cleaning technology. Running on rechargeable batteries, robot vacuums use a combination of sensors and/or cameras to scan the floor of any room and clean your home without you ever having to lift a finger.
You can program a cleaning schedule: Some smart robot vacuums even allow you to program a cleaning schedule for your home, including certain times of the day or certain days of the week. This makes cleaning a breeze because you barely even need to think about cleaning once you program your vacuum's schedule.
They clean hard-to-reach places. Unlike your standard hand-held vacuum, the robot vacuums are designed to reach tricky areas around your home such as under the couch, bed and dining room table.
You can control smart features from your phone. With the different models available, you can opt for a robot vacuum that allows you to track its progress via your smartphone, steer it remotely, and block certain pathways for a more accurate cleaning process.
Cons of a Robot Vacuum
They don't clean as meticulously as traditional vacuums. Compared to a human wielding higher quality "stick and barrel" models, robot vacuums aren't as thorough when it comes to picking up every last piece of dirt, dust and pet hair. So while a robot vacuum can do the bulk of the cleaning, you'll still need your traditional vacuum cleaner to do the rest of the work.
They can be expensive. You may be spending anywhere from $200 – $2,000 on your robot vacuum, depending on whether you'll want high-tech features such as a self-emptying bin, Wifi connectivity or smart sensors for better navigation.
They tend to get stuck from time to time. Despite having sensors and cameras, robot vacuums are prone to getting caught under furniture, tangling up a cord or shoelace, or riding up onto a low-hanging curtain.
How to Choose the Right Robot Vacuum

When shopping around for the right robot vacuum for your home, there are several characteristics to keep in mind.
Battery Life
This feature is helpful to consider depending on the size of your home. For the average robot vacuum running for 60-70 minutes per charge, this battery life would be more than enough to handle small apartments or homes. For larger homes, it's best to find a device that has a longer battery life, like the Ecovacs DEEBOT OZMO 950, which can run as long as 3 hours and 20 minutes.
Filters
For the average robot vacuum, the filter requires cleaning at least once per week and total replacement every couple of months. With pets, you may need more maintenance to keep the filter clear.
If you're searching for the best robot vacuum for pet hair, it's worth checking out either the iRobot Roomba j7+ for tracking and avoiding obstacles such as pet waste, or the Shark IQ Robot Vacuum which is built with an extra-large dustbin to help pick up more pet fur.
Maintenance
Maintaining your robot vacuum is fairly simple. However, if you plan to run your device every day, it should be cleaned and maintained more often.
To clean the base of your vacuum, pop out the brush to clean out the bristles and wipe away any hair or dirt surrounding the base of the brush and wheels. With wear and tear, it's common for the side brushes to need replacement every six months. As for the collection dustbin, many models suggest emptying and cleaning after every use. Without regular maintenance, robot vacuums run the risk of breaking down, which can be very tricky to fix and even more expensive to replace.
Replacement of Parts
Replacing parts on a robot vacuum can be quite the process in terms of both money spent on parts along with the time and energy to fix it. You want to make sure that your device's parts can be replaced at an affordable price. Most retailers that sell robot vacuums may also sell the internal parts, but you can always check the vacuum manufacturer for details on replacement parts.
Noise Level
Compared to a traditional vacuum cleaner, robot vacuums tend to be slightly quieter. If noise is a concern, models such as Roborock S6 and OPODEE Robot Vacuum Cleaner are recommended for their quiet cleaning capabilities.
Are Robot Vacuums Worth the Investment?

While there are some cheaper, less effective robot vacuums on the market, the mid-to high-range vacuums are certainly worth your investment. Newer models boast much better navigation, cleaning performance and improved smart features compared to the first-generation robot vacs. For those who are constantly battling pet fur, dirt, hair and dander, a robot vacuum gives you the luxury of automating the cleaning process (even emptying their own bins) without having to even lift a finger.
Although the majority of homes can benefit from having a robot vacuum work its magic, not every home will find it worthwhile. If you live in a multi-level home or have clutter scattered around, a robot vacuum may not be as effective because the device will work best on level surfaces. Some people have also expressed privacy concerns because the robot vacuum's software can map your entire home's layout.
Before making an investment on a robot vacuum, keep in mind how robot vacuum-friendly your home is and whether privacy concerns are a deterring factor in your decision.
Our editors strive to ensure that the information in this article is accurate as of the date published, but please keep in mind that offers can change. We encourage you to verify all terms and conditions of any product before you apply.