10 Unique Cleaning Supplies You Didn't Know You Needed
All these super-affordable gadgets will have you living healthier.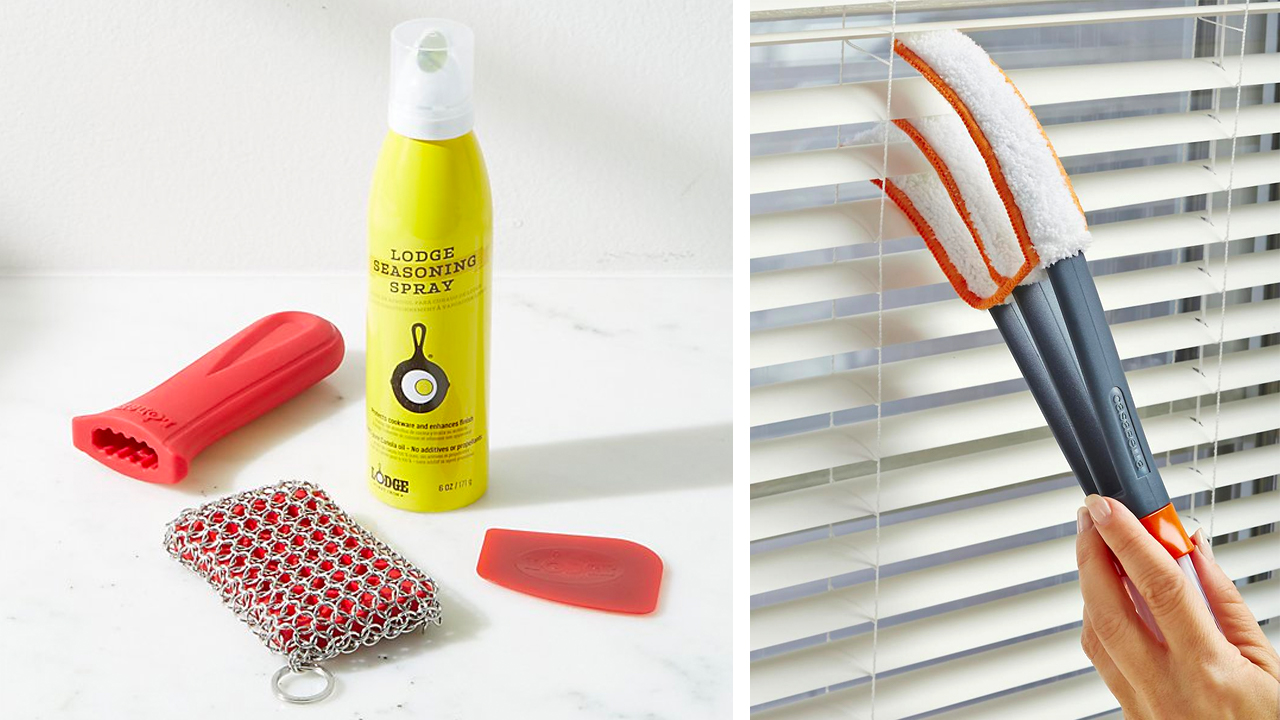 Giving your space that deep clean is important for your health. You likely have overlooked areas in your home that are building up dust and germs. Whether the spot is too small or hard to reach, it totally makes sense why you haven't gotten around to cleaning it.
Ahead, you'll find a list of budget-friendly tools made for these difficult to clean places. Order these items and you'll finally have the spotless home you deserve.
High-Value, Unique Cleaning Supplies
Boon Cacti Bottle Cleaning Brush Set

Regular Price: $14.99
From sippy-cups to S'well bottles, make sure these daily essentials get washed properly. Not only will this under $15 Cacti cleaning brush set get the job done, it's an adorable addition to any kitchen.
Deal Tip: Remember, free standard shipping at Target starts with orders over $35. Browse through the site and add other supplies to your cart or avoid this fee altogether by opting for the company's free in-store pickup service.
Casabella Mini-Blinds Duster
Regular Price: $6.99
Get rid of all the dust hanging out on your window blinds with this duster that can easily go in between each row and trap anything in its way. Bonus, it's only around $7.
Deal Tip: Similar to Target, don't waste money on delivery fees if The Container Store is nearby. Save and see if there's free curbside pickup available during checkout.
Rejuvenate Lemon Scent Disposer and Pipe Cleaner
Regular Price: $6.97
Think about all the trash or whatever else going down your garbage disposal, drains and pipes. In short, these things also need cleaning and Home Depot's lemon scented cleaner can freshen things up again.
Deal Tip: Save an extra 5% by signing up for Home Depot's auto-ship program, which will automatically deliver items to your home as frequently as every month.
Refrigerator Air Purifier

Regular Price: $59.95
While it's great to see major grocery stores taking necessary precautions during the coronavirus pandemic, it can't hurt to take additional steps at home. Be extra safe and consider buying a refrigerator purifier from Hammacher Schlemmer that's designed to kill viruses, mold and germs.
Deal Tip: Don't forget to sign up for Hammacher Schlemmer's e-mail newsletter to receive $10 off your next purchase of over $99.
Washing Machine Cleaner by Wash Wizard
Regular Price: $24.97
Don't wash your clothes in a dirty washing machine. Clean it with Wash Wizard's easy-to-use cleaner tablets that will leave your machine feeling brand new. You simply pop one in and run as if you're doing a load of laundry.
Deal Tip: You will have to spend at least $50 to avail for free shipping, but the site has other useful items designed to take laundry to the next level.
Lodge Premium Cast Iron Care Kit
Sale Price: $31.95 | Regular Price: $41
It's no secret that you can't wash your cast iron pan like regular dishes. Make your life easier with this care kit that will carefully clean your pan without ruining the iron.
Deal Tip: Before you buy, subscribe to Crate & Barrel's e-mail newsletter to get a 10% off coupon sent to your inbox.
Karma Kiss Hairbrush Cleaner

Sale Price: $12 | Regular Price: $21
In addition to avoiding germs, cleaning your hairbrush can help avoid split ends and breakage. Don't risk these damages and snag these hairbrush cleaners that are now around 40% off from Karma Kiss.
Deal Tip: As soon as you click over to the site, you have the chance to sign up for the brand's e-mail list which will provide you with a Mystery Offer for an additional discount.
Keurig Brewer Cleanse Kit
Regular Price: $15.99
Yes, Keurig cleaners are a must. This easy-to-use kit will reduce unsanitary mineral buildup that can also affect the taste of your coffee.
FlexiSnake Plastic Drain Stick
Regular Price: $6.38
Is your drain not draining? This is gross, but there's probably lots of hair stuck in it. Instantly fix this issue with a super slim less than $7 drain stick that can instantly unclog your sink or bathtub.
Dyson Pure Cool Link Desk Purifier Fan (Refurbished)

Sale Price: $179.97 | Regular Price: $399.99
It's allergy season. Get cleaner and fresher air indoors with a refurbished version of the coveted Dyson purifier from Nordstrom Rack at 55% off. The device is sleek, stylish and can reportedly remove 99.97% of allergens and pollutants in your home.
Also check out these cleaning deals on our Frontpage:
Search URL: https://slickdeals.net/newsearch.php?firstonly=1&pp=20&sort=newest&rating=frontpage&filter%5B%5D=61580&forumid%5B%5D=9&hideexpired=1&r=1
Our editors strive to ensure that the information in this article is accurate as of the date published, but please keep in mind that offers can change. We encourage you to verify all terms and conditions of any product before you apply.