Can't Find a PS5 or Series X In-Stock? Save Christmas With These 12 Gamer-Friendly Gift Ideas
Don't let supply shortages ruin your holidays! We'll help you find the perfect gift for the gamer in your life.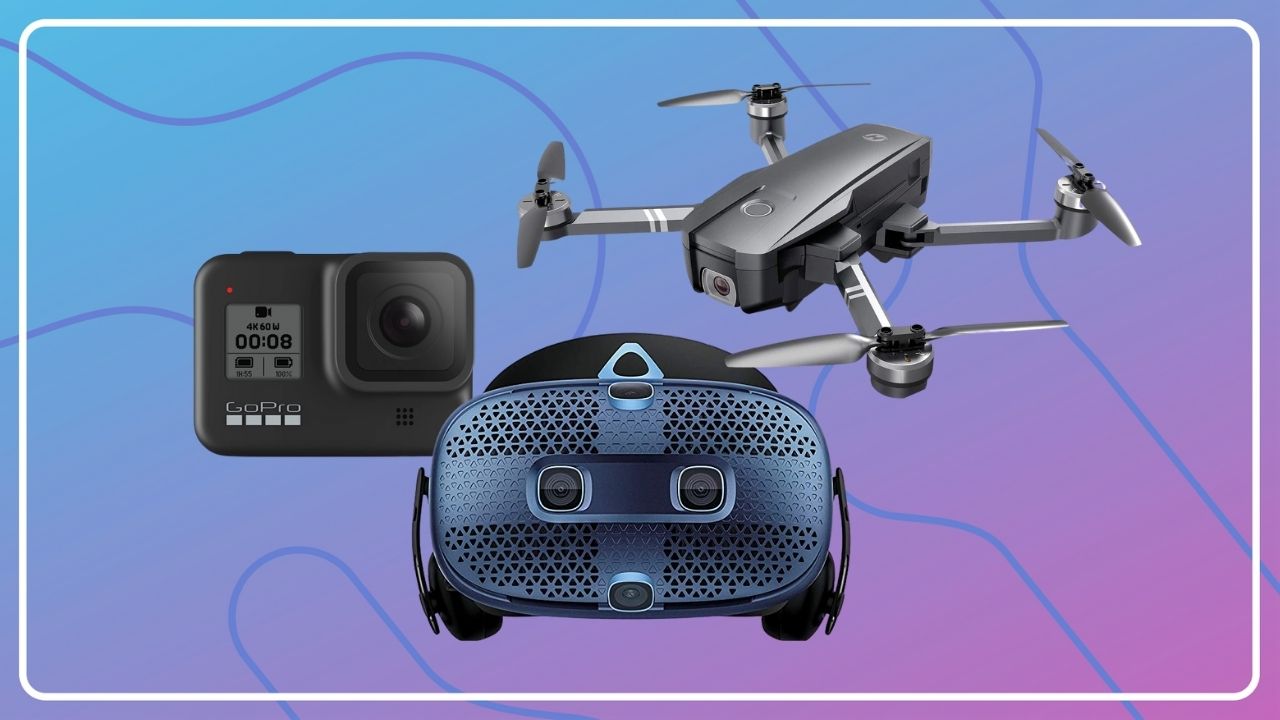 Just as the Great Nintendo Switchpocalypse of 2020 began to resolve, another unforeseen challenge fell upon gamers across the land. The supply of Playstation 5 and Xbox Series X consoles has basically sold out for the year, leaving thousands lost and confused about what their Christmas may hold. To add insult to injury, Switches have all but disappeared in a flurry of Black Friday deal extravagance.
If you were planning on buying a friend or loved one the next gen console of their dreams (and are subsequently now scrambling to find something half as nice to get them), we feel for you! Fortunately, there are countless online deals on tech toys and entertainment options that aren't in danger of going out of stock.
You do not need to spend the holidays sitting around sorrowfully scorning your dumb old PlayStation 4 that should have been phased out by now. After all, this could be a great time to try a new hobby or bring home something you would normally have passed up in favor of your Cyberpunk 2077 machine.
Read Next: Where to Find the Best Prices on Apple AirPods
Here are a few different gift-giving approaches we recommend for the gamer in your life. While they may not be the same kind of cool as a PS5, they all shine just as boldly in their own way.
Take the Adventure Outside
Not to sound like your parents, but there is a big, beautiful world out there waiting to be explored. Seriously, the Earth has more content packed in than Red Dead Redemption 2, plus you will most likely never have to worry about griefers or clipping through real-life natural features.
Even if this is just a stopgap measure until your console of choice is back in stock, you can use these tools and toys to make memories and keep busy.
1. GoPro HERO8 Camera

GoPro HERO8 Black – Sale Price: $299.99 | Reg. Price: $349.99
This serviceable action camera boasts HyperSmooth 2.0 stabilization, which coincidentally offers the same frame rate as a standard gaming PC or recent console. For an extra $80, you can get a bundle that includes protective housing and accessories.
---
2. LitraTorch 2.0 Filter Kit with GoPro Mount

LITRA LitraTorch 2.0 Filter Kit with GoPro Mount (Limited Edition) – Sale Price: $62.95 | Reg. Price: $129.95
If the world is a video game and a GoPro is your controller, does that make the LitraTorch 2.0 Filter Kit a mod? Take your adventure footage to the next level by adding dynamic lighting and color filtering to your videos.
---
3. Holy Stone HS720 GPS Drone with Storage Case

Holy Stone HS720 GPS Drone with 4K UHD Camera 5G WIFI FPV Transmission + Storage Case – Sale Price: $180.99 | Reg. Price: $192.99
Turn your neighborhood into a top-down platformer (or try your hand at aerial combat if you don't care about aviation laws) with this low-cost but sturdy drone.
---
4. Garmin Fenix 5 Plus Sapphire Smartwatch

Garmin Fenix 5 Plus Sapphire, Carbon Gray DLC Titanium with Black Silicone Band – Sale Price: $349 | Reg. Price: $749
Did you know that you can have a mini-map in real life? It might not give you much information about current quests or nearby enemies, but you can store up to 1,000 songs and use Garmin's contactless payment feature.
Related: Shop Current Apple Watch Sales
Refine Your Home Theatre Setup
If your acquisition of a next gen console is inevitable once they're easily found in-stock, investing in a home theater is a great way to keep yourself occupied while you wait. And if you don't already have a solid 4K setup at home, these gifts should be labeled necessities. Otherwise, you're gonna feel awful silly trying to enjoy gorgeous high-res visuals on that wimpy 1080p TV you bought in the 2000s.
5. LG – 55″ BX Series OLED 4K UHD Smart TV

LG – 55″ Class BX Series OLED 4K UHD Smart webOS TV – Sale Price: $1,299.99 | Reg. Price: $1,499.99
LG OLED 4K TVs have staked a spot as a preferential gaming television, due to the favorable screen size to picture quality to frame rate to price ratio. If you want a larger version or prefer a TV from the CX line, the entire selection is on sale at Best Buy.
Related: The Best Current Deals on 4K TVs
---
6. Panasonic 4K Ultra HD Blu-ray Player

Panasonic – 4K Ultra HD Dolby Atmos Audio DVD/CD/3D Blu-ray Player – Sale Price: $149.99 | Reg. Price: $179.99
Give your thumbs a break and catch up on your watch list. Enjoy the stunning 4K graphics native to new releases and upscale your favorite DVDs and Blu-ray discs using this Panasonic 4K Ultra HD media player.
---
7. Jamo Home Theater Set (5 Speakers + Subwoofer)

Jamo S 809 Black Pair – S 83 CEN Center – S 801 Pair – J 10 SUB 300W 10″ – Sale Price: $529 | Reg. Price: $1,346
This beast of a surround sound system will turn any piece of media into an immersive soundscape, which will pay off in spades when your shiny new (4K audio ready) console finally arrives. While the list price is over $1,000, a special link appeared in our forums that displays the much lower sale amount. Follow the instructions in this post if you want to cash in on it.
---
8. BenQ TK800M 4K Home Theater Projector

BenQ TK800M HDR XPR 4K UHD DLP Home Theater Projector – Sale Price: $1,199 | Reg. Price: $1,449
For those who don't have space for a huge TV, BenQ's 4K Home Theater Projector packs a surprisingly saturated punch with UHD 4K resolution and HDR10. If you're handy, this could also be a great workaround for socially distanced co-op play on the porch or in the backyard.
There Are Other Ways to Play Games
Having to wait a little bit longer for a new console doesn't mean you have to keep yourself entertained with the same old media. This could be a great time to broaden your platform horizons and build a gaming computer or get into VR gaming. When all else fails, there will always be tried and true screen-less games from the days of yore.
9. HTC VIVE Cosmos

HTC VIVE Cosmos – Price: $699.99
Play Steam games or browse the massive selection of games and apps offered by the Viveport Infinity, HTC's subscription service. There is a code for two free months included with your purchase, so you are technically buying access to around 700 games and a console.
---
10. Lenovo Legion Tower 5 Gaming PC

Lenovo Legion Tower 5 – Intel Core i5-10400F – 8 GB DDR4 – 1 TB HDD + 256 GB SSD – GeForce GTX 1650 SUPER – Sale Price: $699.99 | Reg. Price: $799.99
Maybe the shortage is a sign that it's finally time to delve into PC gaming. Knock an extra $30 off your total by applying the 27HLDEALS49 coupon at checkout.
---
11. Arcade1UP 8-in-1 Partycade Arcade with 8 Games

Arcade1Up 8-in-1 Partycade Arcade with 8 Games – Sale Price: $199.99 | Reg. Price: $299.99
For old-school gamers and parents who want to show their kids how they used to do it back in the day, the Arcade1UP 8-in-1 Partycade comes with eight classic titles. The Pac-Man model and Centipede model come with different games, depending on whether you are more of an "eating your enemies" or "shooting your enemies" type of person.
---
12. Arachnid Cricket Pro 800 Electric Dartboard

Arachnid Cricket Pro 800 Electronic Dartboard with NylonTough Segments for Improved Durability – Sale Price: $153.99 | Reg. Price: $186.99
As far as we know, there will never be a dartboard shortage. This tried-and-true staple of bars and basements across the globe entertained your parents, your grandparents and maybe even their parents! Sometimes, you can't beat the classics.
Still holding out for a great console deal or another consolation prize? Set up a Deal Alert and we will let you know as soon as the Christmas gift of your dreams goes on sale within your set price range.
Our editors strive to ensure that the information in this article is accurate as of the date published, but please keep in mind that offers can change. We encourage you to verify all terms and conditions of any product before you apply.