What's the Best Soundbar You Can Get on a Budget?
Whether you want to spend $1,000 or $100, here are the best soundbars of 2021.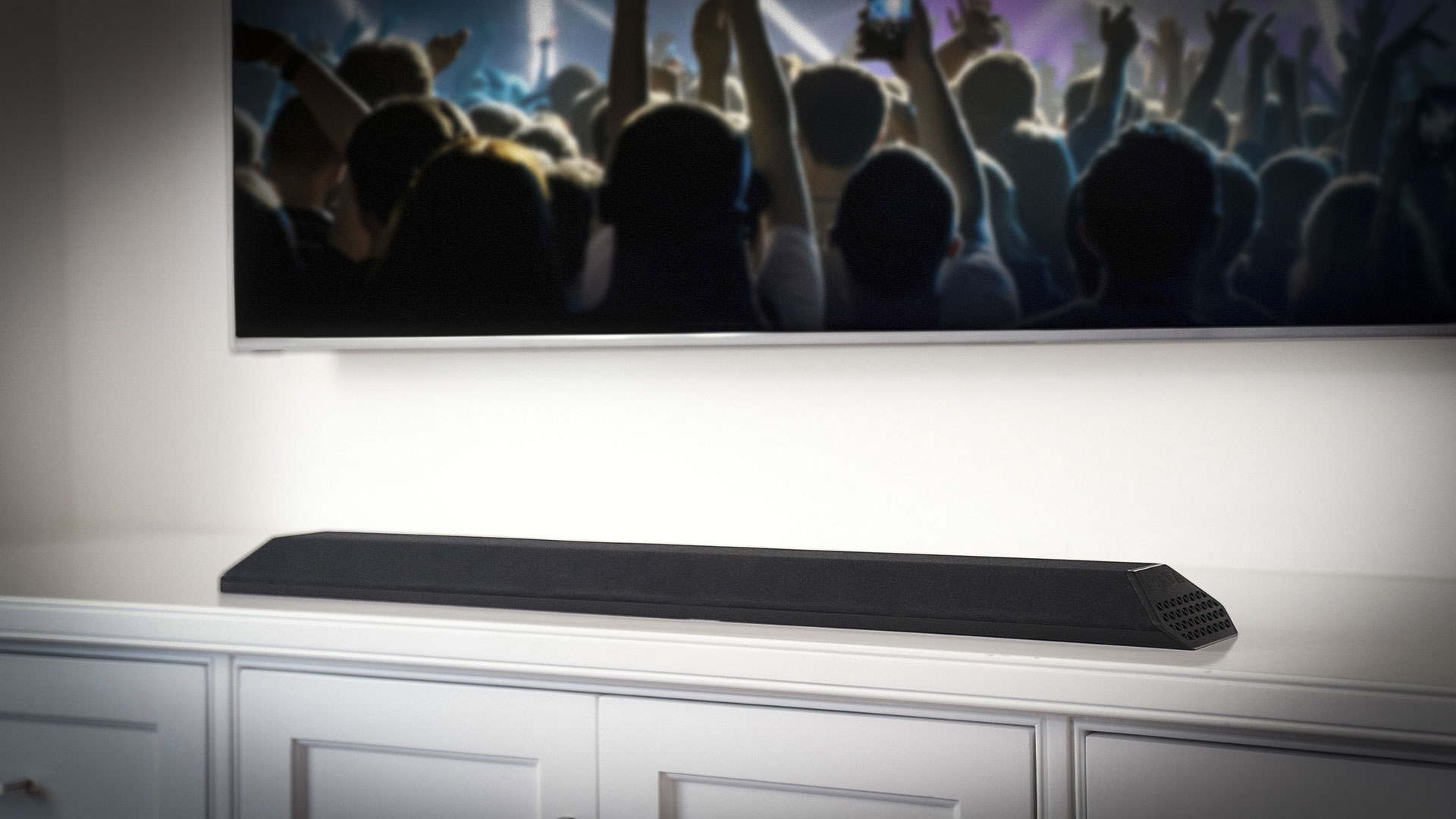 Purchasing a soundbar is one of the best ways to upgrade your home theater. Not only are they small enough to fit into most entertainment centers, but they're often much more affordable – and easier to assemble – than a full stereo system.
However, finding the right soundbar for your setup and budget isn't always an easy task. With dozens of optional features and a variety of price tags, it can be easy to get overwhelmed shortly after beginning your search. Whether you're looking for a quick boost to sound quality while on a tight budget or need a soundbar that can be the centerpiece of your living room, rest assured there's a product with your name on it.
What to Look for in a Soundbar
Soundbars have seen incredible improvements over the past few years – in fact, many high-end models can rival the performance of stereo systems. Because of all this new tech, you'll now find a wild range of prices on the market. Some manufacturers are still churning out soundbars under $100, while others are marketing a theater-like experience that costs more than $500.
Whatever your budget, there are a few key features you'll want to consider before making your purchase.
Dolby Atmos: This technology is the latest and greatest from Dolby Laboratories, offering heightened performance and three-dimensional sound quality. This helps give the impression that your audio is coming from a room-scale setup, as opposed to a diminutive set of speakers sitting below your TV. If you pick up a soundbar that supports Dolby Atmos, there's little chance you'll be disappointed.
Alexa or Google Assistant Support: While many customers enjoy having smart assistants integrated into their soundbar – allowing for easy voice control and IoT connectivity – some would rather not deal with the added headache. If the feature is important to you, make sure you verify your model comes with Alexa or Google Assistant support and how easy it is to disable if it ever grows annoying.
Wireless Connectivity Options: If you're hoping to connect your soundbar to your phone, laptop or another device, you'll need to ensure it includes wireless connectivity options such as Bluetooth and Wi-Fi. These make it easy to turn your soundbar into a DJ booth during parties, although you might have to pay a bit extra for the added functionality.
Wired Connectivity Options: There's nothing worse than purchasing a soundbar and realizing it's not compatible with your TV. Most manufacturers now provide a variety of wired inputs on the back of their products, and the introduction of HDMI ARC makes it easy to connect most of your devices without dozens of additional wires. The technology is a bit complicated, and you'll want to read up on it before finalizing your soundbar purchase.
Design and Size: Soundbars aren't nearly as big as surround sound systems, but they still take up a considerable amount of space. They're typically placed in between the legs of your TV, although they can also be mounted above or below the screen – and many now come bundled with a wireless subwoofer that takes up even more space. Ideally, you'll find a product that fits snuggly underneath your screen without blocking the signal from your remote. Beyond your budget, the physical limitation of your entertainment center is the second most important factor in purchasing a soundbar.
Upgradable: Most soundbars play well with additional speakers and audio equipment, making it easy to upgrade your home theater experience throughout the years. If you're considering a soundbar as the first step of a much larger project, make sure it's compatible with a wide variety of other products.
Best Affordable Soundbar

VIZIO 36″ 2.1 Sound Bar with Built-in Dual Subwoofers – Regular Price: $148.99
The Verdict: Incredible performance at the expense of an HDMI port.
Pros: Powerful subwoofers, sleek design, DTS Virtual: X support
Cons: Lack of HDMI ports, no built-in smart assistants
VIZIO is known for crafting premium TVs at affordable prices – so it should come as no surprise that it manages to do the same for soundbars. Most of its performance is driven by two 3-inch subwoofers and DTS Virtual:X support, which helps throw sound around your room and immerse you in the action. Its biggest drawback, however, is the lack of HDMI ports and its overall "no-frills" mentality. If you don't mind its lack of connectivity options or smart assistants, then this is about as good as it gets without breaking the bank.
Best Soundbar Under $200

Samsung HW-T450 2.1ch Soundbar with Dolby Audio – Regular Price: $165
The Verdict: Premium sound and a bevy of extras make this one of the best soundbars on a budget.
Pros: Bluetooth connectivity, three speakers, dedicated gaming mode
Cons: Requires additional space for a wireless subwoofer
Despite being a compact soundbar, the Samsung HW-T450 pumps out impressive bass thanks to its wireless subwoofer. You'll need to make sure you have some extra space in your entertainment center for the large speaker, but there's no doubt it elevates the audio quality of the HW-T450. You'll also be treated to an easy setup process that connects via Bluetooth and includes a dedicated gaming mode to optimize your experience.
Best Soundbar Under $300

Bose TV Speaker – Soundbar (HDMI ARC Connectivity) – Regular Price: $279
The Verdict: Booming sound from a compact design
Pros: Bluetooth connectivity, simple remote controls, Bose Bass Module
Cons: No smart assistants
The Bose TV Speaker – Soundbar might offer the most bang-for-your-buck of any item on this list. Its price is just outside the realm of most "budget products," but if you're willing to stretch your spending, there's a lot to love about the compact device. HDMI ARC support, Bluetooth connectivity and a Bose Bass Module to amp up the sound of explosions help turn your living room into a bonafide theater. It lacks smart assistant support, but that's a small price to pay for such incredible performance.
Best Soundbar Under $400

Samsung 3.1ch A650 A Series Soundbar – Sale Price: $327.99 | Regular Price: $399.99
The Verdict: A powerful soundbar/subwoofer combo that's an absolute steal when on sale.
Pros: Dedicated speaker for dialogue, Bass Boost, adaptive audio
Cons: Steep price when not on sale
Samsung once again makes an appearance on the list, this time for the 3.1ch A650. And just like its other soundbar, this one requires additional space for a wireless subwoofer. The high-end product distinguishes itself from its more affordable cousin through the use of a dedicated speaker for dialogue, Bass Boost and Dolby Digital 5.1 and DTS Virtual:X support. Currently offered at a $70 discount, be sure to give it a look before making your final decision.
Best Soundbar Under $500

Polk Audio MagniFi Max Home Theater Sound Bar – Regular Price: $499
The Verdict: Highly customizable, high-end audio with few compromises.
Pros: Voice Adjust Technology, easy setup, seven drivers and tweeters
Cons: Expensive, cluttered remote and front panel
Step up to this price range, and there's very little you'll need to sacrifice – especially if you opt for the Polk Audio MagniFi Max Home Theater soundbar. Besides its awkward name and a cluttered remote control and front panel, you'll find nothing to complain about with its performance. Featuring exclusive Voice Adjust Technology – which helps level out voice volume during loud or quiet scenes – seven drivers and tweeters, the ability to stream music with Chromecast and a wireless subwoofer for improved audio quality, Polk crams a ridiculous amount of value into this $500 soundbar.
Best Soundbar Regardless of Price

Sonos Arc Soundbar – Regular Price: $899.99
The Verdict: The Sonos Arc offers impeccable sound quality without compromise.
Pros: Sleek design, room-filling sound, several easy connectivity options
Cons: Expensive
If you don't mind blowing your budget, this is the soundbar to get. It's not the most expensive on the market – you can find several products listed for more than $2,000 – but you'll be plenty happy with the Sonos Arc Soundbar, which can be had for nearly half the price. Every feature imaginable is packed into the Arc, including smart assistant control, Wi-Fi connectivity, Dolby Atmos support and an understated design that's at home regardless of where you put it. The Arc sounds incredible on its own, but anyone looking to upgrade in the future will be glad to know it plays well with other speakers – specifically the Sub and One SL.
More to consider:
Our editors strive to ensure that the information in this article is accurate as of the date published, but please keep in mind that offers can change. We encourage you to verify all terms and conditions of any product before you apply.