These Are the Best Dell Laptops for 2020
These are our top five recommendations for Dell laptops based on value and performance.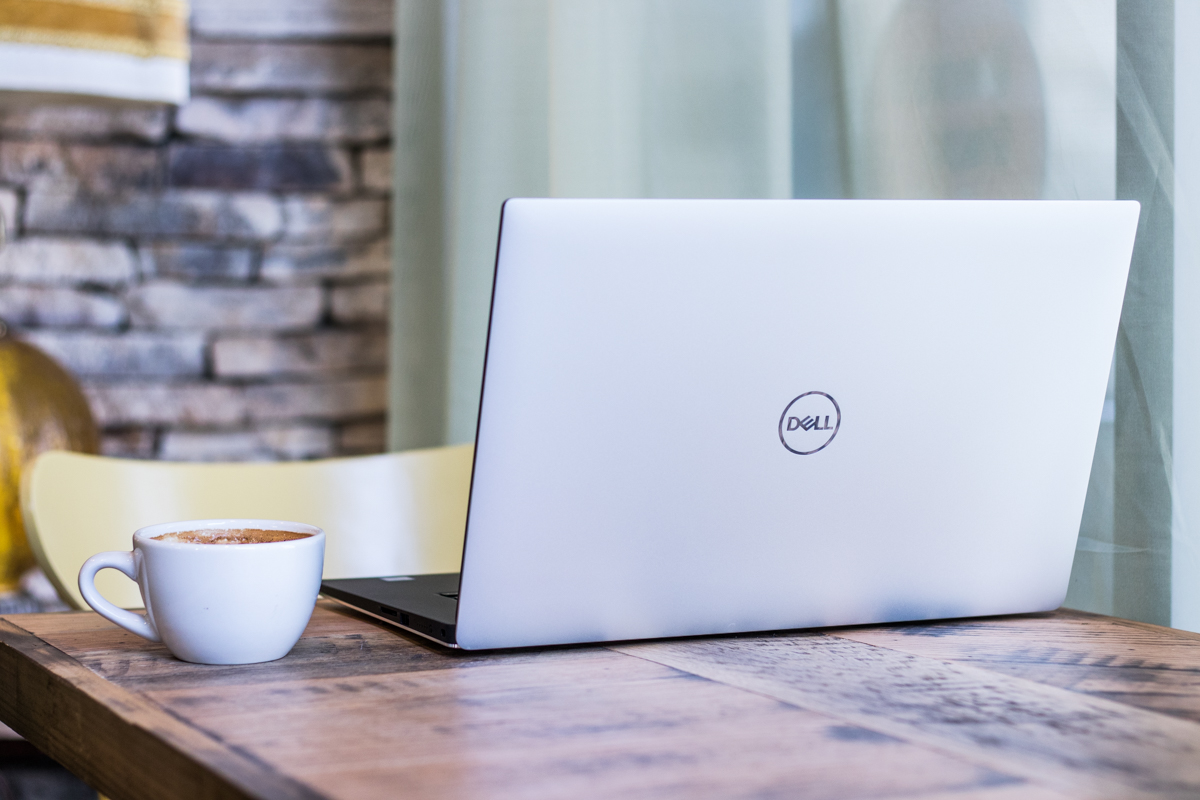 Laptop buyers have never had more choices, and the sheer variety of devices can be bewildering. Dell has been one of the most renown laptop manufacturers for years, making it a good choice for those who want the peace of mind that comes with a well-established brand.
But even with your choice narrowed to a single company, your options are still vast. Dell makes a laptop for just about every type of user with any given budget, from minimalist notebooks to powerful home office computers and gaming machines. With such a range, it's important to pick the right one.
With this easy-to-understand guide, we've cherry picked some of the best Dell laptops for a wide range of users, and combed through the technical jargon to help you find the perfect laptop in minutes. See below for details on each laptop, and use the comparison chart above to nail down your perfect pick.
Dell Laptop Buyer's Guide
XPS 15

Best Performance

Inspiron 15 7000

For Work & Play

XPS 13

Crowd Favorite

Inspiron 15 5000

2-in-1

Most Versatile

Inspiron 14 3000

Best for Students
Dell XPS 15
The Verdict: The XPS 15 is a true powerhouse in the high-end laptop market, and this year it makes a significant leap forward.
Pros: Completely redesigned for the first time since 2015, cutting edge processors, impressive screen, class-leading build quality and aesthetics.
Cons: Still doesn't sound as good as the MacBook Pro,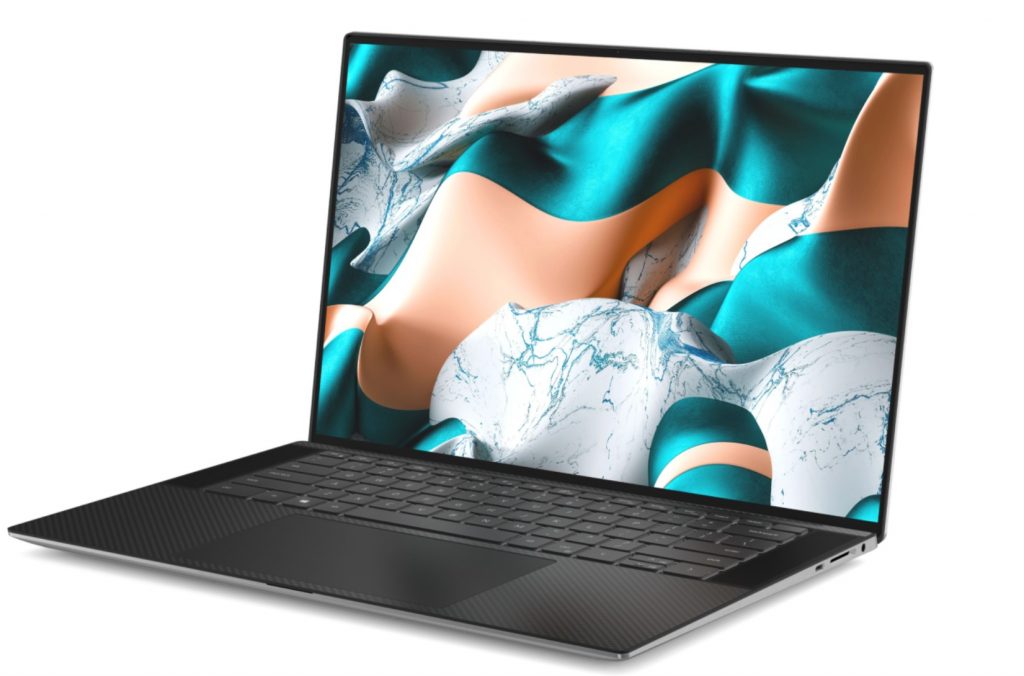 The all-new 2020 XPS 15 (9500 model) immediately stands apart from previous models with its significantly reduced footprint and thinner profile, making it the smallest 15.6-inch laptop in its category. This is thanks to an ultra-slim bezel on all four sides of the new display, which also stands out as one of the best screens on the market.
The 16:10-ratio display comes in HD or 4K versions, with an impressive 500 nits of peak brightness on both options, and touch screen capability on the latter. The mouse touchpad is significantly larger, as is the keyboard, for increased comfort.
Internals are also all-new, with the latest 10th-generation Intel Core processors and optional Nvidia GTX 1650 Ti graphics making for one powerful laptop. And new up-firing speakers are significantly improved over last year.
Inspiron 15 7000
The Verdict: Great performance at an attractive price, the Inspiron 15 7000 offers great value and upgradeability features.
Pros: Vivid HD display. Low cost and easy upgrades offer a cheaper route to a surprisingly powerful laptop.
Cons: Fast CPU paired with modest hardware in other areas means you need to upgrade to get the best out of it.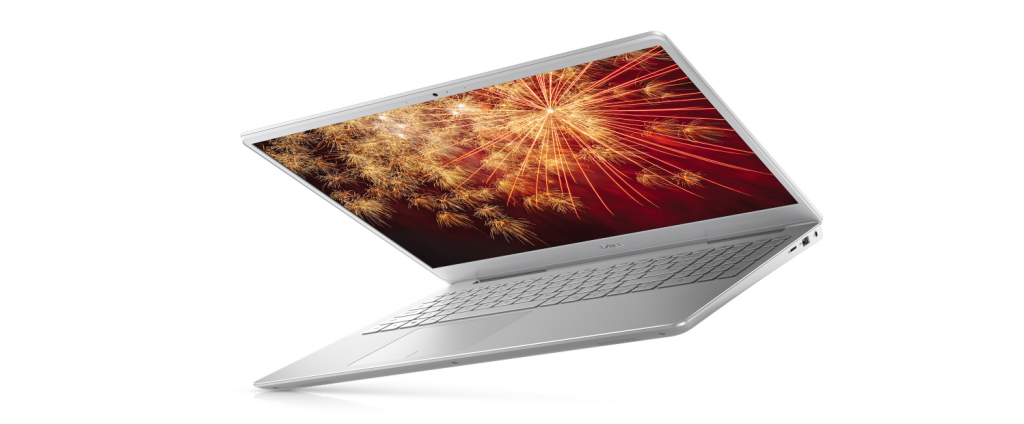 The latest in Dell's Inspiron lineup introduces a powerful new six-core CPU option for 2020, which brings with it enough power to make it a capable laptop for intense creativity and media delivery, and it achieves this at a reasonable price.
And while other areas in the Inspiron 15 7000's specs list are relatively modest, this laptop was designed to be easy to upgrade. That said, you can add an extra 8GB of RAM and a 480GB M.2 SSD for around $110, resulting in a very capable machine that serves up excellent value for money.
If you're after a capable work laptop and have no need for the extra flair of a 2-in-one, this is the laptop for you.
Choose your Inspiron 15 7000 at Dell
XPS 13
The Verdict: Amazing power in an ultra-compact size. This is one of the fastest 13-inch laptops money can buy, but comes with a high price tag.
Pros: Slim and lightweight. Available with 4K touchscreen, fast read/write abilities and the latest generation of processors.
Cons: The base configurations forego touchscreen capabilities. Cost increases quickly for upgraded models.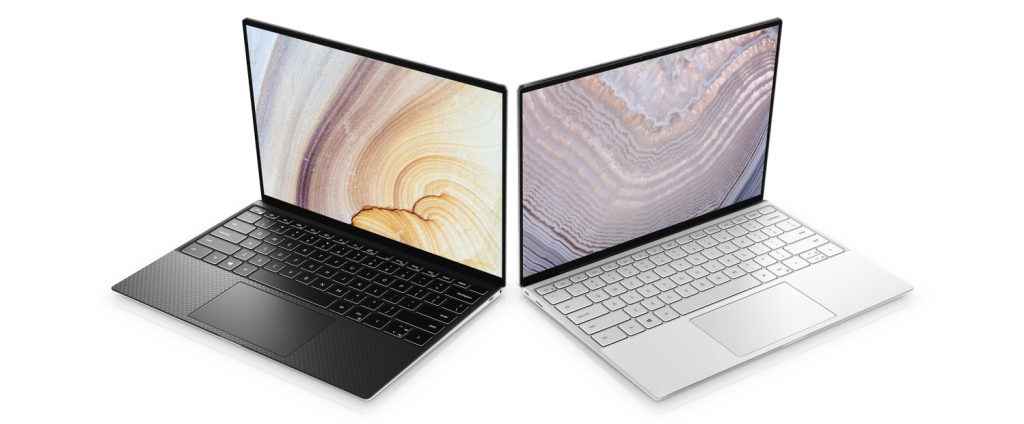 The XPS 13 is an award-winning laptop in the 13-inch category, and for good reason. There are few laptops that offer a high level of performance in such a small package. If you like to work from a coffee shop or some place with a view, the XPS 13 has everything you need to be productive.
The entry-level offering is attractively priced, but misses a lot of what makes the XPS 13 special. The Core i7 models with the beautiful 4K touch screens are what set the XPS 13 apart from its competitors. The stunning near-borderless display is even brighter for the 2020 model, great for watching Netflix in 4K or editing fine details in Photoshop while on the move. And the further refined chassis, composed of carbon fiber, machined aluminum and gorilla glass, makes the XPS 13 as much a premium lifestyle statement as it is a true workstation for busy, on-the-go people.
Inspiron 15 5000 2-in-1
The Verdict: An incredibly flexible laptop that can serve as both a large screen tablet, perfect for watching media on the go, and a fully-functioning office laptop.
Pros: Beautiful touch screen with active pen tech and fully reversible hinge gives this utilitarian laptop/tablet hybrid a dual personality.
Cons: The base models lack crucial performance components, and can feel slow compared to other laptops. Screen quality isn't as nice as dedicated tablet devices, like an iPad.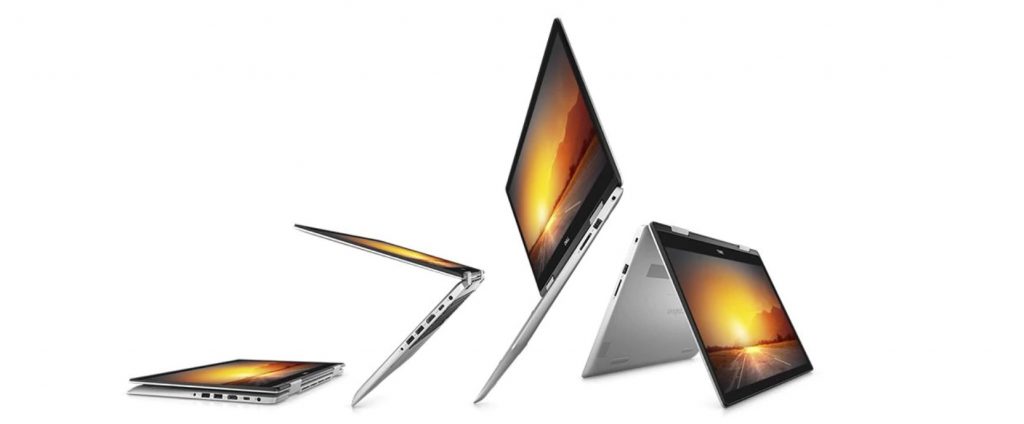 The Inspiron 15 5000 2-in-1 offers users the ability to switch between a traditional laptop and a tablet. With a 360-degree hinge, the keyboard can fold back into tent mode to deliver presentations at work, or stand in a narrow space so you can watch your favorite shows and movies. Bring the keyboard forward, and it's business as usual with the chiclet-style keys and gesture-enabled touchpad.
The base price of $579.99 is attractive for a laptop of this size, but to get the best out of this laptop, we'd recommend you pick a configuration no lower than the Intel Core i5 processor and 8GB of RAM (starting at $749.99). The boost in performance with these upgrades will be significant, and is worth the extra cost.
Choose your Inspiron 15 5000 2-in-1 at Dell
Inspiron 14 3000
The Verdict: Great value for those with the strictest of budgets. Perfect for e-mailing, staying in touch on Facebook, online shopping, and watching Netflix.
Pros: Compact and simple design with just the right amount of power for schoolwork or spreadsheets.
Cons: Low-end graphics cannot be optionally upgraded, and the entry price has risen since last year.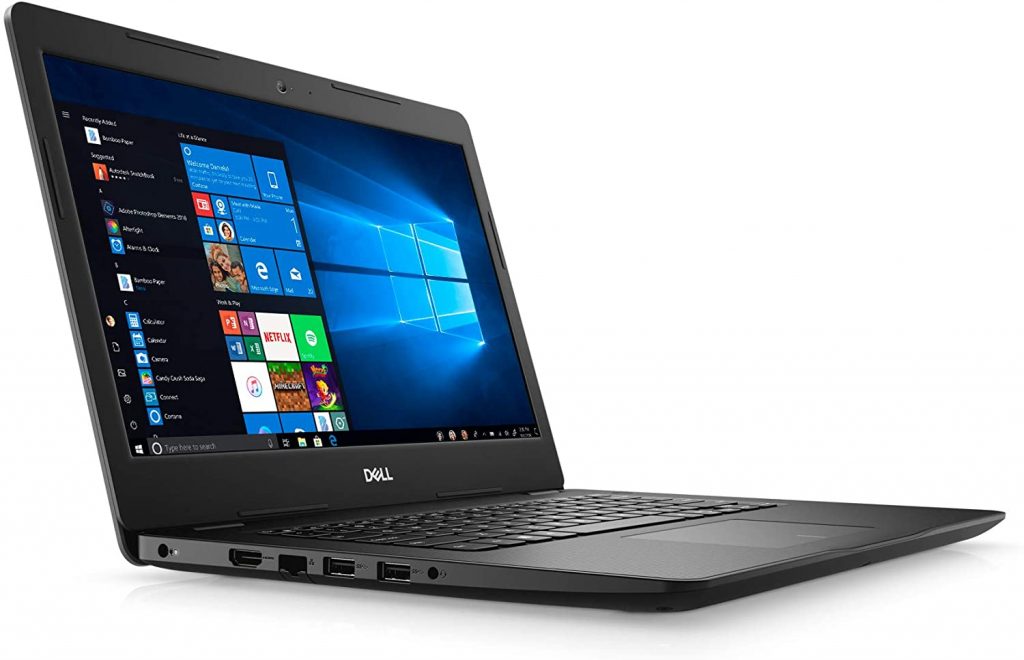 The Inspiron 14 3000 is a great choice for those who want to get into a Windows 10 laptop with the smallest investment possible. Typically starting at prices under $300, you get an ultra-portable machine capable enough for office/school work and web browsing.
The specs are obviously modest, but the good news is that there have been some major strides in the technology crammed into low-end processors this year, and this is great for the updated Inspiron 14 3000, which now includes options for surprisingly zippy 10th-gen Core processors from Intel.
Storage options are greatly improved this year, with 128GB and 256GB solid-state drives available. Also, RAM, hard drive and Wifi are all upgradeable, giving this little laptop plenty of room to grow should you find yourself with more cash to spend down the line.
Choose your Inspiron 14 3000 at Dell
---
See more deals on laptops and computers by visiting the Slickdeals Dell Store Page.
Any product or service prices/offers that appear in this article are accurate at time of publish, and are subject to change without notice. Please verify the actual selling price and offer details on the merchant's site before making a purchase.
---
Any product or service prices/offers that appear in this article are accurate at time of publish, and are subject to change without notice. Please verify the actual selling price and offer details on the merchant's site before making a purchase.