How to Get Free Trials From the 5 Best Video Game Streaming Services
Try before you subscribe and get ahead of the curve on the latest on video game trends.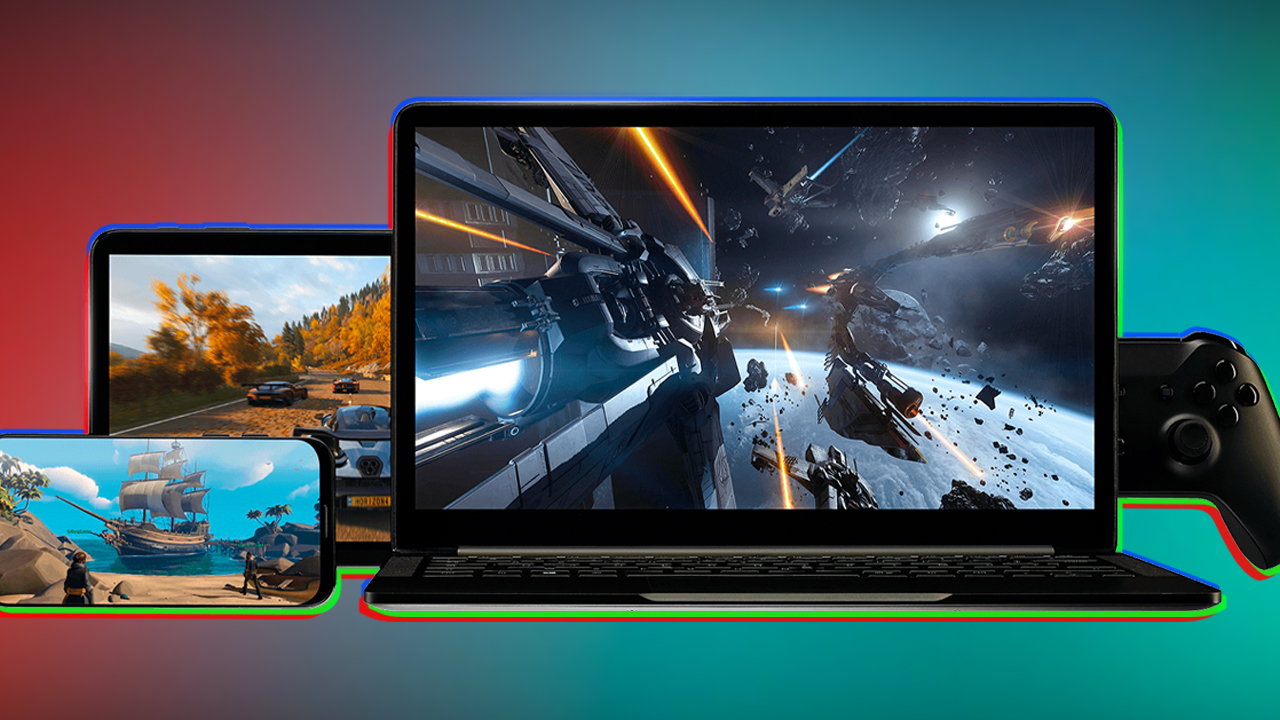 Although today, most games are still played on consoles or tricked out PCs, several companies are betting on a different future—one where services take center stage over hardware loyalty. It's still a relatively new concept, but game streaming services already come in a variety of shapes and sizes. However, none of them rely on the consumer owning the latest, most expensive hardware. Instead, games are streamed remotely from a powerful server to your screen of choice.
The benefits of such a system are clear; players no longer need to upgrade their computers or invest in a new gaming console every few years. So long as they have a screen and a stable internet connection, they can play the newest games without a hiccup. The drawbacks of streaming services are clear too; anyone with a poor internet connection is out of luck, and depending on where you live, upgrading your home internet speed can be a way bigger task than just buying the new Xbox when it goes on sale.
If you're on the fence about joining one of the many game streaming services, we have some great news for you. Most offer free trials to consumers who are interested in becoming subscribers. This is a great way to test your home internet connection before committing to a monthly or annual fee. Fire up your favorite type of game, and see if you can get through it without any lag; assuming you have a good time you can feel confident spending money on the service today.
Here's everything you need to know if you want to try all the major game streaming services for free:
Google Stadia

Monthly Cost: $9.99
Compatible Hardware: PC, Mac, Chromecast, certain Android devices
Free Trial Length: 2 months
Until recently, Stadia was only available to people who purchased the Premiere Edition with limited options for a free trial. However, on April 8th Google announced an exciting new promotion— for a limited time, anyone who signs up for the service gets two months of Stadia Pro free. This includes access to nine games such has Destiny 2, Grid and Thumper. Just be sure to cancel before the trial is up if you don't want to keep the service, as you'll be automatically charged after two months have lapsed.
Here is how to claim your free Stadia trial:
Head over to Stadia.com
Create a new account
Follow Stadia's instructions to prepare your specific devices for play
Start playing!
---
PlayStation Now

Monthly Cost: $9.99
Compatible Hardware: PC, PlayStation 4
Free Trial Length: 7 days
One of the coolest aspects of PlayStation Now is it's available on both PlayStation 4 and PC. That means you can play hit exclusives like Marvel's Spider-Man without having to buy a home console.
Taking advantage of PlayStation Now's free trial is easy:
For PC users:
Access the free trial through the PlayStation Store
Sign in with your PlayStation account, then complete the signup process.
Enjoy!
For PlayStation 4 users:
Log in to the PlayStation Store
Look for the "Try Now" option on the navigation bar
Sign up for the service
As is the case with several of the services on this list, be sure you keep track of when the free trial ends, as you'll be automatically charged at the start of the next billing period. If you're not satisfied, make sure to cancel before that happens!
---
GeForce Now

Monthly Cost: $4.99
Compatible Hardware: PC, Mac, Nvidia Shield, Android
Free Trial Length: 90 days
GeForce Now offers two forms of free trials. The first is a free 90-day trial for customers who sign up for the Founders Edition. As usual, you cancel your subscription before the 90 days are up and you won't be charged a dime.
Once this trial runs out you can take advantage of the Free Edition of GeForce Now. This can be used indefinitely, but your play sessions are limited to one hour at a time. That means every 50 minutes you'll get a warning that GeForce Now is going to kick you off the servers soon. Once that happens, you'll have to re-queue if you'd like to keep playing.
One more thing to consider; rather than offer a collection of games users can stream, GeForce Now taps into your existing library. While this is undoubtedly exciting for longtime PC gamers, if you're just starting your collection now you may have more fun with other services that include some games.
Related: GeForce Now Review
Signing up for GeForce Now is simple:
Head over to the official GeForce Now website
Create an account and sign up for the Free or Founders Edition
---
Project xCloud

Monthly Cost: TBD
Compatible Hardware: Android
Free Trial Length: TBD
Technically, xCloud isn't available to the public yet. It's currently undergoing a beta testing phase and the only way to gain access is via an invitation from Microsoft. Getting your name on the testing list is easy, and once you're in, you'll have access to over 50 games for free.
There's no data on when xCloud will officially launch — or even how the service will be monetized — but for now you can try to sneak your way into the Preview build. Here's how it works:
Make sure you have a compatible mobile device and an Xbox Wireless Controller with Bluetooth
Register for Project xCloud
Wait for an email from Microsoft
Install the Xbox Game Streaming App
There's no guarantee you'll get invited to participate — as Microsoft has been inundated with requests — but the company is admitting new players into the program throughout 2020. Signing up is free and since getting into the program will grant you access to 50+ games, there's no harm in giving it a shot.
---
Shadow

Monthly Cost: $14.99 – $49.99
Compatible Hardware: PC, Mac, Android, iOS
Free Trial Length: 14-day limited refund
Although Shadow doesn't offer a free trial, there is a limited 14-day warranty if the service doesn't work as advertised. The refund is limited to customers who live in "Explorer States" — a full list of these locations can be found on the company's official website. Shadow is similar to GeForce Now, in that it accesses your pre-existing library of games instead of offering its own marketplace. In short, Shadow gives you remote access to a powerful gaming PC and streams the action directly to your screen.
Here's how its 14-day limited refund works:
Check to make sure you're located in one of the Explorer States
Sign up for one of three services (higher prices mean access to more powerful remote PCs)
If the service does not work for technical reasons, the company will offer a full refund if requested within 14 days
Again, this will only work if you live in an Explorer State and you want to cancel due to "technical reasons" — not because you decided you don't want the service anymore.
Shadow has run free trials in the past, so keep your eyes glued to its website (or better yet, set a Deal Alert) if you're hoping to test the service out in a more traditional way. That said, Shadow is one of the most powerful streaming services around, and it's unlikely you'll want to cancel for any reason other than poor connection in your area.
Up Next: How to Get Free Trials from the 25 Best Video Streaming Services
You might also like this hot video game deal from our Frontpage:
Search URL: https://slickdeals.net/newsearch.php?firstonly=1&pp=20&sort=newest&rating=frontpage&filter%5B%5D=309&forumid%5B%5D=9&hideexpired=1&r=1
---
Any product or service prices/offers that appear in this article are accurate at time of publish, and are subject to change without notice. Please verify the actual selling price and offer details on the merchant's site before making a purchase.