The 12 Coolest Gadgets Shown Off During CES 2022
Foldable screens, PSVR2, and powerful laptops are just the beginning.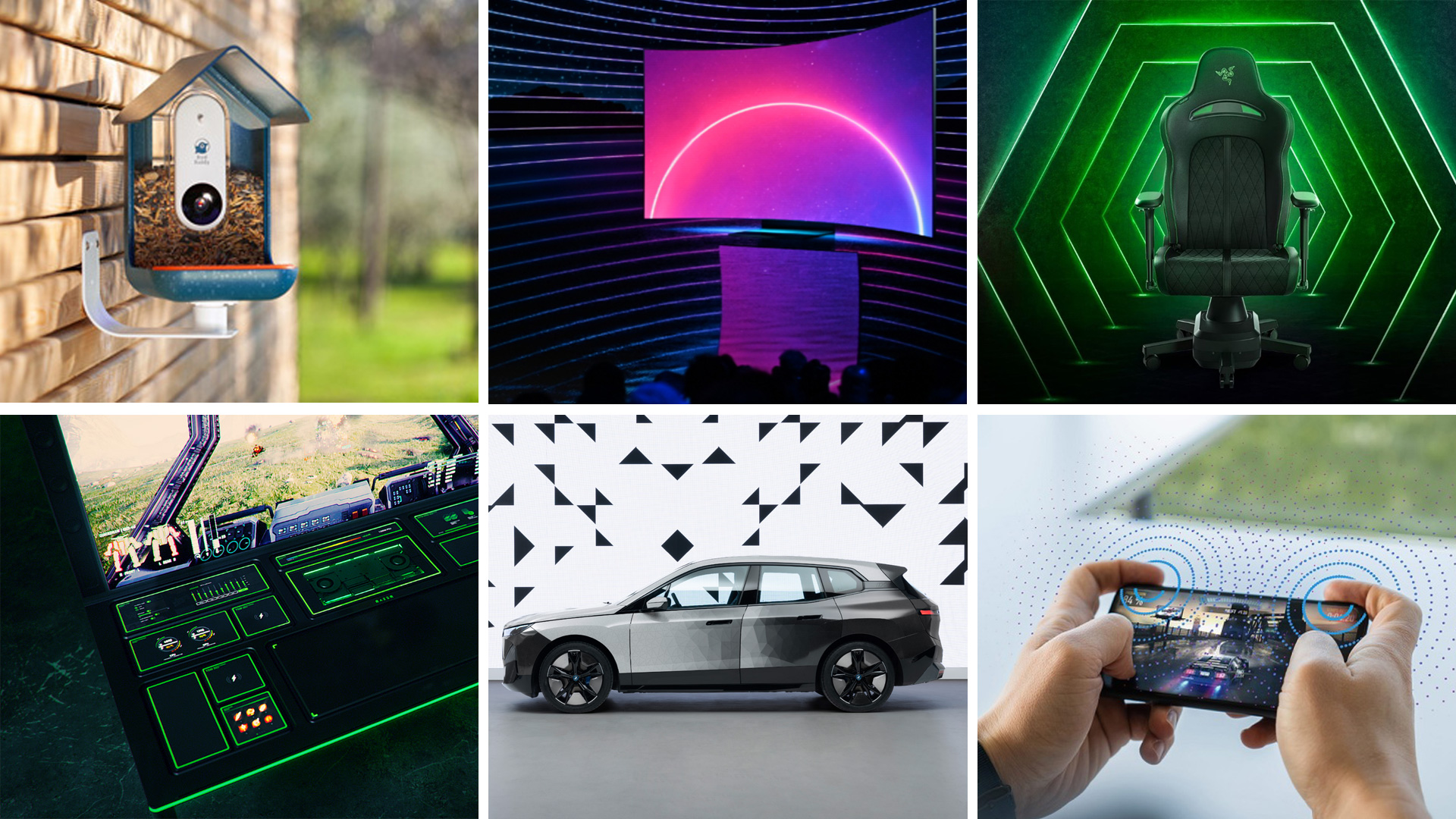 That's a wrap! After a week of long-awaited reveals, shocking debuts and impressive keynote presentations, CES 2022 has officially come to a close. The event didn't quite have the firepower of previous years, but there were still plenty of gadgets to get excited about – some of which are already available, while others are likely years away from a public release.
Finding the gems among a crowded show is never easy. We've scoured the full listing of products shown off during CES 2022 and hand-picked 12 of the most exciting gadgets that were in attendance.
From foldable screens and color-changing paint to powerful gaming laptops and more, here are the coolest gadgets from CES 2022.
Samsung Odyssey Ark
Samsung went big during CES 2022, and nowhere is that more evident than with its gigantic Odyssey Ark gaming monitor. The 55-inch curved screen boasts a 4K resolution, 16:9 aspect ratio and includes an adjustable stand that lets you rotate the Ark into a vertical orientation. In fact, the curve is so aggressive that positioning it vertically will actually put the top of the screen directly above your head. It's an absolutely ridiculous-looking invention – and we can't wait until it's officially on store shelves.
In the meantime, consider picking up the Odyssey Neo G9. It's a bit smaller than the Ark, but it still features a radical curve and produces some of the most vivid images of any monitor currently on the market.
Razer Project Sophia
CES 2022 always brings us weird concept products. Nothing at the show was more conceptual than Project Sophia. Billed as "The World's First Modular Gaming Desk Concept," Project Sophia lets you swap out different modules. That includes second screens, capture cards, or touch-screen panels, depending on the task at hand. And with more and more folks working from home, Razer sees this as a way to give people the flexibility they need. That includes equipment to tackle work, gaming, and streaming without requiring multiple setups.
There's nothing quite like Project Sophia currently on the market, although we found Flexispot's Theodore Standing Desk to be a great centerpiece for any home office.
ROG Zephyrus G14
There were a lot of laptops shown off during CES 2022 – including a new Razer Blade lineup – but the Zephyrus G14 managed to garner a lot of attention. With an AMD R9 CPU and GPU, the option for either a QHD or FHD display and Dolby Vision support, the latest from ROG could quickly become the best gaming laptop of the year. Release details and pricing are yet to be announced.
You could always save a bit of money by opting for the G14 that's currently on the market – which is still an incredible value.
Color-Changing Paint From BMW
Less a gadget and more a technology, BMW somehow managed to use E Ink to put a color-changing paint on one of its vehicles. We got a look at this at CES 2022. It won't be launched anytime soon. Still, the fact that technology like this is in active development was without a doubt among the best debuts of the show. If and when it's made commercially available, expect it to carry a steep price tag.
Garmin Forerunner 945 LTE
Garmin's suite of smartwatches is already filled with great products, and the Forerunner 945 LTE continues that legacy. Offering "phone-free safety," the watch lets you track your location, monitor vitals and review details from each of your recent workouts. It also comes in a variety of slick designs, so you can pair it with any style.
We also saw a bunch of new models at CES 2022, including the Venu 2 Plus, which boasts an impressive battery life of up to nine days.
NexusTouch
Like BMW's color-changing paint, NexusTouch isn't really a gadget – but it was still among the coolest tech of CES 2022. It's been in development for a while now, but this past month gave fans a closer look at what Boréas Technologies has been piecing together. NexusTouch is essentially a revamped touchscreen technology, which allows developers to expand touch interactions to the sides of smartphones. The team is hoping to see its work integrated into upcoming products over the next few years.
Bird Buddy
One of the oldest hobbies of all time is finally getting a much-needed upgrade to the 21st century. The adorably named Bird Buddy is a birdfeeder with an integrated webcam, allowing you to take crisp, close-up pictures of your feathered friends. You can even organize your collection of photos into a "Pokémon GO like" collection, which gamifies the birdwatching experience and makes it fun for birders of all ages.
It's not quite as sleek as Bird Buddy, but BirdDock is another fun way to catch your flying friends on film.
Lexip Ar18 Cloud Gaming Mouse
Cloud gaming is more popular than ever, and the Lexip Ar18 mouse is a perfect fit for gaming on the go. The lightweight device is compatible with both mobile and cloud gaming, and its design is aimed at reducing friction and improving battery life. Best of all, the sleek mouse will be available for just $39.99.
Rather play games with a gamepad? Consider picking up the Razer Kishi, which turns your smartphone into a Switch-like console.
Razer Kishi – Sale Price: $54.99 | Regular Price: $89.99
Samsung Foldable Screens
Samsung wasn't limited to gaming monitors at CES, as the team also showed off some of its next-gen folding displays. Several concepts were shown off, including a sliding screen and one that unfolds like an accordion. There's no indication of when these will come to market, but it's great to see the company once again pushing the limit of how much screen they can cram into a single pocket.
Anker Soundcore Frames
Most audio glasses on the market today are bulky and awkwardly designed. Soundcore Frames is looking to change that perception, offering frames that look like standard sunglasses, yet still manage to pump out impressive sound. The team says its product will feature the "world's first OpenSurround System," and as a CES 2022 Innovation Awards Honoree, it sounds like they're on the right track.
PSVR2
At long last, Sony stepped forward to reveal PlayStation VR2 and a new Sense controller. The headset will bring a 4K HDR display and new sensory features including 3D Audio and eye-tracking. We're still waiting on a release date and pricing, but there's no doubt PS5 fans were excited just to get an official announcement.
Need some VR in your life today? It's hard to go wrong with the Quest 2 – which offers both an affordable price tag and powerful internal hardware. That's especially if CES 2022 got tongues wagging for more VR.
Razer Enki Pro HyperSense
It's the gaming chair to end all gaming chairs. Razer has introduced high-fidelity haptics into different parts of the Enki Pro HyperSense, providing physical feedback to your in-game actions. There was a brief look at it during CES 2022. Razer said it'll support over 2,200 games, movies and music, including top-sellers such as Assassin's Creed Valhalla and Forza Horizon 5. Haptics aside, the Enki Pro is a slick gaming chair that's perfect for working, gaming or streaming to your dozens of Twitch followers.
More to consider:
Our editors strive to ensure that the information in this article is accurate as of the date published, but please keep in mind that offers can change. We encourage you to verify all terms and conditions of any product before you apply.