12 Smart Products that Will Clean Your Home in Ways You Can't
Skip doing the dirty work yourself with these gadgets.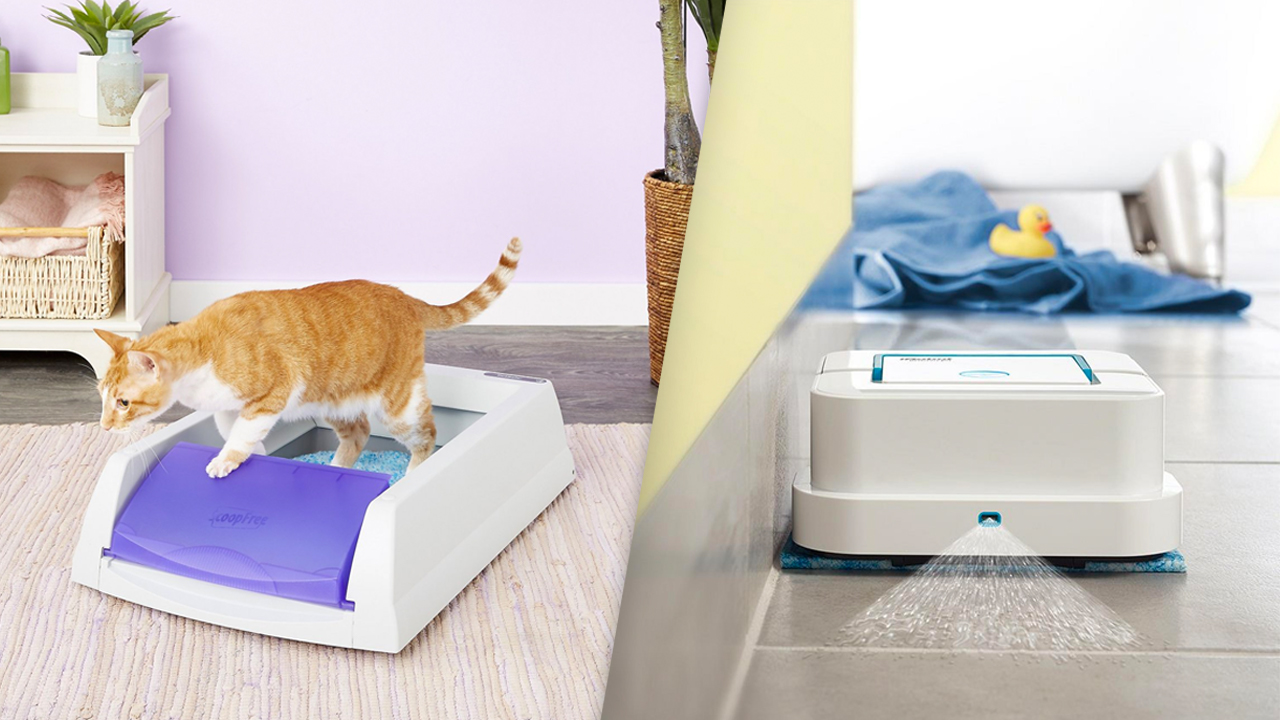 Nothing beats a squeaky clean living space, especially during the coronavirus pandemic. However, getting your place in tip-top shape is a lot of work and no matter how hard you try, there will always be those hard to reach spots you can't get to. I'm under five feet and at my apartment, the smudgy floor-to-ceiling windows are a problem.
Don't give up on those areas and get them the deep clean you've always wanted by investing in the proper smart home cleaning equipment.
Whether it's the Baseltek cleaning robot that made my windows sparkle or a self-cleaning litter box for your feline friend, scroll through and snag some gadgets that will do the dirty work for you.
The Best Smart Home Cleaning Products
iRobot Roomba e5 (5150) Robot Vacuum

Sale Price: $299.99 | Regular Price: $349.99
This robot vacuum is ready to give your floors the ultimate deep clean. It has a premium cleaning system that allows it to get under your furniture and pick up dirt you can't see. It's also ideal for homes with pets as the iRobot can easily pick up all the loose pet hair. Thanks to user Geronimoumd, you'll see that it's on sale for $50 off at Target.
Deal Tip: If you're a loyal Target shopper and have a Red Card, make sure to whip it out as card holders get an extra 5% discount on clearance items.
SimpleHuman Semi-Round Sensor Can (Plastic Lid)
Sale Price: $75 | Regular Price: $100
Touch your garbage can less with this SimpleHuman sensor can. The trashcan has a sensor that will automatically open up any time you have to throw something away. Additionally, it has a hidden compartment inside where you can store garbage bags.
In short, it's a neat and easy solution that will keep trash as out-of-sight as possible in any room of the house while minimizing your need to touch the container.
Deal Tip: Don't wait to order one of these as SimpleHuman is only offering the 25% off sale prices on sensor trash cans and soap pumps until April 10th.
Dyson Pure Hot + Cool Link HP02 Air Purifier
Sale Price: $449.99 | Regular Price: $599.99
Given all the time you're spending indoors now, it's time you start thinking about your home's air quality. A Dyson air purifier may seem like a hefty price tag, but it removes 99.97% of all pollutants and allergens.
Plus, it has a triple function as a cooling fan and heater. All in all, it's three appliances for the sale price of $449.99.
Baseltek Window Cleaning Robot

Regular Price: $79.99
If you have giant windows like me, don't just ignore them. Order an affordable used version of this cleaning robot for only $79.99, sit back and watch your windows shine like never before. The machine can also be used on shower doors, countertops and more.
ScoopFree Original Automatic Cat Litter Box
Sale Price: $139.95 | Regular Price: $149.99
Your kitty should always have a clean place to go to the bathroom. Instead of constantly having to change the litter box, let Chewy's automatic scoop-free option do all the work for you. You just plug it in and the automatic rake system will take care of the rest.
BrilliantPad Self-Cleaning Potty Pad Machine
Sale Price: $161.49 | Regular Price: $169.99
If you're still potty training your pup or you have one like my family's who's too scared to go potty outside, this self-cleaning machine is about to be your new best friend. You can set it up to automatically put out a fresh new pad as soon as your dog finishes going number one or two. It's the easiest clean-up ever.
Deal Tip: Available for the above sale price by opting for the "autoship and save" option during checkout, which will knock off 5% from the regular price and keep fresh rolls coming regularly.
Drillbrush Cleaning Attachment Kit

Regular Price: $23.98
I may not be handy, but I know how to scrub down my bathtub and countertops. If you're like me, then this under $25 drillbrush cleaning kit was made for you.
It has 11 pieces that includes scouring pads, scrub sponges and more that will make cleaning any surface of your home much easier. Each piece can be hooked up to any cordless drill and will transform your tool to the best cleaning device you've ever used.
iRobot Braava jet 240
Sale Price: $179.99 | Regular Price: $199.99
iRobot doesn't just make vacuum cleaners, the company also has robot mops available. Kick that deep clean up a notch with the device's jet spray and vibrating cleaning head that will remove any and all dirt and grime from your floors.
Deal Tip: Luckily, iRobot has a special promotion going on that will include free 10 wet mopping pads and free ground shipping with any purchase.
Antibacterial LED White Under Cabinet Light
Sale Price: $34.88 | Regular Price: $45.91
Don't overlook lighting. It's a household essential that has a way of building up tons of bacteria, but these antibacterial LED bulbs will reportedly eliminate bacteria, mold and more with the specific wavelengths built into them.
At under $35 each, you can have a cleaner home and replace your old lights ASAP.
Angry Mama Microwave Cleaner

Regular Price: $9.99
No one ever wants to clean the microwave. There's even an entire episode of The Office about it. Now you simply have to fill the cleaner up with water, let it run in the microwave and the steam will loosen any caked in food debris. All you need to do is give it a good wipe down and voila — clean microwave.
Deal Tip: In addition to this microwave cleaner, make sure to check out the rest of The Container Store site as kitchen and pantry essentials are up to 25% off for a limited time.
Fluidmaster Toilet Bowl Cleaning System
Regular Price: $9.99
Want an under $10 solution to keep your toilet bowl extra clean? Pick up this toilet bowl cleaning system for $9.99 from Walmart. You simply snap it onto your toilet and flush all your worries away. Yup, it's that easy.
Dyson Ball Multi Floor Origin Vacuum
Sale Price: $189.99 | Regular Price: $299.99
These smart products may be convenient, but this premium Dyson vacuum is for the skeptics out there who really want to triple check that all the dirt, debris, pet hair and everything in between has been removed. Consider purchasing it in addition to the brand's air purifier. User TattyBear gave us the heads up that it's over $100 off and priced at under $190 right now.
You can also check out this deal from our Frontpage that will help keep your place tidy:
Search URL: https://slickdeals.net/newsearch.php?firstonly=1&pp=20&sort=newest&rating=frontpage&filter%5B%5D=61580&forumid%5B%5D=9&hideexpired=1&r=1
Our editors strive to ensure that the information in this article is accurate as of the date published, but please keep in mind that offers can change. We encourage you to verify all terms and conditions of any product before you apply.