The Best Smart Home Security Cameras of 2019
Our top picks for the best home surveillance start at just $38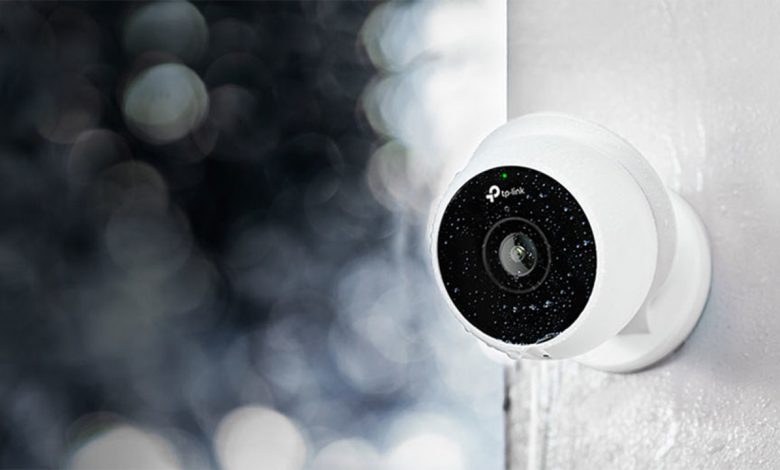 A good home security camera lets you keep an eye on your house from anywhere in the world, streaming high-quality video directly to your smartphone. These devices' popularity has boomed in recent years, with dozens of tech firms jumping on the trend. Luckily for consumers, this competition has not only driven innovation in the home security sector, it has also brought prices down significantly.
We've put together a list of the best smart home security cameras available in 2019 at a wide range of prices. So whether you want to keep a watchful eye on your kids and pets, or guard your fortress with an array of outdoor eyes, we're here to help find the perfect camera for you.
Wyze Cam Pan

The Verdict: A powerful camera that offers the best value of our top picks.
Pros: Excellent video quality. Full tilt/pan functionality makes for a very capable camera.
Cons: Short power cable and no internal battery limits positioning options.
Wyze, a relatively unheard-of startup not so long ago, has made a splash in the home security scene. Its budget-friendly cameras deliver way more than you'd expect for the price.
While the Wyze Cam 1080p HD indoor camera, at $25.98, is the firm's cheapest offering, we've chosen to highlight the more popular Wyze Cam Pan. At just $37.98, it's still the cheapest camera on our list, and yet one of few in the market to offer full pan and tilt functionality. Controlled manually on your phone or automatically via trick motion detection tech, the 360 degree panning mount lets you monitor a much larger space, or even multiple rooms, if placed centrally.
A short power cable limits where you can position the Wyze Cam Pan, but with fire alarm detection, intruder alerts, night vision, free cloud storage, and surprisingly clear video, this little camera offers the best bang for your buck.
---
Ring Spotlight Cam

The Verdict: The best outdoor camera, especially when combined with a Ring Video Doorbell.
Pros: Bright built-in spotlights. Solar option eliminates need for a power outlet or manual charging.
Cons: Over-sensitive motion detection and inaccurate zone control.
As its name suggests, the Ring Spotlight Cam is notable for its super bright, built-in LEDs that instantly illuminate your front drive or dark backyard whenever they detect motion.
At $199, both hard wired and battery powered options are available. The latter is compatible with solar panels (sold separately), which opens your mounting options to anywhere with reasonable sunlight exposure. And as you might expect from Ring — veteran of the home surveillance market — the app is excellent. It offers clip playback, Alexa compatibility, 1080p HD video, local neighborhood message boards and feed sharing.
Video archive functionality requires a subscription to Ring's cloud service. And user reviews note that the camera's live stream occasionally failed to connect after a motion notification. Some users also struggled with inaccurate alert zone control. That means it could be difficult to nail down the perfect detection zone on cameras with moving traffic or rustling trees in view.
Still, if you want one of the best outdoor monitoring solutions available, this is the camera for you. And that is especially true if you already have the popular Ring Video Doorbell and want to keep all your surveillance in the same app.
---
Nest Cam IQ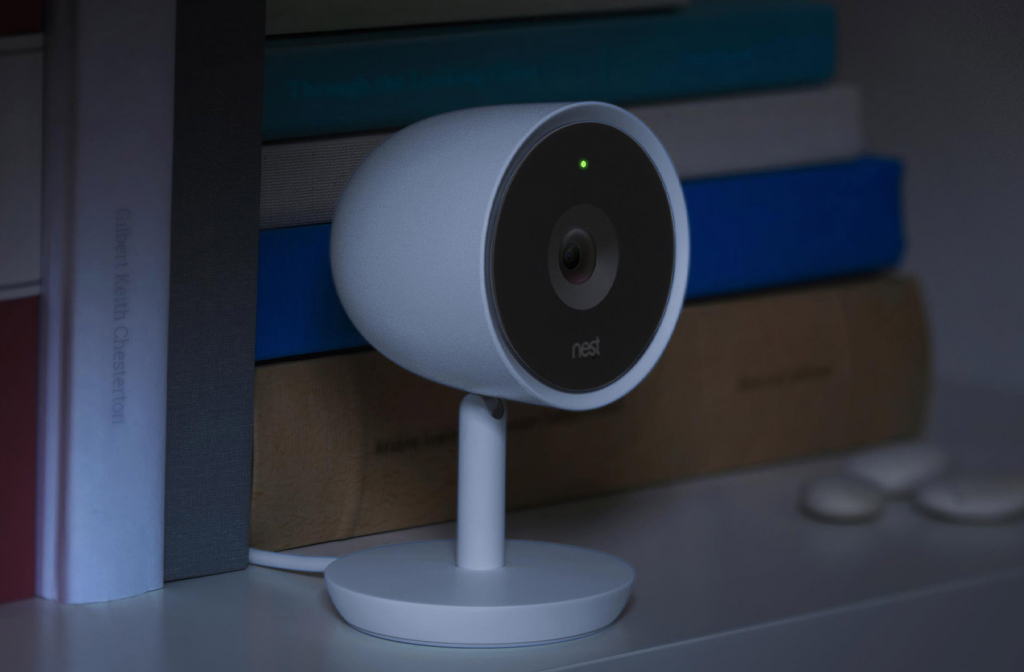 The Verdict: A premium indoor camera at a premium price.
Pros: Powerful processors offer amazing video and face recognition tech.
Cons: Many big features held for ransom behind subscription paywall.
The Nest Cam IQ offers excellent video quality and a whole suite of high-end smart features. And at $299, it's firmly on the premium end of our selection.
Facial recognition is its party trick, with the ability to learn the members of your family and ping you notifications when it sees someone it doesn't recognise. This is possible thanks to a powerful 4K sensor, although it's important to note that the camera only puts out video in 1080p.
An 'HDR' feature enhances visibility in darker corners of an otherwise bright room, making for excellent overall video clarity. Whilst a large speaker delivers loud and clear two-way voice communication through the camera.
However, you should be aware that many of the Nest Cam IQ's biggest features, including face alerts, custom activity zones and video clip reviewing/editing, are locked behind a subscription paywall of at least $10 a month (or $100 a year), making this camera an even more expensive proposition.
---
Arlo Pro 2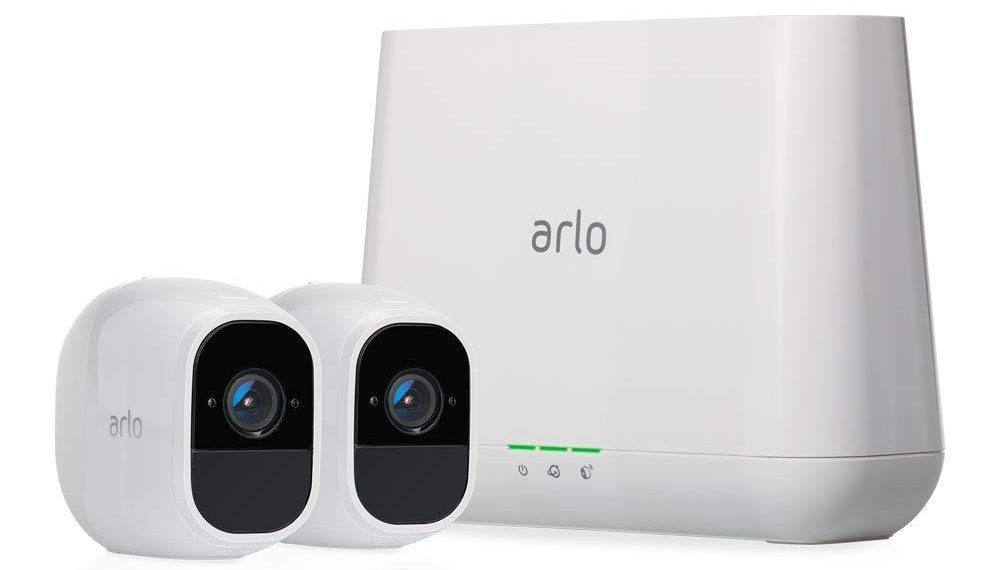 The Verdict: The best wireless solution for hassle-free multi-cam setups.
Pros: Completely wire free. Easy setup with kits of up to six cameras. Indoor and outdoor.
Cons: Wireless communication challenges. Requires wired power for always-on recording.
The Arlo Pro 2 camera kit offers a completely wire-free solution to home surveillance at the current Amazon price of $316.27. For use either indoors or outside, the Arlo cameras feature built-in rechargeable batteries that can last for several weeks (depending on the frequency of motion alerts) without needing to be recharged on the included base.
The cameras record short clips when motion is detected, and stay in a low power state otherwise to conserve battery power. Inserting a micro SD card gives you access to a continuous recording option. However, this is only available when the cameras are connected to a main power source.
At 1080p, video quality is great, and Arlo Pro 2 users enjoy free cloud storage for up to seven days of clip history. A 100db intruder siren is another plus. While Alexa compatibility makes it easy to summon a camera stream using voice commands. However, some users have complained of connectivity gremlins between the cameras and the included base station. You'll want to consider this potential issue, especially if you live in a densely populated area with lots of wireless interference.
---
Kasa Cam Outdoor by TP-Link
The Verdict: Excellent value outdoor surveillance in a super compact design.
Pros: Cheap, great features and free cloud storage for all.
Cons: Overly sensitive motion detection requires manual adjustment.
So far, all of our outdoor picks have been in the $300 range. But here we have a great outdoor surveillance option for the more budget conscious of you.
Priced at $91.99 at the time of writing, and with free cloud storage as a bonus, the Kasa Cam Outdoor is easy on the wallet. And yet, like the Wyse Cam, it offers an impressive suite of features for the money.
Two-way audio, 1080p video and motion alerts round out the basics, but this compact little camera also boasts an intruder siren, video sharing and Alexa and Google Assistant support. It also lets you set up to four Activity Zones for high priority targets, such as front doors or pathways. And, unlike the Nest Cam IQ, this feature is not locked behind a paywall.
Users have noted, however, that the motion detection is overly sensitive, with notifications pinging phones for changes in lighting (like clouds covering the sun, for example) or for weather events like rain or wind. A sensitivity setting can remedy this somewhat, but you'll need to keep on top of these adjustments to get the best out of the camera in varying conditions.
Shop the Kasa Cam Outdoor by TP-Link here
---
Check out today's best Tech deal!
Search URL: https://slickdeals.net/newsearch.php?firstonly=1&pp=20&sort=newest&rating=frontpage&filter%5B%5D=40&forumid%5B%5D=9&hideexpired=1&r=1
ncKxk_Yhu_A
Image Credit: TP-Link