Hail to the New King: Bose Noise Cancelling Headphones 700
Bose beats Sony — but for how long?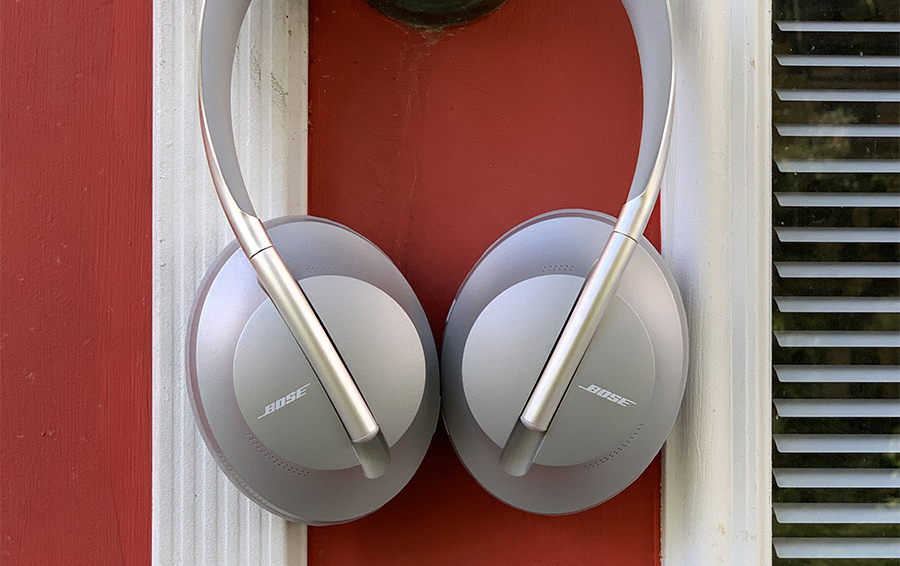 With the exception of Beats, Bose is the name one thinks of when talking about headphones. Their QuietComfort series is legendary — and with good reason. Bose has perfected active noise canceling (ANC) — not an easy thing to do. Yes, others, like Sony, offersANC that's (finally) as good as Bose, but Bose has now upped the ante with the new Bose Noise Canceling Headphones 700.
The 700 is a significant update to the QuietComfort line. Not only is the noise-canceling controllable, but the 700's design is light years ahead of the QuietComfort, and is currently one of Bose's best-looking headphones.
Bose Noise Canceling Headphones 700 Specifications
Wireless Bluetooth 5.0
Bluetooth range: 33 ft.
ANC (active noise canceling)
Battery charge time: 2.5 hours
Battery life: Up to 20 hours
USB-C connection
Weight: 8.96 ounces
Dimensions: 8 in. H x 6.5 in. W x 2 in. D
Audio cable: 42 inches
USB cable: 20″
Amazon Alexa and Google Assistant enabled
Augmented reality (Bose AR) equipped
Fit and Comfort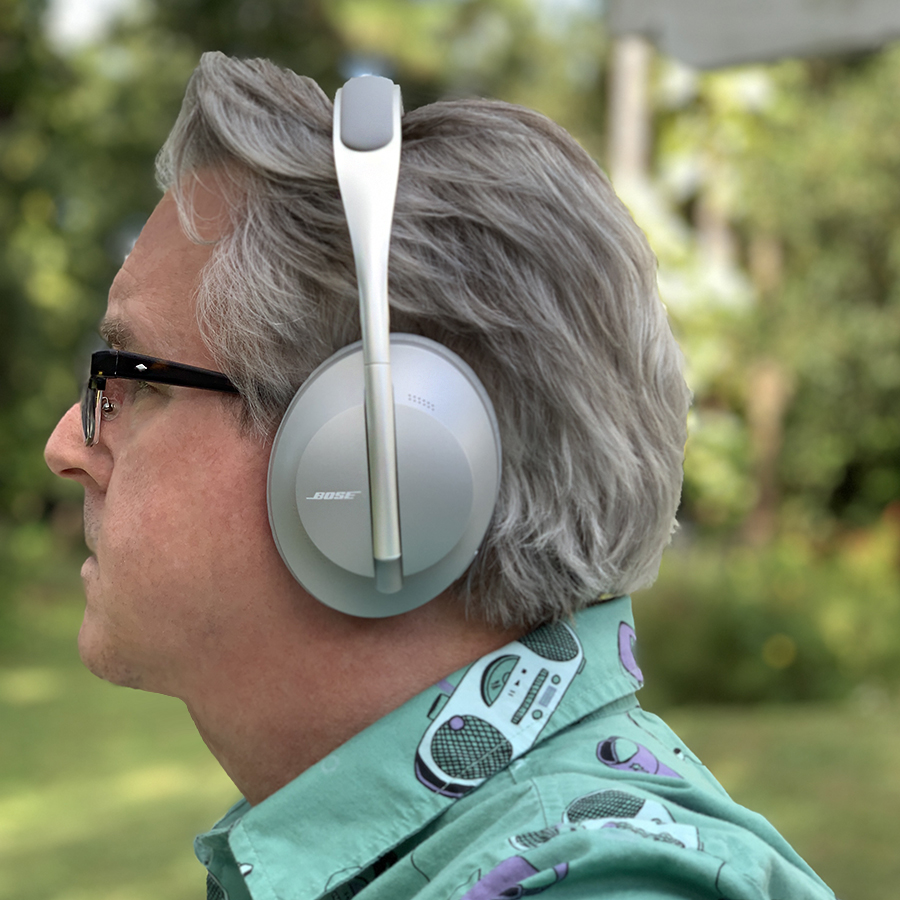 The Bose Noise Canceling Headphones 700 is a huge leap for Bose over the QuietComfort. Finally, Bose makes a headphone that looks good when worn. 
Bose has always prioritized comfort, and the 700 headphone is just as comfortable as any other Bose headphone. The ear cup padding feels luxurious and soft. Padding on the aluminum headband is thicker, making head clamping feel even better than before.
Both round "stems" of the outer headband are much thinner than the wide, flat bands of the QuietComfort II. You might think this makes the headphone more fragile, but no. There are no plastic creaking sounds when lightly twisted. And the build quality feels tighter and more substantial. These round stems have a hidden notch that the ear cups slide up and down on for proper head sizing. 
Ease of Use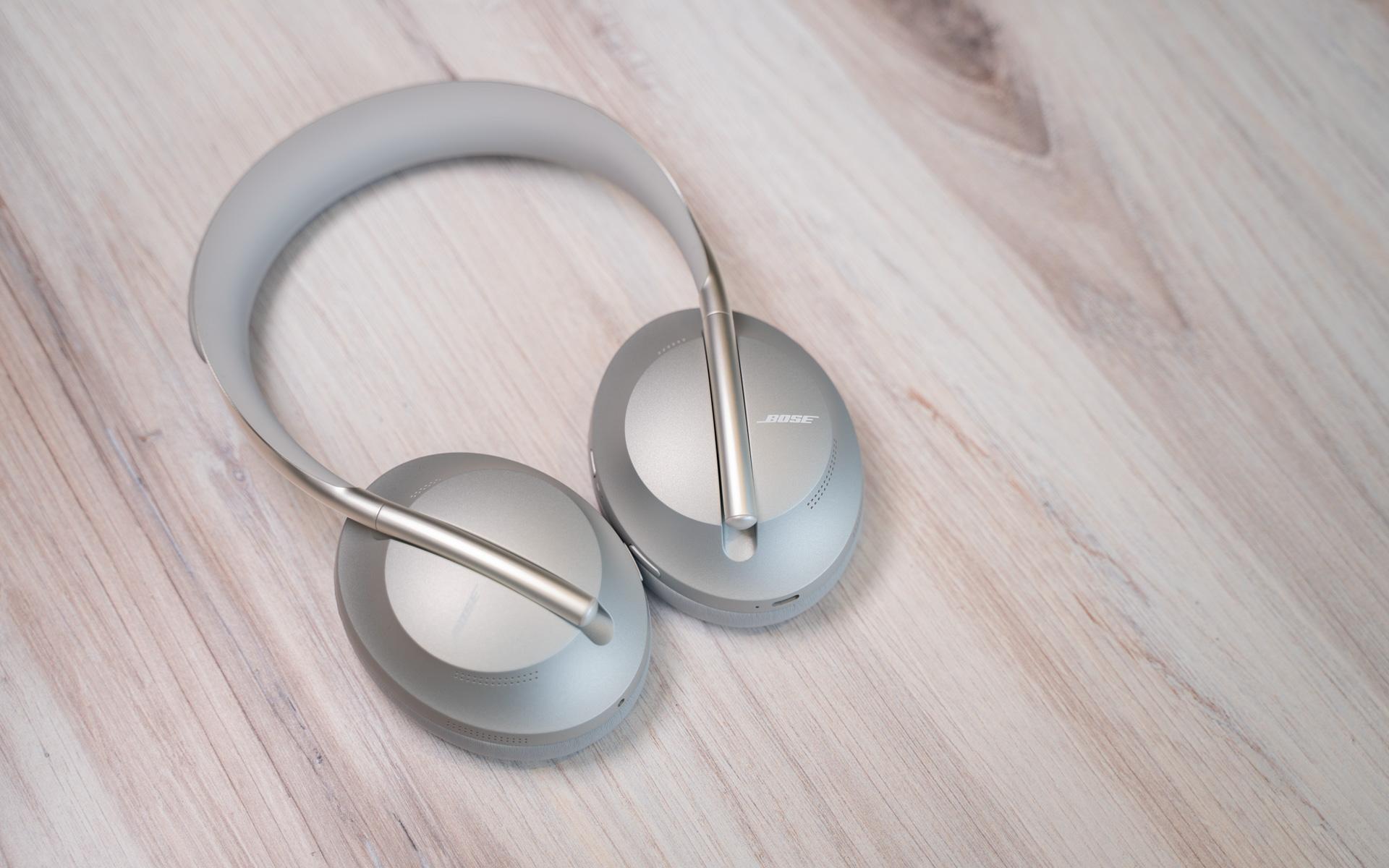 ANC is now customizable, with level 0 being practically off and 10 being a maximum quiet setting. Each step can be set using the downloaded free Bose Music app. You might think 10 steps of ANC is a bit much, but each higher step sounds noticeably quieter than the previous step. Even though 10 is the quietest setting, with no music playing I could detect a tiny bit of background noise leaking through. I also detected a bit of audible "pumping," meaning there was a slightly audible increase/decrease to the ANC. To be fair, any audio playing completely masked these anomalies.
Controls are both physical and also invisibly built into the right ear cup. The on/off button doubles as the Bluetooth pairing button. There are two lower physical buttons on each ear cup. Pressing the left button quickly reduces the amount of the 10-step ANC to three choices: 0/5/10. The right button brings up the voice assistant button. Both Amazon Alexa or Google Assistant are included. Any voice commands using Apple's Siri is handled through the iPhone, although in this case, the mics on the 700 headphone are used.
The invisible controls on right the ear cup are easy to use. Tap twice and a song will pause or you can answer/end a call. Volume is controlled by sliding a finger up and down the ear cup. Forward or backward sliding skips or repeats a song. Tapping and holding will decline a call. This tap and hold function can also be customized to announce battery life or enable/disable either Amazon Alexa or Google Assistant.
Call quality is among the best I've heard in a headphone. People I talked with reported that I sounded perfectly natural — as good as I sound when using my Apple AirPods. That never happens — until now!
Battery life on the 700 headphone is meh, at a rated 20 hours. While Sony's WH-1000XM3 headphone offers 30 hours. The 700 can be quick charged in 15 mins for 3.5 hours of play time.
Before any Bluetooth pairing can be done, the Bose Music app must first be downloaded. I have no idea why. However, once the app has been matched with the 700, Bluetooth pairing is done and it's remembered by the smartphone for re-pairing later. For some reason, my iPhone lists the 700 headphone Bluetooth as "Quicksilver." Once again, I have no idea why.
While I like the overall look of the 700 headphone, It's not without a couple of awkward design choices. First, while the right ear cup has built-in trackpad-like controls, they only work on the ear cup's front half. There are no controls on the left cup. An even worse design faux pas is that if you want to remove the headphone and place it around your neck, the ear cups can only be turned with the inside of the cups facing outward. This is inexcusable and looks just plain dumb.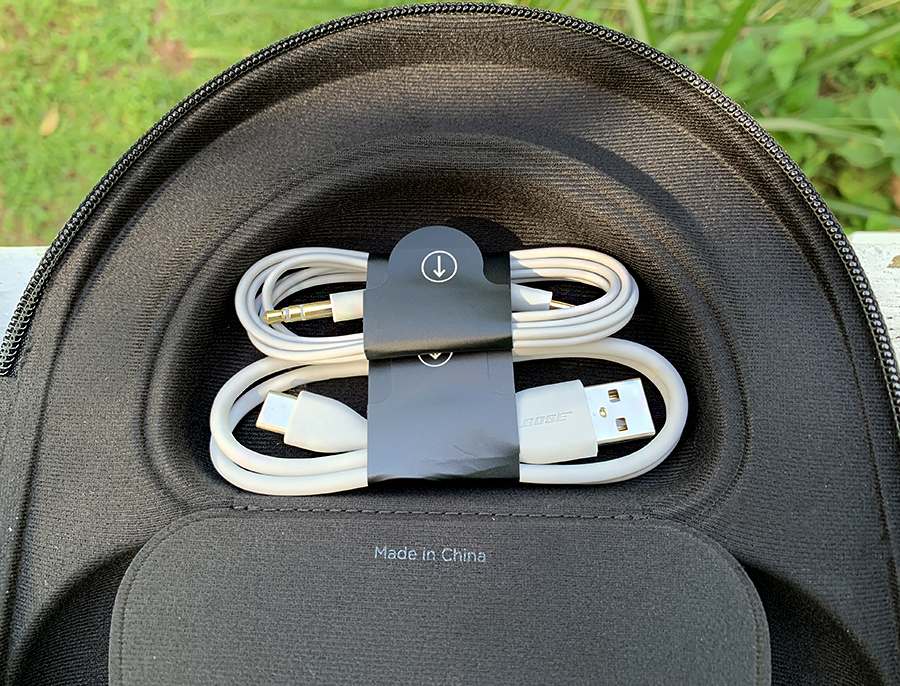 The 700 headphone does not fold for compact carrying, so the case is a bit on the large side. But it is solid and provides protection against dust and light pressure. One thing missing is the interior mesh pocket of the QuietComfort II case. In its place is a small, recessed compartment with a magnetic lid that houses both the mini plug and charging cables.
Bose Augmented Reality
Like the QuietComfort II headphone, the 700 uses Bose's augmented reality platform (AR). Bose states that "Bose AR unlocks the potential to experience fundamentally new ways to travel, exercise, learn, play, and more by augmenting your world with content for your ears instead of your eyes." Whatever. All I got from Bose was the ability to play some sample AR-enabled files through the Bose RADAR app.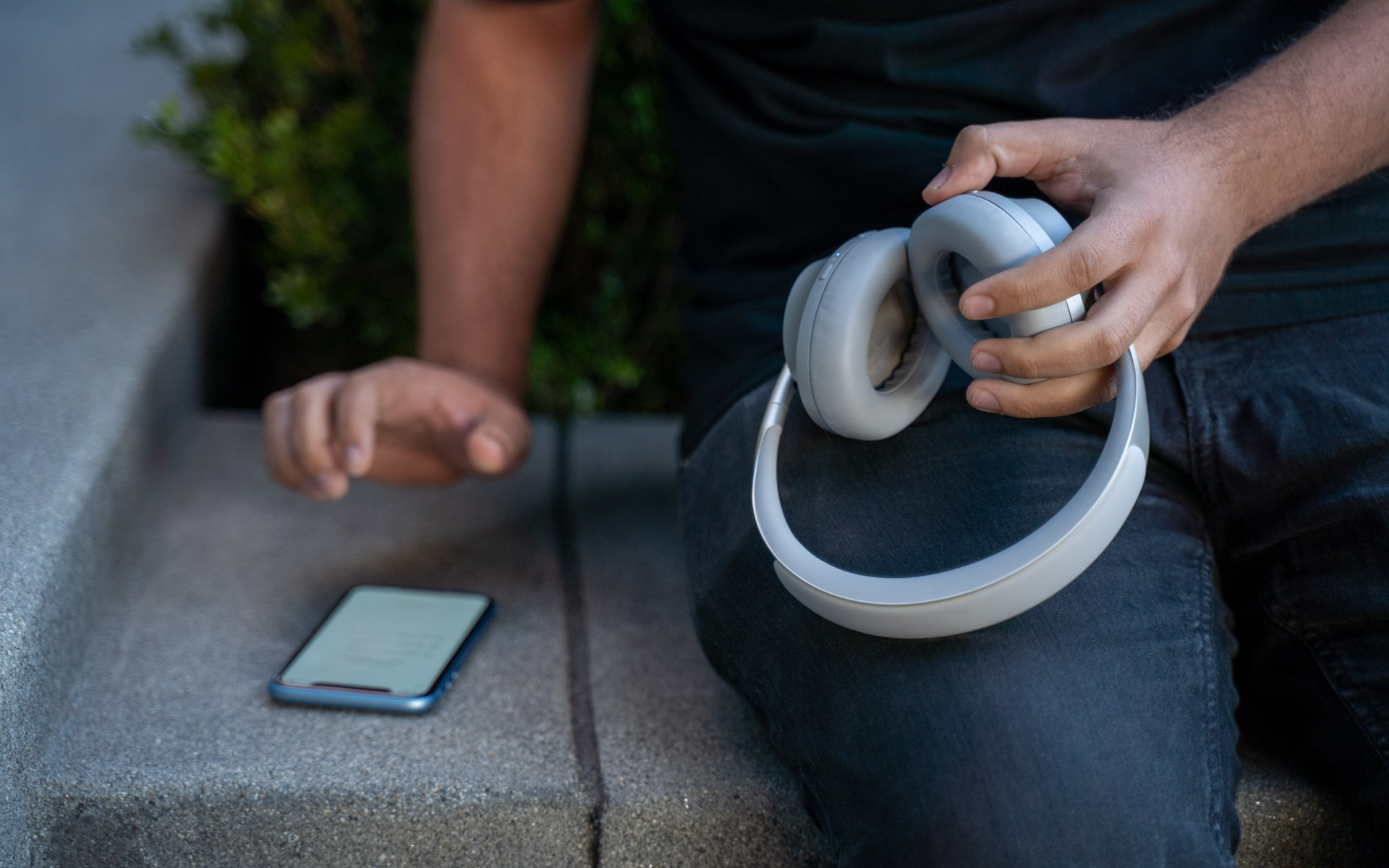 Maybe their AR is a work in progress, but I could detect no audio magic using AR. The sample files were lame at best. I expect much better from a leading company like Bose. There are third-party travel and entertainment apps that work with Bose AR, but apps such as AudioJack costs money. And REI and OtoCast travel apps had no mention of AR that I could find, even though Bose touted them on their app.
It all left me a bit confused and disappointed. My advice is that if you're a gamer or AR fan and really want jaw-dropping AR performance, check out the Audeze Mobius headphone. They do it much better.
Audio Quality
Listening to music with the 700 headphone is a treat. No, this headphone can't hold a candle to non-ANC music-centric headphones, but Bose has done a good job of not letting the ANC negatively affect the sound as so many other headphones do. Using the 700s wirelessly reveals a warmish, slightly muddy sound signature. Musical detail is not the 700 headphone's strength, but that's okay.
This is a forgiving headphone, meaning that music streamed or ripped at a less than ideal resolution should still sound okay. Bass is pushed a bit, but not too much. Middle frequencies (where most vocals lie) are forward sounding, which works well for most pop, rock or jazz recordings. Treble fans will be disappointed, as this headphone is not bright sounding in any way.
Should You Buy the Bose Noise Canceling Headphones 700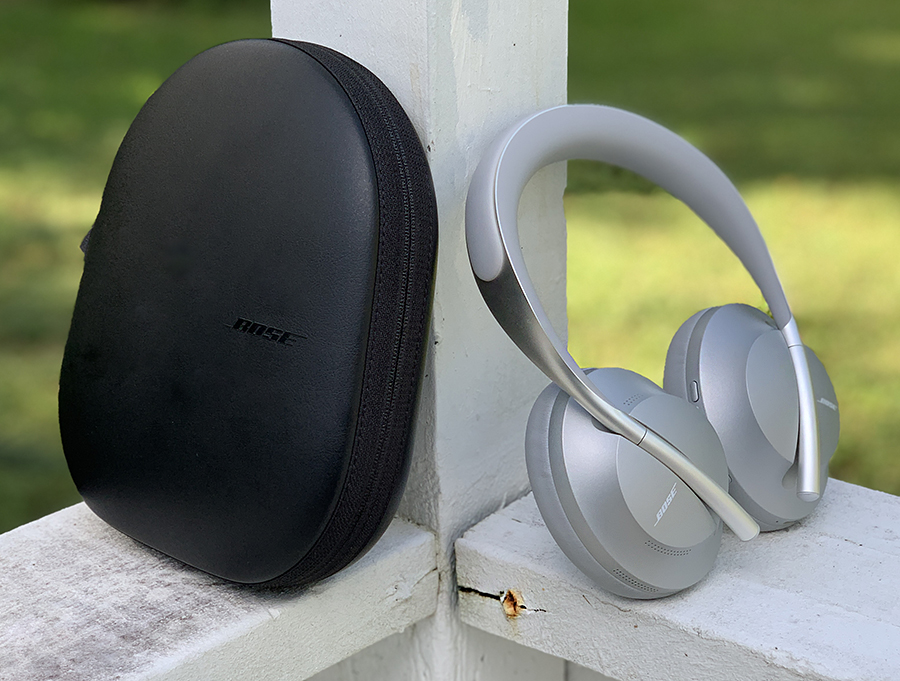 As I've sampled many ANC headphones, I've become more critical when listening. The Bose QuietComfort 35 II ANC wireless headphones wowed me, only to be later bested by the Sony WH-1000XM3. Now the Bose 700 headphone has bested Sony, but only by a fraction. The Sony headphone still looks better, and $50 less than the 700 at $349. Plus, Sony will eventually replace the WH-1000XM3 with something better. It's a big game of leapfrog.
If you are a Bose fan or your QuietComfort headphones are showing their age, you will be thrilled with the new Noise Canceling Headphones 700. However, if you are buying your first pair of wireless ANC headphones, I recommend saving $50 and getting the Sony WH-1000XM3 headphone instead.
Get the best price on Bose headphones by setting a Deal Alert to be notified as soon as a new offer is posted. And check out the Slickdeals Headphone Deals page for all the latest discounts on top brand headphones.
Other Slickdeals Reviews
Here's today's best deal on headphones:
Search URL: https://slickdeals.net/newsearch.php?firstonly=1&pp=20&sort=newest&rating=frontpage&filter%5B%5D=21983&forumid%5B%5D=9&hideexpired=1&r=1
Bose Noise Cancelling Headphones 700
$399.00
Good Fit For:
Well-made
Extremely comfortable
Great case
ANC does not negatively affect audio quality
Amazon Alexa, Google Assistant and Apple Siri enabled (if you want voice control)
Not a Good Fit For:
Expensive
ANC tends to fade in and out when no audio is on
Bose AR is not much more than a gimmick
Our editors strive to ensure that the information in this article is accurate as of the date published, but please keep in mind that offers can change. We encourage you to verify all terms and conditions of any product before you apply.