Battle of the Premium Headphones: Bose QuietComfort 35 II Vs. Sony WH-1000XM3
Both models earn high marks for their quality sound and comfort, but who comes out on top?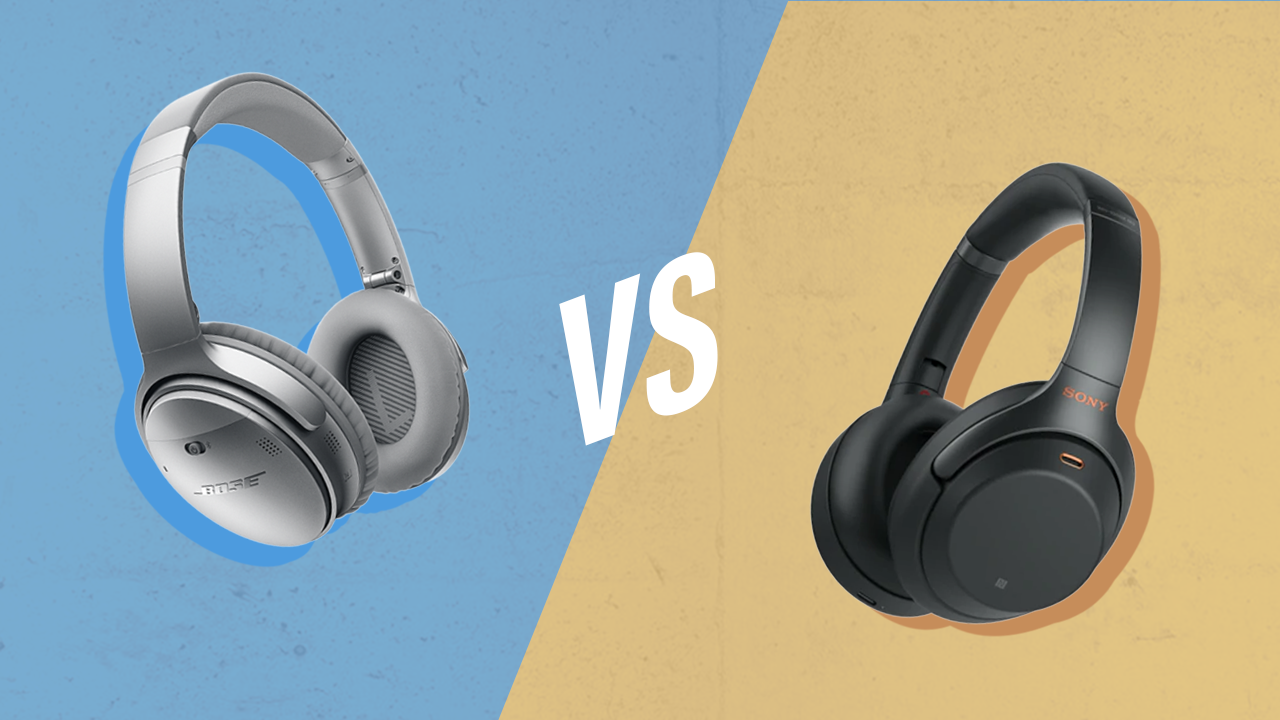 When it comes to discussing really good active noise cancelling (ANC) headphones, the Sony WH-1000XM3 and the Bose QuietComfort 35 II always seem to be at the forefront of everyone's minds. It's easy to see why, as both offer everything people want: great noise cancelling, crisp audio and comfortable, easily transportable design.
While both pairs of headphones check many of the boxes on audiophiles' requirement lists, they don't do so in the same manner. So where exactly do these two products differ, and are the dissimilarities enough to sway popular opinion towards one or the other?
We decided to do a deep-dive comparison of the Sony WH-1000XM3 and Bose QuietComfort 35 II headphones to find out.
Sony WH-1000XM3 vs. Bose QuietComfort 35 II Direct Comparison Results
The named product is the winner in each category.
Fit and Comfort: Bose
Design and Build Quality: Sony
Sound Quality: Sony
Call Quality: Bose
Controls: Sony
Battery Life: Sony
Fit and Comfort
Bose QuietComfort 35 II
QuietComfort 35 IIs are lightweight and fit over the head without clamping too tight. The headphones also feature super-soft earpads that cover the ears without feeling too warm. While the headband is thick and comfortable, I've admittedly encountered better padding on other headphones. Ultimately, the QuietComfort 35 II feels well-made, but it's hard to overlook how much of the body is made of plastic.
Sony WH-1000XM3
The WH-1000XM3 headphones have managed to be almost as comfortable as Bose, though they fall a bit short — even with a better headband. That's not to say Sony's headphones are uncomfortable — you'd only really notice the difference if you quickly switched between the two pairs.
Winner: Bose (by a tiny margin)
While it's definitely a case of "good vs. better," I found I enjoyed the clamping and padding a little more on Bose's headphones, so the QuietComfort 35 IIs take home the win for comfort.
Design and Build Quality
Slickdeals
Bose QuietComfort 35 II
The QuietComfort 35 II's design is understated, and a bit dated. The product line has basically looked the same for years with only slight updates on each model. And in my opinion, the style works better in black than in silver or rose gold because the lighter colors feel so busy.
Buttons on wireless headphones are a necessary evil, but on the QuietComfort 35 IIs the buttons look somewhat out of place. With multiple buttons on both cups, it feels as though the user interface could have been better integrated into the headset's design.
In terms of build quality, the QuietComfort headphones are almost all plastic, but they're still fairly tough and can handle commuting or travel well. However, they are not water-resistant, if that's something you're looking for. Bose includes a hard case for protection.
Sony WH-1000XM3
Sony's headphones are more modern looking than what Bose makes, with the WH-1000XM3 sporting smooth lines and contours. The buttons are also more subtle on Sony's product, but you're still able to easily find them while wearing the headphones.
Sony incorporated fingertip controls on the right ear cup, which means there are no embossed logos — unlike Bose. This "form follows function" approach seldom fails to make a product look better. Like the QuietComfort headphones, Sony's WH-1000XM3 phones are covered in plastic, and Sony also includes a hard case.
Winner: Sony
Without disassembling them, it's hard to tell which pair of headphones is better made. Sony and Bose have good reputations when it comes to craftsmanship, and judging by feel alone both headphones pass the quality test.
Even so, the WH-1000XM3s feel more capable of withstanding typical travel wear and tear, so they take the category.
Sound Quality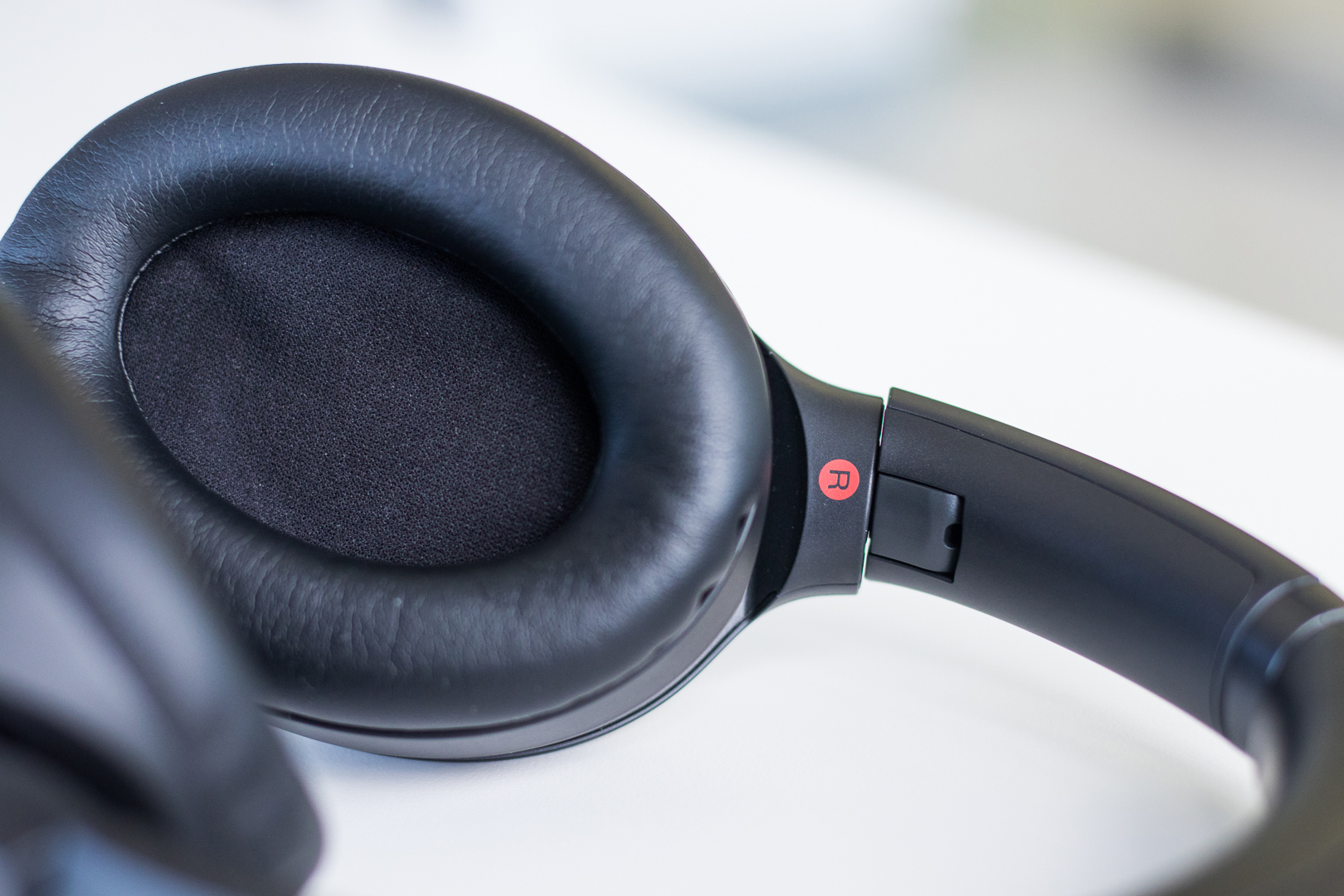 Bose QuietComfort 35 II
Pretty much anyone will tell you the QuietComfort headphones sound good — the tone is naturally warm and inviting with no harshness. The headphones work well with or without active noise cancelling (ANC), but when ANC is activated, they blow most comparably priced headphones out of the water.
Sony WH-1000XM3
The WH-1000XM3 headphones produce a warm to flat sound. This means you can listen to them for hours without experiencing ear fatigue, but they still accurately produce the sounds you're listening to. This is true regardless of whether you're using ANC.
Winner: Sony
As good as the Bose QuietComfort 35 II headphones sound, Sony's headphones are even better. At first this might seem surprising; after all, Sony makes a wide variety of electronics whereas Bose is solely focused on audio. However, it's worth remembering Sony makes what is arguably the one pair of headphones almost every recording engineer loves: the Sony MDR7506.
Active Noise Cancelling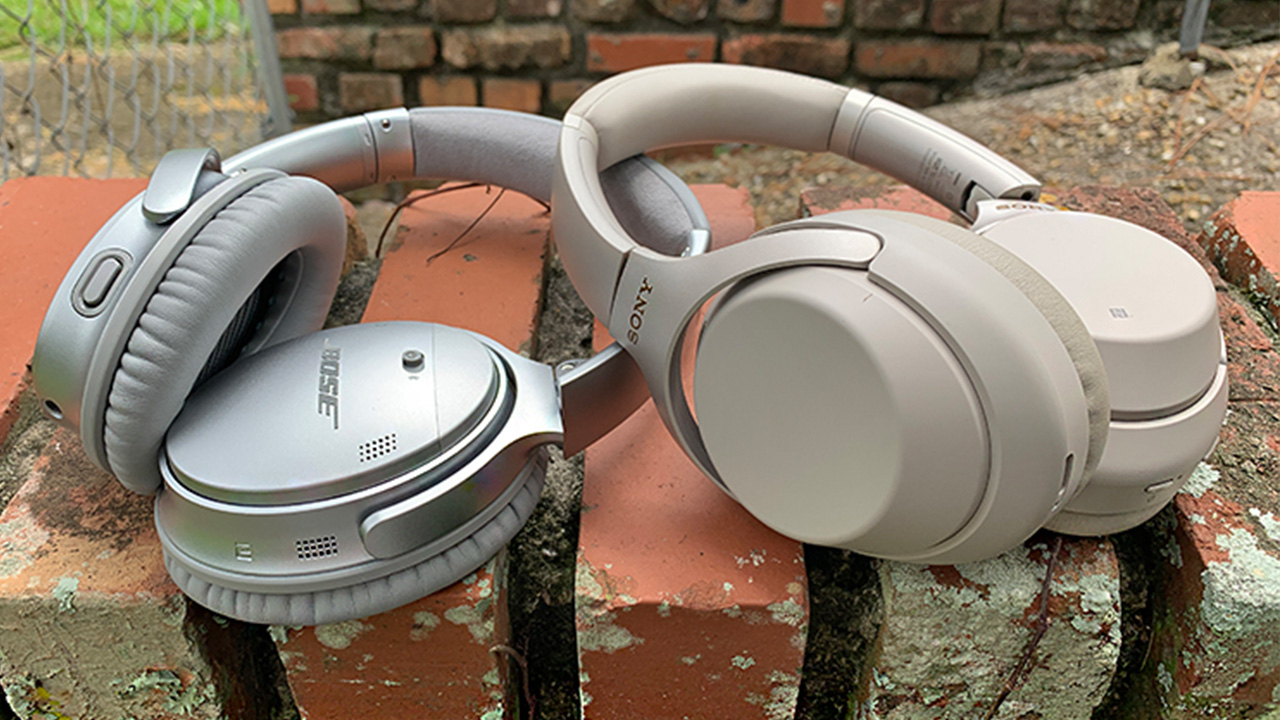 Bose QuietComfort 35 II
The Bose name is synonymous with active noise cancelling (ANC), and for good reason — the Bose Noise Reduction Technology Group invented it! Because of this, ANC on the QuietComfort 35 II headphone is about as good as it gets. Being able to flip on ANC while enduring a crowded airplane or commute is nothing short of magical.
Sony WH-1000XM3
The ANC on the WH-1000XM3s is so quiet and so "not there," it's frankly eerie. While ANC on the QuietComfort headphones allows just a hint of background noise to seep through, the base setting for Sony's headphones refuses to compromise. If ANC is on, you will not hear anything but your music, though the built-in Noise Cancelling Optimizer can be turned on to allow some background noise if you're actively walking (for safety purposes).
Winner: Sony
As a test, I put on the QuietComfort headphones and lightly clapped my hands. I could (barely) hear the sound. While doing this same test with the Sony headphones, I heard nothing. Sure, Sony is a huge company and Bose basically wrote the book on ANC technology, but it seems as though the underdog has returned to claim the throne. All clout aside, Sony's ANC sounds a little better, so it takes home the win.
Call Quality
Bose QuietComfort 35 II
When using the QuietComfort 35 II headphones to make calls, I didn't have much trouble hearing the person I was talking to, but they often complained about how I sounded "tinny." We were still able to have a full conversation, but given how good music sounds on these headphones it's disappointing to find the call quality lacking.
My main issue is my voice does not come through the headphones' speakers, which means I hear the person I am talking with much better than I hear myself. While this isn't necessarily a big deal, it gets to be a problem when the person on the other end starts complaining about how I sound. If I don't have any idea what my voice sounds like, it's hard for me to remedy the situation.
Sony WH-1000XM3
When on the phone using the Sony WH-1000XM3 headphones, my voice came across muffled, and I received even more complaints than I did while using the QuietComfort headphones. I could still hear the other party fine, but call quality is a two-way street, and if the person you're talking to can't hear what you're saying there's a problem.
Winner: Bose
Ordinarily, I don't use over-ear headphones to make phone calls, as the issues I described above are present in the vast majority of headphones I've reviewed. However, despite the less than stellar call quality from Bose, the Sony WH-1000XM3 was worse. While the QuietComfort 35 II headphones win this round, if you're predominantly concerned with call quality I recommend you consider a pair of Apple Airpods — they make calls sound crisper than either over-ear headset and cost a fraction of the price.
Controls
Bose QuietComfort 35 II
The controls on Bose's QuietComfort 35 II headphones make some amount of sense, but the buttons are awkwardly positioned. The active noise cancelling on/off button is also the Amazon Alexa/Google Assistant button, and it's way too easy to accidentally call up the wrong function (though you can disable the assistant capabilities using the Bose Connect app). The right ear cup houses the pause/skip/replay buttons, and the on/off/pairing slider is located a comfortable distance away from them.
Sony WH-1000XM3
With Sony's headphones, the on/off and active noise cancelling buttons are next to each other on the left ear cup. The right ear cup has touch controls built in — a more modern and easier to use approach than individual buttons. Covering the right ear cup with your hand temporarily turns off ANC so you can converse without removing your headphones. ANC turns back on once the hand is removed. 
Winner: Sony
While both headphones' controls accomplish similar goals, Sony's configuration makes more intuitive sense, and the touch controls are equal parts cool and useful.
Battery Life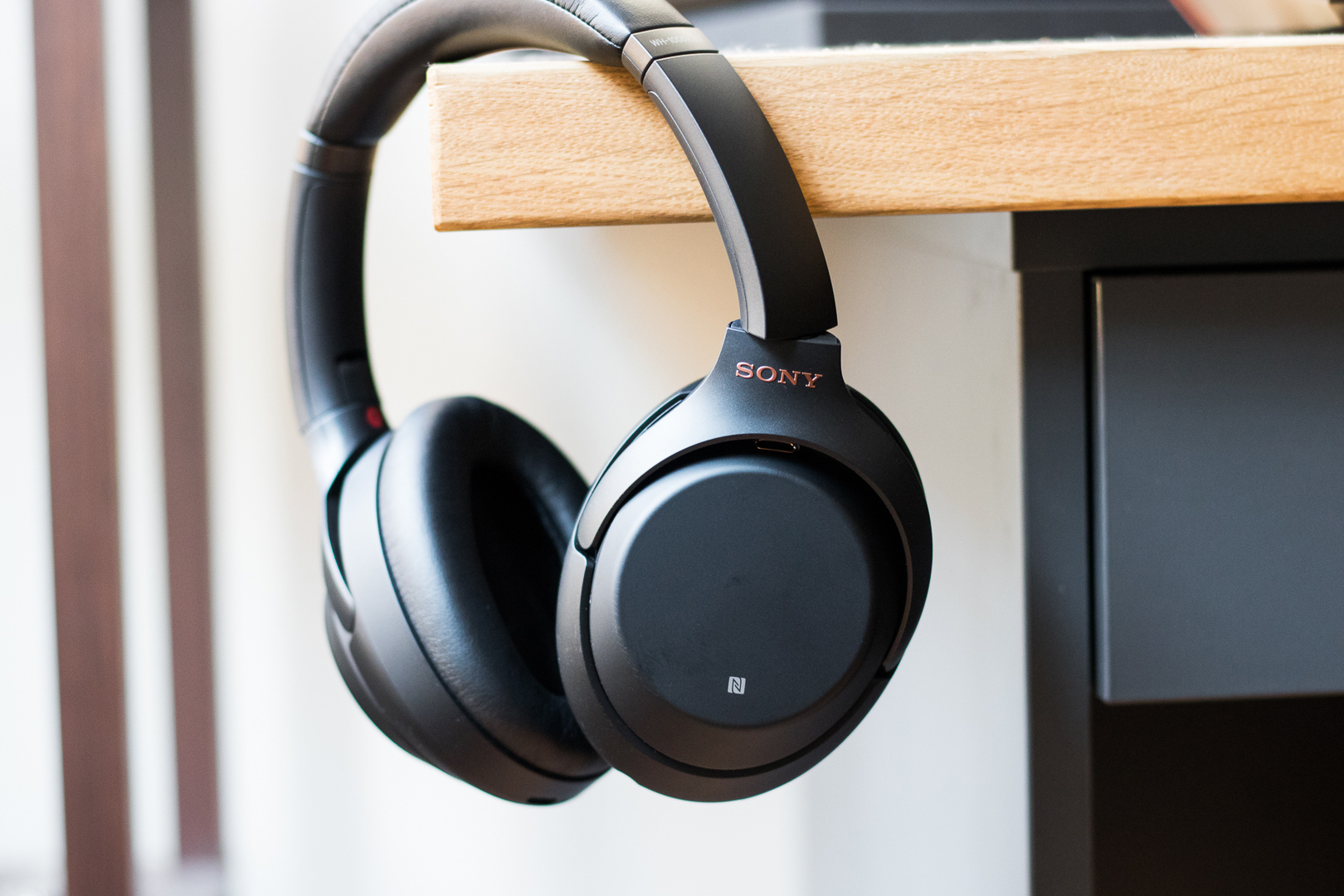 Bose QuietComfort 35 II
Whether active noise cancelling (ANC) is on or off, Bose claims 20 hours of battery life when used wirelessly and 40 hours when wired (while wired listening doesn't require battery power, wired ANC still does). Charging is handled via micro USB, which is older (and slower) than current technology. However, you should be able to achieve about 2.5 hours of playback time with 15 minutes of charging.
Sony WH-1000XM3
Sony advertises 30 hours of battery life with ANC on and 38 hours with ANC off. The faster USB-C connection is used for charging.
Winner: Sony
Sony's headphones employ more advanced charging technology and advertise a longer battery life than the QuietComfort 35 IIs. Of course, exact battery life depends on a number of factors, but it's hard to argue with better out-of-the-box specs.
The Bottom Line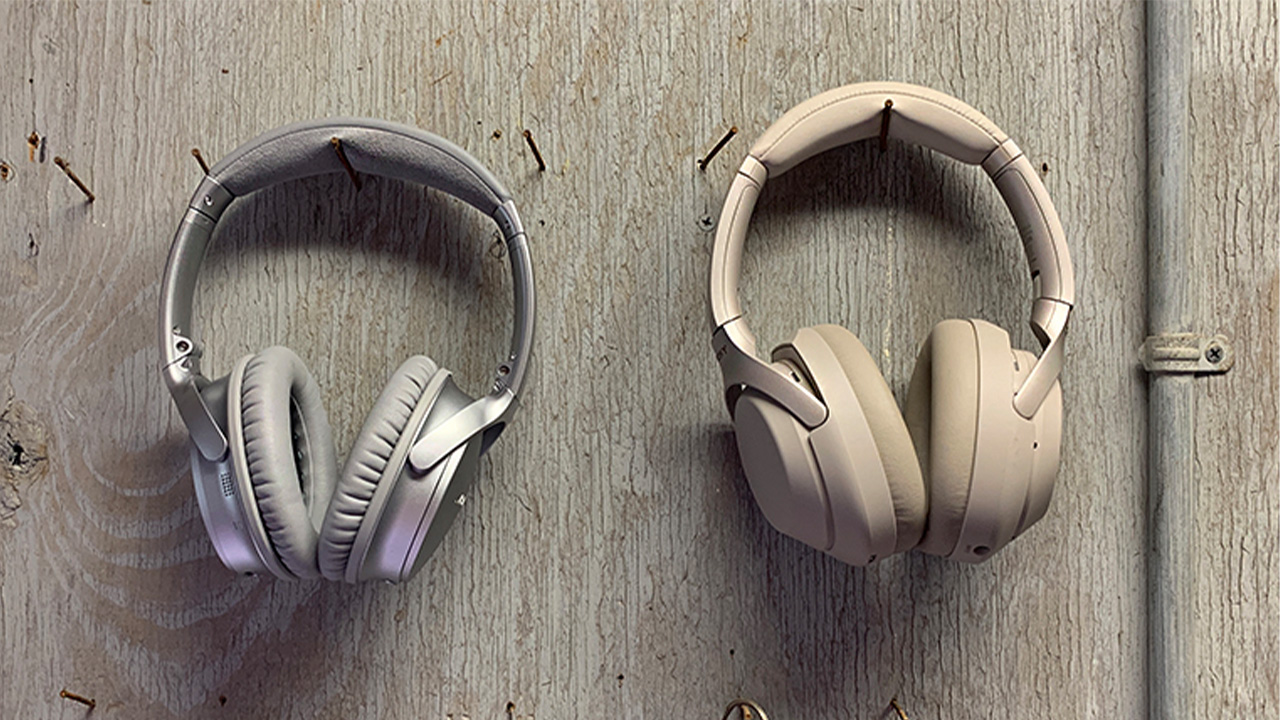 Overall Winner: Sony WH-1000XM3
Both Bose and Sony's headphones retail for $349, though they can often be found on sale. With less powerful headphones selling for well under $100, there are plenty of more budget-friendly options on the market. However, if you're a frequent traveller, the premium options' usefulness increases with each trip you take. Both are that good at what they do.
While noise cancelling technology and sound quality are pretty comparable, Sony currently has an advantage over Bose when it comes to modern hardware and styling. Touch controls are way cooler (and a better user experience) than traditional buttons, and Sony's minimalist design makes you feel like you're purchasing a piece a cutting-edge tech.
If you're already enjoying a pair of Bose's QuietComfort 35 IIs, there's no need to switch to Sony. But if you're actively looking to buy one or the other, why not go with the latest — and best — ANC experience?
Sony takes the crown for now, but not so fast — Bose recently released the Bose Noise Cancelling Headphones 700. This complete redesign replaces the QuietComfort 35 II. It features controllable ANC, intuitive touch controls, 20-hours of battery life, USB-C charging and is augmented reality enabled. It retails for $349.99, so Sony better watch its back.
---
For all the best current deals on headphones, be sure to check out our Headphones Deals page. Alternatively, just set a Deal Alert for your favorite set to be notified as soon as they go on sale.
Other Slickdeals Reviews
Our editors strive to ensure that the information in this article is accurate as of the date published, but please keep in mind that offers can change. We encourage you to verify all terms and conditions of any product before you apply.