Bose QuietComfort 35 II Headphones Meld Superior Sound With Modern Noise Canceling Tech
If you can handle the price, get ready to enjoy near-imperceptible active noise canceling.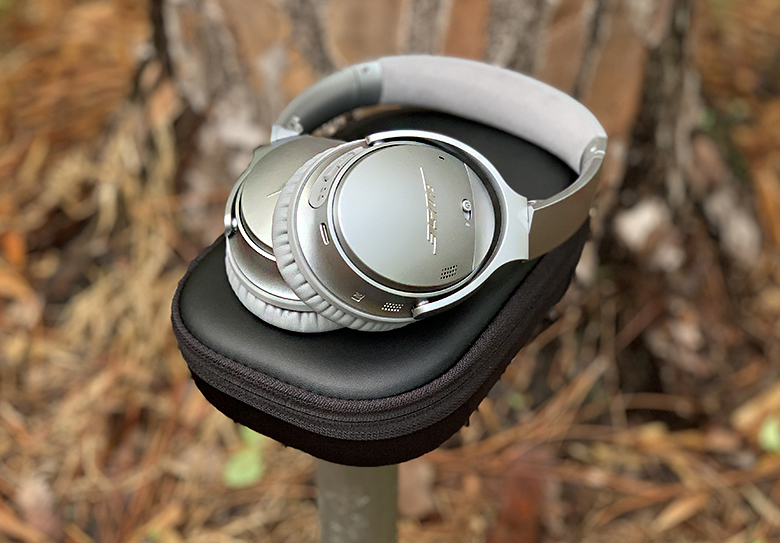 While audiophiles might disagree about the audio quality of Bose speakers, there is little dispute about Bose's wireless headphones — they are that good. And the Bose QuietComfort series with active noise canceling (ANC) is more esteemed than the average pair of Bose headphones. However, even though Bose currently dominates the market the company isn't resting solely on its past successes.
The Bose QuietComfort 35 II headphones are an upgrade to the QuietComfort 35 model. While there are only slight differences between the two, we'll be taking a look at everything this new version has to offer.
Search URL: https://slickdeals.net/newsearch.php?firstonly=1&pp=20&sort=newest&rating=0&forumid%5B%5D=9&hideexpired=1&q=Bose+QuietComfort+35&r=1
Bose QuietComfort 35 II Specifications
Weight: 8.3 ounces
Dimensions: 7.1 in. H x 6.7 in. W x 3.2 in. D
Audio cable: 47.2 in.
USB cable: 12 in.
 Features
Amazon Alexa and Google Assistant enabled
Augmented reality (Bose AR) equipped
Wireless Bluetooth
ANC (active noise canceling)
What's in the Box?
Bose QuietComfort 35 II headphones
Hard case
Mini Plug cable
Short micro USB to USB charging cable
Overall Fit and Comfort
Bose is known for its cushy designs and the QuietComfort 35 II does not disappoint. They're practically identical to the original QuietComfort 35 in size, weight and feel. Head clamping is just tight enough to hold without any undue pressure, and the headband is thickly padded.
While the soft ear pads also feel great, they can retain some heat. This may be a problem if your head sweats or you're living in a humid environment, but it's a non-issue in air-conditioned spaces.
While my glasses do interfere with the headphones' overall comfort, it's not a major problem.
The QuietComfort 35 II headphones' outer shell is mostly plastic, but it still feels sturdy and strong with little to no creaking while in use. This helps make the headphones extremely light, which adds a lot to their overall feel. In terms of storage, the QuietComfort 35 II folds neatly to fit into the included hard case. 
Features and Enhancements
As pretty much anyone who's used Bose's headphones will tell you, the company's ANC technology is first-rate. ANC-equipped headphones use external microphones to analyze the surrounding noise. An opposing frequency is then introduced into the headphones' speaker, thereby canceling out unwanted sounds. This works best with drone-like background noises such as airplane engines, office chatter or air conditioners. Many headphones include ANC, but no one does it better than Bose.
While the QuietComfort 35 II headphones' ANC is as good as ever, Bose has added some conspicuous quality of life enhancements to the updated model. Take the new "Action Button" on the left ear cup; it helps determine how much ANC the listener experiences — high (complete noise canceling), medium (ANC with a bit of background noise let in) or off. Alternatively, you can set the button to activate either Amazon Alexa or Google Assistant, which are now built in.
Both Alexa and Google Assistant work as advertised, although you'll first have to set them up on the free Bose Connect app. Once that's done, pressing the Action Button takes you right to the chosen app. However, if you're not a huge fan of voice assistants, you can reset the button to only handle ANC settings. (Note: you can also activate Apple's Siri by holding down the pause button on the right ear cup.)
Ease of Use
The Bose Connect app (available on Android and iOS) handles much of the QuietComfort 35 II headphones' performance. This app allows you to control what the Action Button does and whether ANC is on or off; it's also in charge of Bluetooth and firmware updates. You can even link with Apple Music (on Apple devices) so you don't have to leave Bose Connect to listen to your favorite songs.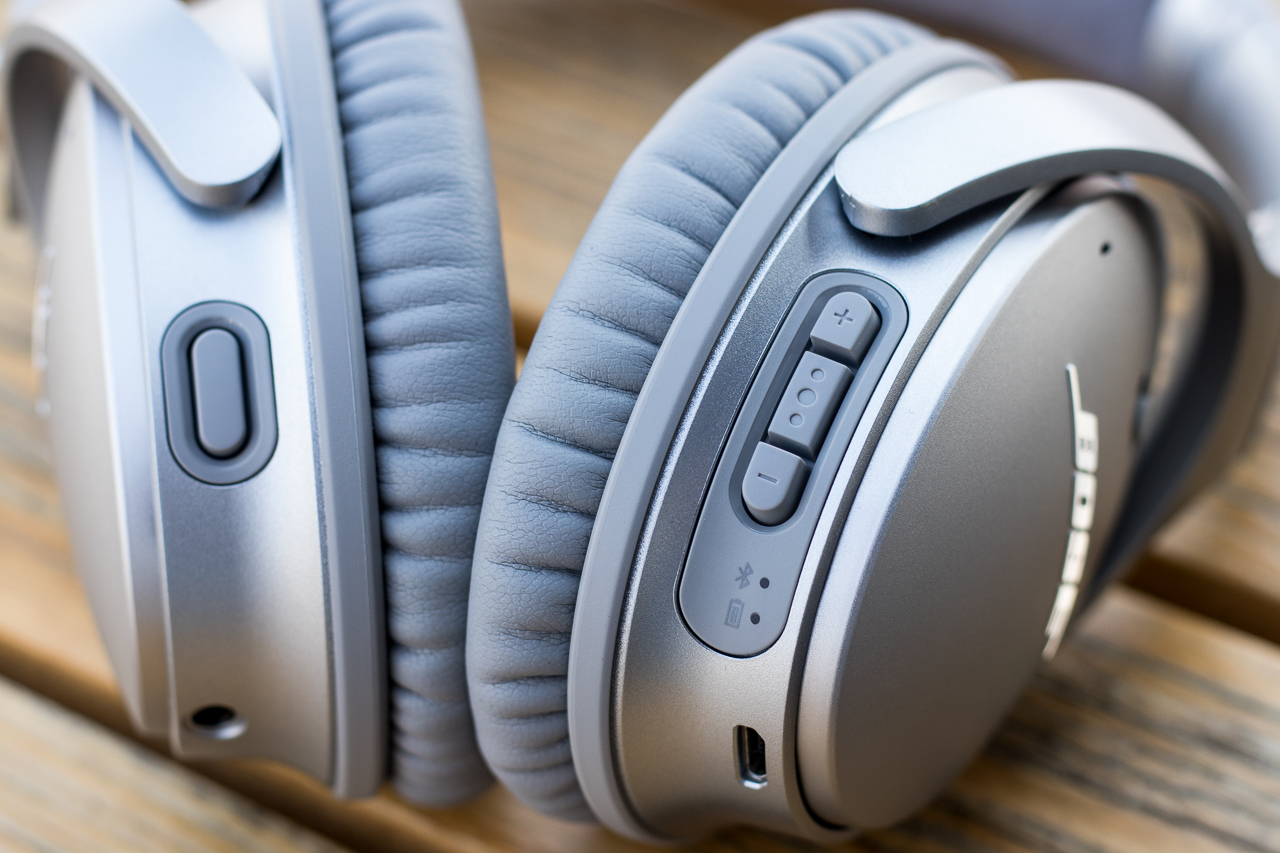 The other buttons found on the ear cups of the QuietComfort 35 II are straightforward and easy to understand. The left ear cup holds the aforementioned Action Button and a port for connecting via Mini Plug. While the headphones are primarily meant for wireless use, wired listening can be done without using any battery. If you run out of power, just attach the Mini Plug cord until you can charge the headphones back up.
It's important to note ANC requires power to function, so for best results make sure to keep your headphones charged.
The right ear cup houses the On/Off/Bluetooth pairing slider button along with what Bose calls the Multi-function button. Found between the Volume Up and Volume Down buttons, the Multi-function button can perform a variety of tasks depending on what mode you're in and how many times the button is pressed. For instance, when listening to music you can play/pause or skip forward and backward through tracks. 
Phone calls are another matter. Depending on how many times the Multi-function button is pressed, you can answer or end a call, decline a call, switch between two active calls and more. While these are all appreciated features, there's definitely a bit of a learning curve with the Multi-function Button since all actions are engaged with the same basic input.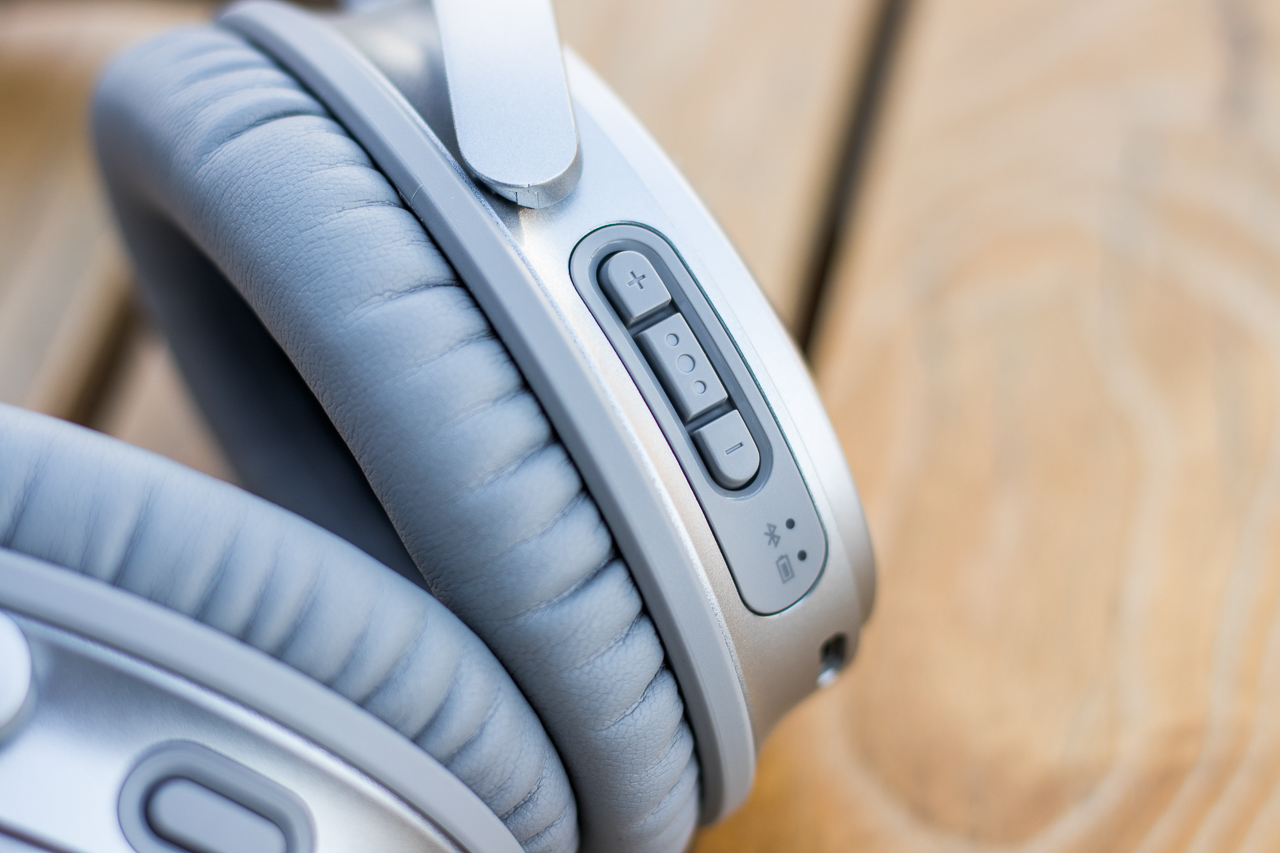 Lastly, a micro USB charging port is located at the bottom of the right ear cup. Since this is a newer design, it's a little strange to see Bose rely on older technology, especially since many headphone manufacturers have already switched over to USB-C charging. Despite this, Bose claims, "a quick 15-minute charge gives you another 2.5 hours" of listening time, so the lack of USB-C isn't currently an issue assuming you can live with the overall projected charge time.
Bose AR
One of the QuietComfort 35 II's promoted features is Bose AR, or augmented reality. Bose says its AR, "makes astonishing new audio experiences possible by helping you stay connected to your digital world and stay engaged in the physical world at the same time. The first Bose AR-enabled products and Bose AR-enhanced apps are now available."
That sounds pretty amazing, but my experience wasn't quite so seamless. There are a few apps that incorporate Bose AR, but I could not get a single one of them to work. As soon as I got the apps to recognize the QuietComfort 35 II headphones they froze up and went no further. This happened on every AR app Bose suggested I download.
Maybe it works better on Bose's AR-equipped Bose Frames, or maybe the feature just needs more development time. Whatever the case may be, I was unable to enjoy the QuietComfort 35 II's AR features.
Sound Quality
As cool as Bose's use of ANC is, the company's ability to combine ANC with sublime audio is even more impressive. ANC can adversely affect audio quality, but the QuietComfort 35 II headphones sound good with or without ANC — the cancellation is nearly undetectable.
I listened to all kinds of music at different volume levels on the QuietComfort 35 II  (always with ANC on). Unless I switched back and forth, it was difficult for me to say whether ANC was on or off. Songs I wasn't intimately familiar with sounded exactly as expected; they never felt flat, and I didn't run into any of the unwanted surprises that often crop up with other ANC-equipped headphones.

Should You Buy the QuietComfort 35 II Headphones?
Your enjoyment of the Bose QuietComfort 35 II headphones depends on a few factors. At $349, they aren't cheap; there are certainly less expensive headphones available with pretty good ANC. That said, they probably won't sound as good as what Bose has put together, and the ANC won't work as effectively.
If the price doesn't instantly scare you off, your daily use cases should in large part determine whether this purchase is worth it for you. If you only occasionally need wireless Bluetooth headphones with ANC, I'd recommend you invest in a less expensive model. Perhaps even consider the much more affordable (but not wireless) QuietComfort 25 headphones — they pack the same ANC at about half the price.
However, if you travel extensively, work in a noisy office or take long commutes, why not spend those hours in wireless audio bliss without life's distractions creeping in?
Buy QuietComfort 35 II Headphones from Bose
To get the best possible deals on the Bose QuietComfort 35 II headphones and other audio equipment, be sure to set some Deal Alerts. You'll be notified immediately when a new deal is posted so you can be sure you never miss a good offer.
Other Slickdeals Reviews
Bose QuietComfort 35 II Wireless Headphones
$349.00
Our editors strive to ensure that the information in this article is accurate as of the date published, but please keep in mind that offers can change. We encourage you to verify all terms and conditions of any product before you apply.