How to Brew the Perfect Cup of Tea for Way Under $10,000
Step-by-step instructions for brewing the perfect cup of tea.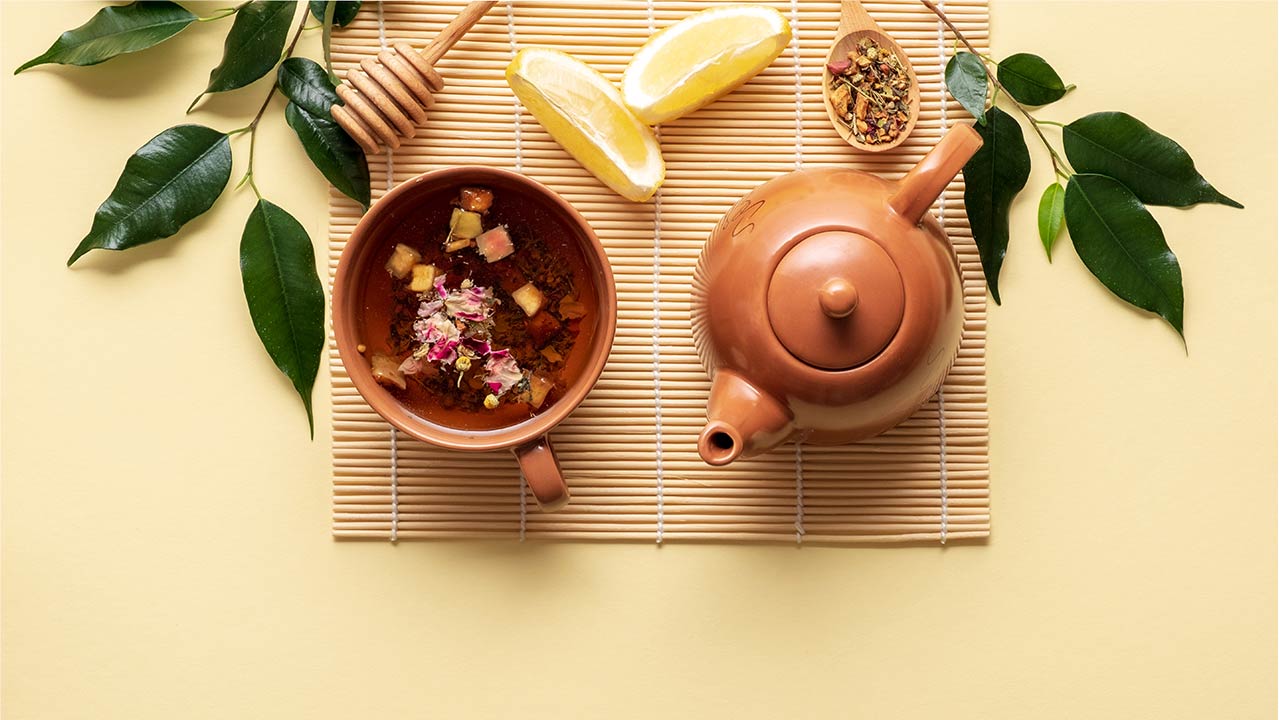 Whether you brew tea every day or just on special occasions, there's something about the ritual that is wonderfully calming, yet excitingly anticipatory.
And the nice thing is, you can brew the perfect cup of tea at home for a set up cost of less than $100.
What You'll Need:
Step 1: Pick Your Tea

Every tea has its own unique benefits. A cup of black tea or green tea is likely to leave you feeling energized, while a cup of herbal tea such as peppermint or chamomile is more soothing and better suited for after a meal or before bed.
While there's nothing wrong with a bagged or boxed tea, loose leaf tea is superior in terms of freshness and quality. That doesn't mean you have to spend a fortune on teas though! A loose leaf tea sampler pack is often an affordable way to try out a few varieties to find your favorites.
Specialty tea shops such as DAVIDsTEA allow you to purchase and sample small amounts of loose leaf tea. TEALEAVES and Art of Tea both offer 10% off when you sign up for their newsletters. And Stash Tea has a "last chance" sale section on its website where you can enjoy nearly 20% off on select loose leaf teas.
Step 2: Boil the Kettle
This might sound simple, but there are actually quite a few factors that can make or break your final cuppa at this stage. The first is the freshness of the water. You want to ensure you're filling the kettle with fresh cold water every time you brew a spot of tea. Tea experts say this is because the oxygen in water helps draw out the flavors of the tea.
Using water left over in the kettle from your last brew just won't taste as good as a fresh fill. Tea sommeliers take this one step further and recommend using filtered water for the best results, but the difference isn't really noticeable enough for most people to justify the added expense and shelf space.
Another thing to keep in mind when making tea is that different styles require different water temperatures. Black and herbal teas can handle a freshly boiled kettle (210F) while more delicate leaves such as white or green need a lower temperature of 150-175F. An electric kettle with a variable temperature setting will help you get the most accurate water temp for your tea every time.

The Bonavita Digital Variable Temperature Gooseneck Kettle is considered the very best option, offering 1-degree increments of adjustment, but has a steep price tag of $100. The Bella – Pro Series 1.7L Electric Tea Maker/Kettle, on the other hand, is a much more affordable choice that still offers variable temperatures and is currently $20 off at Best Buy, on sale for just $39.99.
The Hamilton Beach 1.2 Liter Digital Gooseneck Kettle is another solid pick, currently on sale (with free shipping) for $50.99, plus an additional 10% off when you sign up for its newsletter. Hamilton Beach also offers its Temperature Control Glass Electric Hot Water Kettle & Boiler with Removable Tea Infuser on Amazon for 14% off.
Step 3: Warm the Teapot/Cup
An important step that many people skip when making a cup of tea is to warm the teapot or cup before steeping the tea. Warming the cup helps ensure the temperature of your tea doesn't drop too quickly once you begin steeping.
Simply swirl a bit of hot water in the cup and toss it out. Make sure your teapot and cup are cleaned before every brew. While there are ready-made cleaning products available, you can save yourself the expense and use regular old household vinegar to clean your pot for a fraction of the cost.
Step 4: Add Tea and Water
Next, add 1.5 teaspoons of tea for every cup of water your cup or pot holds. Cover and let the tea steep for the recommended time, which should be on the tea package. Do not over steep your tea as this will result in a bitter tasting cup!
If you prefer a stronger flavor, you can always increase the ratio of tea to water. White and green teas are ready after just one or two minutes of steeping while most herbal and black teas can steep for up to 5 minutes.
Step 5: Strain and Pour

Once the tea has steeped, you can go ahead and strain and pour it. Some cups or teapots, such as the Sweese Teapot (currently 8% off) or the Black Teapot for One Double Wall Insulated Tumbler with Strainer (now 35% off) have infusers or strainers built in, which makes for convenient brewing. You can also purchase various styles of tea infusers.
Tea balls such as the Tea Infuser Tongs by Danesco are the least expensive option, often coming in at under $10. There are also fine-meshed infusers that sit over your cup or in your teapot to infuse the tea. They can run upwards of $30 or more, but the House Again Extra Fine Mesh Tea Infuser is a bargain at nearly 50% off its retail price of $16.99.
No matter how you brew it, sip your tea from your favorite mug or cup, which elevates the experience just as much as having quality ingredients.
Step 6: Season to Taste
Finally, you can season your tea to taste with a bit of milk, sugar or honey. This Pure Sugar & Creamer Set is a stylish choice and is currently 40% off the regular price. Tea aficionados believe that white and green blends should be enjoyed black whereas black tea pairs well with a splash of milk.
Some herbal blends benefit from a dash of sweetness, such as honey, to boost their flavors. A Honey Jar with Dipper is an easy way to keep honey fresh and ready to add to your next cup of tea.
Be sure to set a Deal Alert so you never miss out on another deal.
Up Next:
---
Any product or service prices/offers that appear in this article are accurate at time of publish, and are subject to change without notice. Please verify the actual selling price and offer details on the merchant's site before making a purchase.