Build a Gaming PC with Slickdeals (Part 1)
Learn to build the right gaming PC for you and your budget.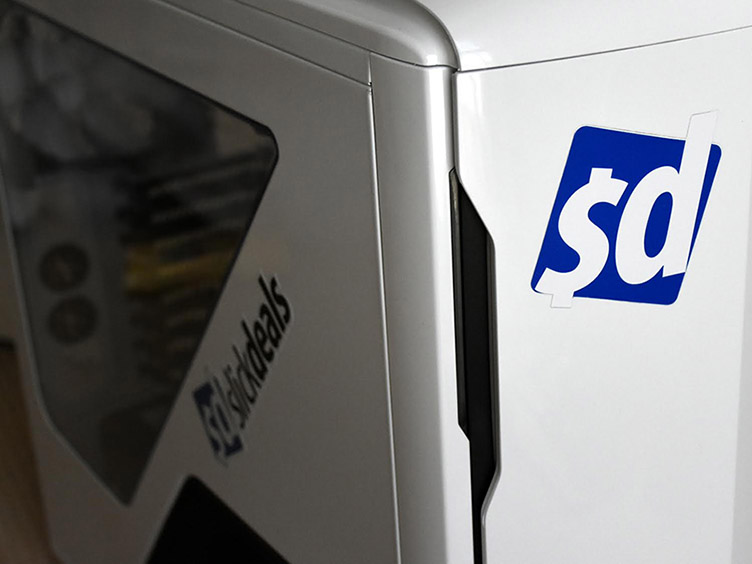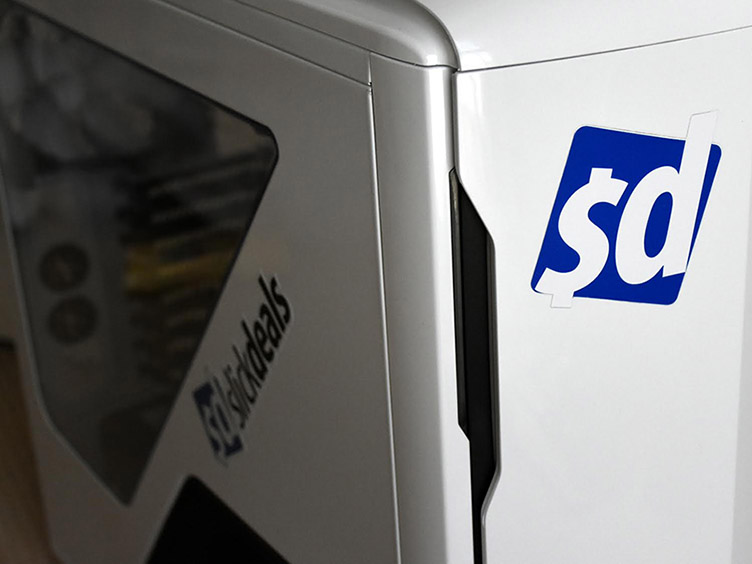 Building a gaming PC for the first time can seem like a daunting task, not to mention that it can get really expensive, really fast. To help lower the learning curve, I'll be covering the entire build process via a series of articles, detailing key components and options, as well as ways to manage expenses.
And to "keep it 100," I'll be building my own gaming PC in parallel with these articles, so feel free to copy my build or ask specific questions in the comments. Though to be clear, my personal build won't be the cheapest possible setup because there are certain compromises that I'm not willing to make (cheapest build = lower performance = not so pretty game graphics), but I will demonstrate how the Slickdeals community is essential when it comes to finding low prices on the components that I actually want. After credit card bonuses and rebates, my projected cost before taxes on this build is $810 (excluding monitor, operating system, keyboard and mouse). Full retail price for all the components I'm choosing is $1,649, so about 50 percent off if everything goes according to plan.
Before You Start Shopping
There are many, many ways to approach a gaming PC build, and everyone will have an opinion or anecdote to share. Personally, I don't believe that there's a single "best way" to build a PC — it's about assembling a machine that's right for you, your needs and your budget. With that said, whether you're building a $500 casual gaming box or a $1,500 powerhouse, there are a few considerations that could save you time and money along the way.
Build With a Purpose
To keep your project from derailing and turning into an expensive exercise in technical overkill, it's best to start with a goal in mind. Look at the recommended specs for the games you're most interested in playing on your new gaming rig. This will provide a good starting point as you decide which components to purchase.
Do Your Research
The technical terminology, component names and configuration options can all be a bit overwhelming at first, but thankfully there are resources like Tom's Hardware and Anandtech, which offer basic education, as well as in-depth product comparisons and reviews. Additionally, don't be afraid to ask a friend for help, post a question in our Gamer's Lounge or dig around other forums — building a gaming PC isn't a new concept so there's no reason you should have to stumble in the dark by yourself.
Prepare Your Wallet
By nature, assembling a purpose-built gaming PC from scratch is going to be more expensive than buying a pre-packaged generic combo from Dell or a $350 game console, but the trade-off is that you get unmatched graphics quality and the ability to upgrade specific components when they become outdated.
Sales and rebates are a good way to manage costs, but they're time sensitive, so start shopping during the holidays or around March and April when new technology gets released and last year's products go on sale.
Another strategy to prepare for the impending expenses is to sign up for a credit card that offers a new customer bonus. Chase's Sapphire Preferred card is currently offering 50,000 bonus points after spending $4,000 in three months, which translates to $500 cash back or $625 in travel rewards.
Of course, you've always got Slickdeals' Frontpage, store pages and Deal Alerts to keep you abreast of price drops and discount codes.
Know Your Retailers
Newegg, Amazon, TigerDirect and newcomer Jet.com are reputable e-tailers for your PC shopping needs and typically offer deeper discounts than your brick-and-mortar stores. Consider signing up for newsletters or emails from your favorite retailers as well, as they may earn you coupon codes and discounts. Additionally, while you'll probably end up buying parts from a variety of retailers to get the lowest prices, watch out for shipping costs. Try to bundle your purchases, and check on whether you can get price matches to keep shipping from eating up your discounts.
Let's Start Building!
Putting together a PC isn't quite as simple as gathering all the required components and popping them into place. Each piece must be compatible with the system as a whole, and your choices early on will affect which component options will be available to you down the line.
Here's a quick rundown of core components:
Case
Power Supply Unit
Processor (CPU)
Motherboard
RAM
Graphics Card
Hard Disk Drive or Solid State Drive
We'll begin the build with a solid foundation — a case and power supply.
The Case
Cases are available in three types of sizes: small/portable, mid tower and full/super tower. The category names hint at general dimensions and affect the types of components that can be installed, as well as cooling efficiency.
From my experience, a mid tower will work comfortably for just about any PC build, but a full tower allows for more room when installing components — nice for those with big hands like me — and offers slightly better air cooling due to larger air pathways and the ability to accept more fans.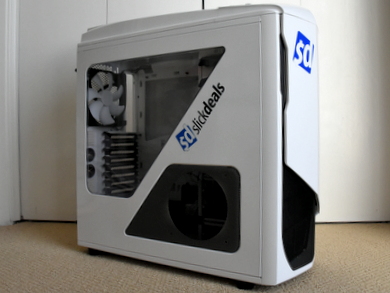 Popular case manufacturers include Corsair, NZXT, Antec and Cooler Master. Honestly, it's pretty difficult to choose a "bad" case, so if you're not picky about aesthetics or extra features, simply select the lowest priced case with your desired form factor.
For my build, I chose to go with the NZXT Phantom 530 full tower for its roominess, design, USB 3.0 connections and its focus on maximum airflow. The Phantom 530 retails for $130, and with a 20 percent discount code from Jet.com, the case arrived at my door for $104.
If you don't think you'll need or want a full tower, you can definitely cut costs by going with a mid tower. Two solid choices identified by the SD community and that see frequent discounts are:
Antec Sonata Series Solo II – $47.99 from TigerDirect on eBay. [Retail price: $129.95]
Cooler Master HAF 912 – $59.99 from Frys.com. [Retail price: $69.99]
Power Supply Unit
The heart of the PC is the power supply unit (PSU) — it converts AC power from the wall outlet into DC power for the computer to use. The main things to consider when choosing a power supply are wattage, modularity and efficiency.
Each PC component requires a specific amount of power (watts), and the total sum of this required power is the minimum wattage that a PSU must output. For example, if you have four components that draw a maximum of 100 watts each, you'll need at least a 400 watt PSU so the system doesn't crash from power starvation. A 500 watt PSU should provide enough power to feed all of the components in a typical setup, but if you're considering a second graphics card or have plans to overclock the processor (cranking up the CPU's speed), you may want to go for 650 watts or more to accommodate the additional power consumption. Depending on the manufacturer, the cost for each additional 100 watts of capacity may be nominal, so it's worth considering a more powerful PSU, especially when exceeding a power supply's rated output could mean permanent damage to your PC's hardware.
Modularity refers to how the internal power cables connect to the PSU, and it's more of an aesthetic preference for experienced builders who are concerned with how neatly the cables are routed inside the case. If you're not bothered by dangling, unconnected cables, just go for a non-modular PSU as they tend to be cheaper.
Efficiency refers to how well the PSU converts AC power to DC power. An 80 percent efficient PSU will draw 125 watts of power from the wall outlet to produce 100 watts of usable DC power. The "lost" power is released as heat inside the case. Each PSU has an efficiency rating designated by the term "80 Plus" and a metal type. "80 Plus Platinum" is more efficient than "80 Plus Gold," and so forth. You can read more about PSU efficiencies here.
While there are many areas where you can cut costs on a PC build, I wouldn't recommend cutting too many corners on the power supply because it's responsible for feeding stable power to all of the components, and plays a large part in your machine's overall reliability. You should stick with trusted brands — Corsair, Seasonic or EVGA are good choices to consider.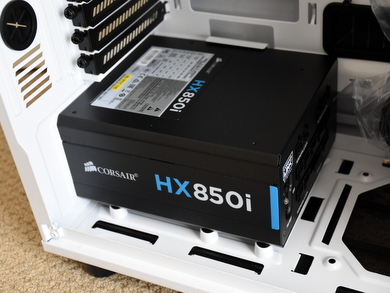 My choice is an 80 Plus Platinum certified Corsair HX850i. An 850 watt PSU may seem like overkill, but I'm looking for the flexibility to overclock, and I have plans to add a second graphics card in the future for 4K-resolution gaming. A lower budget build with no plans for expansion definitely won't need this much power.
The HX850i retails for $199.99, but thanks to a post from Slickdealer TDMVP73, I was able to get it from Newegg for $119 after a $20 mail-in rebate.
Other solid and budget-friendly choices found in the SD forums include:
650 Watt EVGA SuperNOVA – $69.99 after $20 rebate from Newegg.com. [Retail price: $85.99]
500 Watt Corsair CX500M – $49.99 after $10 rebate from Newegg.com. [Retail price: $79.99]
Build Recap
So far, I've got a case and a power supply costing a total of $223. Throw in the $500 cash back from the Sapphire Preferred card (yes, I'm counting my chickens before they hatch) and I'm still $277 ahead.
Like what I'm doing? Think my setup is overkill? Hop on over to my forum thread and give me your two cents!
Community Feedback
Jabbit: "From my perspective, it is very easy to pick a poor-quality case if you shop purely on price. You can end up with a case that is poorly laid out or just has flimsy construction. This can be discouraging for a first-time builder. Also, some might be tempted to say "Oh, this case comes with a 500w PSU, I'll just use that!" when in reality, the vast majority of PSUs included with cases are rubbish."
godfather927: "Not only will the specs of this PC be great for gaming, but it also will be very versatile for several other tasks like photo and video editing, as a media center server for streaming to clients, any modeling or data mining applications, etc."
jbonez21:  "One thing I might suggest is to remove Tigerdirect as a potential retailer. They are going out of business and changed their return policy to no longer accept any returns."
Read Part 2 of "Building a Gaming PC with Slickdeals," where I'll be talking about CPU and motherboard choices.
Our editors strive to ensure that the information in this article is accurate as of the date published, but please keep in mind that offers can change. We encourage you to verify all terms and conditions of any product before you apply.