Build a Gaming PC with Slickdeals (Part 2)
Don't let the CPU be a bottleneck for your games.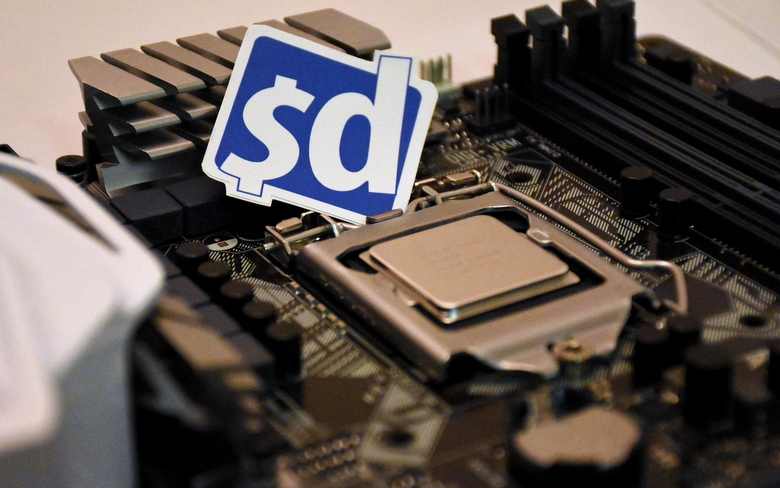 In part one of this series, we built a solid foundation for our gaming PC with a full-tower case and power supply. Now, the Slickdeals gaming PC is ready for its main computing components — the central processing unit (CPU) and motherboard.
CPU
The CPU (also commonly referred to as a processor) handles all of the main computational tasks. But because a gaming PC usually has a dedicated graphics card to do the heavy lifting (more on that in the next article), the CPU simply needs to not be a bottleneck. In other words, an expensive flagship processor isn't necessary.
When choosing a processor, there are a few key characteristics to consider: architecture, frequency and number of cores.
Architecture
A processor's architecture is the physical layout and design of its internal components. With each generational update, performance and efficiency improve thanks to better manufacturing methods. Semiconductor technology, for example, has achieved sizes as small as 14 nanometers (nm) for today's processors, while previous generations were around 22 nm. Smaller architecture means less power draw and lower operating temperatures.
When new processors are released, one might think the older models would drop in price, but that isn't always the case — sometimes, older processors end up being more expensive due to their lack of availability. Because technology changes so quickly, it's best to go with the newest architecture that you can afford, and more often than not, it'll be the current generation.
There are two leading manufacturers for desktop CPUs, Intel and AMD, and trying to determine which one makes a better product is an exercise in futility. It's like having two cranky old guys argue about Ford versus Chevrolet — neither party will ever be swayed.
Frequency
A processor's frequency, measured in gigahertz (GHz), is an indicator of how many operations it can be given in one second and still perform reliably. For example, a 3 GHz processor can receive 3 billion operations per second, and users see that performance by how quickly a program loads.
Consumer-grade processor frequencies have topped out between 4 to 5 GHz, primarily because of materials, manufacturing and heat-management limitations. But frequency isn't as important as it was in the early days thanks to the application of multicore computing.
Cores
A core is an independent processing unit, and when two or more are combined, the computing power increases without the need for a higher frequency. Multiple cores give a CPU the ability to multi-task or complete a single task faster.
There are consumer processors that have up to eight cores, but for the purposes of not being a bottleneck, four cores are more than enough.
Intel vs. AMD
There are two leading manufacturers for desktop CPUs, Intel and AMD, and trying to determine which one makes a better product is an exercise in futility. It's like having two cranky old guys argue about Ford versus Chevrolet — neither party will ever be swayed.
Both Intel and AMD make great processors, and choosing one simply comes down to personal preference. AMD tends to provide the best value for low-end processors, while Intel excels at high-end performance. But since we're only interested in the middle ground — a very competitive space for both companies — it really doesn't matter which brand you choose.
There are a lot of factors that go into determining whether a processor is low, medium or high-end, and Tom's Hardware has a constantly updated list of recommended CPUs for every performance range and budget.
I'm a fan of Intel for no rational reason except that it's what I've always used, and I chose the 6th generation Intel Core i5-6500 processor for my Slickdeals machine. The i5-6500 has a base frequency of 3.2 GHz, four cores and 14 nm architecture. It's considered a high-end processor, but I do quite a bit of video editing (a computationally heavy task), so the extra performance comes in handy. Retail pricing for this CPU is just over $200, but with a 20 percent off code from Jet.com, the price dropped to $175.30 with free shipping.
If you know you won't be doing complex tasks, here are some solid mid-range processors to consider:
AMD FX-6300 – Currently $102.33 from Amazon, but we saw that price drop into the $80 range in the past few months. [Retail price: $149]
Intel Core i3-4170 – $119.99 from Newegg, but if you hold out for a good deal, you may be able to snag it for around $100. [Retail price: $124.99]
Motherboard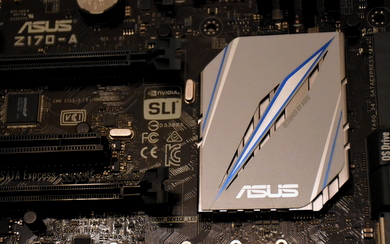 The motherboard is the backbone of a PC, physically hosting the CPU and acting as the communication link between all of the other components. Depending on which processor you've decided to use, the path to selecting a motherboard is pretty straight-forward.
Each family of processors has very specific compatibility requirements — AMD processors will not work with an Intel-based motherboard — and even more basic, each processor type will only physically fit into one type of socket on the motherboard. For example, the Intel Core i5-6500 processor requires an LGA 1151 socket, and the AMD FX-6300 requires an AM3+ socket.
And thanks to industry performance standardization, the only other factors to consider outside of CPU interface are optional on-board features and price.
For most gamers, an entry-level motherboard with a retail price of around $100 will do just fine. But if you have room in your budget, consider additional features like an overclock-friendly chipset, support for dual graphics cards, on-board Wi-Fi or USB 3.1 connections. Focus your shopping research on reputable brand names like Asus, Gigabyte, ASRock or MSI, to name a few.
Searching through the deal forums, I found a feature-filled Asus Z170-A motherboard on sale for $115 after a $25 mail-in rebate; full retail price is $165. The Z170-A comes with one click overclocking, an SLI bridge to connect two Nvidia graphics cards and support for the newest type of memory, DDR4 RAM.
Other good motherboard options include:
Gigabyte's Z170-HD3P — Another LGA 1151 motherboard option currently selling for $95 from Newegg, which is just $10 more than the all-time low for this product. [Retail price $124.99]
Asus' M5A97 R2.0 — Those taking the AMD AM3+ route can consider this option for $89.99, also from Newegg. However, we've seen pretty regular discounts into the $70 range, so you may want to hold out for a better sale. [Retail price $99.99]
Bonus Round: Better CPU Cooling
Most retail-packaged processors will come with a heat sink and fan to keep operating temperatures within an acceptable range, but I've found that these stock coolers can be a bit lacking for the types of graphically-intense games that I play.
A cheap and popular solution is the Cooler Master Hyper 212 EVO. I was able to snag one from Amazon for $24.44 after a $5 mail-in rebate.
Heat is a processor's worst enemy, so an upgraded CPU cooler is definitely worth the money.
Build Recap
Let's see where we're at with our PC component purchases:
$104 – NZXT Phantom 530 case
$119 – Corsair HX850i power supply
$175.30 – Intel Core i5-6500 processor
$115 – Asus Z170-A motherboard
$24.44 – Cooler Master Hyper 212 EVO
(-$500) – Chase Sapphire Preferred bonus points
Total cost so far: $37.74.
Like what I'm doing? Think my setup is overkill? Hop on over to my forum thread and give me your two cents!
Click here for Part 3 of "Build a Gaming PC with Slickdeals," where I'll be selecting the most crucial part of a gaming PC, the graphics card.
Missed the previous article? Get up to speed with the link below:"
Part 1 – Build philosophy, case and power supply
Images courtesy Andrew Chen
Our editors strive to ensure that the information in this article is accurate as of the date published, but please keep in mind that offers can change. We encourage you to verify all terms and conditions of any product before you apply.